What is a distant cousin? In this post, learn all about distant cousins, why they are "distant", and much more.
In this post, you will find out:
The definition of distant cousin
Whether very distant cousins are not really related
Whether distant cousins are "blood related"
How to find your distant cousins
Most of us know our close cousins, such as those relatives who share grandparents with us. Some people spend a considerable amount of time with our first cousins, so it is easy to understand why they aren't "distant".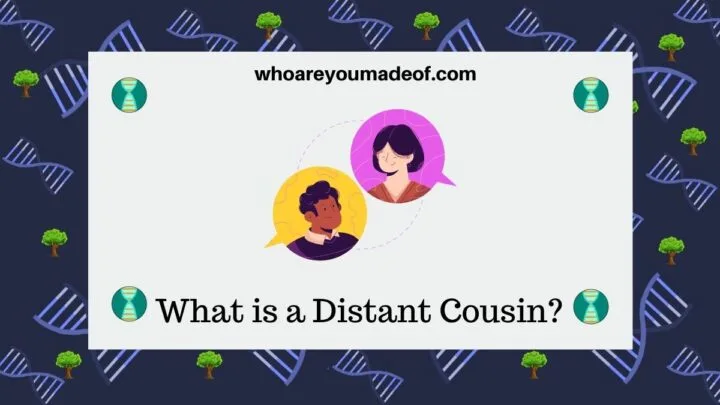 At what point does a cousin become distant? What does this term really mean?
Distant cousins meaning
A distant cousin is someone who is more distantly related than third cousin. This means that third cousins once-removed and more distant cousins, including fourth, fifth, and sixth cousins, are distant cousins.
Since third cousins share great-great grandparents, any relative who shares a more distant ancestor is considered to be a distant cousin. Cousins who share more recent ancestors fall into the extended family or close cousin category of relationships.
The reason that most people consider distant cousins to be more distant than third cousins is probably due to the fact that we are less likely to know our more distant cousins personally. In addition, as we move out to more distant cousins, we are likely to have a great number of relatives.
Furthermore, we are less likely to share DNA with more distant cousins. You will learn more about shared DNA between distant cousins further down in this post.
Distant cousins and degrees of consanguinity
It is easy enough to have a strict definition of a distant cousin as being someone who is more distantly related than a third cousin, but what about those cousins once, twice, or thrice-removed? In other words, how can we know if a cousin is a distant cousin if they are not the same number of generations descended from the common ancestor as we are?
We can use degrees of consanguinity to help us calculate whether our relative is a close or distant cousin. Third cousins are separated from us by eight degrees, which we can calculate by counting up four generations to our common ancestor and down four generations to our third cousin.
This means that anyone who is related to us at more than eight degrees of consanguinity is a distant relative. Examples of distant cousins related at more than eight degrees of separation include first cousins five-times removed and third cousins once-removed (both nine degrees), and fourth cousins twice-removed and fifth cousins (both twelve degrees).
Are distant cousins related?
Distant cousins are related to each other because they share a common ancestor. If two people share a common ancestor with each other, then they are related in a genealogical sense.
When it comes to distant cousins, we usually just refer to them as "cousin" because it is too complicated to figure out exactly how we are related, and it might take too long to say it. In addition, defining a distant cousin relationship may emphasize the distance in the relationship.
For example, instead of saying "my fifth cousin, George", we might just say that George is our cousin, or distant cousin. If we emphasize that George is our fifth cousin, we might feel like we are stressing the distance in the relationship, when we might actually feel like we have a close relationship with him.
Are distant cousins considered family?
Not everyone considers distant cousins to be family members. Whether you consider a distant cousin to be family depends on your culture, preferences, and your family's customs.
For example, some families are not close with their extended family members. This could be because of geographic distance, or interpersonal conflict.
As these families grow larger, the descendants are unlikely to know each other well and will not feel a familial "closeness" that we usually expect to feel with family.
Other families are very close, even among more distantly related extended family members. This is especially common in families that live in a concentrated geographic area, but even families that are spread out in a larger geographic area can feel close, especially with modern technology.
At what point are cousins not related?
There is no official point where two cousins who share a common ancestor are considered to be unrelated to each other. This is because two people who share common ancestors are always related, whether they consider themselves to be related or not.
There is a point where we might consider a person to be no more related to us than any other person with a similar ancestral background, however. This is because we are likely to be distantly related to any given person who has ancestors from the same place that we do, and it makes it less notable to be distantly related to any given person.
For example, almost everyone who had ancestors in Western and Central Europe in the year 900 AD might be descended from Charlemagne, which means that we are all technically distant cousins. This doesn't mean that we would all consider each other to be related.
Do distant cousins share DNA?
Yes, distant cousins can possibly share DNA. However, the more distantly related two people are, the less likely it is that they will share DNA with each other.
We don't share DNA with all of our relatives, after all.
For example, there is only about a 30% chance that two fourth cousins will share no DNA. As we move further out in the family tree to 6th cousins, we find that there is an almost 90% chance that no detectable genetic relationship exists.
There is even a small chance that we could share DNA with very, very distantly related individuals. There is about a 1% chance of sharing DNA with a 15th cousin, which is surprising, especially considering that 15th cousins share 14th great-grandparents.
Even if two distant cousins do not share genetic material, it doesn't mean that they are not related. If two people share a common ancestor, they are related to each other whether they share DNA or not.
How do you find distant cousins?
There are three main ways to find your distant cousins: DNA testing, contacting your older relatives to locate more distant family members, and through building a family tree. Each of these methods has its advantages and disadvantages, of course.
Finding distant cousins through DNA testing
The most efficient way to find distant cousins is to take an autosomal DNA test with a site like AncestryDNA, 23andMe, or MyHeritage. Along with your ethnicity estimate showing you where your ancestors most likely lived, you will also receive a long list of DNA matches, or genetic relatives, most of whom will be your distant cousins.
Even though DNA testing is not very expensive, it certainly is not free. In addition, you will find distant cousins on all lines of your family tree, so if you are looking for relatives on a specific family line and are not interested in any others, your DNA match list might seem a bit overwhelming.
A DNA test would still be my top recommendation for finding biological family, including distant cousins, however, simply because it is the fastest way to find a large number of distant cousins. You could simply sort through the list and find the people that you would like to contact, and if the exact cousin is not on the list (perhaps they have not tested their DNA), you might be able to get in touch with them through their closer relative.
Locate distant cousins through genealogy and family tree research
The second-best way to identify your distant cousins is through building a family tree online. The further you go back in your family tree, the more other descendants of a particular ancestor are likely to be researching that same person.
If you and someone else share that ancestor, then you are cousins. If you and someone else are researching an ancestor who is at least as distant as a great-great-great grandparent to you both, then you are distant cousins.
You can often find distant cousins on messaging boards on sites like Ancestry. In addition, you can contact people directly through website messaging systems if you find that you are both researching the same person, as you might be distantly related.
How to find distant cousins through family members
The third way to find distant cousins is to speak with your older relatives in order to identify other relatives from their generation of your family tree. They might be able to remember older and more distant cousins, and you might be able to identify their descendants with a little bit of research.
For example, by speaking with your grandparents, you might be able to learn the names of some of their first and second cousins, or even some details about the first or second cousins of their parents (your great-grandparents). The descendants of those second cousins to your grandparents or great-grandparents might fall into the "distant cousin" category of relatives.
Conclusion
I hope that this post has helped you learn the meaning of distant cousins, whether they are considered to be related to you, whether they share DNA (i.e. "blood related"), and easy ways to find them.
If you have any questions about something that you have read in this post, or if you want to share a story about meeting a distant cousin, I would love to hear from you in the discussion below.
Thanks for reading today!