If you are wondering if we share DNA with all of our relatives, then you have come to the right place. As it turns out, we don't share DNA with every person who is related to us.
In this post, you will learn when you should expect a relative to share DNA with you, including information about specific relationship types. Plus, find out:
When you might not share DNA with a relative
Why the number of centimorgans you share with your relative can vary
The information in this post is very important to understand when researching a family tree, and when trying to figure out how a DNA match might be related to you.
The ranges shown in this post are how much DNA most relatives will share at that relationship distance. Sharing slightly over or slightly under doesn't necessarily mean that something is amiss.
How is this post organized?
I'll start with the closest relatives and work out to more distant ones. If you are interested in reading the entire post, that's great! You'll learn a lot.
If you are curious about a particular relationship distance, you can also just scroll down to the exact relationship you are wondering about.
Do we always share DNA with our parents?
Absolutely. You will always share almost exactly 50% of your DNA with each parent, and it is impossible to not share DNA with one of your parents.
Do you wonder whether you share more DNA with one parent or the other.
Technically, you inherit a bit more DNA from your mother than you do your father. Both males and females inherit mitochondrial DNA (mtDNA) from their mothers, and within each cell, there are multiple copies of mtDNA since it replicates on its own.
This post is generally about autosomal DNA, however. From an autosomal perspective, there is no consequential difference in the amount of DNA that you will share with either of your parents.
This means that you effectively share the same amount of DNA with each parent. You will have DNA matches from both sides of your family, and will have inherited ethnicity information from both your maternal and paternal lines.
If you have a DNA match that is a parent, your DNA testing company will be able to tell this from comparing your DNA and will generally provide an estimated relationship type of parent.
You will generally share between 3300-3700 centimorgans (cMs) of DNA with your parents.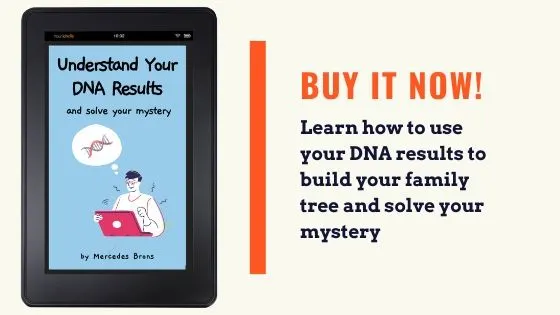 Do we always share DNA with our siblings and our parents' siblings?
Yes. You will always share DNA with your siblings, even half-siblings, and your aunts and uncles – even half-aunts and half-uncles.
In fact, it's statistically impossible not to share DNA with these relatives. With that said, there is a range of DNA that you can share with people who are related to you in these ways:
Full siblings will share 2300-3900 centimorgans (cMs), but most full siblings will only share between 2300-3300 cMs.
Half-siblings will share 1300-2300 cMs
Full aunts and uncles with share between 1300-2300 with their nieces and nephews. Most full aunts and uncles will share less than about 2100 cMs, but it's possible to share as much as 2300 cMs.
Half-aunts and half-uncles* will share between about 550-1300 with their nieces or nephews. There is some evidence that it's possible for two people with this relationship to share slightly higher than 1300, possibly as high as 1500, but this would unusual.
* A half-aunt or uncle is a half-sibling to one of your parents
Will we share DNA with our grandparents and great-grandparents?
You will always share DNA with your grandparents and even your great-grandparents. Everyone inherits DNA from all four of their grandparents and all eight of their great-grandparents.
Not everyone has the chance to have their grandparents or even great-grandparents take a DNA test, so consider yourself very lucky if you are able to do this.
My daughter is in that "lucky" category – she has done her DNA test, and so has my father, and so has my grandmother, who is her great-grandmother .My daughter's great-grandmother shows up in the "First Cousin" category on Ancestry, since they share a pretty good amount of DNA (785 cMs).
Below, you will find the typical range of shared DNA between grandchildren and their grandparents, as well as grandchildren and great-grandparents:
Grandparents and grandchildren should share between 1200-2300 cMs
Great-grandparents and their great-grandchildren should share between 500-1400 cMs
Should I share DNA with my first cousins and my parents' first cousins?
Yes. You will always share DNA with your first cousins and the first cousins of your parents, even if they are half-cousins.
There has never been a case of verified first cousins sharing no DNA, meaning that you will always share some DNA with your first cousins.
This is useful to know, since first cousins will always be shared matches with other first cousins, making it useful for figuring out which side of your family other DNA matches are on (or which side of the family your first cousin is on).
The same is true for the first cousins of your parents, who are your first cousins once-removed. You will always share DNA with them, too!
The amount of DNA that you will share can range widely. Below are some guidelines for how much DNA people of this type of relationship should share.
It should be noted (again) that some relationships will fall slightly under or slightly over the range of shared DNA below:
First cousins should share from about 550-1300 cMs
Half-first cousins, who share only one-grandparent, should share about 250-650 cMs
First cousins once-removed should share about 250-650 cMs
Half-first cousins once-removed should share about 250-650 cMs
What about second cousins? Is is possible to share no DNA with second cousins?
It is impossible to not share DNA with a second cousin. There has never been a proven incidence of two verified second cousins – even half-second cousins – sharing no DNA.
Second cousins once-removed will generally always share DNA, too, though there is a .10% chance of sharing no DNA with a cousin of this relationship.
This is such a small percentage, and basically means that if you had 1000 second cousins once-removed, which you don't, there might be one that you don't share DNA with.
It's important to note that it is possible for half-second cousins once-removed (meaning that you share only one great-grandparent, not a set of great-grandparents like you would with full second cousins) to share no DNA. This is the first relationship distance where it becomes possible to share no DNA with a relatively closely related relative, and as the distance between relatives grows, it becomes more likely to share no genetic material.
You should share between
You will share between 45-515 cMs with a full second cousin
You will share between 25-315 cMs with a full second cousin once-removed
You will share between with 25-400 a half-second cousin
You will share between 0-215 (some estimates are slightly higher) with a half-second cousin once-removed
Will third cousins share DNA?
The third cousin distance is where things start to get really interesting in the DNA world. In fact, third cousins are so interesting that I wrote an entire post dedicated just to third cousins – they are super important.
There is a 10% chance that a third cousin will not share any DNA with you. This means that you will share DNA with most third cousins, but not all.
If you have a known third cousin and your DNA doesn't match, this cannot be used as proof that you are not related, since there is always a chance that third cousins don't share DNA.
Since third cousins might not, but probably will, share DNA this means that the lower end of the range of shared DNA between third cousins is zero.
Third cousins will generally share between 0-115 cMs. It is possible, but not likely, to share a little more than 115 cMs (maybe as high as 200 cMs).
If you have endogamy (pedigree collapse, cousins marrying, etc) in your family tree, you might find that you share more DNA than the range for third cousins with your relative. So apart from being third cousins, you are related in other ways. This is quite common and not really that unusual.
One of the reasons that third cousins are so important to understand – from a DNA perspective – is that you can't always use third cousins to determine how another match is or isn't related to you.
Will fourth cousins share DNA? Will distant cousins always share DNA?
At the fourth, fifth, sixth, seventh, and eighth cousin level, there is no guarantee that you will share DNA. In fact, the more distant the cousin, the less the chance that you DO share DNA.
Below is a list of the approximate chance that you will share DNA with any given cousin of the state relationship type, and the approximate amount of DNA that you will share. Please note that if you have endogamy/pedigree collapse, as many of us do, this might result in sharing more DNA than usual.
About 70% of fourth cousins will share DNA, and those who do share DNA will likely share no more than about 75 cMs, and will probably share much less than that.
Only about 30% of fifth cousins will share DNA, and of those who do, they won't likely share more than 35 cMs
Only about 10% of sixth cousins will share DNA, and of those who do, they will share only about 25 cMs
It's very unlikely to share DNA with a seventh or eighth cousin, but if you do share DNA with some of these cousins – which you inevitably will since we have many, many cousins at this relationship distance, it will be a small amount – probably no larger than about 15 cMs
I can't stress enough how these numbers will vary wildly from person to person and from family to family, especially when there were first and second cousins marrying repeatedly in certain communities. Additionally, it's possible to be related to someone in a few different ways.
In my own family, I have seventh cousins with whom I share two or three DNA segments. This implies a few different common ancestors on different lines of the family.
When dealing with fifth cousins and beyond, it is also important to remember that the smaller the amount of shared DNA, the bigger the chance that your DNA segment is simply coincidentally identical, and does not mean that there is a genealogical relationship. Many times we only share very tiny segments, maybe only 6-10 cMs in length, with a distant cousin.
Without very complete, well-researched trees, it can be very difficult to know whether or not the small 8 cM segment you share with a DNA match is because you have a common ancestor, or purely coincidental. This is the main reason why it is best practice to focus on closest matches first and to spend the most time on those cousins.
There are limits to predicting how you are related to someone using only DNA
As you can see from most of these relationship types, the amount of DNA that you would typically share with any given relative can vary dramatically. This means that you can almost never use only shared DNA as the only evidence of a particular relationship.
Testing additional family members, traditional genealogical records, vital records, family stories, and geographical locations can go a long way towards providing supporting evidence to support your theory about your relationship to your DNA matches.
Conclusion
If you are still with me at the end of this long post, thanks so much for hanging around! I hope that you learned something about which relatives will always share DNA, which relatives won't, and how much relatives who do share DNA should share.
If you have any questions, comments, or concerns, I would encourage you to leave a message in the comments.
Thanks so much for stopping by today!