Did you know that many families from Ireland followed traditional Irish naming patterns? In this post, learn how to understand your Irish ancestors' naming conventions to learn more about your family tree.
What's in a name? When it comes to Irish names, possibly a lot, as it turns out.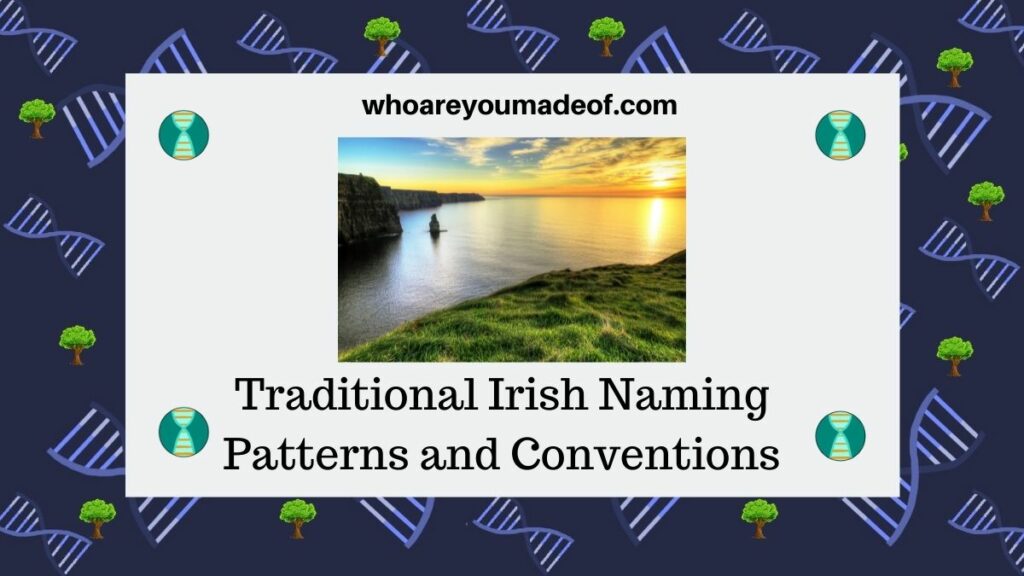 There is a possibility that I will be visiting Ireland next year, and I thought that my trip around the country would be a great opportunity to learn more about my Irish heritage. However, my Irish ancestor has long been a mystery in my family tree.
I only know his first and last name, year of birth, and that he was born in Ireland. After spending countless hours over the course of several years scouring records, I have been able to learn little more about him, and nothing that tells me details of his ancestors or hometown.
When you are faced with a similar "brick wall" in your family tree, you will grasp onto any clue, no matter how small. This is what led me to research Irish naming patterns.
Since I know the names of all of my Irish immigrant ancestor's children, would I be able to discover clues about the names of his parents and siblings by learning the Irish naming pattern? Perhaps!
How does the pattern for Irish names work?
The Irish naming traditions were very clear-cut, and provided an easy way to choose names for a large number of male and female children. According to tradition, the Irish pattern for naming children goes as follows:
The oldest son would be named after the father's father (paternal grandfather)
A second son would be named after the mother's father (maternal grandfather)
The oldest daughter would be named after the mother's mother (maternal grandmother)
A second daughter would receive the father's mother's name (paternal grandmother)
If there were more male children to name, there was nothing to worry about, as the pattern continued:
A third son would receive the father's name (an excellent test to see if your family followed the pattern)
A fourth son might be named after the father's oldest brother
If a fifth son was born, he might receive the name of his mother's oldest brother
The pattern held true for additional female children, as well:
A third daughter would have the name of the mother
A fourth daughter could receive the name of the mother's oldest sister
Should there be a fifth daughter, she might be named for her father's oldest sister
As you can see, this naming tradition provided names for five boys and five girls – ten children in all. Male children were named with the father's family receiving priority, and the female children were named with the mother's family names first.
If there were more than five children of the same gender born, then parents had to come up with their name in some other manner.
This naming pattern was not followed for a long period of time in Ireland, and it has decreased in popularity. However, during the 18th and 19th centuries, a surprising number of Irish families, regardless of social class or religion, did stick to this pattern fairly closely.
For example, my great-great grandmother's name was Alice. Even though her mother was not Irish, her father was, and it appears that they stuck to the naming pattern when they chose her name.
According to the naming pattern, the first daughter would be named after the maternal grandmother. Indeed, my Alice was named after her mother's mother, Alice.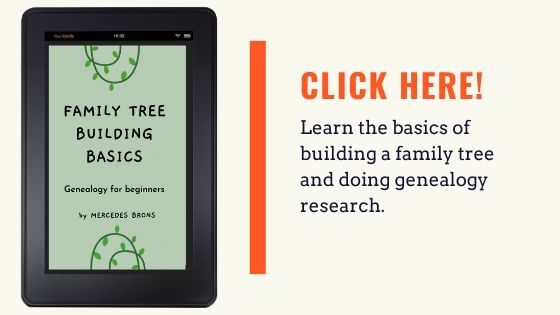 How Irish naming patterns can help you in genealogy research
The pattern that I mentioned above can be very useful in finding clues for family tree research. Based on the naming pattern, you might be able to guess the names of the parents and siblings of your ancestors.
For example, my Irish ancestor's first son was named Joseph, and his second daughter was named Minnie, which is sometimes a nickname for "Mary". Were his parents Joseph and Minnie, or Joseph and Mary?
Could his brothers' names be found among the names of his children? My ancestor named his fourth son after himself, according to the records that I have, which appears to break with tradition.
It is important to recognize that the Irish naming pattern was not a rule. Instead, it was a custom that people could follow if they wanted to.
This means that we cannot be sure that our Irish male ancestor's first son and second daughter have the same names as his parents. In other words, I can't just fill in my family tree back a few generations based on the names of my ancestor's children.
The possible names are a place to start our research, however. I can see if I can find records that seem to match up with the naming pattern.
Such records could be:
A neighbor nearby in the census with the same first name as one of the daughters, or the same first and last name as one of the sons
A passenger list that reports the name of the ancestor along with another passenger that has the same name as a son or daughter
A public family tree (on a site like Ancestry) that shows parents matching the naming tradition along with a son that has your ancestor's name and other children following the pattern
A city directory that has other people with your ancestor's surname that also match the names of at least one of his children
Even when we do seem to find records that seem to match our ancestor, assuming traditional Irish naming customs were followed, we do need to be careful to not jump to conclusions. The naming pattern only provides clues, not evidence or proof, that these records might possibly belong to our family.
We will still need to follow up with additional research to see if we can find other evidence that our assumptions are correct. Additional research could include other forms of genealogy records, and even DNA testing.
Conclusion
I hope that you have found this post interesting, and that you are able to use this information to look for clues in your Irish family tree. If you have any questions about something that you read, or if you have spotted these patterns in your own family tree, leave a comment below.
Thanks for reading today!