Are you stuck on a line of your family tree? Do you feel like your ancestor must have just appeared out of nowhere? In this post, learn some of the most effective genealogy strategies for breaking down "brick walls".
I have never met a genealogists, no matter how experienced, who has not encountered dead end in their family tree. It happens to all of us, and it's incredibly frustrating when it does.
It's especially frustrating when the brick wall is only a few generations back, and we feel like we should be easily able to locate records pertaining to our ancestors.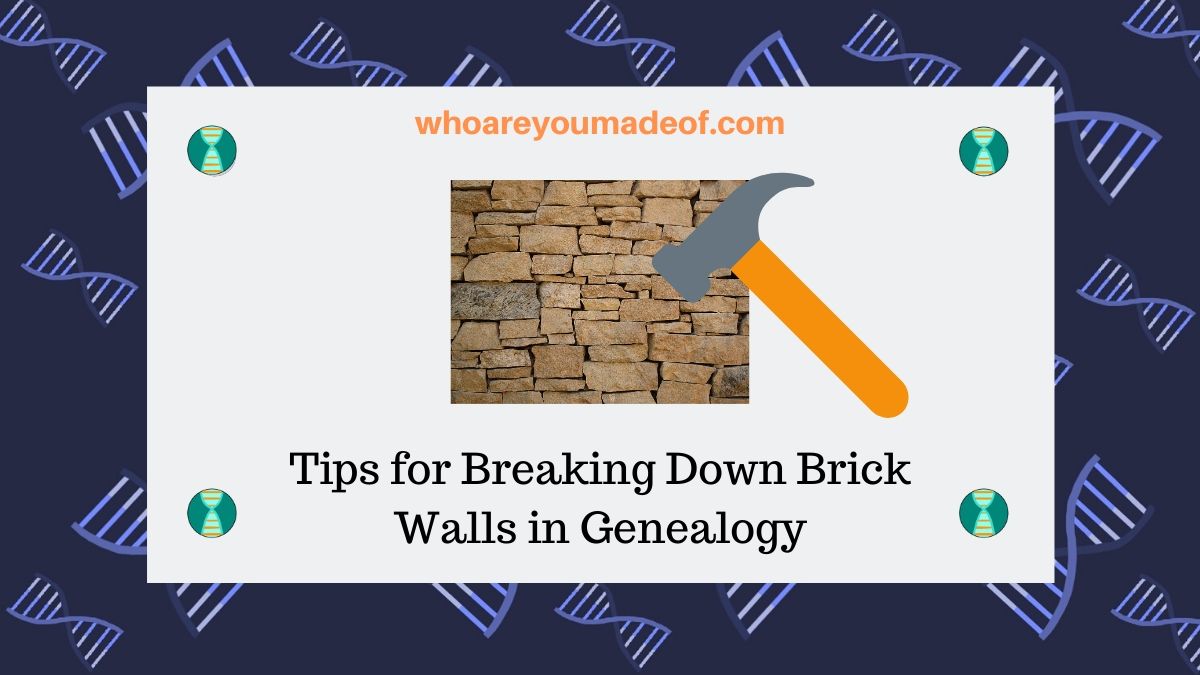 This list, which I have compiled in order to give you ideas and inspiration about where and how to continue your search. Sometimes, a fresh perspective is necessary to regroup and begin your family tree research with a new vision of how to move forward.
How to break genealogy brick walls
Below is my go-to list for breaking down brick walls in my family tree. While I still have a few ancestors that have proven to be especially elusive, I have found every single tip to be useful in my own search.
I hope that you get some ideas and that you are successful in your search.
This list currently contains 26 tips for breaking down the brick walls in your family tree. As more ideas come to light, I'll add them to the post.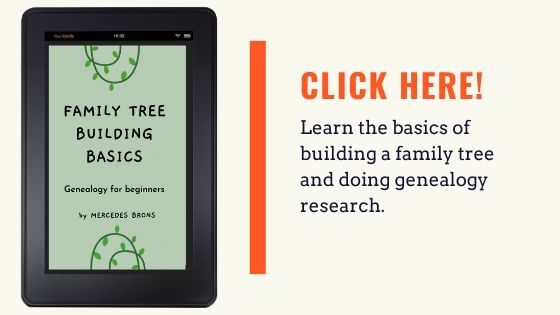 Talk to family members…. AGAIN
Talking to your family members is a great way to start your research, but it's also a great way to continue your genealogy work. When you talk to a family member you've already spoken with, be sure to let them know what you have learned about the ancestor you are interested in.
These details might jog their memory, leading them to reveal something that they had forgotten to tell you before.
I can't stress how important it is to talk to your family members, especially the older ones, more than once. Their personal memories of people and subjects you are interested in are invaluable and we have a limited time to document this history.
Get back to basics
Take an honest look at your ancestor and what you have already learned. Starting with the most basic details about their life, write them down.
What's missing?
Do you know what they did for a living? Who they married? How many children they had?
By starting from the beginning and just looking for the basics of their life story, you might find a place where you can do more research. This might lead to the information that you are looking for and help you break your brick wall.
Breaking down brick walls with DNA
Have you taken a DNA test? Autosomal DNA tests are the best way to break down brick walls, especially with ancestors that are within the past five or so generations.
Compare notes with other relatives researching the same ancestor
The further back your ancestor is in your family tree, the more likely it is that there are other descendants or relatives that are also researching the same person. By reaching out to those individuals, you can compare notes and theories and get ideas about how to move forward.
You can find these interested parties by searching for family trees that contain your ancestor's name on websites like Ancestry and Family Search.
Start a family newsletter
This is such a creative idea, and I have to admit that it's not originally mine. I have a distant cousin who started a newsletter about an ancestor that we, along with several other relatives, share in common.
About twice a year, she would send out updates on her search. This newsletter was so effective that she was contacted by other relatives that had additional information to share with her.
Re-examine records
Taking a second, third, or even a fourth look at a record can sometimes lead us to discover an important detail that we previously overlooked. Additionally, we might have new information that could allow us to view the original record in a new light.
For example, years ago, I sent off to the New Jersey vital records department requesting information about a great-great-uncle. On his birth certificate, the name of a witness was listed.
The witness seemed like a complete stranger to me, so I ignored the name. After a couple of years, I came across a new record where a woman was listed that had the same first name as the woman on the birth certificate.
However, I didn't realize this until I took the second or third look at the original record. It turns out that the surname on the birth record was the witness's married name and I was able to research her and discover more about my ancestor in the process.
Look at old maps
The internet is a great resource for old maps. You can find old maps of counties, states and countries.
By researching old maps, you will realize that names of countries, states, towns, and even streets have changed. This information can provide additional clues about what to look for in the future.
Put yourself in the shoes of an immigrant
Genealogists commonly get stuck on the "immigrant ancestor", since language barriers, poverty, and any other number of factors create additional obstacles to research.
If you put yourself in your immigrant ancestor's shoes, however, and try to think about their priorities, concerns, and social network, you might be able to find out more about them.
For example, it's probably safe to say that most immigrants arrive in a new country or move to a new city because they have a family member or close friend who is already living there. This friend or family member can provide valuable resources, such as a job or place to live, to help the immigrant get established in the new city.
Additionally, many immigrants established themselves in communities of immigrants who shared cultural and linguistic ties. When members of these communities moved outside of the main city, many others followed.
Check the newspaper
When I first began genealogy research, I undervalued the potential of the local newspaper. I assumed that most of my ancestors had never done anything of note and I would not find articles written about them.
Oh, how wrong I was!
I have had great fun researching my ancestors on Newspapers.com and have found some incredible information about people in my family tree. As it turns out, what was "newsworthy" in previous decades or centuries is different than today.
Newspapers, especially local ones, historically looked more like social media posts. You can find out who spent Saturday afternoon at whose house, if you are lucky.
And any little detail, no matter how seemingly insignificant, can help.
Check the phone book or directory
Back in the old days, phone books and directories were very useful and widely distributed. People in towns and cities depended on these compilations of residents in order to locate friends, family members, vendors and business to patronize.
For many people, it was a matter of pride to be listed in the city directory. There is a lot of information listed in these directories, and you also might be able to find other relatives with the same surname.
Don't depend on the index record – view original image
It's so easy to quickly add the index of a record to a family tree and move on to the next detail or relative. If there is an original image to view or request, I highly recommend doing it.
Sometimes, this might mean ordering an original copy of a document from a repository. If this is something that you can afford to do, it might save you lots of time, and even money, in the future.
Indexes usually contain only the basics from a record. There are usually details not included in the index, although not always.
Track down witnesses
Any name on the records or documents of your ancestor can have the potential to be important. This is why it is good to do some initial research on any witness that you find on a document or certificate in order to determine their relationship to your ancestor.
While they might be an employee of the courthouse, they may have been a neighbor or family-in-law.
Research the cemetery
If you are able to locate where your ancestor or relative was buried, you might be able to find additional relatives who were buried in the same cemetery.
If you don't know where your ancestor was buried, but you are able to locate where some of their children were interred, this is an important clue. Check all of those cemeteries to potentially find more relatives.
You can use Find a Grave to do this quickly and easily.
Learn about your ancestor's neighbors
Did your immigrant ancestor visit home?
Even though our ancestor's priorities were to establish themselves in their new country, they may have still maintained contact with relatives in their home country. This contact may have included one or more visits home.
Sometimes, the children or grandchildren of the immigrant ancestor made the trek home in order to meet and spend time with their relatives in the "home country".
Don't ignore image-only records
Even though it might take lots of extra time, you might benefit from searching through image-only records one by one. You can find index-only records on websites like Family Search.
There are lots of other places to look for image-only records, however. This is especially true for records located in other countries.
(Image only records are records that have been digitized, but not indexed)
Keep track of your research
It's very important to keep good notes of your research. If you take care to write down what you know, and what you don't, you will stay more focused on the detail that you are looking for.
Read about local history
Understanding the context of our ancestor's lives can sometimes lead us to think of an idea of where to look for records. Decisions our ancestors made were often based on local conditions, and if we understand those local conditions, we can better understand our ancestor.
Go to church
Call or visit the church where your ancestor attended, or likely attended. If you don't know, then try to find out what religion they may have belonged to.
Once you know the religion, you can research the local churches in the area where they lived. These churches may be able to provide you with records, or tell you where those records are being held.
Hunt for property or land records
Local governments often have tax, property, and land records that are available for search either online or in person. These are valuable records that can provide important clues.
Revisit your assumptions
Take an honest look at the assumptions that you are making about your ancestor. For example, are you assuming that they were born in the state where they lived when they were 20 years old?
Perhaps they switched occupations, or had children when they were older than is customary.
Any incorrect assumption can send us off on a wild goose chase!
Search for your ancestor on Google
Have you ever just typed in the name of your ancestor and the year of their birth into Google?
If not, definitely try it.
Find living descendants on social media
If you are outgoing and a determined researcher, you might want to research people with the same surname as your ancestor who still live in the original home town. Who knows what you'll learn?
Social media is a great place for this. You also could try Google.
I've done this to find relatives in The Netherlands who still live in my ancestor's town of origin. I just typed in the surname + the name of the hometown.
Doing this, I found a cousin who was a firefighter in this little town. I sent him an e-mail and it turns out that he had always wondered what had become of his American cousins, descended from the brother of his grandfather who had come to live in the US.
Research brothers and sisters of target ancestor
We often spend a lot of time thinking only about our ancestor. This is actually a very common mistake, and we all commit this error.
If we can figure out who our ancestor's siblings were, we can add them to our tree. While we are at it, we should also add the children of our ancestor's siblings to our tree.
Once we know the sames of these individuals, we should dedicate the same time and attention to learning about them that we do our ancestor. If we do, we might find details that can teach us about our ancestor.
For example, you might find that your ancestor was being cared for in his old age by a granddaughter that you didn't even know about. Alternatively, you might find that it's easier to research the birth location of your ancestor's sibling, leading you to discover the parents of your ancestor.
Don't give up!
By checking record locations regularly, you never know what new discover you'll make. Companies and individuals are working continually to update and improve their record collections, and new records are digitized around the world daily.
Check back regularly to see if there is anything new!
Conclusion
I hope that this post has helped you get some ideas about how to break down your brick walls. If you have any new ideas, or if you absolutely love any of the suggestions in this post, I would love to hear from you in the discussion below.
Thanks for reading this post today!