Many millions of people use the Ancestry website to build their family tree, find historical documents, and even test their DNA. Wouldn't it be helpful if there was there a way to search for a specific member on Ancestry?
In this post learn how to access the member search feature and the different ways to use the tool. This feature should help save you time and might even help you make valuable research connections.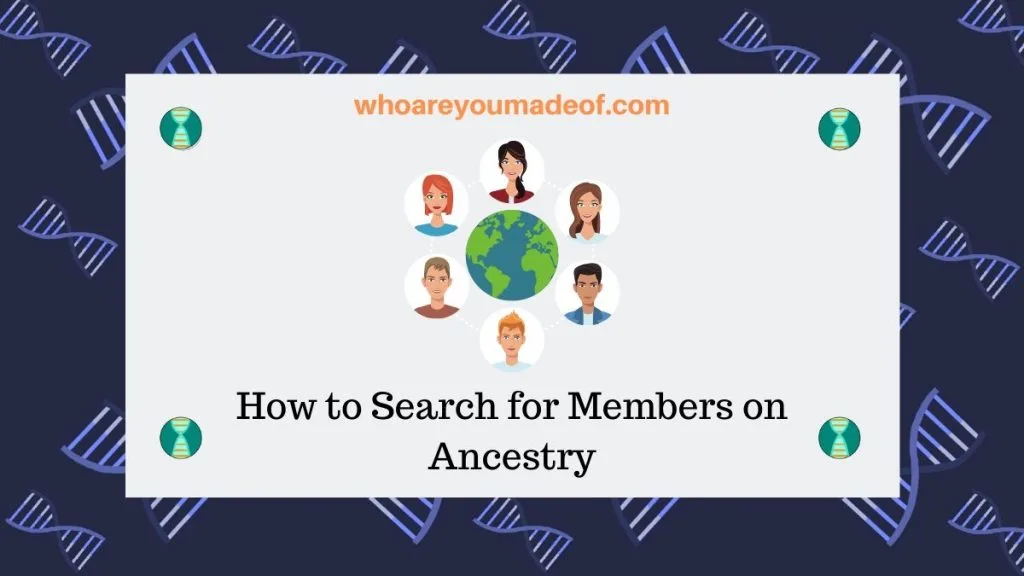 I know that I am not the only person who has spent thirty minutes – or sometimes even more – trying to locate one specific individual on Ancestry. One of the most common reasons that I might do this is when a friend or associate tells me "Hey, I did an Ancestry DNA test, too! I wonder if we match?"
Instead of scrolling through my list of 20,000+ DNA matches to find my friend (who probably isn't a match to me), I can use the updated Member Search tool to quickly search for their profile. From there, I can see whether they show up as a DNA match to me, access their family tree, and more.
There are lots of other reasons that you might want to use the Member Search tool on Ancestry. You might be looking for descendants of a particular ancestor, distant cousins to partner with for research, or someone who shares a common research interest.
How to access the Member Search feature on Ancestry
The Member Search tool is easily accessible from the screen that you see when you first log in to Ancestry or Ancestry DNA. First, click "Search" from the black menu at the top of the screen. Then, click "Member Search" at the bottom of the drop down menu.
The image below from Ancestry DNA results shows the black menu bar at the top where you can access the search tool. This menu is the same across the Ancestry site, whether you are building a family tree or looking at DNA matches: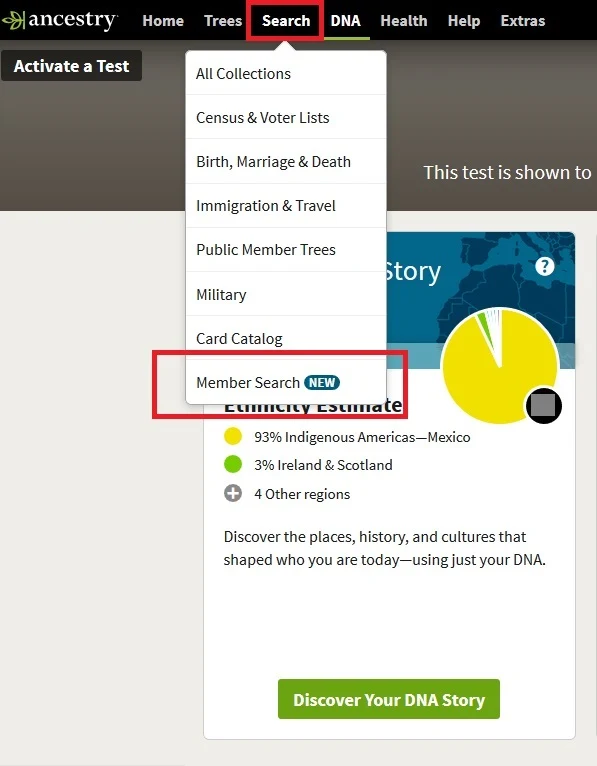 The next screen will allow you to decide between searching for Ancestry members by first name, last name, or their Ancestry username. Additionally, you can decide to search by research interest.
Below, learn more about these two distinct search options.
How to search Ancestry members by name or username
To search for Ancestry members by name, all you have to do is enter as much information as you know on the main member search screen. You can enter their first name, last name, both first and last names, or their Ancestry username.
Once you have entered in the information, just press the blue search button. The results of your inquiry will show up quickly and you will be able to see all of the Ancestry users who match your search terms.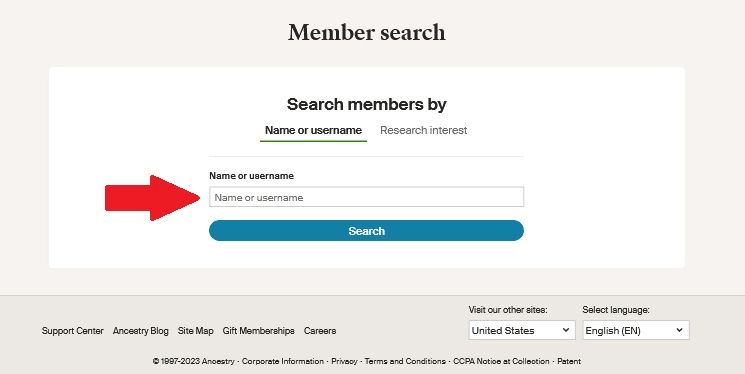 The names in the search results will start off with the best matches, which typically are exact matches. Then, you might see people whose names are close matches.
It should be noted that there are many millions of Ancestry users, and so there are likely several people with the same name as the person who you are looking for, or a similar name. The more common the name you enter, the more people with the same name you will find.
Since there are millions of Ancestry users, search results are limited to 500 members. The more detailed and complete information that you can enter in the search, the better your search results will be.
Once you receive your search results, you can use other information that you know about the person that you are looking for in order to spot them in your search results. For example, if you know that the Ancestry member lives in Michigan, logged in to their account recently, or if you know what their profile photo should look like, you can find them more easily on the list.
How to search Ancestry members by research interest
We have many thousands of ancestors, which means that it is difficult to be an expert in every surname or geographic location for every person in our family tree. By searching Ancestry members by research interests, we can locate people who are very interested in one particular surname or time in history.
By combining what you already know with tips learned from someone who has spent more time on a topic than you have, you might be able to solve one of your family tree mysteries.
I know that I am not the only person doing genealogy that has a few brick walls in their family tree. One brick wall that I find particularly frustrating, despite my ideas for break through these brick walls, is my great-great-great-great grandfather Butler. All records pertaining to him point to him being born somewhere in Ohio.
Butler is a fairly common surname in Ohio. There are Butlers everywhere in Ohio, and there is even a Butler County.
Is there anyone who is an expert in Ohio Butlers? I can use the Ancestry Member Search tool to locate people who have been focusing their research efforts on Ohio Butlers.
Perhaps I will find someone who could provide some insight into my Ohio Butler connection. I could even find someone who is related to me and learn that we are researching the same ancestor.
To search Ancestry members by research interest, simply click the "Find member by research interest" from the main Ancestry member search page: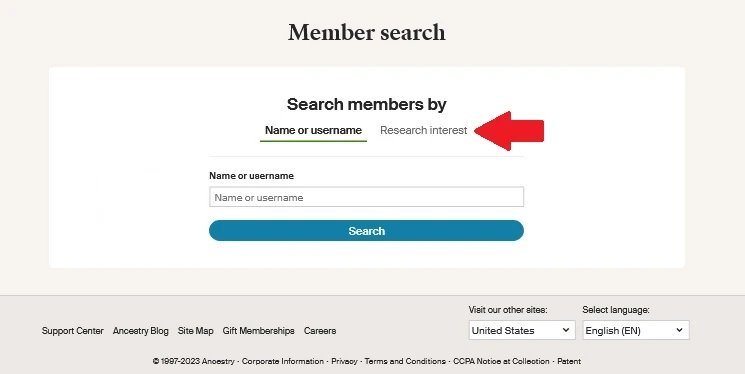 On the search page, I can enter in as much information as I want to use for my search. My options are surname, location, and year. You don't have to fill each field if you don't want to, but the more specific information that you enter, the better chance you have of finding someone who fits your research description.
For location, you would want to enter in the most specific geographic location that you know where your ancestor lived. In my case, all I know is that my Butler ancestor lived in Ohio, so I will enter "Ohio, USA".
My Butler ancestor was born in 1821, so I will enter 1820 in the "Year" search field.
I will then press the search button in order to perform my search. I should see a list of people who are also researching Ohio Butlers in the 1800s: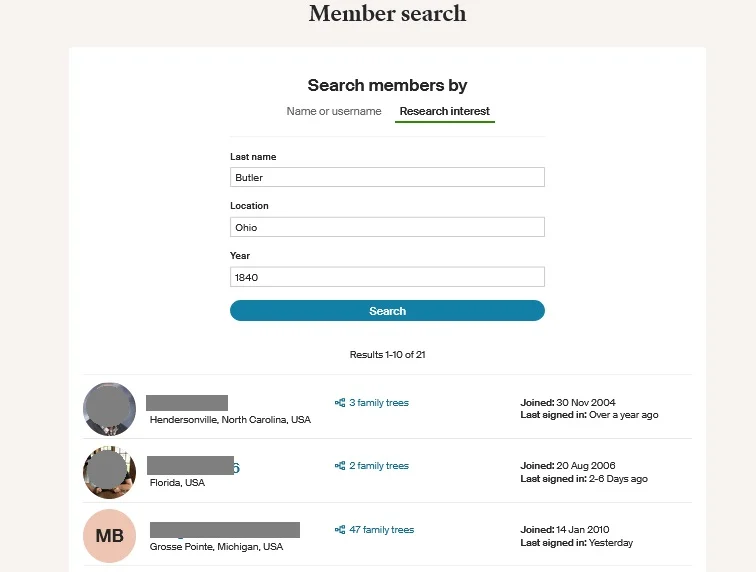 I have greyed out the profile pictures and usernames of these ancestry members to protect their privacy, but if you search on your account, you will see their name and photograph (if they have one on their profile).
There are 21 people on Ancestry who are interested in researching Butlers in Ohio from the 1800s. The top match, who lives in Florida, signed in to their account yesterday, which implies they might be actively researching their tree.
If I send them a message, we might be able to compare notes and help each other out.
Tip: If you haven't already, be sure to update your Ancestry profile to add your research interests. You never know when someone will contact you with information or questions – this is a great way to find a research partner!
Do you need a subscription to contact Ancestry members?
Yes, in order to contact Ancestry users or members, you must have an active Ancestry subscription. This policy protects the privacy of everyone who uses the Ancestry site, including both active members and those who have built a free family tree on Ancestry.
If you don't have an Ancestry subscription, but you have done an Ancestry DNA test, you can always contact your DNA matches through the DNA match list. If you find an Ancestry member with whom you share DNA, you can contact them without an Ancestry subscription by clicking through to your DNA match page directly from their profile.
You will be able to see if you are a DNA match by viewing their main Ancestry profile. If they match you, your profile photos will display and the amount of shared DNA and estimated relationship will be displayed.
From the DNA match page, you will be able to send them a message.

We will not be DNA matches to most Ancestry members. In fact, even if we are related to someone, we might not share DNA (even if we both took tests).
If you view someone's profile and they are not a DNA match to you, a message will appear that says "(Person's name) is either not a DNA match or has not taken a DNA test". In order to contact this person, you will have to have an Ancestry subscription.

Conclusion
I hope that this post has helped you understand more about using the Member Search tool on Ancestry, and why you might want to use this tool. If you have any questions about something that you read in this post, or if you would like to share your favorite reason to use the tool, I'd love to hear from you in the discussion below.
Thanks for stopping by today!