Are you interested in finding an obituary for someone? In this post, you will find out how to search for obituaries by name completely for free.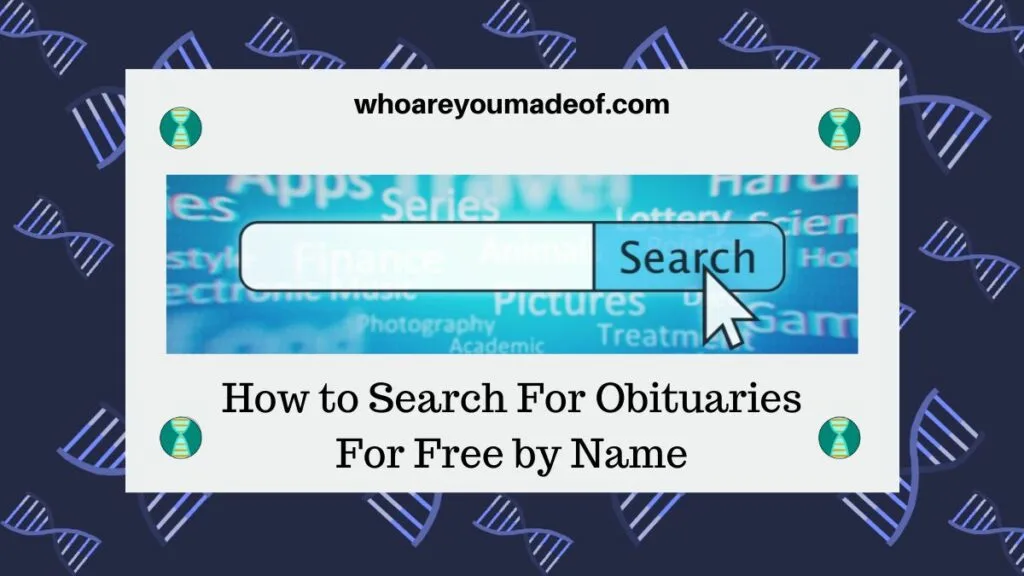 Obituaries, also known as death notices, serve many purposes. The main purpose is to notify the general public, including family, friends, and colleagues, about someone's passing, of course.
In addition to a general notice, the obituary serves as a way to help those who knew the person learn details about their life that they may not have known. Furthermore, genealogists and family tree researchers use these articles as sources for building family trees.
Because obituaries are useful in so many ways, it makes perfect sense that you would want to find the one that you are looking for. Fortunately, you are likely to be able to find what you are looking for without spending any money.
Below are several places you can look to search for a obituary by name, and for free.
Legacy.com
If the person whose obituary you are searching is from the internet age, or about the year 2000 or later, you might be able to find it on Legacy.com or Dignity Memorial, which I will write more about below.
Legacy.com hosts obituaries and death notices for about 70% of the deaths that occur in the United States, and includes many international obituaries, too. You can find obituaries from thousands of funeral homes and obituaries from primarily English-speaking countries and Europe.
It's free to search on Legacy.com, and you don't need to register or have any sort of account. You can search with as little, or as much information as you have.
To do your search, visit:
Dignity Memorial
Dignity Memorial works directly with funeral homes and cemeteries to help people find needed services. One aspect of their service includes hosting online memorials, or obituaries, which are typically written and published by family members or close friends.
The actual obituary is typically hosted on the funeral home's website, and the Dignity Memorial site syndicates this content. This means that you can use the Dignity Memorial site to search for obituaries all across the country even if you don't know the name of the funeral home or even the state where your relative lived.
To search on the Dignity Memorial site:
Find-a-Grave
Find-a-Grave is usually known as a website to search for burial locations. However, many people add published obituaries to individual memorial pages.
We don't always find obituaries on Find-a-Grave, but if you can't find it on the prior websites, it's worth checking on Find-a-Grave. Usually, obituaries are added to the memorials by family members, and since most memorials are created by Find-a-Grave volunteers, this means that we don't usually see obituaries for recently passed people on the site.
Even if you don't find your relative's obituary, you will likely learn where they were buried. This can be a valuable piece of information to help you find their obituary somewhere else.
You don't need an account to search on the site – just click here:
Family Search Obituary Collections
Family Search, a very useful and free genealogy website, has a limited collection of obituaries and indexes to obituaries that you can search by name online. An obituary index will generally list the name of the subject of the obituary and the publication where the original death notice can be found.
There are currently 37 obituary collections on Family Search, and they range from obituaries in British newspaper archives to individual state and county obituary archives. Some of these collections, which are generally grouped by date, include obituaries from as far back as 1820.
The link below will take you to the current list of obituary collections on Family Search. To search these collections by name, click the collection you would like to search and you will be taken to a new page where you can enter your relative's name.
Rootsweb.com Obituary Database Search
Rootsweb is the oldest free genealogy resource website, and it certainly has a lot to offer. One important searchable database on the site is the obituary index, which is an index of obituaries that have been published, collected and maintained by a host of volunteers.
Your local public library
Many local libraries in the United States offer access to websites such as Ancestry.com or Fold3 for free to anyone who has a library card. You can sometimes access these services from your home using your library card, but you might have to go to your library to use the computer there.
This means that you might be able to access the many millions of records on the Ancestry that most people have to pay a subscription for – for free. All you have to do is actually visit the library.
To find out if this option is available to you, call your local library and ask what kind of genealogy resources they offer that can be accessed using the computer. In addition, ask them if your library offers the Ancestry Library Edition and how you can use it.
Library of Congress Online Newspaper Collection
Many obituaries are published in local newspapers. In fact, prior to about the year 2000, this was the only place where most obituaries and death notices were printed.
Unfortunately, it can be tedious to try to find individual old local newspapers. Plus, we might not even know exactly which paper printed our relative's obituary.
The good news is that there has been a big effort to digitize local newspapers and make them available for free on the website of the Library of Congress. Not every newspaper is available or digitized, but it is certainly worth a search if you have not been able to find what you are looking for.
To search the Library of Congress old newspaper collection:
Unusual sources of obituaries
If you have searched and searched with no success, you might find that you have to get creative to find your relative's obituary – if there was one printed. It's important to remember that not everyone has an obituary published about them.
However, if you feel like there really must be a death notice or obituary for the person that you are searching for, it might be time to become more creative in your search. If you have already checked all of the collections and websites that I listed above with no luck, don't give up.
There are still more ideas that you can try. All you need to know is a little bit about your friend or relative's life, such as the place where they lived most of their life, or where they passed away.
If you know, for example, that your loved one lived in the Rochester, New York area, you could visit the Rochester Public Library page to view the obituary index. This particular index, which contains information about obituaries printed in three local newspapers, is not searchable by name immediately, since you need to know what year the person died.
Once you are viewing these obituary indexes, you can use a little computer trick that I love to search by name. On most web browsers, clicking "Control + F" (meaning the Control button and the F button) will bring up the web page's search function, at which point you can type in the last name or first name of the person who you are searching for.
At the bottom of your screen, you will see how many matches are on the screen and you can use the little arrows to skip to the place in the page where that name appears.
Sometimes, you might find only a collection of obituaries with no index. This is great because you will get access to the entire obituary, but you won't know if your relative's obituary is in the collection until you search through all of the images (they are often in alphabetical order).
The "Newspaper Obituaries; Book 1 (I-L)." Afro-American Historical Association of the Niagara Frontier is a good example of an obituary collection like this. This collection of obituaries consists of newspaper clippings of obituaries published for African Americans in the Niagra area of New York, and the publisher has a variety of other collections that people from this area might find useful, too.
These two examples are very location-specific because people from Cleburne County, Alabama will not generally their obituaries printed in Rochester, New York. However, I wanted to show that there is a wealth of information available if you are willing to really dig in a look for it.
The best way to find these unique collections is to do a Google search for the location where you think your loved one passed away or lived, along with the term "obituary collection" or "obituary index". Many of the search results will be from some of the sites that I have mentioned in this article, such as Dignity Memorial, but because you have already searched on those sites, you can ignore those search listings for now.
Instead, look for a local historical society, governmental organization, university, or library that claims to have obituaries for the local area. This is where you are likely to find these unique collections of obituaries that are not available anywhere else.
Conclusion
I hope that this post has helped you learn about all of the many places that you can search online (and in person, in the case of the library suggestion) for obituaries about specific people. For many of us, this is an important step in learning about the lives of our friends and family who have passed.
If you have any questions about something that you read in this article, or if you have your own favorite places to search, please feel free to join in the discussion below to share your ideas.
Thanks so much for reading today!