Do you want to know where you can buy Ancestry DNA? In this post, learn the answer, as well as whether you can buy it in stores, or as a gift for someone else.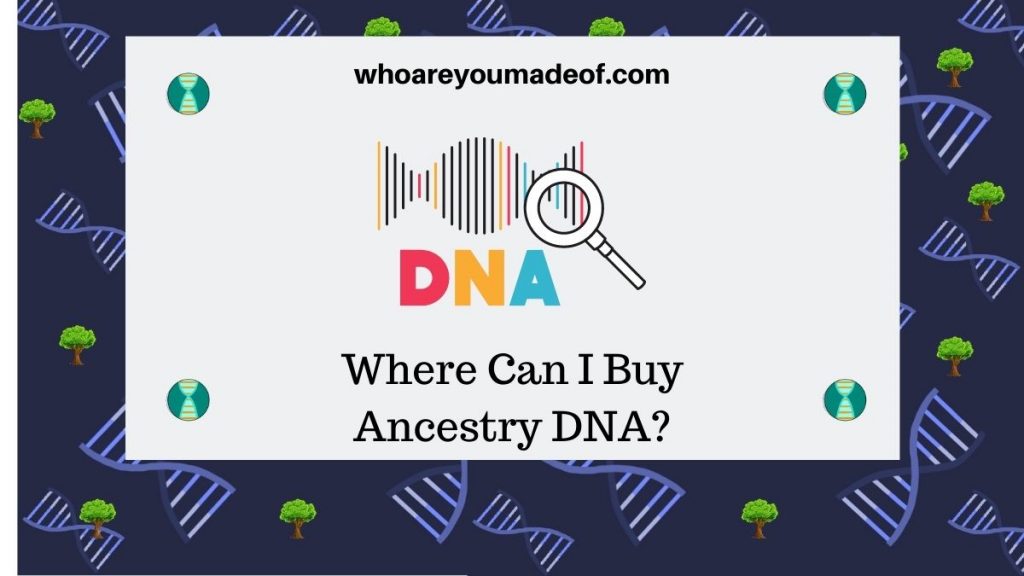 Purchasing your Ancestry DNA test is the first step to a fascinating journey. Whether you want to discover biological relatives, find out where your ancestors were from, or learn more about your family tree, you will find what you are looking for in your Ancestry DNA results.
Where can I buy Ancestry DNA online?
The best place to buy the Ancestry DNA test is directly from the Ancestry website. I always recommend purchasing the kit directly through the Ancestry website in order to ensure you get the best price, fastest shipping, and most reliable service.
You can use this sponsored link to order your Ancestry DNA kit: Discover the story AncestryDNA® can tell.
What do you get with an Ancestry DNA test?
Your Ancestry DNA test results will provide you with an extensive ethnicity estimate indicating the percentage of your DNA that matches more than 1,100 regions worldwide. The second main feature your results is an incredibly extensive list of DNA relatives, which includes details about how much DNA you share and your possible relationship.
If you have a family tree on Ancestry, or you think you might want to make one, you can get access to even more features. For example, the powerful Ancestry ThruLines can help you identify potential ancestors.
Finally, the most amazing thing that you get with the Ancestry DNA test is periodically updated ethnicity estimates, as technology improves. Plus, you will always get new DNA matches as more people decide to test their DNA with Ancestry.
For example, I purchased my Ancestry DNA test in 2016 and have received updated results, access to new features, as well as thousands of new DNA matches without having to make any additional purchases.
Can I buy Ancestry DNA in stores?
No, you cannot buy the popular Ancestry DNA kit in stores. The only way to purchase the Ancestry DNA kit is online. The test will be shipped to the address of your choosing.
The Ancestry DNA test can only be purchased online.
There are many other DNA tests sold in stores that might have names similar to Ancestry DNA, such as tests with the word "ancestry" in the name. However, many of these tests are not as reliable and do not have results that are comparable to what you will get with the real Ancestry DNA test.
In addition, many of the companies that sell DNA tests in stores often charge an extra processing fee in order to process your DNA. In other words, it's best just to buy the reliable Ancestry DNA test directly from the source – the Ancestry DNA website.
How much does Ancestry DNA cost?
The regular price of the Ancestry DNA test is $99. The DNA test does usually go on sale a few times each year, and if the test is one sale when you are purchasing your test, you will receive the sale price.
You can use this sponsored link to order your Ancestry DNA kit: Discover the story AncestryDNA® can tell.
Can I buy Ancestry DNA as a gift?
An Ancestry DNA test can be an excellent gift to give a family member on a special occasion. This is especially true if your relative is interested in genealogy, learning about their ancestors, or searching for biological family.
If you are interested in purchasing the Ancestry DNA test for someone else, you have two choices. You could have it shipped directly to your relative, or you could have it shipped to your address and then you could personally deliver the gift.
The Ancestry DNA testing kit contains registration information, so your relative will be able to go through the process of setting up their free Ancestry account and registering their DNA kit to their account. It's a very simple process.
In addition, if you purchase the kit for your relative, there is no subscription requirement, or need for them to purchase anything else in order to access their DNA results.
What to do after you buy your Ancestry DNA test?
Buying your Ancestry DNA test is just the first step in learning about your ancestors and living relatives. Don't forget to bookmark this website to find helpful articles and information to help you get the most from your DNA results.
You can also refer to the following resource page where you can read more about the information available on this website, and even sign up for the free weekly newsletter and ebook:
Conclusion
I hope that this post helped you understand more about exactly where and how to buy Ancestry DNA, and what you should know when you want to gift the test as a gift to someone else.
If you are going to get your Ancestry DNA test, I would love to hear the reason why you want to test your DNA in the discussion below.
Thanks for reading today!