Do you want to learn more about your Irish ancestors? In this post, find out how to find which of your ancestors were Irish, how to learn about their lives in Ireland – and more.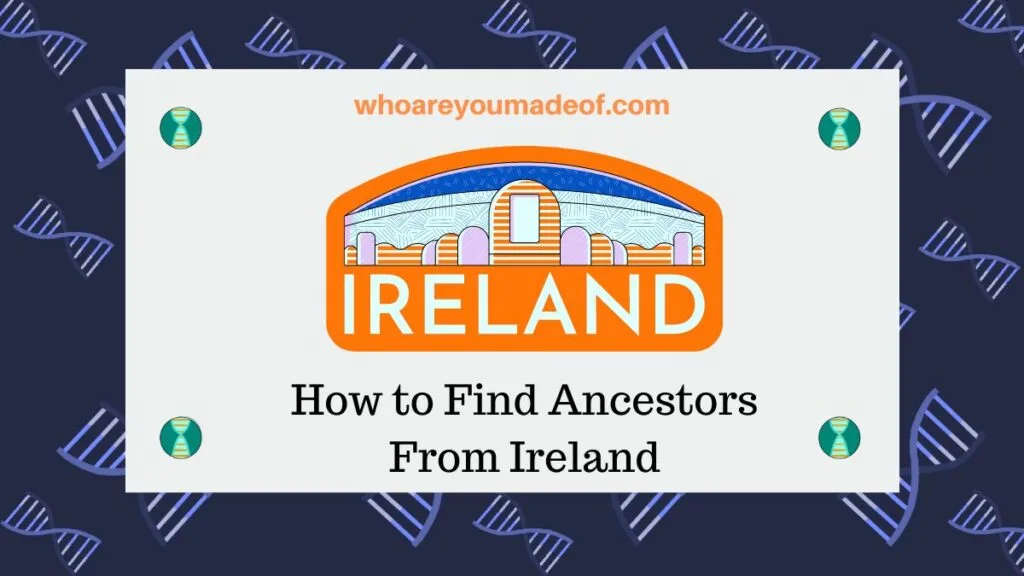 Since the year 1800, about ten million people have left the island of Ireland, including both the country of Ireland and the Northern Ireland portion of the United Kingdom. Descendants of these individuals number at least 80 million people worldwide.
You and I are among this very large and widespread group of the Irish disapora, or people of Irish descent living outside of Ireland. Most of our ancestors left Ireland due to severe economic hardship, but some Irish people left the region because of political or religious persecution.
Most of the people of Irish descent outside of Ireland live in North and South America and Australia. A majority of information in this article will be applicable to anyone with Irish ancestry, but people located in the United States will find it most relevant.
Is Irish ancestry hard to trace?
Irish ancestry can be difficult to trace due to a lack of the typical genealogy records we prefer to use, as well as shifting political and administrative boundaries. Some of us will even encounter language barriers, which might take some researchers by surprise.
For example, most genealogists depend on census documents and vital records in order to document their family tree research. In the case of Ireland, we find that most of the census records from the 1800s were destroyed in a fire in 1922.
Vital records were not required to be kept by the government until the 1860s, which means that we have to depend on religious records for many events that occurred before the middle of the 1800s. However, we don't always know what religion our ancestors were, which presents an additional obstacle.
To make matters even more complicated, we find that the island of Ireland is actually divided into two different countries: Ireland and Northern Ireland, which is part of the United Kingdom. Some historical administrative districts (such as counties) had different borders centuries ago, and some place names have changed.
If you add in language barriers, such as the use of Gaelic in people's names and place names, we have our hands full learning how to research our Irish ancestors. Not all Americans are aware that even though most people in Ireland speak English, Gaelic (usually called "Irish" in Ireland) is the first official language of Ireland.
Even so, it's worthwhile to learn as much as you can about Ireland, and your Irish immigrant ancestors. With enough focus and determination, you can discover everything that you want to know about your Irish roots.
How to trace an Irish relative?
The tips below are for tracing your Irish relative. They start at providing instructions about how to identify who your Irish immigrant ancestors were, identifying their immigration records, as well as additional strategies for learning more about them.
Identify Irish immigrant ancestors
The first thing that you need to do to trace your Irish relatives is to figure out who your Irish immigrant ancestors were. He or she, or they, would have come directly from Ireland to the country where you live now, such as an Irish immigrant coming to the United States.
If you have heard stories about having an Irish ancestor, but you aren't sure exactly how many generations they are back in your family tree, or even what their name was, you should start tracing your Irish ancestor beginning with your parents.
Build a small family tree (it's easy and free to do on Ancestry), and add all of the generations of ancestors that you know of. This would include your parents, grandparents, and great-grandparents – and even great-great grandparents if you have immediate access to that information.
At the great-great grandparent level, you should have a total of 30 ancestors including your great-grandparents, grandparents, and parents. You should determine where all of these thirty ancestors were born.
If none of these thirty ancestors were born in Ireland, the next step would be to find your sixteen great-great grandparents on the United States Federal Census records, which were taken every ten years starting in 1790. You may be able to determine whether the parents of any of your great-great grandparents were born in Ireland.
Fortunately, most census records prior to 1950 (except 1890, which were destroyed) can be viewed for free on Family Search if you create a free account. The 1950 US Federal Census can be viewed for free on the US government's Official 1950 Census Website.
The majority of the Irish immigration to the United States occurred between 1820-1930, so it is most likely that you will find the name of your Irish immigrant ancestor in census records. If you don't, then your Irish ancestry might be further back and you will need to learn more about family tree researching strategies in order to build your family tree back far enough to find your Irish ancestor.
Find Irish ancestry records
One you know the name of your ancestor who was born in Ireland, you can begin trying to trace their journey from Ireland, or Northern Ireland (UK), to the United States, Canada, or Australia. You will need to search for genealogy records online for this step.
There are many places to find genealogy documents online for free, but sometimes it does save quite a bit of time to get a subscription to a site that has a lot of international records, such as Ancestry. I recommend having an active subscription when you are doing the bulk of your research.
You can look for passenger records to see who traveled with your ancestor from Ireland, as well as religious records that documented baptisms, marriages, and deaths. This may help you discover where your Irish ancestor was born.
If you get stuck, you might be able to request religious records from your ancestors' church or parish in the United States in order to have access to more details than are available in vital records (i.e. birth certificates or indexes). For example, baptismal records in the Catholic church often include the names of godparents, who are often relatives or close friends of the family of the child who was being baptized.
It's important to keep track of the information that you learn during this process in the family tree that you started building during the discovery of your Irish ancestor.
Take a DNA test
Taking a DNA test, such as the one offered by Ancestry, is one of the best things that you can do to learn about all lines of your family tree, including your Irish ancestors. You will receive an ethnicity estimate, which can help you decide how far back in your family tree to look for your Irish ancestor, as well as a DNA match list.
If your Irish ancestry is very recent, you might even find that your DNA matches a specific region of Ireland. Both Ancestry DNA and 23andMe report matching to specific Irish regions.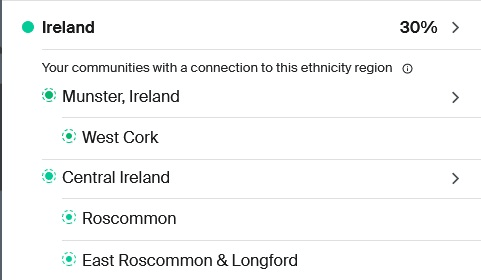 Look for Irish DNA matches
Your DNA match list includes living relatives who have also tested their DNA with the same company. You might find distant cousins who still live in Ireland, or other distant relatives who can help us learn about our shared Irish ancestry.
Ancestry DNA is the best company for finding DNA matches with family trees, but other companies offer great resources for those researching Irish ancestors, too. For example, MyHeritage DNA allows you to filter your DNA matches to only show those relatives living in Ireland.
If you have already tested your DNA and want to know how to use your DNA matches to learn about your ancestors, definitely check out this article: How Can DNA Matches Help Build a Family Tree?
Tips for researching your Irish ancestors
There are a few research strategies that are specific to finding Irish ancestors that you might find helpful, especially if you are just beginning your exploration of your family tree.
Ancestors from Ireland vs. Northern Ireland
Ireland was partitioned in 1920 as a result of the Government of Ireland Act of 1920 and the establishment of the Republic of Ireland after the Anglo-Irish Treaty of 1921. This means that while all of our ancestors were born on the island of Ireland, the region has gone through political changes that have caused international borders to shift.
Prior to the partition of Ireland, the entire island was considered to be part of the Kingdom of Great Britain beginning about 1800. This means that immigration records prior to 1920 might could say that our Irish ancestor was from "Ireland" or came from "Great Britain" or the "Kingdom of Great Britain".
Before 1800, there was a Kingdom of Ireland. However, since immigration rules were very relaxed worldwide in the 16th and 17th centuries, we will likely not see the Kingdom of Ireland frequently mentioned on immigration documents.
The "United Kingdom" in it's current form (i.e. Northern Ireland, Scotland, Wales, and England) was not officially designated until 1922. Immigrants from Northern Ireland who left the island of Ireland after 1922 may have identified as being from the United Kingdom, or simply as "Irish".
All of this information is relevant even today because once we know the name of county in Ireland where our ancestor was born and where they lived, we need to understand which country that is in now in order to locate more records about them.
Consider different spellings for surnames
Historically, less importance was given to spelling of surnames in a "correct" manner. This means that our ancestors' Irish names may have been spelled different back in Ireland, and it may not have always been spelled consistently the same way.
My most recent Irish ancestor's name is Dougherty, but his name may have been spelled "Doherty", "Daugherty", and any other number of ways. I'm assuming that most people spelled how things sounded, which also may have been influenced by the accent of the person who did the pronouncing.
Our Irish ancestors may have slightly changed the spelling of their surnames to make them easier for Americans to pronounce, or because the person who listed their name on a passenger list in Europe spelled their name how they understood it to be pronounced.
Research naming patterns
As I mentioned towards the beginning of this article, Irish genealogy can often prove to be challenging. This means that we sometimes have to get creative.
One way to do this is to research Irish naming patterns. Your Irish immigrant ancestors may have followed Irish naming customs in the United States that can give you clues about what the names of their parents and extended family members might be.
Conclusion
I hope that this post has helped you learn everything that you wanted to know about the basics of exploring your Irish ancestry. While tracing our Irish ancestors can be a bit of a challenge, especially for those of us who are not in Ireland, it's still a rewarding experience.
In my case, I wanted to help my mother learn about her great-great grandfather who had come from Ireland alone. Since he lived the rest of his life away from Ireland and his Irish family members, we never knew anything about his roots in Ireland – it was up to us to discover them more than a hundred years later.
If you have any questions about something that you read in this article, or if you would like to share something that you learned while researching your Irish ancestor, I would love to hear from you in the discussion below.
Thanks for reading today!