Do you want to know if there are totally free genealogy websites where you can find your family tree without a subscription? In this post, learn about how to find free genealogy records online for building your family tree.
Family tree research is fun, but let's face it – it can be expensive. Subscriptions to the most popular sites for family tree research can sometimes cost more than $150 a year, which is too much for many people to afford.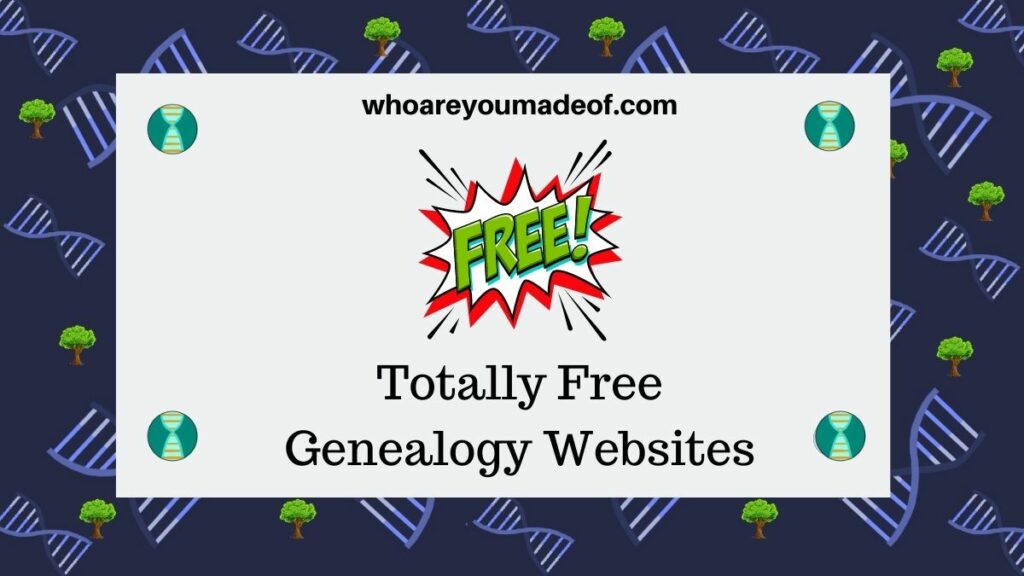 Is there a way to find out about your ancestors without spending a ton of money? Indeed, there are free sites for genealogy, and I have listed my favorite below.
Even though I sometimes have a subscription to a site or two, depending on how much time I am spending daily on genealogy, I still regularly use the free resources below. We have to be creative when we are trying to discover all that we can about our ancestors, and this usually means we have to look in multiple places for records.
How can you find your family tree without paying?
Before you get started looking for records about your ancestors, it is import to begin building your family tree. You can do this on paper, of course, or on a number of website that allow you to do this for free.
We can usually find a number of websites where we can make a family tree for free. It is the access to genealogy records, such as birth certificates or census records, that we usually have to pay to access.
Each website that allows you to build a family tree has its advantages and disadvantages. When looking for a place to build your tree, I recommend learning about the privacy protections on the site and whether or not other people will be able to make changes to your tree without your agreement.
My favorite website for building a family tree is Ancestry. Access to records on Ancestry usually costs money, but you can always create a free account and build your family tree for free on the site.
You will always have access to your free family tree that you build on Ancestry, even if you use other websites to find details and information about your ancestors, such as the free genealogy websites that I mention in this article.
What is the best free genealogy website?
My favorite website for free genealogy research is FamilySearch.org. Family Search is a non-profit organization run by the The Church of Jesus Christ of Latter-day Saints, or the Mormon Church.
It is free to create an account on Family Search to search for records, and even build a family tree. You do not need to be a member of The Church of Jesus Christ of Latter-day Saints in order to search and view records on the website.
One of the best aspects of FamilySearch is that you can find records from all over the world in many different languages, completely for free. For example, you can find copies of Mexican baptismal records in Spanish from the 1700s or in Slovak from the 1800s.
Census records, vital records, church records – and more, are all available to anyone who has a free Family Search account.
Even those people who have subscriptions to a family tree records site will find Familysearch.org helpful. I always use the site as a backup since there are some collections of records available on the site that you cannot find anywhere else in digital form.
If you haven't checked out Family Search yet, I highly recommend that you do. You will not be disappointed with the quality and number of available records.
Totally free genealogy websites you can use without a subscription
In addition to FamilySearch, mentioned above, that has the most extensive collection of free family tree records available on the internet, there are dozens of other places to find free genealogy records.
Some other very popular and useful free genealogy sites are:
Additional places that you might be able to check to find records about specific ancestors in your family tree include:
The website of the historical society in the county or city where your ancestor lived during their life
Property tax or real estate records are often available online, so you can search the county website where your ancestor lived
Free family tree websites can sometimes provide clues about your ancestors, though I recommend finding additional evidence in the form of vital records or other documents to back up information learned from other family trees
If you are researching family members who died within the past 20-30 years, you might be able to find their obituaries online by doing a Google search, or by searching on Legacy.com
If you have already taken an autosomal DNA test, such as the one offered by 23andMe or AncestryDNA, you might find good information by looking at your DNA matches, which can be very helpful for genealogy
If you have searched all of the resources that I have mentioned in this article and still can't find what you are looking for, you could consider signing up for one of the many free trials offered by the sites that do require subscriptions, such as Ancestry and Newspapers.com.
Finally, don't forget to take the time to ask your family members what they know about your family tree. You might have good luck doing simple family history interviews with your older living relatives, and it is possible that some of your relatives have already done some research that they would be happy to share with you.
Conclusion
I hope that this post has helped you understand that it is possible to research your family tree for free when you don't have the budget for expensive subscriptions to genealogy records services. Genealogy is a fun hobby that is accessible to everyone.
If you have any questions about something that you read in this post, or if you would like to share a link to your favorite (free!) genealogy website, please join us in the discussion below.
Thanks for stopping by today!