Have you ever wanted to see a map of where all of the people in your Ancestry tree? In this post, learn how you can see where important events in your ancestors' lives occurred on an interactive map.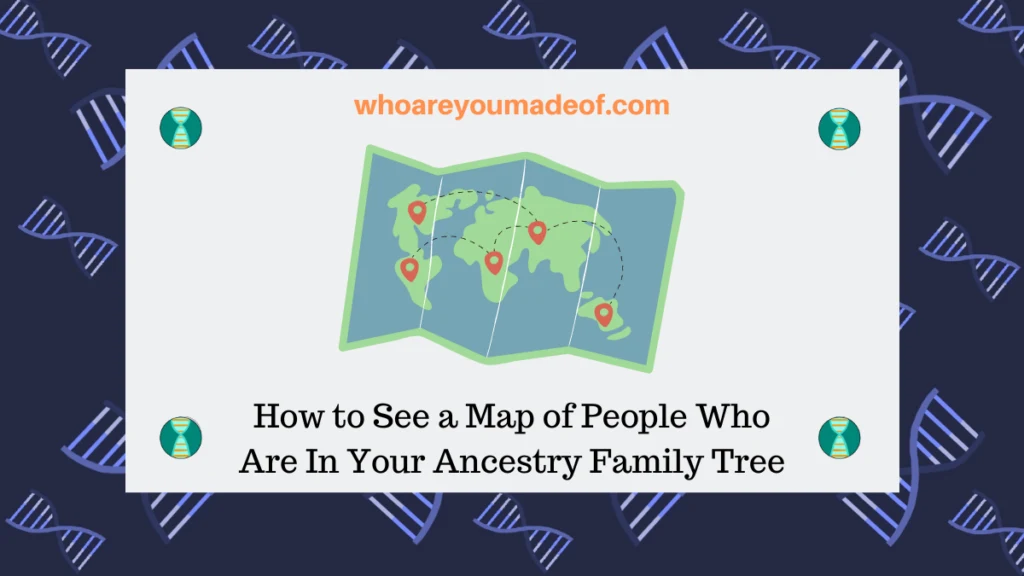 I first began looking for a feature like this when I was planning a road trip to New England. Since I love family tree research, I always look for family connections everywhere that I go.
Certainly I am not alone in not being able to remember where every single one of the many thousands of people in my family tree was born, married, or died. Sure, I remember some locations – but not all of them.
After a bit of research, I did figure out how to accomplish this. Once I realized that the Ancestry mobile app had a very easy-to-use feature, it became a simple process to view my family tree events on a map.
The family tree map is on the Ancestry app
The way to view important locations in your Ancestry family tree is to download the Ancestry app to your smartphone. Then, sign in to the app to access your family tree.
If you don't see your family tree right away, click the "tree" tab at the bottom of the screen. It's located between the "discover" and "search" tab.
Once you a viewing your tree, you should see two options to the right of your profile picture. The second one is the little pinpoint icon for a map – if you click on this, the map will open up for you.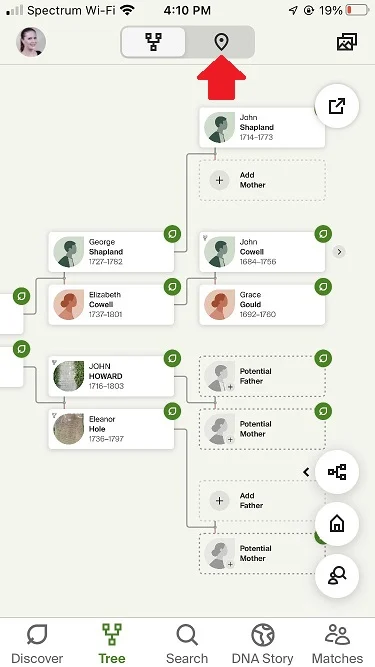 Now you should be able to see a map of the world showing you all of the places where you have entered in locations for people in your family tree. Some of the locations will show two letters, which are initials of the relative who had an event happen at that location.
Other locations will show numbers, which indicates the number of ancestors who had an event occur in that map area. If you zoom in on a number, you should see those pinpoints either spread out to more specific locations in that area, or in the case of multiple relatives having events in an identical location, you will be able to click on the pin icon and see a list of all of the ancestors who had an event there.
If there is a person that you would like to learn more about in your tree, just click on their name. I noticed (remembered?) that I had an ancestor born in Jamaica, which I had forgotten about.
So, I clicked on his initials and saw his name. I am now inspired to do more research about him.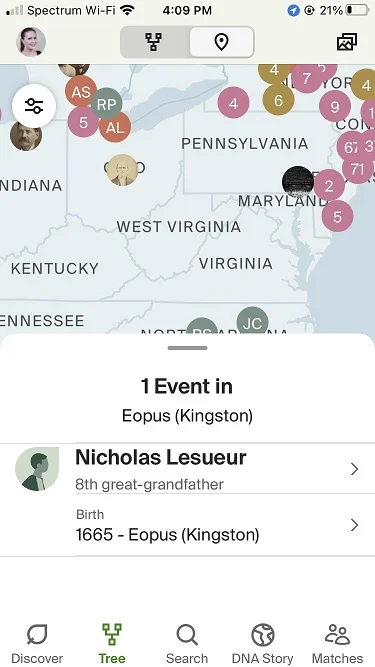 How to make the best use of this feature
While this feature is fun to explore right away, there are a few ways that we can make sure we get the most from this really cool family tree map.
Customize it to show events you are interested in
The app has default settings that will automatically show birth, marriage, and death events on your family tree map. You can edit these settings by tapping the filter icon on the top left of the map to show fewer events, or show additional locations such as burial, residence, and other locations.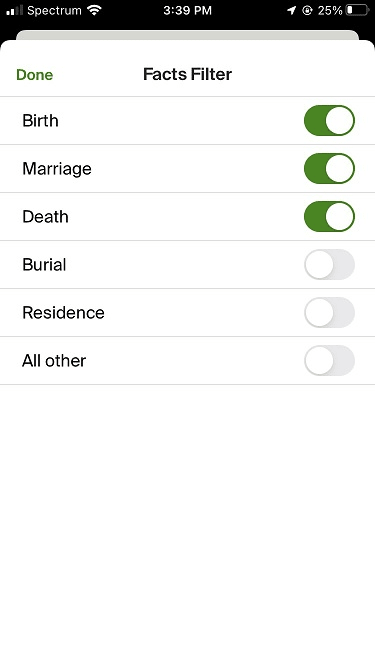 Use it to plan genealogy research trips
As I mentioned in the beginning of this article, the main reason that I was searching for a feature like this was to plan some genealogy research that might correspond with a travel route. You can use this map for a similar purpose, or you can use the map to plot a trip that you will take for the sole purpose of doing family tree research.
If you are driving, which is a common way to travel in the United States, you will find that this map can help you plan the best route to visit all of the spots that are important to you.
Make sure that you add specific locations your people in your tree
If you haven't been adding detailed information for important events such as births, deaths, and marriages, to your family tree, now is the time to start. If you have an Ancestry subscription, the locations of events are typically automatically copied and entered into the person's profile on your tree, but not always.
If you have been manually entering the location for people on your tree, you might have skipped adding some events because it seemed tedious at the time to repeatedly type locations in for many relatives. However, in order to get the best results on our map of our family tree, the more details, the better.
Use the feature to check for errors
We can use the family tree map to spot errors that may have been automatically copied, or entered by mistake, into our family trees. For example, it is not uncommon to have incorrect locations for vital events show up on Ancestry trees.
When I looked at a map of my family tree, I realized that I have two ancestors who show that they were married in a town called Biyang in Anhui, China. As interesting as it would be for this to be true, I know that these ancestors were poor farmers who lived their entire lives in New York.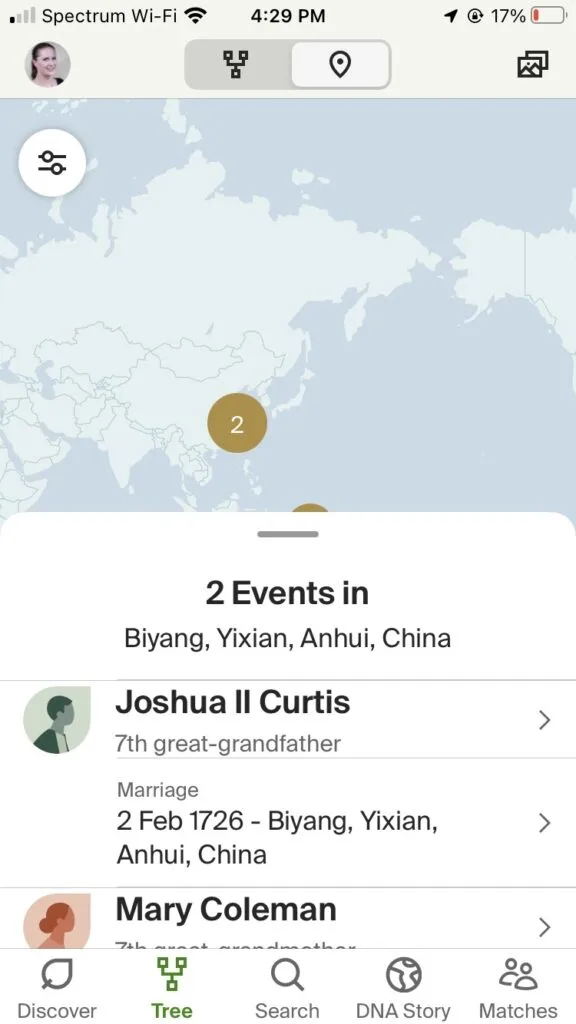 Now, I can search my tree for these ancestors and edit their marriage information. They were most likely married in Suffolk County, New York – not China. This information was likely saved in error years ago when I first started building my tree on Ancestry and automatically added these ancestors from a public member tree.
A remnant of a truly newbie mistake! It can happen to anyone.
The map can help you find gaps in your research
One thing that I noticed when looking at the map was that I have many people in my tree as having been born in simply "Ohio", "Ireland", or "Germany". When I zoom in on the map of Germany, I see that I have fourteen people in my tree that have been assigned a default location in Germany, which isn't exactly where they were really born.
If I can, I should go through this list of fourteen relatives to see if I already know where they experienced an important life event, and add it, or do a bit more research about them to see if I can add more specific information to their profile in the family tree.
What if your family tree isn't on Ancestry?
If your family tree is not on Ancestry, but you would like to use this feature on your phone to view the interactive map of your ancestors, don't worry. You can always create a GEDCOM of your family tree with the software or website that you currently use, and then import your tree into your Ancestry account.
It is free to use Ancestry, and you can upload and maintain your family tree there for as long as you want – with no subscription required.
Once your tree is uploaded to the site, you can download the app to your phone and view the map that I have described in this article.
Can you view a map of your Ancestry family tree on a computer?
As of today, I am not aware of a way to view map locations for people in our Ancestry family tree directly on the Ancestry website. Some people write of "workarounds" using third-party software, but I have not seen anything that accomplishes what the Ancestry mobile app does so nicely.
Currently, we are only able to see our family tree map on the iOS (Apple phones) and Android phones that can download from the Google Play Store.
Hopefully, Ancestry will add a map feature to their desktop computer site someday. Let's keep out fingers crossed!
Conclusion
If you have any questions about something that you read in this post, or if you would like to share something that you learned by viewing your family tree in this way (i.e. a mapped version of events), please join in the discussion below.
Thanks for stopping by today!