Do you have DNA results from more than one company? You have likely noticed that they are different, and in this post you will learn why.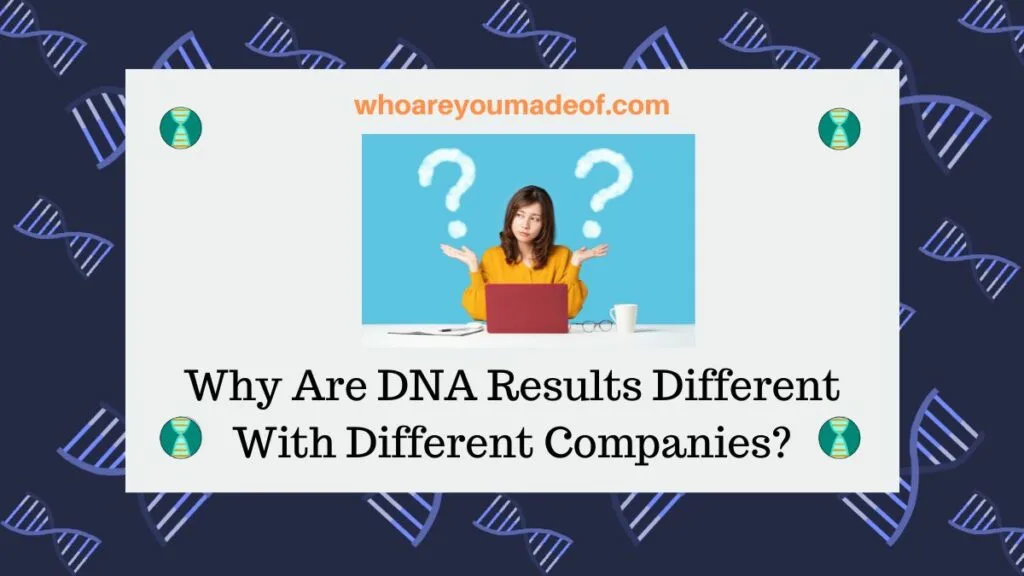 Those of us who have gotten really interested in DNA testing have either testing with more than one company, or uploaded our DNA data from one company to another. The benefit of having DNA results with more than one company is that we get more DNA matches and additional ethnicity estimates.
However, it doesn't take long to notice that the ethnicity estimate that we receive from one company will be very different than our results from another. We might even have entire regions of the world on one set of results that are nowhere to be seen on our other results.
While we know that we shouldn't expect our ethnicity estimate to match our family tree exactly, it can be confusing when things don't seem to line up between companies. If our DNA is the same, how can results be different on other websites?
It is important to note that the information in this article applies only to our ethnicity or ancestry estimate, and not DNA matching. Our DNA matches are calculated by each company in a similar manner, so shared DNA between two people should not vary significantly between companies.
Why your DNA results are not the same with different companies
There are several reasons why your DNA results from Ancestry, for example, won't match your results from 23andMe or Family Tree DNA. Below, you will find these different explanations listed and described in detail.
You will be able to use the information that you learn below to re-examine your DNA results from each company that you tested with in order to determine which apply to your results. This might help you interpret your family's DNA story in a new way.
Every company has different groups of sample populations
Every company uses a different collection of DNA samples collected from individuals around the world in order to calculate their customers' ethnicity estimates. Each company has its own method of determining who to include in the sample, and different resources for collecting samples.
DNA testing companies provide us with an ethnicity or ancestry estimate that can tell us where our ancestors may have lived. While the exact process of testing our DNA varies by company, the basic idea is that by comparing our DNA with that of people who live in other parts of the world, we can learn where our ancestors came from.
However, with different inputs in the form of different sample populations, we are sure to get a different output, which is in this case a different DNA ethnicity result.
Some sample populations are bigger than others
Some of the larger DNA testing companies, such as Ancestry DNA and 23andMe, are able to include many thousands of DNA samples for use in calculation our estimates. According to their respective websites, as of 2022, Ancestry DNA uses more than 68,000 and 23andMe uses more than 14,000 DNA samples.
These numbers only apply to the general regions that we see on our results. Some companies, such as Ancestry and MyHeritage, also have features that assign us Genetic Communities (on Ancestry) or Genetic Groups (on MyHeritage), and these features are typically calculated using the much larger number of samples included in their customer database.
Generally speaking, an ethnicity estimate calculated with a larger sample population will be more accurate than one that was based on a smaller group of people.
Each company has different requirements for their sample populations
All of the DNA testing companies have as their official policy to only include DNA samples from people in regions of the world who have ancestry in that part of the world. Since we don't know what the exact process is to be included in these samples for each company, we can only assume that some of the variation in results could be due to differences in requirements for inclusion in the sample populations.
Each company has a different reference panel
As you learned above, the group of people whose our DNA is compared to do calculate our estimate is called the sample population. However, our DNA is not directly compared to individual DNA samples to get the ethnicity estimate.
Instead, most companies develop something called a "reference panel" using DNA from different sample populations to compare with our DNA. If some of our DNA matches a reference panel for people from specific region, then the corresponding percentage of DNA that matches that region will show up on our results.
The technology behind the reference panels that each company uses is where things really get complicated. Every company wants to have the best, most accurate results, and so they each try to come up with the best method for estimating ancestry.
The technology for developing the reference panel is different
While the overall process will have similarities between companies, we know that each company has a different proprietary process for developing the reference panel to calculate ethnicity and ancestry. Some companies are especially transparent about their process and you can read published papers describing their process in terms that are easy enough for the average person to understand.
For example, you can read about the Ancestry ethnicity estimate process in their Ethnicity White Paper and about the 23andMe process in their white paper about the Ancestry Composition algorithm (link opens a PDF download).
Every DNA testing company labels the regions of the world differently
One very common reason for the variation in results between companies is because regions of the world are often known by different names, or defined by historical vs. modern borders, or vice versa. We also might see multiple areas combined into one region on one DNA testing site, and separated into individual regions roughly corresponding with modern country borders on another.
Different names for the same place
For example, 23andMe shows a region currently defined as "French & German". This region also encompasses the Netherlands. On Ancestry DNA, Germany and the Netherlands are primarily located in the "Germanic Europe" region.
However, on Family Tree DNA, part of the Netherlands shows up in the map under the England, Wales, and Scotland region, while much of Germany falls under a "Central Europe" label.
Someone with German and Dutch ancestry might initially interpret results from these three companies as different, but they are really not so distinct. The regions are defined differently, but the results for someone with ancestry from these countries should show similarities.
Some testing companies don't report small percentages
Some companies have a policy of not reporting very small percentages, such as less than one percent, matching a particular region. These regions are often known as "trace" regions.
Very small percentages could be shown as a small error, or they could indicate very, very distant ancestry. Many DNA testers, including myself, are interested in these small percentage regions because they could reveal something about our ancestors that we might not otherwise be able to discover.
23andMe and MyHeritage are two examples of DNA testing companies that reveals small percentages on their results. MyHeritage shows regions matching less than 1%, and 23andMe shows regions matching as low as .2%.
Conclusion
I hope that this post has helped you understand the how and why behind your DNA results that are different from company to company. As you now know, it is very normal and doesn't necessarily mean that one company's results are more accurate or inaccurate.
If you have any questions about something that you read in this post, or if you would like to share an observation that you have made about your own results based on what you read in this article, I would love for you to join in the discussion below.
Thank you so much for reading today!