It's that time of year again: time to decide what your resolutions for the new year will be. In this post, find 30 ideas for New Year's resolutions for the genealogist and family historian.
One of my favorite things to do on New Year's Day is enjoying a warm cup of coffee and writing down my goals for the new year. My goals include lots of non-genealogy goals, of course – who doesn't want to get in better shape?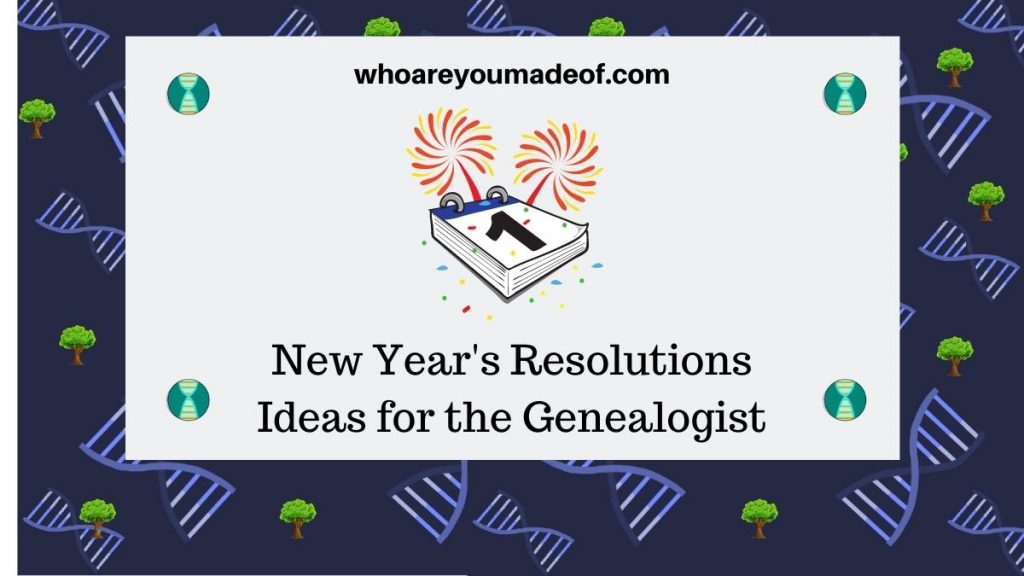 However, genealogy and family tree research is a really important part of my life, and so I always include it on my list of resolutions for a brand-new year.
Below, I have a list of 30 completely different ideas for family history resolutions that you can include on your list this year.
The post is divided into three sections: resolutions for beginning, intermediate, and advanced researchers.
Feel free to be creative and mold them to fit what you would like to accomplish this year! And most importantly, have some fun with it.
Genealogy is a hobby, after all. Don't pressure yourself too much to get these things done, or it will take all the fun and relaxation out of your family tree research activities.
New Year's Resolutions for Beginning Genealogists
If you are just getting started learning about your ancestors, the first part of this list is for you. Even if you already have a bit of experience, you might find a fun or useful item on this list to include with your goals for the new year.
It's easy for a beginning genealogist to feel overwhelmed. There is so much to learn and it's difficult to figure out where to start.
The items on the list below were carefully selected to help you set some realistic goals for the year, as well as learn while you go. There are so many exciting things to learn about your family and interesting stories to tell.
Go forth, new family historian! You have an exciting journey ahead of you.
Start building a family tree
Take a DNA test
Read a book about family tree research
Interview your older relatives
Make a family history cookbook
Make a family history photo display
Join a genealogy and/or DNA Facebook group
Scan or digitize your old family photographs
Decide your research goals and interests
Learn about the different types of genealogy records available
My absolute favorite idea for a beginning family history researcher is to make a family history cookbook. One of the most powerful ways to experience and maintain a family culture is through food, and what better way to document it than by making a simple cookbook with family recipes?
New Year's Resolutions for Intermediate Genealogists
The list of intermediate goals for family tree researchers is designed for those of you who already have begun genealogy research in earnest, but need to take things to the next level. There are plenty of fun items on this list for beginners and advanced researchers, however!
The intermediate genealogist might want to become more focused, organized, share family knowledge with relatives, and become a part of the wider genealogy community. In all likelihood, you are really starting to enjoy the hobby of genealogy and are here to stay.
And we are glad that you decided to stick around!
Organize your research
Learn how to take better genealogy notes
Make a family history timeline each month to share with your relatives
Take a genealogy-focused trip (a local, safe, and socially distanced one, for the time being, of course!)
Focus each month on a different ancestor who inspires you
Document your own personal history for the future
Become a volunteer and index records
Make a research schedule
Listen to a genealogy podcast
Teach a younger relative about genealogy
For me, the top item on this list for those who are intermediate in their research level is the idea of documenting your own personal history.
When we first start out learning about our family, we are focused on our ancestors who lived long ago. Then, we realize that our older relatives – people who we can actually have a conversation with – are such a valuable source of information.
It's easy to forget that the best person to tell our story is, well, us! Do future family genealogists a favor and document your own story.
New Year's Resolutions for Advanced Genealogists
If you consider yourself to be an advanced-level genealogist, you probably know that there is always room for improvement when it comes to family history research. This list is designed to give you some inspiration to perhaps take your skills in a new direction this year.
The advanced family tree researcher has the skills, knowledge, and motivation to study and collect information about their ancestors. They might want to refine some of these skills to see where their knowledge gaps are, or perhaps even do research for others.
Pursue a genealogy certification
Join your local genealogical society
Write and publish a family history book
Find gaps in your research
Write a fictional story based on one of your ancestors
Clean and organize your online family tree
Get in touch with a distant cousin from an ancestor's hometown
Focus on a brick wall for the year
Think outside the box and find a completely new place to look for records
Create a digital file system for your digital photographs and documents
My favorite item on this list for advanced genealogists is the idea about writing a story about an ancestor. In my experience, one of the most powerful motivators for wanting to learn about one's family tree is the desire to explore a particular ancestor or ancestry.
In fact, many people express the desire to want to write about one of their ancestors. Why not make this the year to actually write that story that you have been wanting to tell and share it with others?
Conclusion
I hope that you found something (or a few things) on this list that you can add to your resolutions for the new year. My goal is to inspire you to learn more about your family's unique story and your ancestors.
If you have any questions about something that you read, or if you have your own resolution to suggest, I would love to hear from you in the discussion below.
Thanks for stopping by today!