Do you want to know what to do with old letters that belonged to your parents, grandparents, or more distant ancestors? Preserving these artifacts is important, and you will learn ways to do so in this article – even if you don't want to keep them.
If you are someone with old letters that have been passed down in your family, you are very fortunate. It is a great gift from your ancestors to you, and it's wonderful that you would like to learn about preserving old letters in some way for future generations.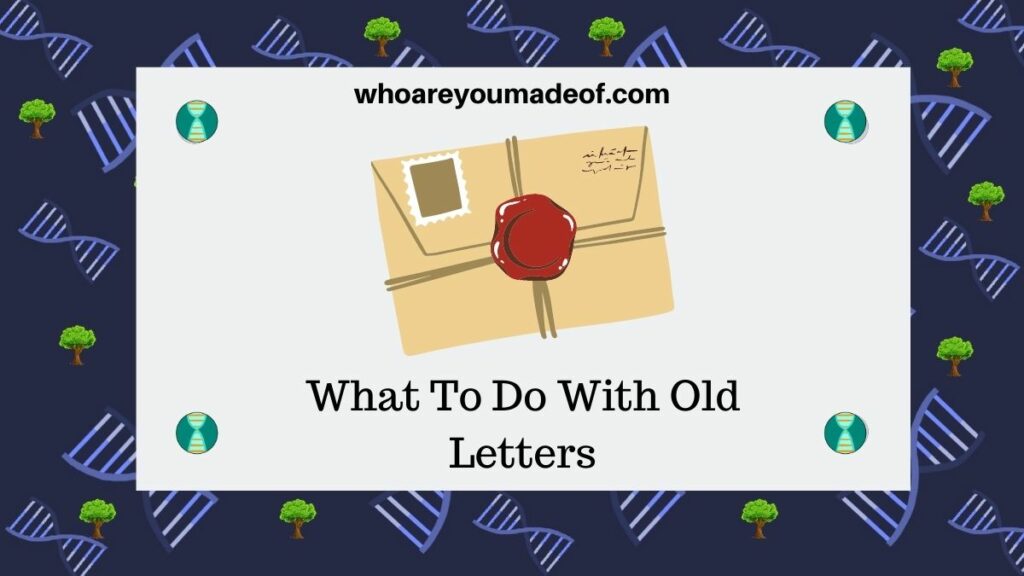 Handwritten letters provide some of the best insight into a person's life and have proven to be very valuable to historians and family tree researchers. They can help us learn about a specific person, or teach us how entire groups of people likely lived.
Old written letters can help us learn about the lives of women in throughout history, discover the experience of immigrants, and get a different perspective on the past. In addition, they are excellent primary source documents for genealogy research.
I can hardly say enough about how valuable letters are.
Should you throw away old letters?
We should never throw away old letters. They are important pieces of history, and we can almost always find a good way to preserve them for the future, even if we don't want to keep them ourselves.
If your letters are more recent and the people who sent them to you are still living, you might want to consider sending them back to the sender as a lovely gift. Depending on the person, the nature of the letter, and your relationship with the person, they might appreciate the "snapshot" into their previous self – the one who sent you the letter all those years ago.
Plus, the family members of the person who wrote you are likely to be the parties who are most interested in the contents of the letter you received.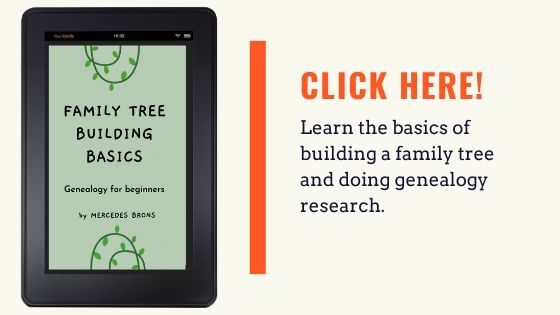 How to store old letters?
The easiest way to store old letters is to unfold them and keep them in a page protector. Then, store the page protectors in a three-ringed binder and store the binder in a "slipcase", which is a holder for the binder.
Then, be sure to store the binders in a room in your home that is not too dusty or humid. Keeping the letters away from extra light and sources of water damage is important, too.
No matter how you decide to store your letters, they should not be laminated. The process of laminating a letter could permanently and irreversibly damage it.
Ideas for what to do with old letters if you don't want to keep them
If you simply can't keep your old letters, but you want to preserve them in some way for the future, whether it be for yourself or others, we have a lot of options. Some require almost no work on your part, and others require a bit of a time investment.
Below are eight ideas for how you can help preserve your letters for the future, without having to actually keep the physical copy of the letters. The goal of these ideas is to help you achieve the goal of preserving the letters without having to keep them and help those who might be interested in having the letters find them.
Of course, it goes without saying that you should keep in mind the privacy of any living individuals mentioned in the letters when deciding what to do with them.
You might find that your ideal solution will involve choosing two of the items below.
Scan the letter and upload it to Ancestry
One of the easiest, fastest, and most effective ways to make sure that anyone who wants to see your old letter can see it is by uploading it to Ancestry.
My great-grandparents came from families that loved photographs, and so my grandmother's generation was left with many, many albums of old photographs. Fortunately, one of my grandmother's siblings has taken charge of digitizing all of these old photographs and distributing them far and wide to all who might be interested.
My relative isn't very interested in building a family tree, but his son is. His son has invited him to be a contributor to his family tree on Ancestry, and my relative can upload the scanned images to the person's place on the family tree.
Since my cousin's family tree is public, everyone who researches those ancestors might eventually find those photographs through their searches for records and documents on Ancestry. In other words, millions of people could see those photographs if they wished.
My relative's strategy for distributing all of those very old (some as old as 150 years) photographs can be duplicated for letters. In other words, we can copy this method to make sure that all of our very distant cousins can see letters written by their ancestors that we just happen to have inherited.
You could accomplish this in two ways. The easiest way is to ask a relative who has already built a family tree on Ancestry (a public tree) to invite you to join their tree as a contributor or editor.
Then, you can get started scanning the letters and uploading them to the galleries of the people to whom they belong.
Donate the letter to a historical society or museum
If your letters were written by or about people who are of particular interest to your local area, or any specific geographic area, you might find that there is a historical society or library that would like to have them.
The great part about this idea is that you can relinquish physical ownership of the letters and get them into the hands of professionals (or experienced amateurs) who can be sure to preserve them.
If you want to keep copies for yourself, you can always scan them before giving them away.
See if a library would be interested in your collection
If you have a particularly big or old collection of letters, you might find luck in asking a local or university library if they would like to have the collection. If the librarians cannot take them, they might be able to assist you in finding a group or organization that might be interested in studying them.
And of course, just like with any of these ideas, you can make copies for yourself before giving them to someone else.
Create a free blog or website and upload your letters
If you are a little technical, have a little extra time, and consider yourself to be on the creative side, you might consider starting a free website on a site like Blogger. You could scan the letter, upload it to its own little "article" and then write a bit of what you know about the history of the letter.
If you decide to do this, it is important to include details about who wrote the letter (like name and year of birth, city of birth, etc) in your description of the letter. This will help people who search for their ancestors on Google or other search engines locate the letter.
I like this idea because it could turn into a fun hobby, and you could even meet distant family members who are interested in learning about your shared ancestry.
Give your collection of letters to a family member who is interested in family history
You might not know it, but you probably have a cousin or even descendant that has taken an interest in family history. They might be very excited to be gifted a box or two of old letters written by their ancestors.
Most of the original old correspondence in my family was passed down to a cousin. He has done a lot of digitizing, which I am grateful for.
If you pass the letters down to someone who is interested in their family history and promises to share, this is a great way to make sure that the letters don't just sit in a dusty box. Instead, you can help them get out to those who might want to see them.
If you don't know of anyone in your family who is doing genealogy, be sure to ask everyone specifically. You might be surprised!
Scan your letters and distribute digital copies to your extended family
One of the best ways to make sure that everyone in your family who is interested in the letters gets a chance to see them is to scan them and copy them onto disks or thumb drives to distribute to all of your close and extended family members.
An even cheaper way is to use a website like DropBox to do this. Anyone who is interested can access the DropBox drive and download the letters onto their own computer.
Scan your letters and make a physical compilation to distribute to your family members
If you want to go the extra mile, why not take those scans that you made in the previous idea and have them printed and bound into actual physical booklets to give to your relatives as gifts? This would make a great holiday or family reunion (in 2022, of course) idea.
My grandmother and great-grandmother did this with many old family heirlooms and histories, and they are a great treasure to me. You could organize the letters in order by year, or by person, and even write a description of what you know of the letter-writer to give even more context.
Find descendants of the people who wrote the letters to see if they would like to have them
If you are already interested in genealogy, or if you love historical mysteries, you might have some fun with this idea. If you have old letters that don't really belong to your family, why not try to find the family where they do belong?
You can use genealogy research strategies to do this, or you can take to social media sites like Facebook. In fact, there are entire Facebook groups dedicated to reuniting old photographs, letters, and other artifacts to descendants of their original owners.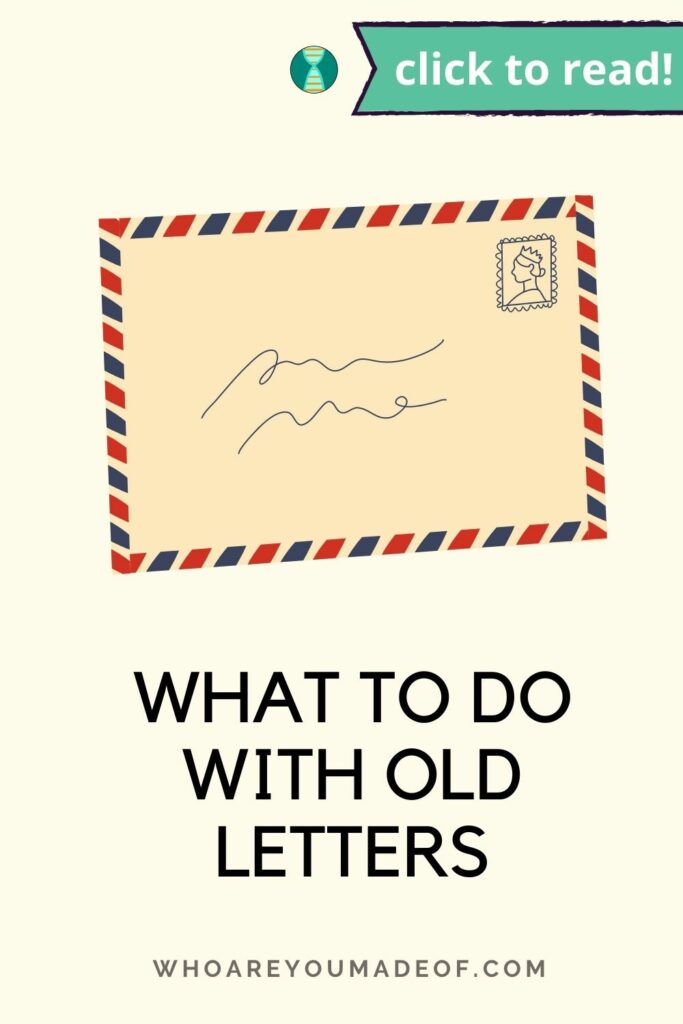 Conclusion
I hope that this post has helped you get excited about learning how to store your old letters, and what to do with old family correspondence if you just can't keep it anymore.
If you have any questions about something that you read in this post, or if you would like to share your own ideas about what to do with old letters, I would love for you to post in the discussion below.
Thanks for stopping by!