In this post, I'll explain the different ways to find out if you are Irish – just in time for St. Patty's Day this year. You just might be wearing your "Kiss me, I'm Irish" t-shirt with confidence… who knew?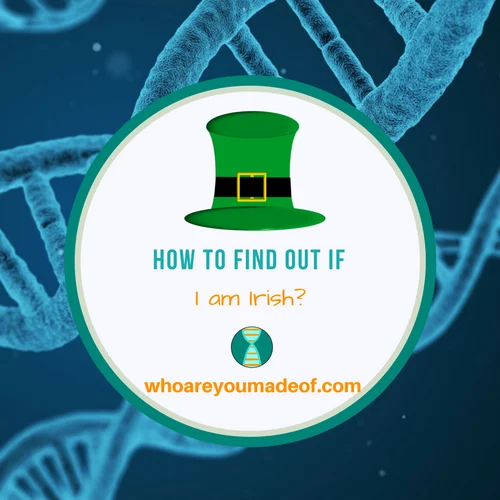 Are you interested in finding out if you have Irish roots? You aren't the first person to wonder "How to find out if I am Irish?", and luckily, there is are two relatively easy ways to find out if you have recent Irish ancestors.
How to Find Out if I am Irish
As I mentioned, there are two easy ways to find out if you are Irish:
Take a DNA test to find out if you are Irish
Trace your family tree to find your Irish roots
In order to find out if your family is Irish, you can do one – or both – of the above suggestions. If you want to prove to yourself that you are Irish, the best thing to do is take a DNA test and start building your family tree using genealogy records while you wait for your results.
Below, I'll give you some tips on choosing a good autosomal DNA test for Irish ancestry, as well as show you where to start when looking for Irish family records.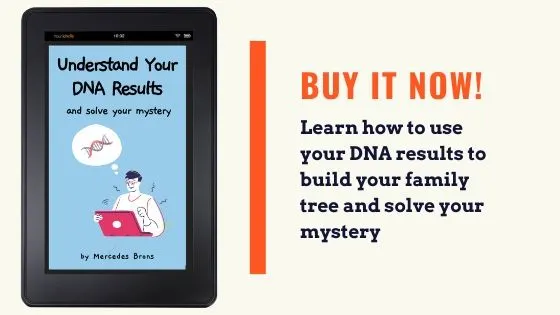 Which DNA test is best for Irish ancestry?
All of the major DNA testing companies offer an ethnicity estimate as a part of their DNA testing product. This includes, Ancestry DNA, My Heritage DNA, Family Tree DNA, and 23andMe.
The major difference between the ethnicity reports that these companies provide is the way that they break the world down into geographic regions for the purpose of DNA. What does this mean?
Some companies report Irish DNA in the more general "Northwestern Europe" category. Other companies lump Irish DNA into the "British Isles" region.
That's not specific enough for those of us who want to know if we are really, truly Irish – even if it is just a small percentage. This is why I have found the tests offered by Ancestry DNA and 23andMe to be the best tests for Irish ancestry.
Ancestry DNA and 23andMe test for major regions, and then report sub-regions or DNA Communities that you match if you have enough similarities to the sub-regions to say definitively that your ancestors likely descended from the area. These testing companies are more likely to match your DNA to a sub-region of Ireland if you have a relatively close ancestor (like a grandparent) who was born there.
If your DNA doesn't match a particular sub-region or county in Ireland, but still matches the Ireland region, you will receive a general "Ireland" result on Ancestry DNA and "British and Irish" on 23andMe.
How Irish DNA looks like on Ancestry DNA:
If someone has inherited DNA from their ancestors that matches Ireland, then they will see "Ireland" on their DNA results. A percentage will appear next to that number which indicates the percentage of their DNA that matches the Ireland region.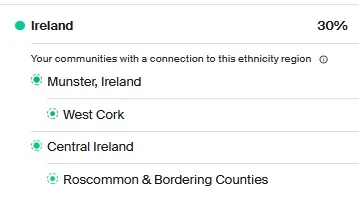 In the image above, we see that the test taker has 30% Ireland on their results. They have one Irish grandparent, and since a person typically inherits between 18-33% of their DNA from their four grandparents, 30% is pretty much what we would expect.
How Irish DNA shows up on 23andMe:
On 23andMe, if a person has inherited DNA matching the Ireland region from their Irish ancestor, they will see "British & Irish" on their results. This will be accompanied by a percentage that illustrates how much of their DNA matches this region.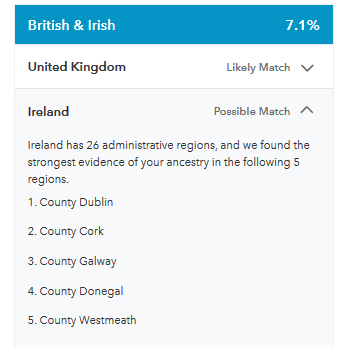 This test taker has one Irish great-great grandfather, and it appears that they inherited about 7% of their DNA from him, which is about average for this relationship distance. Furthermore, you can see that they have a "likely match" to the United Kingdom and a "possible match" to Ireland, with a few potential counties listed.
The person whose results you see above believes that their Irish ancestor was from the part of the Island of Ireland that eventually became Northern Ireland. Northern Ireland was officially partitioned in 1921 to become part of the United Kingdom.
You can order a DNA test using any of the links below. I may receive a very small commission that helps me support this site, and it is at no extra cost to you, so thank you!
But how do I know for sure that I am Irish?
If you want to know for absolutely certain that you are Irish, you should combine the knowledge that you learn from your DNA test (including your DNA matches) with a family tree. It's easier than every to build a family tree.
There are dozens of excellent websites containing millions records that you can search online without ever leaving your house. It is even possible to find many of these records for free, too.
I always recommend to my readers that they begin building their family tree while they wait for the DNA test results to come back. Then, they can look at their DNA matches and see if what they learned about their family tree lines up with the family trees of their DNA matches.
If you decide to do the DNA test with Ancestry DNA, they make it especially easy to compare your family tree to those of your DNA matches, which helps you know for sure that your research is correct. If you choose to go with a different testing company, you can still manually check the family trees of your matches – so it is still worth doing.
How to find your Irish ancestors?
People are sometimes overwhelmed at the thought of trying to build a family tree, especially when they know they have ancestors from other countries. It's really not as hard as it seems, however, especially once you get started and you see everything that is available.
You can do this part with or without a DNA test, but you'll get best results if you do both.
I have outlined a few steps here that will help you get started locating your Irish ancestors. Anyone can learn about their Irish roots!
Ask questions
Talk to your parents or other older relatives and ask them what they know about your family history. Take notes, and write down names, places, and dates – whatever small details they remember will be very helpful.
Start your family tree
Pick a place to build a family tree online. I prefer Ancestry, since it's easy to connect it with my DNA results, but you can also build a great tree on FTDNA or My Heritage DNA. Enter in all of the information that you learned from your conversations with family members.
Locate census records
Locate your ancestors on the most recent US Federal Census. Right now, the most recent census that has been made public in the US is the 1940 Federal Census. Once you find them, try to find them on the previous one, and so on, and so on.
Eventually, you will find the birth places of your ancestor and their parents listed.
In the image below, you can see that the person was born in Massachusetts, but that her parents were both Irish. If you aren't interested in learning more, you can stop once you find this – you've "proven" your Irish heritage.

Learn about your ancestor's life in Ireland
Consider learning as much as you can about your Irish ancestors and building your tree even further back. Family tree research is a wonderfully fun hobby, and I find lots of inspiration among my ancestors and the struggles that they endured to provide me (their descendant) with better opportunities.
Conclusion
I hope that this post helped you learn how to find your Irish ancestry, using DNA and a family tree. If you have any questions or comments about something you read here, or you would like to share a story, please feel free to leave me a comment.
Thanks for stopping by!