Have you seen your Ancestry SideView Ethnicity Inheritance results yet? In this post, learn how to understand the ethnicity breakdown by parent, and learn more from your DNA results.
You will discover:
How to know which is Parent 1 and Parent 2
What to do if you have an unknown parent
How accurate the percentage breakdown is of your maternal vs. paternal side
And more!
Keep reading to learn more …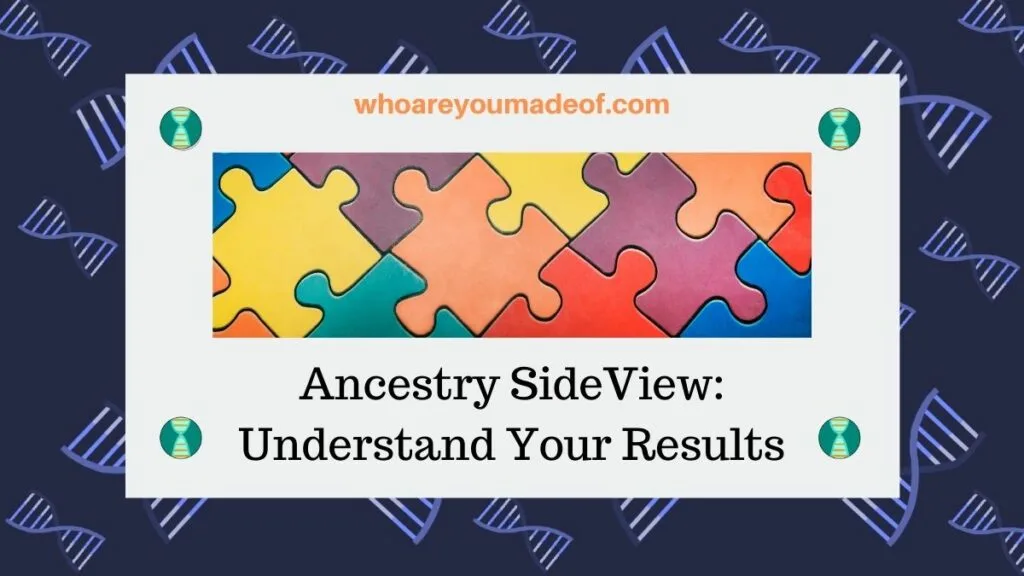 I know that I am not the only person who loves this feature, which rolled out out in 2022. One of the first things that I wanted to know when I first used it is which of my grandparents passed down my mom's European Jewish DNA to her.
Fortunately, this is exactly the type of information that the Ancestry SideView results can help us learn. Below, find out exactly how I discovered the answer – and how you can see the details revealed in your own results.
To learn about the Chromosome Painter on Ancestry, which uses the SideView technology, read the following post:
How does SideView show information from your parents' DNA?
Each person inherits 50% of their mother's DNA and 50% of their father's genes. The Ancestry DNA SideView feature is able to separate out which regions you likely inherited from each of your two parents from information contained within the half of your DNA passed down from each parent.
The SideView feature uses a common DNA-analysis strategy, with a few high-tech advancements and the advantage of the biggest consumer DNA testing network, to perform something called "phasing" of our genome. Phasing is, essentially, sorting our DNA to assign all of our genes to either our maternal or paternal chromosomes.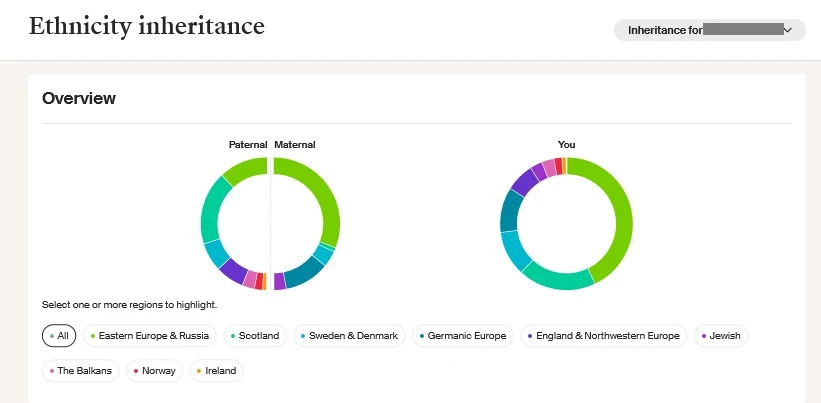 In the graphic from my mother's Ethnicity Inheritance breakdown, you can see that on the left it shows Parent 1 and Parent 2. Each color in the circle corresponds to a region on my mother's ethnicity estimate.
As I mentioned above, I was curious to know for sure which side of my mother's family was the source of my DNA matching the European Jewish region. Growing up, our family did have stories about possible Jewish ancestry on her side of the family.
If I click the "European Jewish" button on the SideView results, I will be able to see which parent had that region in the DNA that they passed down to my mom: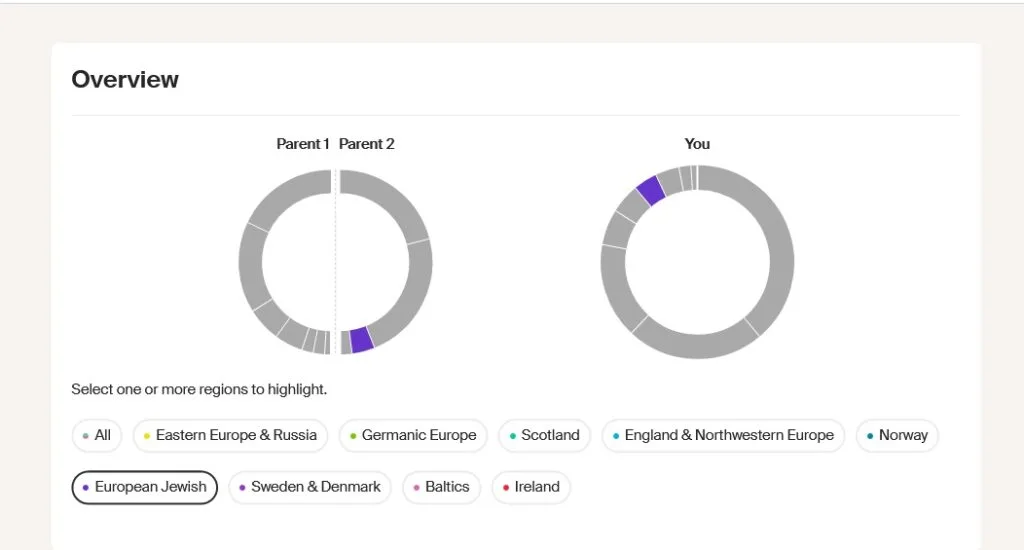 Ancestry does not know what my grandparents' DNA would show if they were here to take a DNA test today. The SideView results are not the same as having access to 100% of their DNA, since my mother only inherited 50% their DNA.
However, it does clearly show that only one parent (Parent 2, specifically) passed DNA down to her that matched the European Jewish region. It should be noted that the other grandparent could have had DNA matching the European Jewish region in the other 50% portion of their DNA that they did not pass down to my mom.
Even though it isn't the same as having my grandparents do a DNA test, this is the "next best thing". It's almost like having their DNA.
As you might have noticed, the SideView results do not say "Mother" and "Father". This is because the Ancestry DNA test is based on autosomal DNA, which is equally inherited from both mother and father and is not distinguishable due to the biological gender of the parent.
Autosomal DNA is different than the mitochondrial DNA everyone inherits from their mother, the Y-DNA that males inherit from their father, or the X-DNA that females inherit from their mother and father.
At this point, our SideView results only show us how our results are divided between our two parents. AncestryDNA is still not able to tell us which parent is our mother and which is our father, but there are some simple research strategies to apply to help us work out this important detail on our own.
How to Know Who Is Parent 1 or Parent 2
The easiest way to know which parent is Parent 1 or Parent 2 is to look at the detailed breakdown that is further down in the SideView results. You will be able to find important clues in this more detailed list of ethnicities matching the DNA that you inherited from each of your parents.
Check your DNA matches for clues
The easiest way to see figure out who Parent 1 and Parent 2 are is to access your DNA matches Grouped By Parent. If you have already identified how your closest DNA matches are related to you, then you will be able to quickly figure out which parent is your maternal and paternal line.
If after you look at your DNA matches you still aren't positive which parent is which, don't worry. There is still more that you can do to try to figure things out.
Plus, once you are able to know which parent is which on your DNA match list, you will be able to figure out how more matches are related to you.
Look for an ethnicity region that you know the other parent doesn't have
The first thing to try is to look for an ethnicity region that you know one parent likely had and the other one probably didn't have. For example, if your mother was Irish and Danish and all of your father's ancestors were from Southern Italy, you might deduce that the 15% Sardinia from Parent 2 means that Parent 2 is your paternal side.
This is exactly the strategy that I used to work out Parent 1 and Parent 2 on my mother's DNA results.
Below is my mother's more detailed SideView ethnicity inheritance percentage breakdown by maternal vs. paternal side, only that we see the labels of Parent 1 and Parent 2: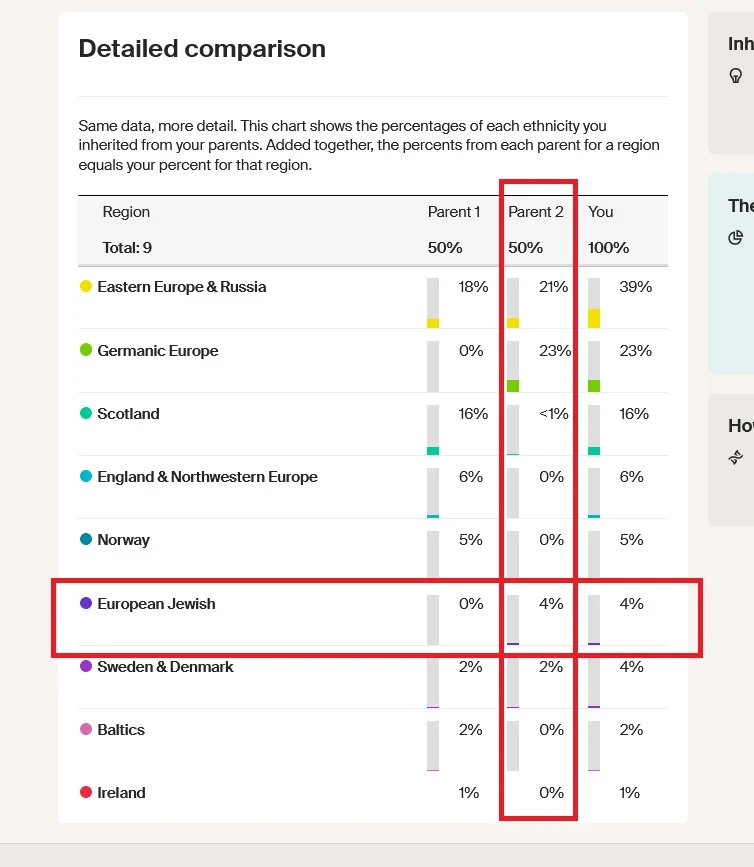 I can tell that Parent 2 has the European Jewish ancestry in the DNA they passed down to my mother, which we already knew from the interactive graphic that I showed earlier on in this post. If I think about what I know about my maternal grandmother and grandfather's ancestors, I spot an easy clue as to which grandparent is Parent 1 or Parent 2.
My maternal grandmother's parents were the children of German and Polish immigrants. My grandfather's father was Slovak, but his mother was Irish and Scottish.
If you look closely at the graphic, you will notice that Parent 1 shows 16% Scotland and 6% England and Northwestern Europe. Clearly, my grandfather is Parent 1 and my grandmother is Parent 2.
Check your parents' DNA results
If you don't know very much about your parents' ancestors, but you have access to one parent's DNA results, you can use their results in order to narrow down options for Parent 1 and Parent 2. For example, if you know that your mother didn't show any Indigenous Americas DNA on her results, but Parent 1 has 4% on your results, then you might be able to deduce that Parent 1 is your paternal side.
What if you have an unknown parent, were adopted, or don't know anything about your family tree?
Working out Parent 1 vs. Parent 2 can be a bit more complicated if you were adopted or have one parent who is unknown to you, or if you know very little about your parents' ancestors. Even so, there are still methods you can try to determine which is most likely Parent 1 and Parent 2.
The ideas below will vary in easy-of-use and accuracy, but they might just help you solve the mystery. It should also be noted that our ethnicity estimates are still only estimates, which is very important to know when we are exploring our DNA results.
Do you have access to the DNA results of any close relatives?
If you can see the ethnicity estimate of close relatives, such as an aunt, uncle, or grandparent, you might be able to use these results to get a better idea as to which side Parent 1 and Parent 2 best matches with.
Even a half-sibling can help you spot clues. For example, if you have a paternal half-sibling, you can look at which regions you share in common in order to determine the general regions that you may have inherited from your father.
Once you know which regions you likely got from your father, you can see if these regions best match Parent 1 or Parent 2 on your SideView results.
This works best if your half-sibling's mother and your father had different ancestral backgrounds, of course, but it is still worth trying this method if you are needing more clues.
Did you hear any family stories about your parents?
Sometimes a story can provide a clue as to a unique region that you see on your parental breakdown that can help you figure out which one is paternal or maternal.
My husband was adopted as a small child, but he knows the identities of his biological parents. However, he only heard bits and pieces of stories about their more general ancestral origins while growing up.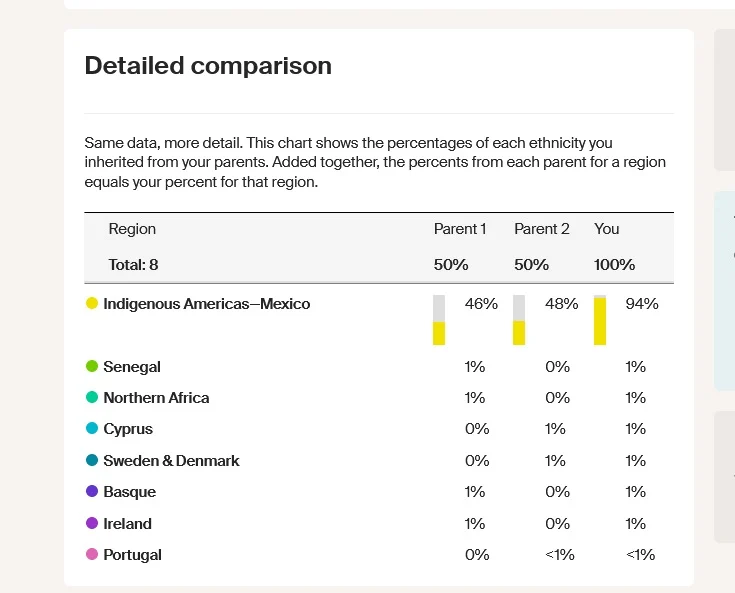 The image above is from my husband's SideView ethnicity percentage breakdown with Parent 1 and Parent 2 showing, with his totals to the right in the "You" column. Can he tell which is his mother and father?
He isn't sure, but he does know that his mother's family was said to have had deeper roots in their indigenous village. The old photographs that he has of her show her wearing traditional clothing.
Both of his parents clearly have extensive Native American ancestry, it is difficult to say whether 46% vs. 48% is enough to be sure which parent is his mother. However, my husband wants to work on that assumption and then pivot if we figure out that he was wrong later on.
He has plans to ask a few half-siblings to take a DNA test, which will help him test his hypothesis. Ancestry is working on expanding the SideView feature to help us phase our DNA matches, which means that my husband should eventually be able to sort his DNA matches by Parent 1 and Parent 2 – and reveal which ethnicities he inherited from each one.
Can you label Parent 1 and Parent 2 on Ancestry Sideview?
Once you have figured out which of your parents is Parent 1 or Parent 2, some Ancestry DNA customers may be able to edit the parent label on your Sideview results. This feature allows you to assign your maternal and paternal sides to Parent 1 and Parent 2.
As of this point, it seems that it might only be possible to assign parent labels as maternal or paternal if at least one parent has also tested with Ancestry DNA.
If this feature is available for you, he way that you do this is by clicking on the "Edit parents" link on your Sideview detailed comparison. A screen will appear that will show you your Parent 1 ethnicities, and you will be asked to choose if those regions correspond to your paternal or maternal side.
The image below shows where to click to edit parents. Again, this may only be available if at least one parent has tested with Ancestry.

All you have to do is click on the "maternal" or "paternal" button in order to assign the Parent 1 ethnicities to your mother or father. Once you choose, the other parent is automatically assigned.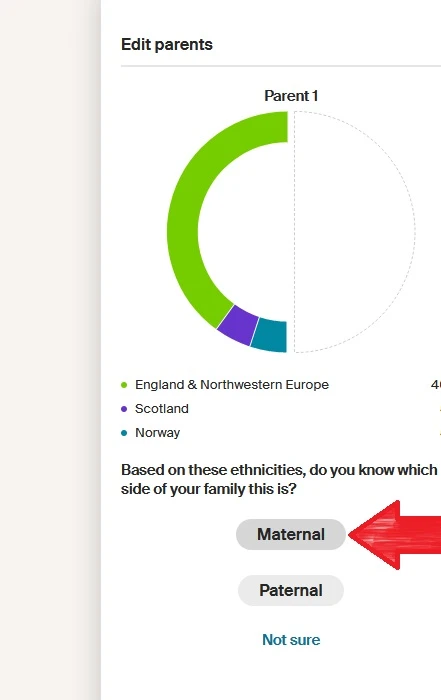 If you make a mistake or chance your mind about which parent is Parent 1 or Parent 2, you can always go back in through the same process and change it. Once you do, the labels should change right away.
How accurate is the ethnicity breakdown by maternal and paternal sides?
Ancestry estimates that the SideView ethnicity inheritance breakdown by parent is about 95% accurate for 90% of their customers. This is a high level of accuracy, and I have heard very positive reports from readers who have seen their results.
Furthermore, I am seeing good accuracy for those who can see their parents' DNA results as well as their SideView results. In other words, the results generally match.
It is important to mention that we do still occasionally have regions show up in error on results, especially when the region is neighboring a similar region. For example, it is not unusual to see a child have Sweden and Denmark on their results while the parent has Norway.
No offense to Swedes or Danes, or Norwegians, who do have different cultures and customs, of course, but these three countries share extensive ancestral origins. Meaning, it can be difficult to distinguish these regions, and other regions with similar connections (read: Scotland, Ireland, England, etc, among many other places in the world), on DNA results.
Conclusion
I hope that this post has helped you understand more about your SideView results and how you can use the information that you learn to understand more about your ancestors.
If you have a specific question about your SideView results, please join in the discussion below and we will try to help!
Thanks for reading today.