Did you see the Sardinia DNA region on your Ancestry results? In this post, learn where this region is located, how you may have inherited it, and how to trace your Sardinia ancestry.
I first became interested in researching this region when my daughter noticed it on her results. Her AncestryDNA results show 1% Sardinia, which she knows that she inherited from her father's side of the family.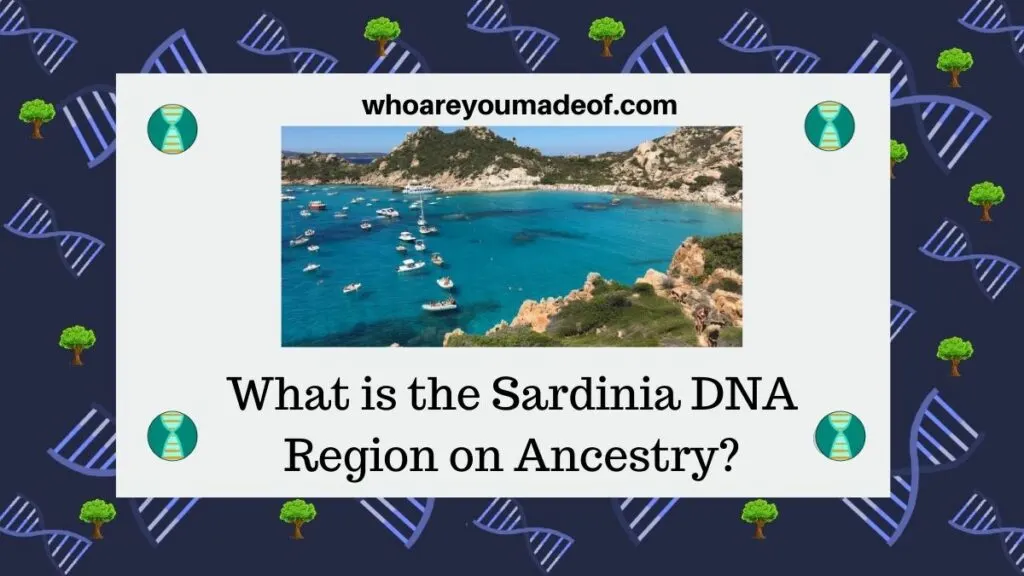 There are millions of people living all around the world, especially in the United States and Latin America, that might have ancestors from the Sardinia region. This is amazing, since there are only currently a little over 1.5 million people living in Sardinia today.
Where is the Sardinia DNA Region on Ancestry located?
The Sardinia DNA region is located on the island of Sardinia, which can be found in the Mediterranean Sea, just off the coast of Italy. At just over 9,300 square miles in size, this large island is one of 20 Italian districts.
Below, you can see a map of Italy and the location of Sardinia. Many people see the country of Italy as the shape of a "boot", and Sardinia is sometimes described as a "football" (for us Americans, a soccer ball) being kicked by the boot.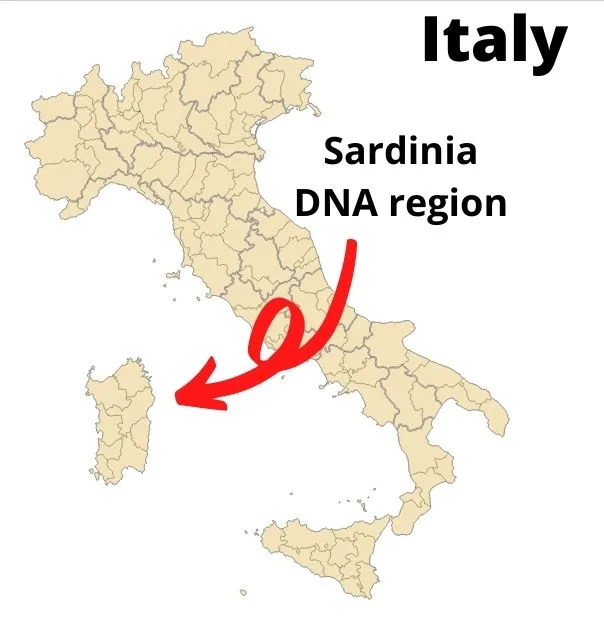 The island location of Sardinia has resulted in some degree of genetic isolation, which is likely one of the reasons why this region can be specifically defined for those with Italian ancestry. Humans have been living in Sardinia for tens of thousands of years, which means that the region has a very rich and unique history.
Which country is part of the Sardinia DNA region?
Sardinia is one of the largest islands in the Mediterranean Sea and is part of Italy, as was mentioned above. This DNA region is consolidated to the island of Sardinia, which means that there are no countries other than Italy that are considered part of this region.
The people of the island of Sardinia, which was known for hundreds of years as the Kingdom of Sardnia, struggled to for independence from rulers in Spain and Austria, among others. However, political control of the island was passed to the House of Savoy in 1718, and has been connected to the area that we know as modern Italy ever since.
You might be surprised to know that prior to the 1700s, most people in Sardinia spoke Sardinian, which is a lesser-known Romance language. Many modern Sardinians are bilingual and speak Italian, Sardinian, or even Spanish.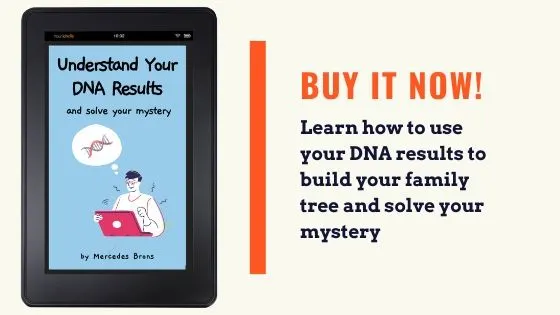 How did you get Sardinia DNA in your Ancestry results?
If you have known Italian ancestry, then this is the most likely way that you inherited DNA matching the Sardinia region. Even if your most recent Italian ancestors did not live on the island of Sardinia, you should still consider researching this line of your ancestry first.
Despite traveling being more difficult than it is today, our ancestors were very good at traveling and migrating within small regions for economic opportunities, and even for marriage. This means that if you have Italian ancestors from one region, you may consider that they might have had ancestors that migrated away from Sardinia to other parts of Italy.
Some people are very surprised to see Sardinia in their DNA results because they have no known Italian ancestry. If you are among this group of people, there are ways that you can determine which ancestor likely passed down your Sardinian DNA to you, so don't worry.
You may have inherited DNA matching Sardinia from ancestors from a nearby region
If you know that you have ancestors from a region that is geographically close to Sardinia, such as other parts of Italy, Tunisia, or even France (especially Corsica) or Algeria, then these ancestors may be the source of the portions of your DNA that match the Sardinia region.
Your Sardinia DNA may have been inherited indirectly through migrating ancestors
Many people who have tested their DNA and found that it matches the Sardinia region on Ancestry might find it possible that they have inherited their Sardinia DNA through an ancestor that migrated to where they now live who had distant ancestry in Sardinia. We sometimes describe this as having ancestry from a region through a "third" country, as in not the one we live in now or the one that matches our DNA.
As I mentioned at the beginning of this article, my daughter shows that 1% of her DNA matches the Sardinia region. Her father is from Mexico and likely has distant ancestors from Italy, including Sardinia.
This is a perfect example of how we can indirectly inherit DNA from a region. My daughter was born in the United States, but has inherited her Sardinian ancestry through her Mexican ancestry.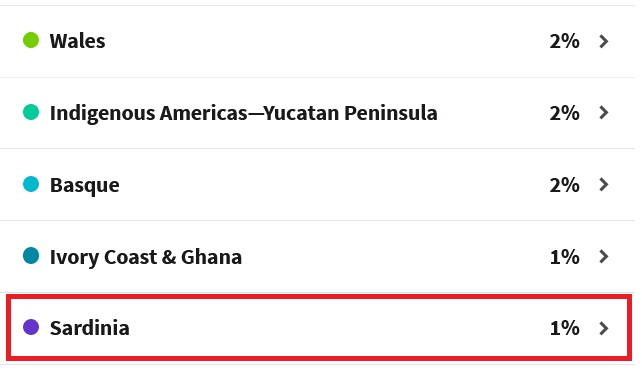 It can sometimes be challenging to trace ancestry, especially when it is distant and inherited through a third country. Below, you will learn how to begin the process of researching your Sardinia DNA.
How to trace your ancestors from the Sardinia region in Italy?
It is possible to trace your Sardinian DNA ancestry, especially if you are willing to do a bit of research on your family tree. You can learn many details about your Sardinia ancestors, from how distant they might be in your family lines, where in Sardinia they might have lived, as well as who their ancestors may have been.
Talk to your older relatives to identify Italian ancestry
The first step to learning how you may have inherited DNA matching Sardinia is to speak with your older relatives. This could mean a discussion with a sister, uncle, grandmother, great-uncle, or older cousin.
Our living relatives are an excellent source of information about our recent ancestors. They often know a great deal of information about grandparents and great-grandparents, and might have heard stories about more distant ancestors.
Yes, sometimes those family stories are true!
Most importantly, our relatives often know different information than we do. We might have paid attention to certain details growing up, and our older siblings or parents remember different bits of information.
By putting it all together, we can get a better picture of where we need to start in our family tree research to find out how to identify your Sardinian ancestors.
Don't forget to write down information, such as names, dates, and locations, when you talk to your relatives. This is important to do even if your relative isn't positive that they remember correctly, since any small clue can prove to be important in the future.
Build a family tree to trace your family lines to Sardinia, Italy
The second step to tracing your family tree to find out how you inherited Sardinian DNA is to put the information that you know, or learned through discussions with relatives, into a family tree online. I enjoy and recommend building a tree on Ancestry.
One of the benefits of building a family tree on Ancestry, other than the fact that it is free, is because since you did a DNA test on Ancestry, you can attach your DNA results to your family tree. Linking your tree to your results can help you find ThruLines and Common Ancestor Hints that could point to an Italian ancestor, through whom you may have inherited DNA matching Sardinia.
Even though DNA results are very useful for genealogy, we still have to do some of the more traditional family tree research, such as finding genealogy documents that match our ancestors. We can look for census records, birth and death records, as well as even newspapers, to find clues that might help us build our family tree back further.
Eventually, you might notice that you have found an ancestor born in one of the countries that I have mentioned in this post. Or, you could find evidence linking one of your ancestors to a "third country" from whom you may have inherited your Sardinian ancestry.
Record keeping for births, deaths and marriages began around 1809 in Southern Italy, of which Sardinia is a part. By the second-half of the 1800s, almost everyone was documented in some way.
This means that you have an excellent chance of being able to find records about your Sardinian ancestors once you are able to identify which of the eight jurisdictions in Sardinia that they may have lived in. Cagliari is the most populated district and is where you can find the largest city on the island, but many people lived in all of the smaller districts, too.
Research your DNA matches to learn more about your connection to Sardinia
Your DNA matches can provide a third method for searching for how you are connected to the Sardinia region of Italy. There are a few different ways that you can use information from your DNA matches to discover new ancestors and potential connections to Sardinia.
For example, you can analyze your 2nd-4th cousin matches to identify your common ancestors. This will be the most useful strategy for learning how distant your Sardinian ancestry might be.
Since you are related to almost all of the people on your DNA match list, you share a common ancestor from whom you are both descended. If your Sardinian ancestry is recent, then you should have 4th cousins or closer who have ancestors from the Sardinia region.
Conclusion
I hope that this post has helped you understand more about the Sardinia DNA region and its unique history, as well as how to identify which ancestor may have passed DNA matching this region down to you.
If you have any questions about something that you read in this post, or if you would like to add a story about your ancestors from Sardinia, I would love to hear from you in the discussion below.
Thanks for reading today!