Are you wondering when and how we will get access to the 1950's US Federal Census? In this post, find out when this census will be released to the public, and how you might be able to access it.
In addition, you will also find out:
The dates of the 1950s census
Why we have to wait 72 years to see old census data (the 72 year rule)
Whether the 1950 census will be online
What questions were asked on this census
People who do genealogy and research their family history love census forms. They are a valuable, reliable, and relatively objective source of information about people living in the United States during the year that the census was taken.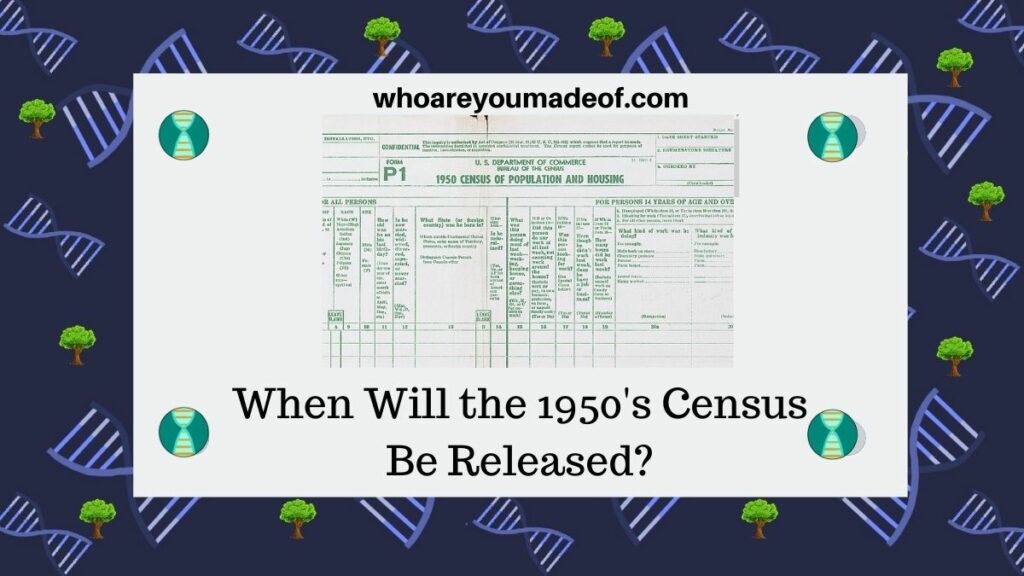 Census forms are an excellent way to track a family throughout their lives and provide clues as to other places that we should look for documents and records pertaining to our ancestors. They can even be full of surprises.
The United States began taking census, as required by the US Constitution, in 1790. It is an enormous undertaking to try to count every single person in every household, as well as collect additional information about them.
What were the dates of the 1950s census?
Because of the size of the task of taking the census, it generally takes several months to complete. The 1950's census, the result of several years of careful planning began enumeration, or counting, on April 1, 1950, as required by law.
Most enumerators, as the census takers are called, were finished with their work by June 30. However, some census districts did have to request extra time because their plans were hampered by natural disasters and weather, and other reasons.
Census takers were paid about $1.00 per hour for their work in 1950, and if they were using their own personal car, they earned an additional 5 cents per mile. These workers were only a small percentage of the total number of workers that came together to plan, organize, and interpret the census data.
The results of these efforts will made public soon for uses such as genealogical research. I know that I am only one of many, many people who are excited about the 1950 census release.
What year will the 1950s US Census be Released
The 1950 United States Federal Census will be released in April, 2022. We must wait until April of 2022 because of the "72-year rule", which dictates that census records must remain private until 72 years after the date that the census began has passed.
Since the 1950 US began on April 1, 2022, we can expect the census to be released at some time during April. Most likely, it will be at the very beginning of the month.
There is a way to access information from the 1950 US Census before it is officially released to the public. If the census contains information about you or someone to whom you are directly descended, you may be able to obtain the information pertaining to your relative.
You can submit the Application in Search of Census Records to obtain this access before the records are released, although the requirements for eligibility are restrictive. In addition, you will only be able to see the information directly associated with your relative and not that of other household members.
Why is there a 72 year rule on the census in the US?
The 72 year rule for the US Census exists in order to protect the privacy of the individuals who were counted in the census. Some of the questions on the forms are of a sensitive nature, and so we can understand why it would be important to keep this data private during the lives of the people on the records.
If people thought that important information about them or their household members would be made available to the general public or every governmental organization, they might be less likely to respond to the questions in a honest manner. In fact, they would likely be less likely to respond at all!
Even today, people are distrustful of the motivations of the government census takers. It makes perfect sense that the government has promised a 72-year waiting period to release the data, and that it has stuck to its promise.
According to federal law, no one is able to access your census data except for you or your heirs, should you want it. That is, of course, until after the required 72 years have passed.
Will the 1950 census available online?
The 1950 US Federal Census will almost definitely be available online. However, we might have to wait longer than April of 2022 to start searching through those records.
Since the government cannot release the records prior to April, 2022, companies such as Ancestry or Family Search that allow their users to search census records will have to have time to upload and index the records before they are actually searchable by you and I.
According to Family Search, the 1940s census was released and uploaded to their servers and available as image-only records. People were able to search through the images, but it took a while for searchable indexes to be made by volunteers.
If you would like to volunteer to help index the US Federal Census or other collections of records, you can find out by visiting the Family Search Index Overview page. Indexing can be done in small quantities, and it's easy enough to do right from your personal computer.
There are many other companies that will be working hard to index the 1950 census and make it available online. Some places will offer the records for free, and other sites may require a subscription.
What information will be on the 1950 census?
The most exciting aspect of the 1950 census is the extra detail that we will learn about our ancestors' lives. Along with the names of household members, we will see their relationship to the head of household, marital status, age, state or foreign country of birth, employment status, occupation and industry.
In addition to those details listed above, which seem fairly typical as far as censuses from the 1900s are concerned, we also see some differences on the 1950s census. For example, we will be able to see whether someone's home was on more than 3 acres of land and how many hours a week they were working.
You can see a full sample questionnaire for the 1950 US Census here: 1950 Census Population Questionnaire
Conclusion
I hope that this post has helped you learn everything that you need to know about the 1950s US Federal Census. We have waited our 72 years (okay, well maybe only some of us have!) and are now very much looking forward to finding information about our ancestors in these records.
If you have any questions about the 1950s census that were not answered in this post, or if you have specific question about something that you read here, please join in the discussion below.
Thank you for reading today!