In this post, learn who the "Hicks Babies" are, how they got their name, and how some of them are using DNA to discover their biological origins.
Have you heard the story of Dr. Hicks? He is the man behind the babies who are now called the "Hicks Babies".
There are about 200 people, now adults, who are among those who are sometimes referred to as "Hicks Babies". The biological mothers of these individuals were persuaded to give their babies up for adoption and they were allegedly sold to their adoptive parents through the Hicks' Clinic, owned by Dr. Hicks.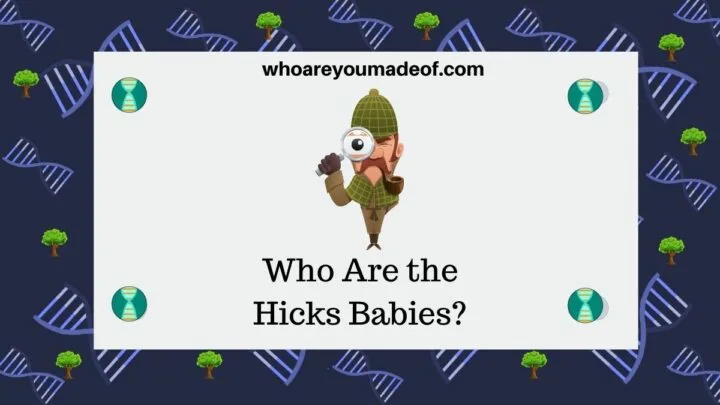 This is how this group of babies, who are now all grown up, came to be called Hicks Babies. To protect their privacy, I have chosen not to mention any of the individuals who were adopted by name in this article.
The primary purpose of this post is to explain how those children who were adopted through the Hicks' Clinic have been able to use their DNA to discover close relatives, and sometimes, the identities of their biological parents. There are many people who were adopted at birth who can use similar strategies to learn more about their recent and distant ancestry.
Who was Dr. Thomas Hicks?
Dr. Thomas Jugarthy Hicks, the man behind the "Hicks Babies", ran a small clinic in the tiny town of McCaysville, Georgia. During the years that he ran his clinic, the town was at its population peak of between 1,800-2,000 residents.
Originally from Tennessee, Thomas Hicks was educated at Tusculum College (now Tusculum University) and Carson-Newman College, both in Tennessee, and Emory University Medical School near Atlanta, Georgia.
McCaysville, which is located in the southern Appalachian Mountains right on the Georgia border with Tennessee, was shocked to hear that their beloved town doctor, Dr. Hicks, was accused of arranging illegal adoptions, and even selling babies, for parents wanting to adopt.
There are stories that even suggest that some mothers were told that their babies did not survive at birth. These babies were later sold to adoptive families.
This is the process by which it was alleged to have worked: The doctor would advertise adoption services and prenatal care, in addition to care related to the termination of pregnancies, in the local community and surrounding areas.
When mothers came in to the clinic and expressed hesitancy about carrying their pregnancies to term, the doctor would persuade them to have their babies. He would then sell those babies, for prices as high as $1000, to couples who wanted to adopt.
For perspective, $1000 in 1950 is equal to about $10,900 in today's dollars. Selling 200 babies in illegal adoptions at $1000 each could have made a person very wealthy in 1950, though his exact motivations may never be known.
A fake birth certificate was produced, listing the adoptive parents as the parents of the child. The biological mother was not mentioned, and there was no court record or other official document connecting the babies to their biological parents.
Since these adoptions were discovered more than two decades after Dr. Hicks' death, there are many details of the story that may never be uncovered.
This type of adoption is just one way that many babies are adopted through illegal, black market adoptions. These types of adoptions can cause extra hurt for families, since they were financial incentives, coercion is often a factor, documents don't exist to help adoptees locate their biological families, and lies are often told to protect the adults involved in the illegal adoption.
How many babies are related to Dr. Hicks?
There is no evidence that any of the babies that were adopted through the actions of Dr. Hicks are related to him. All of the babies were children of mothers who were persuaded to give up their children for adoption, and were not biological children of Dr. Hicks.
While it's true that some of the adults who were adopted as babies are using DNA to discover their biological origins, it is not because they suspect a biological connection to the Hicks family. Some of "Hicks Babies", as they are sometimes referred to as, have done DNA tests in order to identify relatives who might be able to help them learn who their birth parents were.
How Hicks Babies can use DNA to find their birth parents
Those who are among the babies that were adopted through the Hicks' Clinic can take DNA tests to help discover who their biological parents might have been. This is accomplished through the careful study of DNA matches.
Autosomal DNA tests, such as Ancestry DNA, 23andMe, My Heritage, and Family Tree DNA, offer extensive DNA match lists. These lists include people who are genetically related to us.
Most people whose recent ancestors were born in the United States will find that their DNA match lists include people who are related to them at a distance of 2nd-3rd cousins. By learning about the family trees of their 2nd-3rd cousins, they can identify groups of DNA matches who are related to each other through the same common ancestor.
Once they have grouped their DNA matches in to several groups, they can study the descendants of the ancestors to find where they connect to each other. This is how those who were adopted can identify the parents or grandparents of their biological parents.
It can sometimes be more difficult to pinpoint the exact identify of someone's biological parents without closer cousins, such as first cousins. However, many people are able to discover closer relatives, like aunts and uncles – or even half-siblings, through DNA testing.
These closer relatives can provide important clues that can help determine exactly which child descended from the grandparents (identified through the 2nd-3rd cousins) was likely the biological mother or father.
Did Dr. Hicks go to jail?
The illegal adoptions that were allegedly arranged by Dr. Hicks were not discovered until after his death. He was never formally charged with arranging these illegal adoptions, and for this reason, he never went to jail or faced legal consequences for his actions.
Dr. Hicks did lose his medical license in 1964 due to an infraction unrelated to the illegal adoptions. In addition, he did serve time in jail in Tennessee for illegally dispensing narcotics in the 1940s.
His Georgia clinic was located only a short distance away from his previous practice in Tennessee – right across the border.
How did Dr. Hicks die?
Dr. Thomas Hicks died of leukemia, a type of blood cancer. His death occurred in 1972, long before any of the children that had been adopted illegally through Dr. Hicks' clinic had discovered the truth about their origins.
Dr. Hicks, who passed away at the age of 83, was born in 1888 in Picket County, Tennessee. He was buried in Crestlawn Cemetery in Polk County, Tennessee. His clinic, the Hicks' Clinic, was in operation between about 1945-1965.
Dr. Thomas Hicks family tree
Even though Dr. Hicks is not suspected to be biologically related to any of the Hicks Babies, some people might find his ancestry and family tree to be of interest.
Both of Dr. Hicks' parents were born in Tennessee. His parents were David Fleming Hicks and Mary Louise Holt.
Thomas, or Dr. Hicks, was one of six children. However, only four of his siblings survived to adulthood.
All of Dr. Hicks' grandparents were born in Tennessee, as were many of his great-grandparents. Surnames in his family tree include Thomas, Fitch, Green, Waddell, and Johnson.
Conclusion
I hope that you have found this article interesting, and that you understand more about the story of Dr. Hicks and how the individuals who were adopted through his clinic might be able to use DNA results to discover the identities of their biological parents.
If you have any questions about something that you read in this post, please join in the discussion below.
Thanks for stopping by today!