Do you want to know what 4th-6th cousin means on your Ancestry DNA match list? In this post, find out the answer, plus how to figure out exactly how these cousins are related to you.
Here you will learn:
What are 4th-6th cousin matches on Ancestry?
Is 4th-6th Cousin estimated relationship always correct?
How to find out how your 4th-6th cousins on Ancestry are really related
How to find out many 4th-6th cousin matches do you have
I've found some really interesting DNA matches in the 4th-6th cousin category on Ancestry. Our cousins who show up in this category of DNA matches are potentially excellent sources of information about our ancestors going back only a few generations.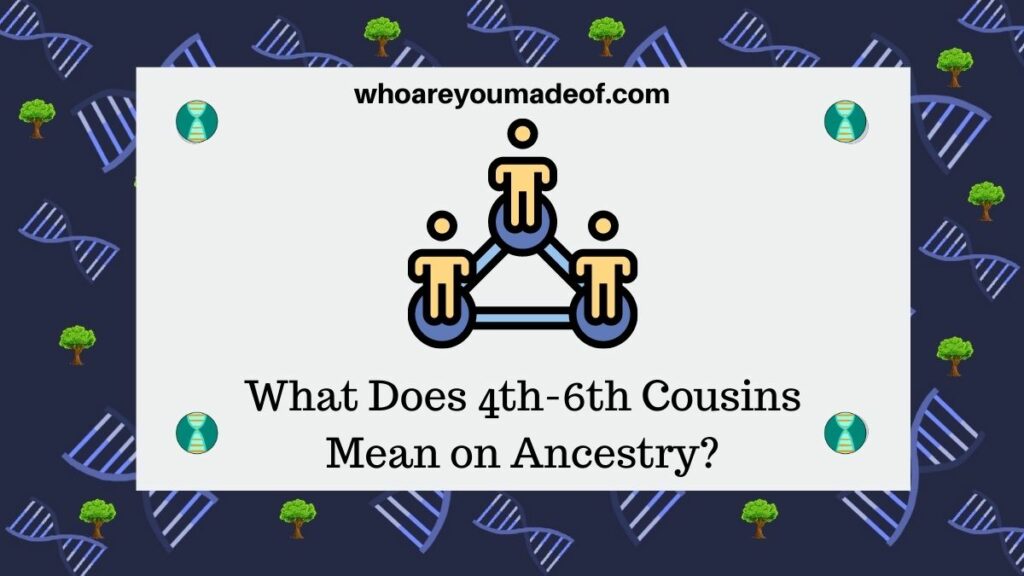 As matches who aren't very closely related, but not super distant, either, they can cause a bit of confusion. So, let's get to the bottom of who these matches are and how they are connected to us.
What are 4th-6th cousin matches on Ancestry?
4th-6th cousin matches are people who have taken DNA tests with Ancestry and show up as relatives to you. In addition, the amount of DNA that they share with you makes them most likely to be related as a 4th-6th cousin.
This is your estimated, or predicted relationship.
Included between fourth-sixth cousin would be, of course, 5th cousin. But they could also be any combination of 4th, 5th, or 6th cousins a few generations removed.
For example, 4th cousins twice-removed, or 5th cousins three-times removed, and so on.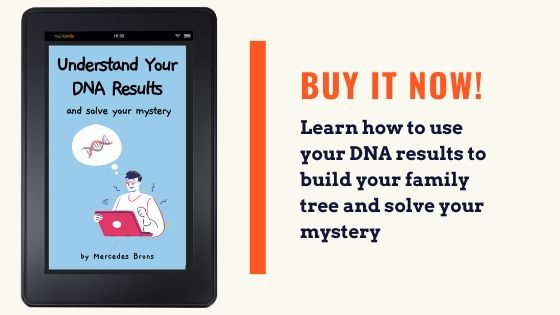 Is 4th-6th Cousin always correct?
Since the 4th-6th cousin label is an estimate, we should know that it is possible for our DNA match to be related to us more closely than fourth cousin. Alternatively, we might find that some of these cousins are more distantly related than 6th cousin.
It is not possible for a DNA test to tell us exactly how we are related to our cousins. However, knowing the amount of DNA that we share with them can help us know where we need to look in our family trees to find our shared ancestor.
There are ranges of shared DNA that we expect to see between relatives of any relationship distance. Fourth, fifth, and sixth cousins might share as little as 20 centimorgans (cMs) and as much as about 64 cMs with us.
People who are our DNA matches and share between 20-64 cMs with us will be likely to show up as estimated 4th-6th cousins. It is important to note that this range of shared DNA overlaps with the ranges seen between cousins of other types.
This is why someone estimated to be a 4th-6th cousin could actually be a 3rd cousin twice-removed, or a half-second cousin once-removed. They could even be a 7th cousin.
How to find out how your 4th-6th cousins on Ancestry are really related?
The best way to figure out how you and your 4th-6th cousin DNA match are related is to compare your extensive family tree to your DNA match's extensive family tree. If both of you have excellent, well-researched trees on your Ancestry profile, then spotting the common ancestor is quick work,
In fact, if both you and your match have pretty thorough family trees, you might find that your match shares a Common Ancestor Hint with you, and your common ancestor (and possible relationship) might be listed right there on the DNA match profile page.
Furthermore, you might see your match on the Ancestry ThruLines feature. ThruLines can help you figure out how you are related to your match and even help you identify potential ancestors.
But, let's be honest. Most of our DNA matches don't have family trees, and if they do, they aren't linked to their DNA.
The DNA match from the image below doesn't have a family tree attached to her results, but I know that she is related through my father's side of the family because she also shares DNA with my dad. We share 39 cM of DNA.

If our match doesn't have a complete tree, or worse, has no tree at all, how are we supposed to figure out how they are related? Since they could be quite distantly related, it might seem overwhelming to try to work this out.
Fortunately, we have many resources at our disposal to help us determine whether our 4th-6th cousin matches are indeed 4th-6th cousins, and if not, exactly how they do connect with us.
A few suggestions to get you started:
Determine which line of the family they are on by checking out matches you have in common
Examine shared matches with family trees
Check their main Ancestry profile to see if they have an unlinked tree (a tree that has not been connected to DNA results), which is different than a public linked tree
Contact your DNA match to see what they know about their grandparents and great-grandparents (often, you might recognize a surname)
For more ideas about how to figure out how your DNA match is related to you, check out this post:
How many 4th-6th cousin matches do you have?
Even though Ancestry doesn't tell you automatically exactly how many 4th-6th cousin matches you have on your list, there is a way to figure it out.
From your main DNA match list, click "Shared DNA" to see the options for filtering your Ancestry matches based on the amount of DNA that you , share. Then, look at the number next to where it says "Close matches – 4th cousin or closer".
The image below is from my own DNA match list. I clicked on the Shared DNA filter option, and can see that I had 732 DNA matches that are estimated to be related at a 4th cousin distance or closer.
It should be mentioned that all of our 4th-6th cousin matches are included in this group.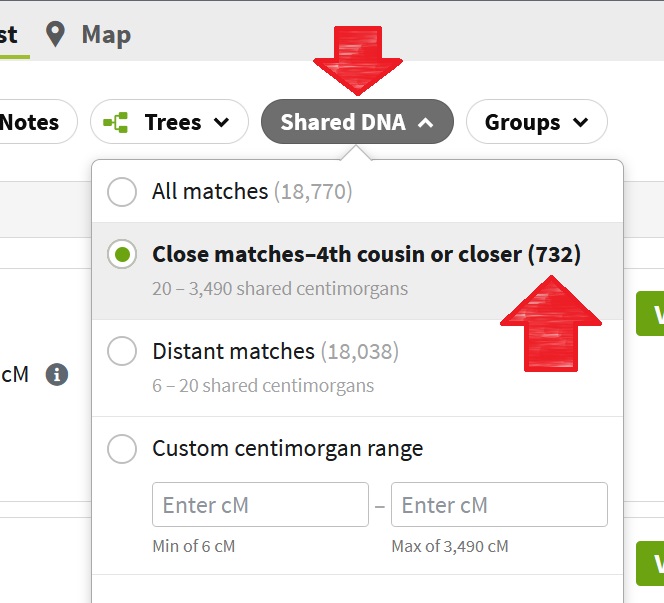 I counted 54 "closer" DNA matches than those who are estimated to be my 4th-6th cousins. This includes those who are estimated to be 3rd-4th cousins, 1st-2nd cousins, and immediate and extended family members.
If I subtract the total number of close matches from the 54 "closer" matches, I am left with 678 4th-6th cousin matches.
If you don't want to go through the counting of your closer matches, there one easy conclusion that you can come to that can help you estimate the number of 4th-6th matches that you have. Almost all of your close matches will be 4th-6th cousin matches.
Most people have few very close relatives, and a few dozen 2nd-3rd cousins, at most, on their DNA match lists. In other words, most of us can assume that the vast majority of the relatives that can be filtered as Close matches – 4th cousin or closer using the filter function are 4th-6th cousin matches.
Of course, as I mentioned above, these relatives may or may not be actual 4th-6th cousins if we were to identify how they belong in our family tree.
Conclusion
I hope that this post has helped you understand more about your 4th-6th cousin DNA matches on Ancestry, how many you have, and how they might be related to you.
If you have any questions about something that you read in this post, please join us in the discussion below.
Thanks for stopping by today!