Are you wondering if you should link your family tree to your Ancestry DNA results? In general, I always recommend that my readers consider doing this. It's the best way to take advantage of all of the features that Ancestry offers and leverage the power of having your DNA results and family tree on the same site. In this post, I'll explain some of the benefits of attaching your DNA to your family tree.
Attaching your tree to your Ancestry DNA results will allow you to:
Get Shared Ancestor Hints
Quickly identify surnames shared with DNA matches
Possibly be placed within DNA Circles
Help others explore their ancestry
Read below for further explanations about each of these benefits. If you are already convinced you should link your tree to your DNA, you might be interested in reading this post about how to do it.
Linking your tree will help you get Shared Ancestor Hints
Let me start out by saying that if you have no tree attached to your results, you cannot get Shared Ancestor Hints. These hints are different than the "tree hints" that you see when you are building your family tree on Ancestry. Tree hints give you ideas about documents and other records that might help you learn more information about a particular person in your tree. Shared Ancestor Hints are special hints that compare your tree with the family trees of your DNA matches in order to spot your connection.
Why should you care if you have Shared Ancestor Hints? They can:
help you verify your family tree research
help you easily determine your exact relationship with your match (see image below)
assist you in spotting places in your tree where you lack confirmation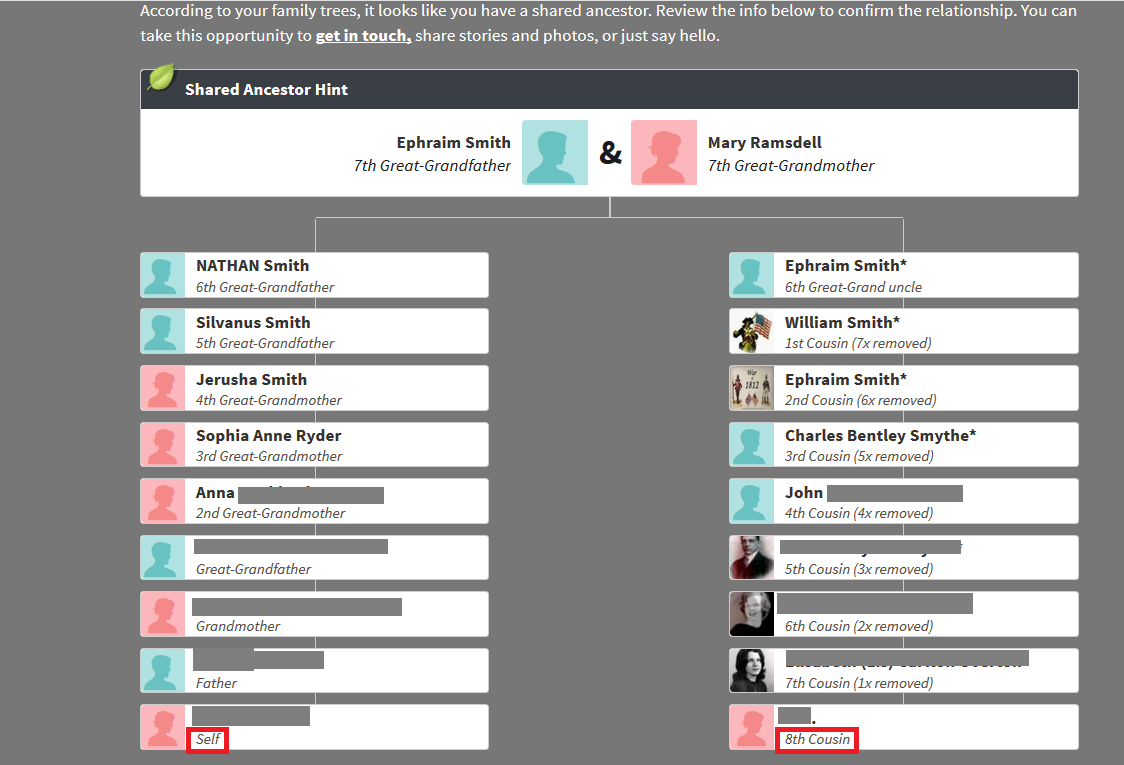 If you want to spot common surnames quickly, link your tree to your DNA
If you and your DNA match both have trees linked to your DNA results, when you visit the match profile, you will see a list of surnames in common. No need to spend endless hours scrolling through your matches looking for common surnames – Ancestry will do it for you, automatically.
In order to see your surnames in common, click on a match that has a public family tree (you can see which matches have trees directly from your match list). Once you are on the match profile page, you can scroll down just a little bit to see shared surnames. While this doesn't always mean that you and your match are related through a surname in common, it's a good starting point. Also, keep in mind that you can be related to your DNA match in more than one way. Crazy, I know!

If you want to be in a DNA Circle, you must have a public family tree linked to your results
Getting placed into a DNA Circle is sort of like the "ultimate proof" that you are, indeed, descended from the people from whom you believe you descend. At this point in time, it's the best proof we can have that we really are related to our 4th great-grandfather, for example, since it's not like we can give him a DNA test. There is no guarantee that you will get DNA Circles, and if you don't get DNA Circles it doesn't mean that your tree is wrong. It is, however, a good sign that your tree is correct up until that point on your line.
A DNA Circle will contain people who are DNA matches to you, and people who aren't (but who match other people in the DNA Circle, perhaps people who match you) and who all have the same ancestor in their tree. The cool thing about DNA Circles is that there have to be multiple "family groups" in order for a circle to form, which means that a bunch of siblings who decide to do a test won't artificially sway the software into forming a circle.
Another interesting aspect of DNA Circles is that people can be members of them even if you don't share them as a DNA match. We don't share DNA some of our relatives at about the 3rd cousin level, and as a relationship becomes more distant, it becomes less and less likely to share DNA. You won't be able to find all of your relatives via DNA testing because of this, but DNA Circles can help you connect with some of those cousins you wouldn't have known about otherwise.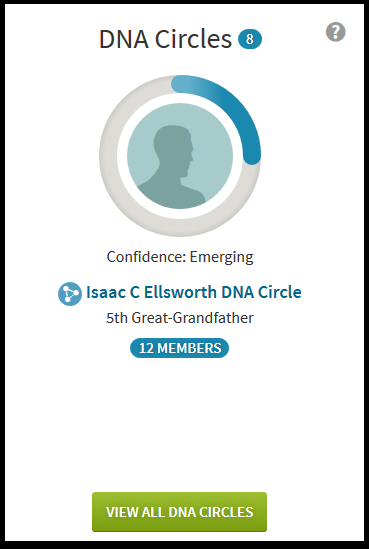 Help others explore their Ancestry by linking your results and your tree
It's very helpful to other Ancestry DNA users when their DNA matches link their trees to their results. It can help them easily spot the relationship, and save you from innocent, yet sometimes frustrating e-mails that go something like this: "Would you like to help me figure out how we are related?". You can save them the trouble of asking you how you might be related by simply attaching your results to your tree. This way, if they do decide to contact you after all, they will have a much better idea of how you might be related and, perhaps, a more specific question or comment.
Plus, it's just a huge help and a really nice thing to do for your DNA matches – they are family after all!
Conclusion
To really take advantage of these benefits of linking this tree, you'll do good to have an Ancestry subscription, at least while you are actively researching your tree. You can get a two week free trial by using the following link (I'll get a small commission – thank you so much) if you end up purchasing a subscription at the end of your free trial: Ancestry Free Trial
I hope that this post helped you learn a little bit more about the benefits of linking your Ancestry DNA results with your family tree. If you have any questions or comments about anything that you read in this article, I would encourage you to leave a comment below. I hope to hear from you.
Thanks for stopping by!