If you need to find an obituary for a specific person, there is a good chance that you can find it online. In this post, learn how to find obituaries.
You will also learn:
Whether everyone gets an obituary written about them after they pass away
How to find someone's obituary for free
Can you find obituaries online?
How to find someone's obituary from years ago
Obituaries, also called "death notices", are an important means of letting a community know that someone has passed away. It is important to know that there is a small difference between what we typically know as an obituary and more basic death notice.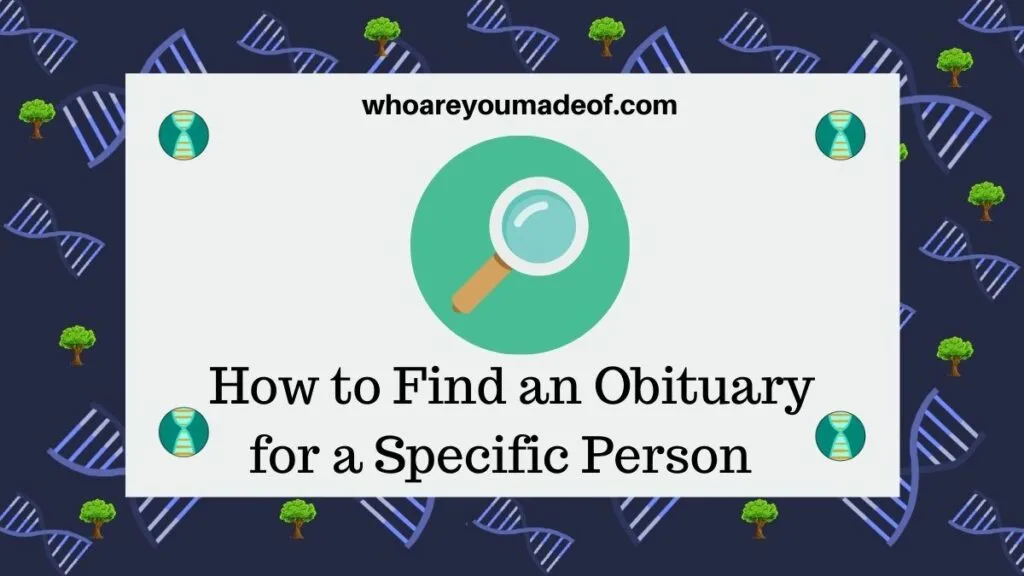 A typical obituary is more of a tribute to someone's life and what they achieved during their lifetime. For example, if they had a notable career, or if they were especially active as a volunteer, these details might be mentioned in an obituary.
Furthermore, an obituary is usually written in the form of an article, and is sometimes even written by a newspaper reporter who is in charge of writing obituaries about notable local residents after they pass away. Most newspapers will also publish obituaries that are submitted by families and friends for a fee.
A death notice, especially one written with genealogy in mind, generally lists basic information about the person who passed, such as the names of their parents, spouse, children, and grandchildren. Death notices are often printed for a fee by the local newspaper.
For the purpose of this article, we will use the term obituary and death notice interchangeably. Either type of announcement is of great value to the genealogist or family tree researcher.
Tips for finding an obituary for a specific person
Before you get started in your search for an obituary or someone's death notice, it is important to gather as much basic information about them as you can. The more you know about your friend, relative, or ancestor who passed away, the easier it will be to find their obituary.
Obituaries are often listed by last name or the town where they were living before they passed away, so it is good to have as many details as possible.
Details that can be useful for finding a death notice printed online or in a newspaper include:
Their full name, including a middle name
The city or state of their birth
Where they lived when they passed away
Where they may have been buried or interred
The year of their death
Names of any of their spouses
Names of their children, including married names of daughters
Names of their parents, even only a first name
Where they went to high school or college
Whether they served in the military
What they did for a profession
Volunteer or community activities they participated in
Names of grandchildren
Names of their siblings
Their maiden name, if applicable
Their approximate age at death or year of birth
Access to a photograph of the person to compare with the photo from a possible obituary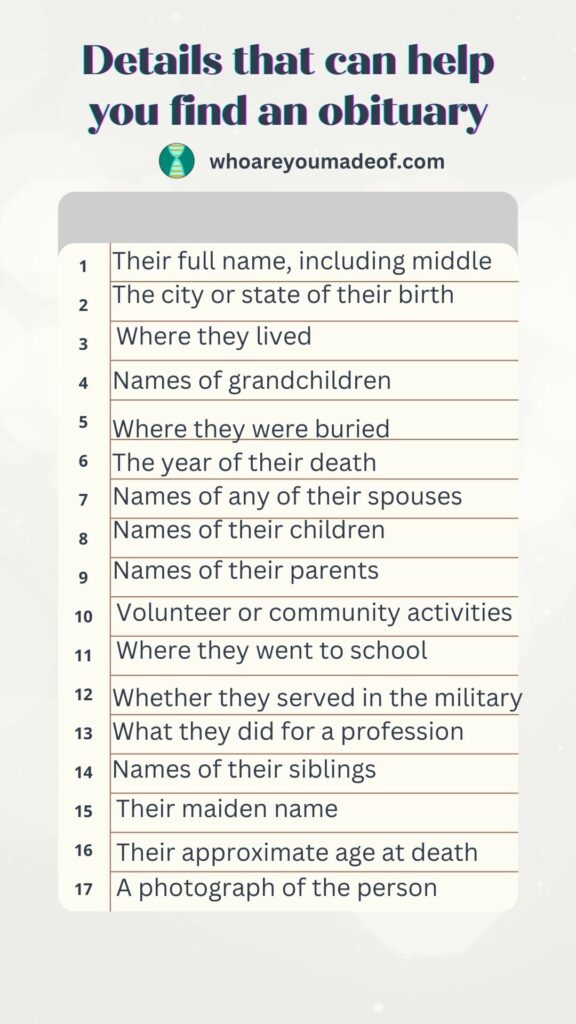 Even if you don't think you knew the person well enough to know some of this information, you might know more than you think. Any small bit of information that you might remember could be mentioned in the obituary, which will make it easier for you to recognize as being the one that you are looking for.
Many people have the same or very similar name as our deceased relative, so it is important to make sure that we have identified the correct obituary.
For example, did they ever mention traveling to visit family, or where they went to college? This might provide a clue as to where they were born.
Any small detail that you remember them mentioning to you, or that you heard about from a relative, could help you find their obituary. This is especially important if your relative or friend had a common name.
How do I find someone's obituary for free?
There are many ways to locate an obituary for free. If the person died after the year 2000, for example, you might be able to locate their obituary for free on the internet.
In fact, most obituaries or death notices from the past twenty or so years can be found for free on the internet.
Many funeral homes offer the service of publishing an online obituary or death notice as part of the service that the family receives. There are several websites that syndicate obituaries or offer the service of publishing these notices directly to the funeral home.
Many people will be able to use these free online obituaries as a starting point in their family tree research, as most of us have had ancestors pass away within the last twenty years. You might be able to find obituaries for your grandparents, great-grandparents, and even great-great grandparents online, which may include details about where they were born, siblings, or even parents' names.
Free online sites for obituaries
Legacy.com allows you to search for obituaries by name, city, and date of obituary, which allows for a good deal of flexibility in your search. If you decide to use this tool, try to use as many variations of the details as you know, since there are many people with similar names.
Another very useful site for finding relatively recent obituaries by name is Dignity Memorial. This website also has a search function that can help you search for obituaries by time period or state, or see all of the obituaries for a particular funeral home.
Most of these online obituaries, especially recent entries, will include photographs that were submitted by family members. This can help you determine whether you have found the correct obituary.
Can you find old obituaries online?
Indeed, it is possible to find old obituaries online for a deceased person. Some may be found for free, but most will be in paid collections of digitized records.
Even if you cannot find the obituary you are looking for free, you might find that it is still worth paying a small amount to have access to the record. As I mentioned previously in this post, a lot of information can be learned from these types of articles.
There are free obituaries online
Before you decide that you need to pay for the record, I recommend doing a few Google (or similar) searches using the details that you know about your relative. Many old newspapers and books have been digitized and made available online, and you you might be able to find them without paying.
Old obituaries are especially interesting and helpful to locate. They are much more likely to include a cause of death, which is important in genealogy.
Try Google
In order to do a good Google search, you could use a few of these tips for finding obituaries on the internet:
Use quotations in your search (i.e. "Mary A. Smith" obituary Rhode Island)
Search without quotations (i.e. Mary Aimee Smith obituary Rhode Island)
Search with the name of a spouse or close relative likely to be mentioned in the death notice (i.e. Mary A. Smith Clyde Smith obituary Rhode Island)
Include the name of the city where your relative lived or was born (i.e. Mary A. Smith obituary Pawtucket Rhode Island)
Leave out the middle name (i.e. Mary Smith Clyde Smith obituary Rhode Island)
Try any variations of the above tips, with and without quotations
Check out Family Search
An excellent place to see if you can find your relative's obituary online is on the free website Familysearch.org, which is run by the Church of Jesus Christ of Latter Day Saints. They do not have complete records for every state, but this is still a good place to check, as it is free.
Old newspapers are the best source for old obituaries
My favorite place to find old obituaries from years ago is through Newspapers.com. This site has more than 21,000 newspapers that are digitized and searchable going back as far as the 1700s.
However, Newspapers.com is not a free source of records. After a 7-day free trial, your subscription to the site might cost around $20 per month.
I have had excellent luck finding old obituaries about my ancestors on Newspapers.com, and have learned some very interesting details about my family tree through this strategy.
How to find someone's obituary from years ago
If you have tried to find the obituary online for free by name, or using the paid collections, and you have not been able to locate a death notice or article mentioning their passing, you might have to take a trip to the local area where your relative lived. Of course, this is not practical for everyone, but if it is an option for you, excellent.
Try their local library
Your local library might have collections of old newspapers from years ago on microfilm, and the librarian might be able to assist you in using the technology to locate the place in the newspapers where the past obituary might be located. Libraries are most likely to have newspapers from the newspapers in that area.
It is important to consider that obituaries might have been printed in the place where the relative died, where they were born, or where they lived the largest portion of their lives. For example, I have noticed that in my family, obituaries were printed in the hometowns of my ancestors in the cases where my relative moved away, presumably to notify people that they may have known while growing up or during high-school.
Check out nearby university libraries
Many university libraries are open to the public, yet you should still call prior to visiting to find out the exact procedure for accessing the collections. You might be able to access obituaries that have been put on microfilm for local and statewide obituaries, or access the school's research subscription services to find obituaries online.
There is usually a small charge for printing pages at university libraries. However, the cents per page will be minuscule compared to what some of the online subscriptions charge.
Does everyone get an obituary when they die?
One of the most important things to know when you search for an obituary is that there is no legal requirement for an obituary or death notice to be printed. This means that not everyone has a death notice or obituary written about them and printed in the newspaper.
Unfortunately, because not everyone has an obituary or death notice published about their passing, this is the most common reason that someone might not be able to find their friend or relative's obituary.
There are many reasons why a person might die and there be no obituary published. For example, the person may not have had any close relatives to handle this detail, or the expense might have been too great for the family.
In some cases, the family might have chosen not to print a death notice, or may not have even been aware of the event. Perhaps the family members did not have a good relationship with the deceased, or the relatives would prefer privacy.
If you have spent a considerable amount of time looking for an obituary and have tried all of the ideas that I suggested above, you might consider the possibility that no obituary was printed for your relative. It is always worthwhile to keep looking, however, to make sure that you haven't overlooked the location where it might be.
Conclusion
I hope that this post has helped you understand more about the ways that you can find an obituary for a specific person online. Locating these important items is an excellent primary source for genealogy research, and can also very be very helpful for learning about our friends and relatives.
If you have any questions about something that you have read in this post, or if you have any other tips about how to find obituaries online, please join up in the discussion below.
Thanks for reading this post today.