If you have been tasked with writing an obituary for a loved one, yet don't know what to include, it is normal to feel overwhelmed. What should you include in a thoughtful obituary that will provide important genealogical details?
In this post, I will explain how to write an obituary for genealogy, as well as:
What information to include for a genealogically-focused obituary
If there a difference between a death notice and an obituary?
Can a person have more than one obituary?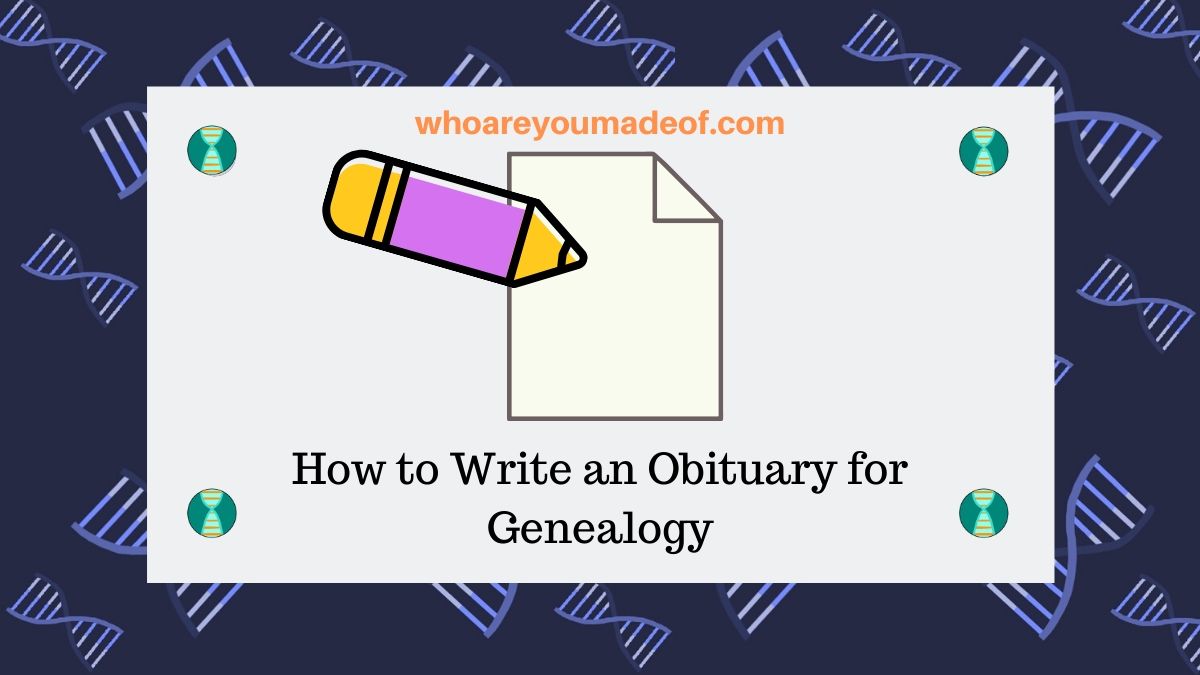 Those of us who do family tree research understand how critical obituaries are to our work. Obituaries tell our relative's stories and are the final record of the life they shared with us.
It is an honor to be the person who writes this small piece of history.
What information should be included in an obituary or death notice?
The most important aspect of an obituary are identifying details about your relative. First and foremost, we want to make sure that your relative is easily identifiable in the obituary and that friends and family feel that the obituary represents who the person was.
For example, we need to include most, if not all, of the following details:
Age at death and year and/or date of birth
Name of spouse, if applicable
Names of parents, including mother's maiden name, for example, "Mary (née Smith)"
Place of birth
City and state of previous residence, especially if different than place of death
Which relatives should be included in an obituary?
It is often desired, and helpful to future readers of the obituary, to include the names of other relatives of our family member. If they did not have many relatives, yet had a very close friend who is especially grieved by their passing, we can include them, too.
We should name the following relatives, as long as they are not minor children:
Names of siblings
Names of children and/or step-children
Names of grand-children
Names of cousins, if the family was close
In the case of a person with no children, we can include nieces and nephews by name
First names of the spouses of relatives are also typically included
Should you name great-grandchildren in an obituary?
For great-grandchildren, great-great grandchildren, grand-nieces or nephews, we can usually just include a number. For example, "six great-grandchildren".
There are a few reasons that we, generally speaking, might not include the names of all of these people in the obituary. Many of these individuals will be children, for example.
Additionally, a person can have quite a few great and great-great grandchildren. This can make for a long, confusing, and expensive death notice.
Pro-tip: Make sure that you have spelled everyone's name correctly. You could contact your family members if you have any doubts about spelling of their names.
What details about your relatives life should be in an obituary?
It is not required to include details about your relative's career, education, or hobbies in an obituary. However, many people wish to include this type of information in their relative's obituary.
Any information that you include in an obituary can help a reader figure out if they knew the deceased person and can provide future genealogists places to look for more information about your relative.
If this is your wish, and you desire to include a more in-depth story about your relative, you could add the following details about your family member:
Their high school and/or college
Military service
Profession or career
Whether they traveled international extensively
Hobbies that were important to them
Organizations that they were a member of
Awards, prizes, or achievements that your relative received
Should you include information about burial, viewing, or funeral services in an obituary?
The last paragraph in an obituary typically includes information related to services that have been scheduled for your loved one. This gives friends and family the opportunity to attend, should their schedules allow.
If your relative has already been buried, you can still publish an obituary. Simply list the name and location of the cemetery where they have been interred.
How to Write a Genealogical Obituary
Now that you have compiled all of the information that you would like to include in your relative's obituary, and you have verified all of the details you would like to print, it's time to compile your obituary.
While there are basic formats that are usually used to write death notices or obituaries, there is room for artistic license and creativity. If you have the time and inclination and knew your relative well, this can be a chance to pay homage to their unique personality.
Even though I have included examples below, as well as the basic format, there is no 100% correct way to do it. Please accept my guidelines below as a general guide.
How to start an obituary
Typically, the death notice or obituary is begun with the name, age at death, and location of death. You can use the term "passed away" or any other "polite" vocabulary to explain that your relative is no longer with us.
Sometimes, cause of death is included or alluded to.
Then, we could list first the names of the close relatives that survived the deceased. Following the names of the people who are still alive, we can list the names of our relative's family who passed away before they did, if desired.
To begin our sample obituary, we'll start like this:
Abraham Lincoln, aged 56, died unexpectedly on April 15, 1865 in Washington, DC. He is survived by his loving wife, Mary (née Todd ). He was preceded in death by his children, Edward, Willie, and Thomas; parents, Thomas and Nancy (née Hanks); siblings, Mary (Aaron) Grisgby, and Thomas.
What should the middle part of an obituary include?
The middle part of the obituary is where you can include the extra details about your relative's life. This is the part where you can be the most creative.
When we think about writing an obituary with future genealogists in mind, we should be sure to include the most notable and important details from a person's life. The "extra" details we read in obituaries can point genealogists in the direction of where they might look for more records about this individual.
For example, if someone did military service, including this information might lead a researcher to request military records someday, allowing them to compile a more complete record of the person's life.
Since it can be expensive to print a death notice, it is not necessary to make this part very long. In other words, include as much as you can afford or would like to pay for.
We can also use this part of the obituary to add in the names of our relative's parents in natural-sounding language, if you prefer to not list the parents in the first part. This helps our obituary read like a story instead of a list of facts.
For example, if we were continuing the sample obituary above, and we didn't want to go too long (which we could easily do with a former president!), it might look something like this:
Born in Kentucky and educated in Illinois, Lincoln pursued his political aspirations during his career as a lawyer. He rose to the highest office in the nation, becoming the 16th president of the United States. Among his most notable achievements are the Emancipation Proclamation and the reunification of the North and South after the US Civil War.
How to end an obituary
As I mentioned previously, the end of the obituary is where we can add information about the dates and locations of any services that will be held for our relative.
For example, if there was a funeral scheduled, we could include the date and time, as well as the location of the funeral home. If there are no services planned, or if the burial has already passed, you can list the name of the cemetery where your relative will be buried.
The ending of the obituary could go something like this:
After a long circuit of memorials and services across the country, Lincoln was interred on May 4, 1865 at Oak Ridge Cemetery in Springfield, Illinois.
The final obituary, seen all together, would look something like the image below. I've added beginning, middle, and end sections so you can see what the sections should contain, but these labels should of course be moved before publication: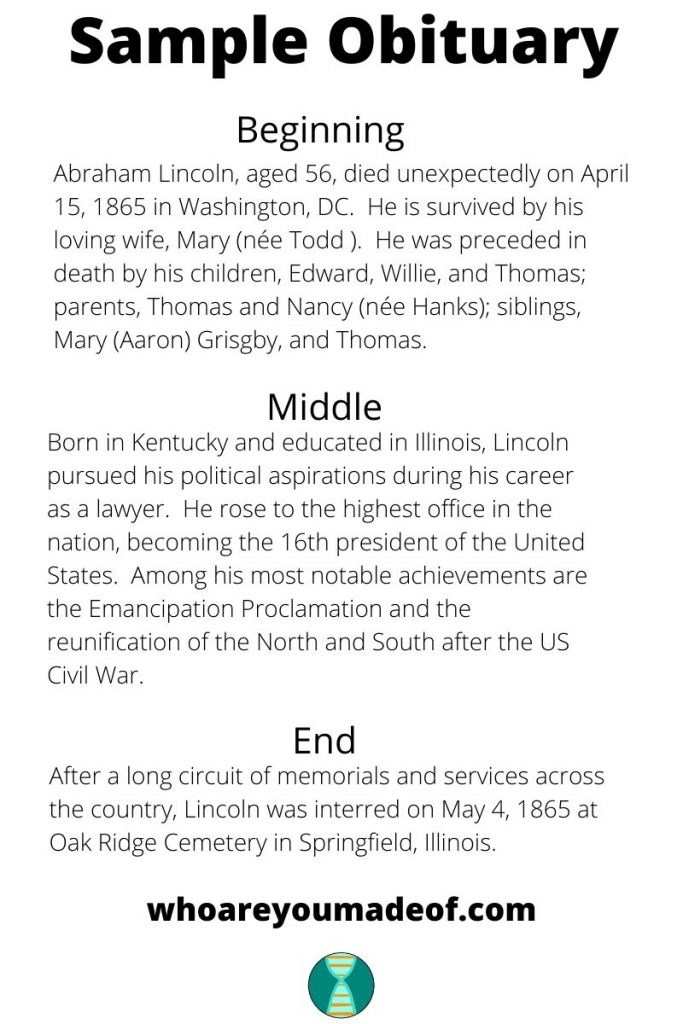 What's the difference between an obituary and death notice?
You might notice that I used the word "obituary" for this article and not "death notice". For the purposes of our discussion, the terms are interchangeable.
It's important to note that there is a slight distinction between a true obituary, which is typically described as an editorial article written about someone's passing, and a death notice. A death notice is similar to an obituary, but the family of the deceased pay to have it printed.
The benefit of writing a death notice is that we can decide what is included and we are only constrained by the price of printing the notice in the paper. Since true obituaries are written by someone else, we don't have full control of the type of information that will be printed about our relative.
To genealogists, there is little difference between death notices and obituaries. We are always grateful to find articles or death notices about our relatives that include helpful information that help us make sure that we have found the right person and help us learn more about their lives.
Can someone have more than one obituary?
Yes, people can have more than one obituary. The typical requirement for publishing an obituary is proving proof that the relative has truly passed away, usually by providing contact information for the funeral home.
I recently had the opportunity to write "second" obituary for my beloved great-uncle who passed away after a few years living in a retirement home in a state a thousand miles away from the place he had called home for his entire life. He moved there to live with his wife who he married when he was in his late 70's.
The obituary published in this far-away city didn't mention his city of birth, where he was from, or the names of his parents. My great-uncle had no children, and so the obituary listed his step-children, step-grandchildren, and step-great-grandchildren, all by name.
There was no mention of his loving nieces and nephews, grand-nieces or nephews, or his extensive network of friends back in his hometown, his career or hobbies, or basically anything that would help someone identify my great-uncle as the person who he really was.
My desire to write the second obituary, or death notice, was motivated by wanting to leave a permanent and correct record for future genealogists. Plus, I must admit that I was sad that many family members who loved him were not included in the original obituary.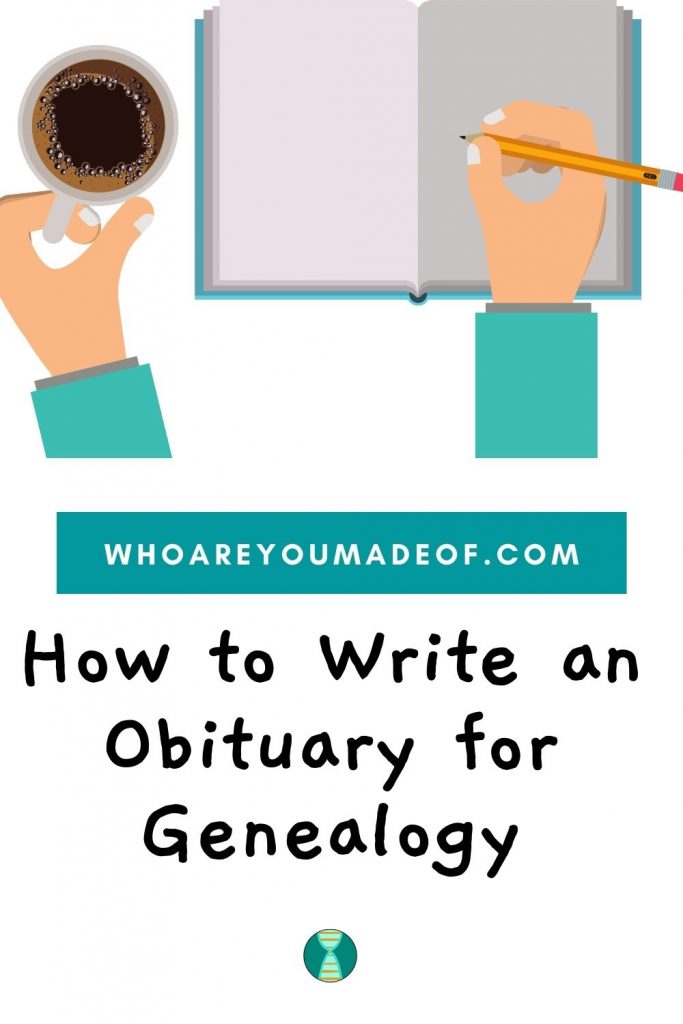 Conclusion
I hope that this post has helped you understand exactly how to write an obituary for your loved one that will be useful to future genealogists and tell a satisfying story of their life. If you have any questions or comments about something that you read in this post, I would love for you to join us in the discussion below.
Thanks for stopping by today.