Your ancestor had parents – there is no doubt about that, but how do you figure out who they were? In this post, learn tips on how to find your ancestor's parents.
Like most genealogists, I have found myself stuck on a branch of my family tree. Sometimes, we call them brick walls.
It can seem as if our ancestor appeared out of nowhere, with no parents to be found. This is one of the most frustrating aspects of family tree building.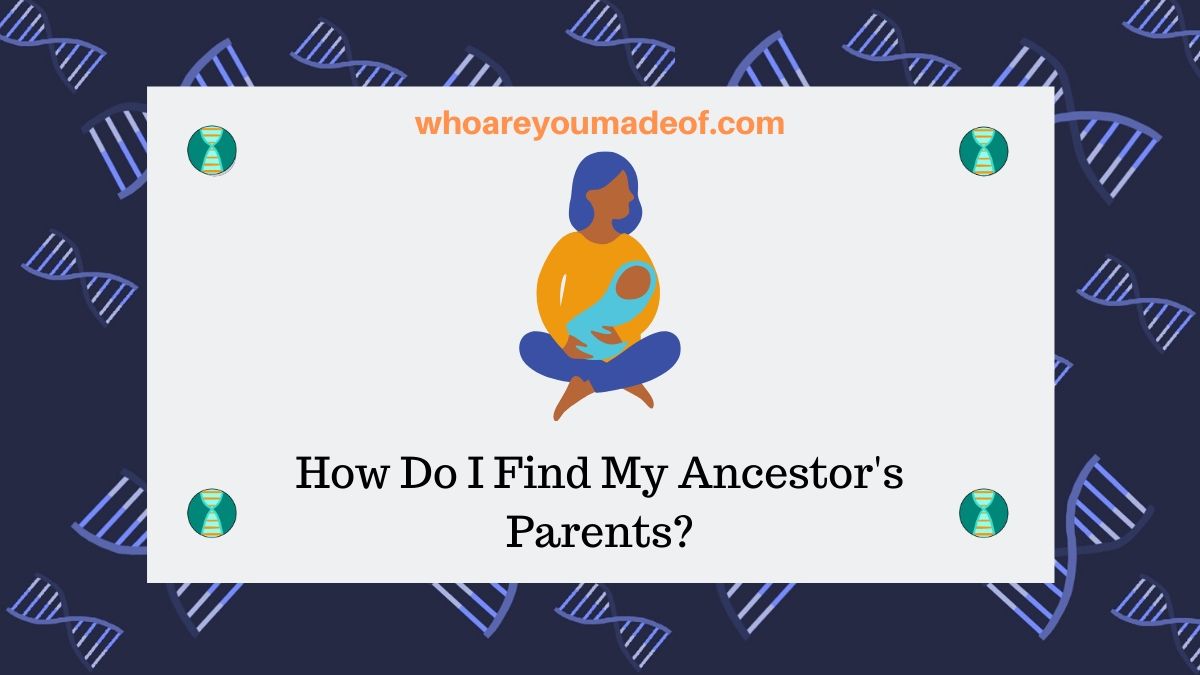 We know for sure that each of our ancestors had parents, since everyone has parents. But what should you do when you feel like you have looked everywhere for clues about your ancestor's parents and have come up with nothing to show for your efforts?
The answer: You keep looking, using the tips in this post which will hopefully help you find what you have been looking for.
This post is organized into three main sections. First, you will find the types of documents where you are likely to find the names of your ancestor's parents.
Then, you will find additional places to look where you can learn about your ancestor and their immediate family. The final section includes some creative places to look once you have already exhausted your search.
How to find the genealogy records mentioned in this post?
Almost all of the record types suggested in this post are available with an Ancestry subscription. Building your tree on Ancestry and using their subscription to easily add relatives and documents to your tree makes genealogy a breeze.
Which documents name your ancestor's parents?
There are many documents that you may be able to locate that list the names of your ancestor.
It should be noted that many of these documents are indexed online. Indexes, while helpful, often contain incomplete information.
Obtaining – or viewing – the original record can often lead to important discoveries. I suggest viewing the original document whenever possible.
Birth certificates
If you can locate the birth record for your ancestor, this is your best chance at easily obtaining your ancestor's parents' names.
You can usually obtain the original birth from the state or county where the birth occurred.
Indexes of births often specify where the birth record can be located, as well as some information about the parents.
Marriage certificates or license applications
Marriage records are often a goldmine of information about your ancestors.
Each local has its own specifications about information that should be recorded on a marriage license application, so the exact details available will vary. Even so, you will be sure to learn something new by viewing the original.
Death certificates
Death certificates are often "hit or miss" when it comes to genealogy. This is because the person providing the information for the death record is not the person who died.
Instead, the person providing the information could be a spouse, a second or third spouse, a child, a grandchild, or even a friend or neighbor.
This person, or the "informant", as they are known, may not know complete information about the person who died.
Even so, it's still worthwhile to try to locate your ancestor's death certificate.
Baptism and other religious records
Baptismal and other religious records can be a very valuable source of information about your ancestor. These records are unique because they can provide insight into your relative's social circle during their life.
On baptism certificates, for example, you will often find names of godparents. Godparents are usually close friends or relatives of the parents of your ancestor.
Plus, parents are usually listed on these documents. It's a win-win, and if you know the religion that your ancestor practiced, you can usually find these records.
Funeral records
Like with death records, you can learn a lot of information about your ancestor from funeral home records. You can obtain these records, if available, by contacting the funeral home that handled your ancestor's funeral.
Obituaries
Obituaries contain a wealth of information, and you should always see if you can find one that was written about your ancestor.
While obituaries don't always list the parents of the deceased, they often do. Additionally, you will learn the name of your ancestor's family members and details about their life.
Not everyone had an obituary printed about them after they passed away, but it is definitely worth taking the time to check to see if your ancestor did have one about them.
Social security applications
Between 1930-1940, many Americans registered for a social security number for the first time. Since then, a social security number is something that almost everyone has.
Social security applications are a great place to find the name of your ancestor's parents, if you can find their application record.
Their brothers and sisters likely applied for numbers, too, so you can check for records pertaining to them to find the previous generation's names.
Other places to look to find your ancestor's parents and immediate family
If you have exhausted your efforts with the records in the previous section, you might have some luck checking the following sources for information about your ancestor's parents.
Census records
Census records, including the US Federal Census, list the names of everyone living in the entire household.
If you can locate census records where your ancestor appears, you may be able to learn about their parents.
Draft registration cards
When young men registered for the US draft, they usually had to list the name of someone who would always know where they were.
This is often a mother, father, spouse, or other close relative. Very often, this information can lead you to the parents of your ancestor.
Online public family trees
Try searching the popular family tree sites to see if your ancestor appears in someone else's family tree. Many times, someone else has already figured out who your ancestor's parents were.
On Ancestry, family trees that have been created by other members that are viewable and searchable by other members with subscriptions are called "public member trees". These family trees can be a very useful place to start our research.
I always recommend verifying information found in other people's family trees because it can sometimes be inaccurate. It can be a good place to start, however.
Research family naming patterns
In some cultures, children in families are given names in a specific order. If this is the case in your family, you might already know the name of your ancestor's parents.
For example, there is a traditional naming pattern among Irish families. While not every family stuck to the pattern, many families did, which is why it is always good to consider that yours might have.
You just need to figure out the pattern and see if you can provide documentation to back up your theory.
Investigate city directories
Most city directories list residents in alphabetical order. This means that you might find family members of your ancestor listed next to your ancestor's listing in the directory.
Addresses are usually listed, too, so you might even learn about other relatives living at the same address of your ancestor.
Spend some time researching those who you believe might be related. If you determine that they are, you might be well on the way to discovering the name of your ancestor's parents.
Check out their neighbors
On census records, you can usually find the names of your ancestor's neighbors. Sometimes, these people are relatives, neighbors, friends from the old country, or other people with whom your ancestor interacted with.
See what you can learn about your ancestor's origins by learning about their close neighbors.
How to find your ancestor's parents if you are stuck
If you have already done everything on this list and you still can't find the names of your ancestor's parents, you might have to resort to some creative research techniques.
Contact other people researching this ancestor
If you can find other people online who have this ancestor in their family tree, you might be able to contact them in order to work together on this mystery.
It's always nice to have a research partner who is interested in the same thing that you are.
Research the other children and grandchildren of your ancestor
Have you ever known someone who lived with their grandmother or grandfather?
There is a good chance that your ancestor's parents lived with one of their children or grandchildren at some point in their life, too.
This means that by adding all of the children (i.e. siblings of your ancestors) to your family tree, as well as their descendants, you might strike ancestor gold.
For example, you could find that your ancestor's mother was living in another state with one of her grandchildren during her retirement.
Find their immigration records
If your ancestor was born in another country, finding their immigration or travel records is a valuable place to look for information on their roots.
Their place of birth is often listed on their naturalization application and you might be able to look in that local in order to locate their birth records.
Take a DNA test
A DNA test is a fantastic way to learn about your ancestors. You will likely have DNA matches who are descended from the ancestor that you are researching.
Many people who take DNA tests are also interested in genealogy, which means that you are likely to learn something new about your family tree in this way.
Find people who could be their parents
This tip might take some time to implement, but you could have luck "guessing" at the names of your ancestor's parents.
For example, if your ancestor has a relatively uncommon surname, and you know where they were born, you could locate all of the couples in that town who could be their parents.
Then, working with a process of elimination, you could determine who their parents are NOT. Once you have decided on a likely couple, you could find more records to back up your ideas.
Look for their names in newspapers
Your ancestor could have been notable in some way, and as such, could have had an article written about them in the newspaper.
Local newspapers often printed things that modern readers might find odd, and so you can learn some interesting things about your ancestors in this way.
And maybe, the names of their parents.
You can get a free one-week trial to my favorite site for searching old newspapers if you use this sponsored link: Get a 1-week free trial to Newspapers.com
Conclusion
I hope that this post has helped you understand more about where to look to find your ancestor's parents. In addition, I hope that some of the clues I gave you help you locate them.
If they did, please comment to let me know.
Additionally, if you have any secret ideas to find records that have worked for you, please post it below to help you fellow researchers out.
Thanks for stopping by today!