Are you thinking about doing a DNA test for ethnicity? I didn't know much about DNA testing when I first ordered my test from Ancestry DNA, but I do know what I was hoping to learn. This is my story.
For years, my husband and I had what some people in the US call a "mixed status" family. He was a US permanent resident, while me and our four children were born United States citizens.
However, before he became an official permanent resident, we encountered a lot of obstacles.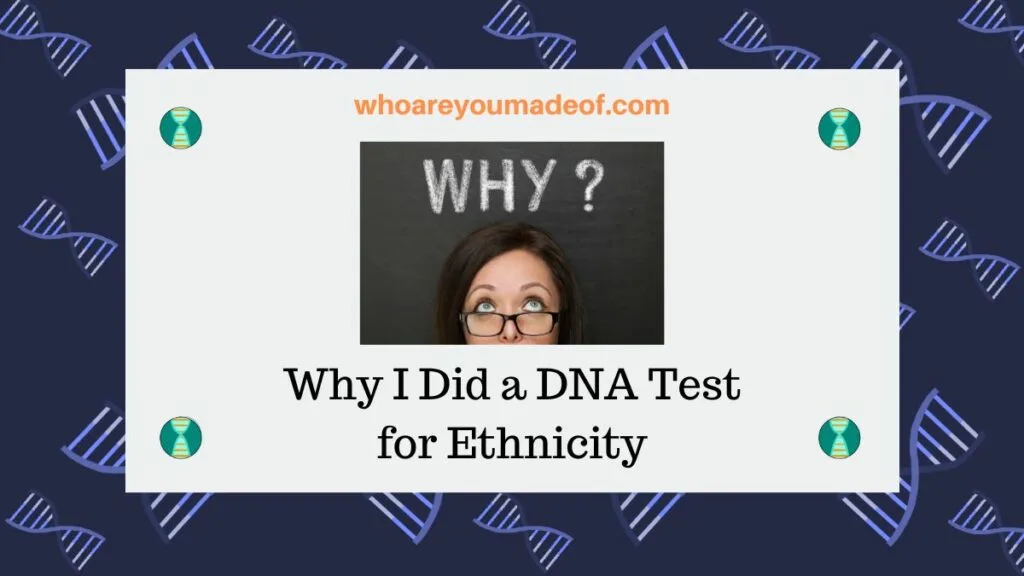 There were some very scary moments, like the one we experienced back in 2013 when we received a notice that my husband's immigration application had been denied. We were faced with the reality that if we wanted to keep our family together, we would need to find another country to live in.
Imagine! I was suddenly wondering how I would manage all of this – moving to a new country, taking the kids out of school, maybe having to learn a new language? I was terrified.
You might wonder what all this has to do with finding your ethnicity with DNA. Stay with me, we will get there.
Family tree research to find my great-great grandparents
Faced with this idea of moving, I started to go "country shopping". I happened upon this blog post where I learned that people with European ancestry sometimes could get passports through their long-deceased ancestors.
This was a mind-blowing idea for me, and naturally, I decided to investigate it further.
And that's when I realized: I had no idea where some of my great-grandparents and great-great grandparents were actually from. The obvious course of action was to start building a family tree and doing some old-fashioned research.
It turns out that the process of getting citizenship through ancestry is very difficult in most cases. None of my ancestors did what they should have done in order to ensure that their great-great grandchildren could one day return to the motherland with citizenship in-hand – and I don't fault them for it one bit.
Only a small percentage of the descendants of immigrants to the United States are eligible to return to the homeland of their ancestors to stay permanently.
To sum it up, I did not win the European country citizenship-through-ancestry lottery.
While all of this was happening, everything worked out with my husband's residency application and he was granted permission to stay here in the US with us, and he is now a proud and grateful US citizen. Whew!
We didn't have to make an international move, but I sure did get bitten with the DNA and genealogy bugs. Since I took my first DNA test to simply learn about my ethnicity and maybe where my ancestors were born, I have been able to:
Find relatives all over the world who were previously unknown to me
Build a family tree back further than I ever thought possible using my DNA matches and ethnicity as a guide
Find out exactly where my immigrant ancestors were born down to the individual towns (now I have a place to visit when I go to Europe)
I've shared my heritage with my children through language, food, and customs – we have learned a lot about the places where our ancestors came from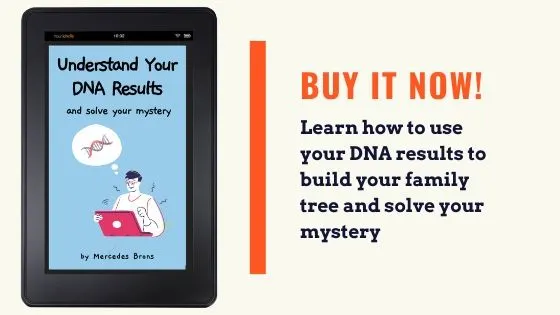 What can you learn from a DNA test for ethnicity?
By this time in my quest for the origin of my relatively recent immigrant ancestors, I had contracted the genealogy bug. As it turns out, it is quite contagious and difficult to cure.
I still had blank spots on my family tree, and I was determined to do what I needed to do to fill them in. Combine that with some mysteries that my adopted husband wanted to solve, and we decided to do the Ancestry DNA test. We were hoping that the DNA test could help us learn about our ethnicities.
We ordered the tests – which felt like a splurge at the time. They were "birthday" presents to ourselves. I almost fell off my chair when they results came back.
My husband had almost 10% Irish ancestry, despite being from a Latin American country (we had assumed his red hairs were from Spanish ancestry… he had none).
My results surprised me, too! Below is a shot of what my results looked like when they first came in so you can see them.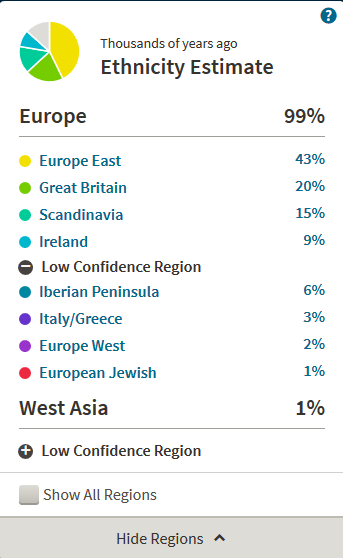 They have since been updated and refined several times, and now are much more specific. Ancestry regularly updates their DNA results (about once each year), and so they get more accurate over time.
Below is what my results look like today: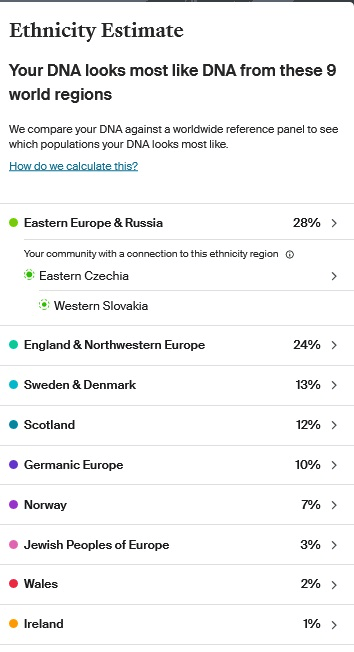 The story continues, because I learned that my parents could possibly have different ancestry than me – all because of a process called recombination. So you can guess where all of the leads: testing my parents, learning more about DNA.
I ended up asking my parents, grandmother, great-uncles, aunts, uncles, and cousins to do tests to help me learn as much as I possible could about our family's origins.
From the simple little Ancestry DNA test, which requires little more than a small saliva sample, you can learn:
Where your recent ancestors lived
Where some of distant ancestors lived
Whether your DNA matches the more than 350 regions Ancestry currently tests for
Many people (myself included) do the Ancestry DNA test because they are interested in their ethnicity and don't realize that they will also have access to thousands of DNA matches in the Ancestry database. From these DNA matches you can:
Connect with close and distant DNA relatives
Are you ready to get your DNA test for ethnicity?
It only takes about 4-6 weeks to get your DNA test results back. I've had so much fun exploring my results and learning about DNA ethnicity.
You can learn more about where to buy Ancestry DNA in this post"
Conclusion
Now you know the story of how and why I got started with genetic genealogy. I would love to hear the story of why you want to do an ethnicity test, or why you already did, and what you learned from your results, so don't forget to leave me a comment below.
Thanks for stopping by!