Have you seen the Storymaker Studio on Ancestry? In this post, learn how to find this feature and the basics about how you can use it to tell your family's stories.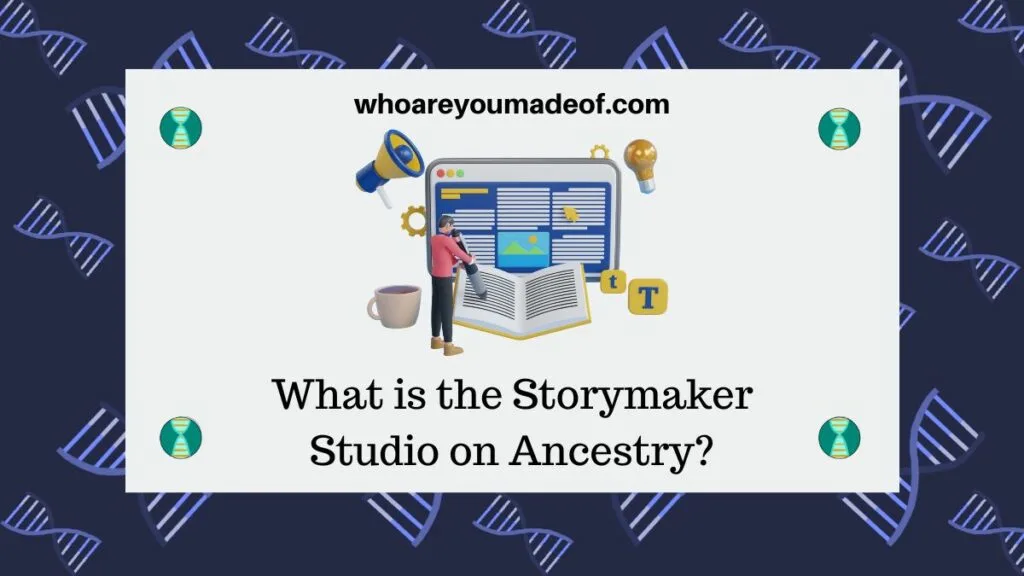 Family tree research can sometimes be a solo endeavor, and so I love it when there is an opportunity to involve other people in something that we are so passionate about. The Storymaker Studio promises to make it easier for us to share fun stories and moments from our ancestors' lives with our friends and relatives.
The creative possibilities of the Storymaker Studio are truly endless, and I hope that after you read this overview you are inspired to take a look at the feature to see what you can create for your own family tree.
Where is the Storymaker Studio?
The Storymaker Studio is currently only available on the Ancestry mobile app. This is a free app that can be downloaded directly to your mobile device from the Google Play and Apple App stores.
If you haven't already downloaded the app, I highly recommend that you do so. There are several features that are currently only available via the app, such as viewing all members of your family tree
After you download the app onto your smartphone, can use the same login credentials that you use to login to the Ancestry website on your phone or computer. The Photomaker Studio should show up as an option as soon as you log in.
Currently, the Photomaker Studio is displayed on the "Discover" tab of the mobile app. After you click on the Discover tab, you should see the Storymaker Studio as an option towards the top of the screen.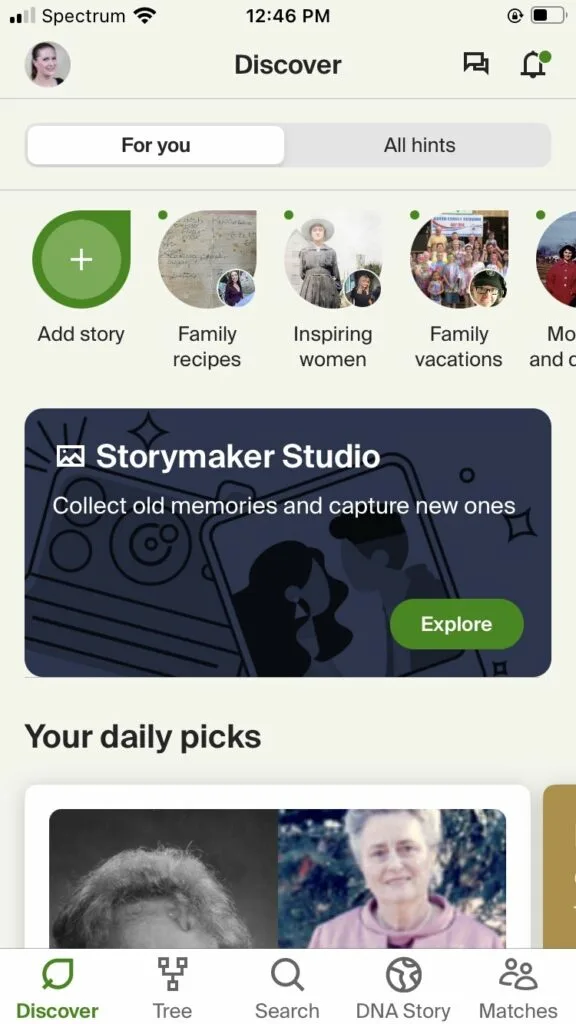 When you click on the green "Explore" button, it will take you to a new screen within the app where you can choose what you would like to create. The two main options are to create Photolines and Stories.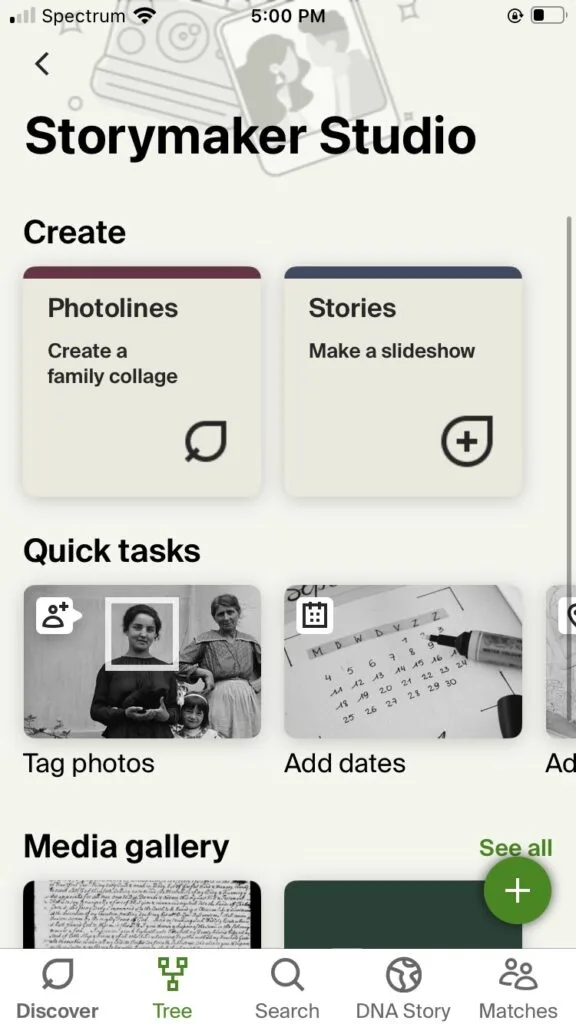 It is very easy to get started using the Storymaker after you make your selection about what to create. It is all very intuitive and easy to use.
What are Stories in the Storymaker Studio?
Stories are short slideshows that contain both visual and audio media, such as photographs and recording. You can use Stories to create slideshows about a particular person, a group of people, special moments, achievements, or any other story from your family tree that you would like to tell.
This is a great way to create an easily "digestible" tidbit from your family tree that communicates something from an relative or group of relatives' lives that you feel is important. Often times, if we only have documents and photos attached to the tree, someone who accesses the tree has to interpret everything in order to understand the relative's story.
Instead, you can use the Storymaker Studio to share the observations and connections that you have made from everything that you have discovered, collected, and interpreted by researching your family tree.
Ancestry has some pre-loaded templates that you can use to make your own Stories. Essentially, these are ideas or suggestions for what your Story might be about.
Some of the ideas that Ancestry suggests are:
My Ancestry Story (distill your "story" to a slideshow – what's most important?)
Bravery
Ask the community
Fathers and sons
Mothers and daughters
Funny moments
Family vacations
Favorite family reads
Sisters and brothers
Heirlooms
Achievers
Veterans
Love story
First memories
Heartwarmer (sweet and inspiring moments from your tree)
Legendary tales
Mothers and daughters
Fathers and daughters
In memory of
Family recipes
Inspiring women
Family celebrations
Mothers and sons
Famous ancestors
Travel to origins
Holiday traditions
That's a pretty long list of ideas! I would love to use this feature to make slideshows about all of my immigrant ancestors and their journey to the United States.
Also, slideshows about where my ancestors came from in their homeland would be really fun and interesting for my family members to see on social media.
I'm sure you can come up with a 100 more ideas for the types of stories that you can tell about your ancestors.
What is a Photoline on the Ancestry Storymaker Studio?
Photolines allow you to easily create a collage, or collection of photographs, that are of 2-4 people that are in your family tree. This is designed to show connections throughout generations, so you should have a family tree with a minimum of two generations, as well as decent profile photographs for the generations that you would like to show.
In addition, you should upload a good photograph for yourself during your exploration of this feature. It was actually when I tried to set up my first Photoline that I realized that I did not have any media attached to my own profile on my tree.
This is also a great reminder that we should not overlook documenting our own lives, too. It's easy to be very focused on those who lived 100 years ago, but you and I are interesting, too.
What else can you do with the Storymaker Studio?
The Storymaker Studio allows us to conveniently access all of the media in our family tree in one central location. So, it's also the best place to see media in your tree, such as photographs, that don't have important details associated with them.
Directly from the Storymaker Studio, you can find photographs and documents that don't have locations, dates, or tags on them. Below the option to create Stories and Photolines, you will see that you can:
Tag photos
Add dates
Add locations
Add descriptions
As with anything brand-new, it will take some adjustment to get used to accessing all of our photos and documents right in one place. Up until now, we had to find media for an ancestor directly on their profile.
I know that I am not the only person who has searched for a document but has not been able to find it because it was not associated with the ancestor that I thought it was (common with spouses in my tree). This new feature will make it easier for me to quickly tag other ancestors who should be connected to my documents and photos.
Upload audio to your family tree story with Storymaker
You can now upload audio files and make recordings directly in the Ancestry app with the Storymaker feature. This can be done while you are making a new Story or slideshow, or on your relative's profile in your tree.
I think that I am the most excited about the new ability to upload audio to my family tree using the Storymaker. This is very important to me, since I know that I have recordings and stories that I would love to preserve and share with other relatives
Who can see the Stories and Photolines you create on Storymaker?
Stories and Photolines that you create in the Storymaker might show up for other Ancestry users who have the same ancestor in their family tree. This is depending on your privacy settings, of course, as well as those of your relatives.
This means that if your family tree is private, your Stories will not be visible to other Ancestry users. If another Ancestry user's tree is private and unsearchable, then Ancestry will not be able to identify the connection between your trees and the Story will not be visible to them.
However, if yours is a public member tree, your published Stories be accessible to anyone who has an Ancestry subscription. Additionally, anyone to whom you have given direct access to your tree will also be able to view the Stories that you publish.
If you share your Stories or Photolines on Facebook or other social media platform, your stories will be visible to your contacts and friends on those sites. If your social media posts are public, or you share on Twitter, your Stories might be accessible to people who you do not know.
Conclusion
I hope that this article has helped you understand more about the Ancestry Storymaker Studio and how it can help you create a more interactive multimedia family tree experience for you and your family members to enjoy.
If you have any questions about something that you read in this post, or if you have any ideas about how you will use this new feature on your family tree, please join in the discussion below.
Thank you for reading today!