Have you heard of the Dawes Roll? In this post, learn what this list was, who was and wasn't on it, and how you can use this resource to learn about your ancestors.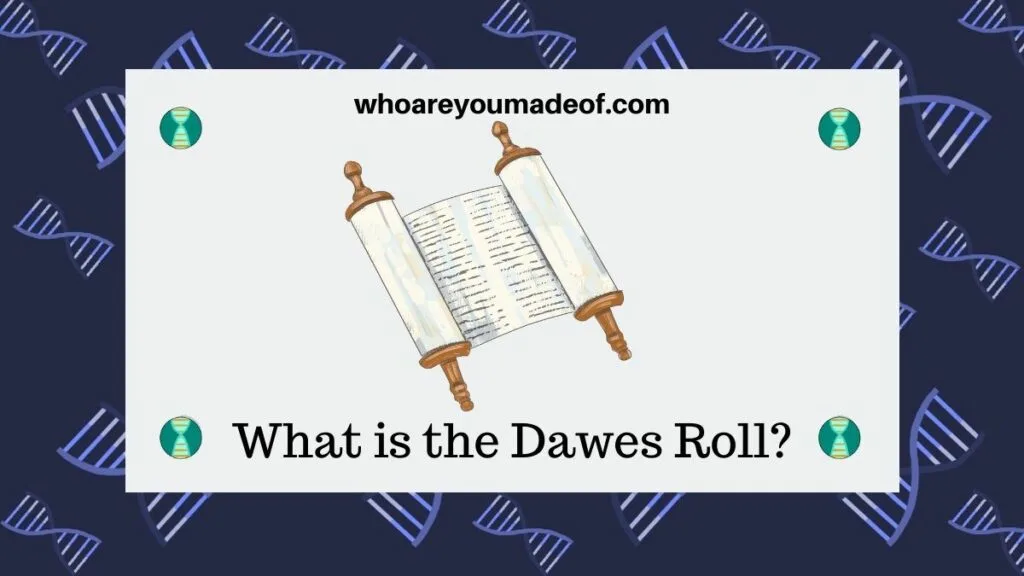 The Dawes Roll, while not created for the use of genealogists 130 years into the future, is a valuable source of information for people who are descended from people who were enumerated on the list.
If you are not already familiar, the Dawes Rolls only lists people who were "accepted as eligible for tribal membership" in the "Five Tribes", or the Cherokees, Chickasaws, Choctaws, Creeks, and Seminoles. The ancestral lands of these indigenous groups are located in the Southeast United States.
What was the purpose of the Dawes Roll?
The stated purpose of Dawes Act, and thus the Dawes Roll, was to protect the property rights of Native Americans. However, Native Americans controlled 150 million acres of land prior to the Dawes Act, and 90 million of these acres were sold as "surplus land" after the Dawes Rolls were completed.
In order to become eligible for US citizenship, tribal members had to register for the Dawes Rolls. In exchange, and if they were deemed eligible, they received a land allotment, which typically was between 160-320 acres of land, much of which was not easily used for agriculture.
Most Americans have not heard of the Dawes Roll or other Native American Census Rolls, such as the Baker Rolls or the Roblin Rolls. The United States government used these lists for a variety of reasons, and their use has had a number of long-term consequences, many controversial.
The real reason that the US Congress passed the Dawes Act in 1887 is because they wanted to "create divisions among Native Americans and eliminate the social cohesion of tribes". The act also was passed during the great push by European Americans to settle western US states, so it was also a successful attempt at a land grab.
How do I know if my family is on the Dawes Rolls?
It can be hard to know for sure whether a specific family might have been listed on the Dawes Rolls. Some people begin their investigation into the Dawes Rolls based on family knowledge or stories, while others have found through their family tree research that their ancestors lived on or near tribal land.
The only way to know for sure whether specific ancestors were included on the Dawes Rolls is to first identify the ancestors who were alive at the time that the rolls were made, which was between about 1896-1906. Minor children born after the rolls were first made were also included on later additions to the rolls, so be sure to not skip the younger generation of your ancestors when making your list.
In order to be eligible for being counted on the Dawes Rolls, a person must have been living in what was known as Indian Territory in the 1900 US Federal Census. This part of North America became the state of Oklahoma in 1907.
Since the rolls and the Oklahoma Native American reservations are divided by tribe, if you know where in Oklahoma your ancestors where born can help you identify which list on the Dawes Roll to search for your ancestor.
Which tribes are included on the Dawes Roll?
The Dawes Rolls contain names of people belonging to the Choctaw, Chickasaw, Cherokee, Creek, and Seminole tribes. At the time of the Dawes Act, these tribes were known as the "Five Civilized Tribes".
The lists are organized into groups by tribe, including separate lists for tribal members, newly born tribal members added after the original lists, Freedmen, and minor children added in 1906.
How to use the Dawes Rolls for genealogy?
If you can locate an ancestor on the Dawes Rolls, there is likely a great deal on information included on their card that can be used for building a family tree and genealogy research. Basic information such as names, ages, and family members, as well as information about ancestry and parentage can be found on these cards.
In addition, because the applications to be on the Dawes Roll typically went through a verification process, the person processing the application may have made notes about information found during their research.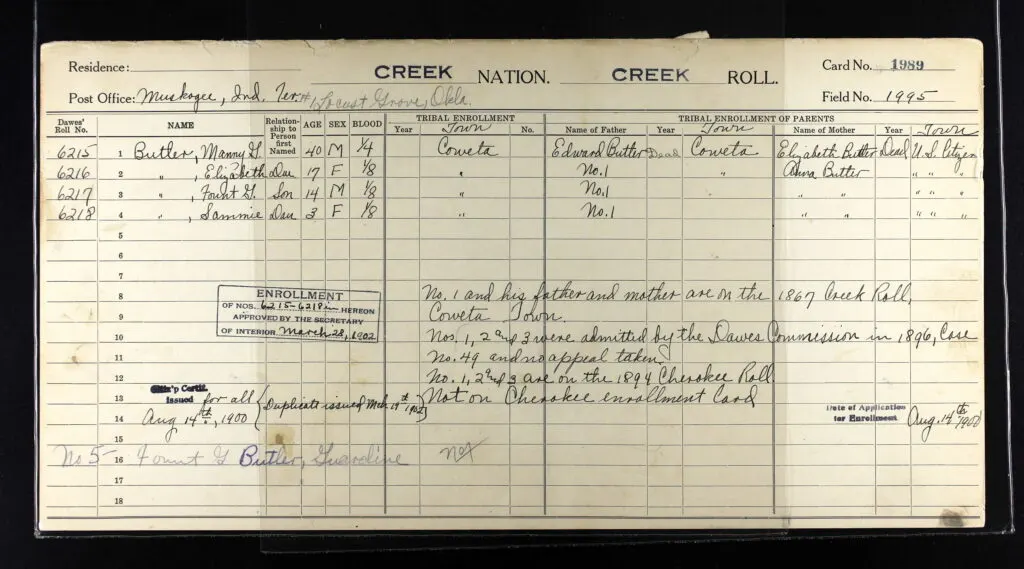 For example, the card above was for Manny Butler, aged 40. His children are listed, as well as the name of their mother and Manny's parents, which makes this a very important genealogy record.
In addition, the person who processed the application made notes that said that Manny's parents were listed on the 1867 Creek Roll, also known as the Dunn Roll, which is very valuable information to a person doing their family tree research. This would help one of Manny's descendants know where to find information about their ancestors going back one more generation in their family tree.
How to find out if your ancestor was on the Dawes Roll
The Dawes Roll has been digitized and there are various searchable indexes that you can use to look for your ancestors. It is also a good idea to examine the lists directly, which you can find on the National Archives Dawes Rolls page.
The Oklahoma Historical Society has a free index that you can use to search for your ancestor on the Dawes Rolls. You can find it here: Dawes Rolls Index
If you have an Ancestry subscription, you can search the Dawes Rolls directly on the site. The added benefit of doing it this way is that information can often be automatically added to your family tree.
Were all Native American people included on the Dawes Roll?
There are 574 federally recognized tribes, and more than 200 tribes that do not have federal recognition. Since the Dawes Rolls typically only included members of five tribes that had originally lived in the south and southeastern part of the US, many tribal members and African-American individuals who were affiliated with tribes are not on this list.
However, there are many other lists. In addition, most tribes eventually developed what is known as a "base roll", which is a list of accepted members at a given point in time. While every tribe has its own rules and regulations for determining tribal citizenship, many tribes do use a base roll as a way to determine whether a person has a right to citizenship in that specific tribe.
There are at least seven million people in the United States that identify as Native American, and millions more if people with ancestry from Mexico, as well as Central and South America are included in the figure.
This means that many people have indigenous ancestry but might not be currently affiliated with a tribe that is recognized by the United States government. Even so, many of these people still maintain cultural connections with their indigenous ancestors in many different ways.
Conclusion
I hope that this post has helped you understand more about the Dawes Roll, why it was used and what its long-term implications were, as well as how you can use this information to learn about your Native American ancestors.
If you any questions about something that you read in this post, or if you would like to share your own story about finding your ancestor on the Dawes Roll, please join in the discussion below.
Thanks for reading today!