Do you want to know if it's possible for a 23andMe test to fail, and what happens if it does? In this post, learn the answer to these questions – and more!
My husband sent his 23andMe sample back a few weeks ago. We are super excited about seeing his results because 23andMe has really stepped up its genealogy game as of late with the new Family Tree feature.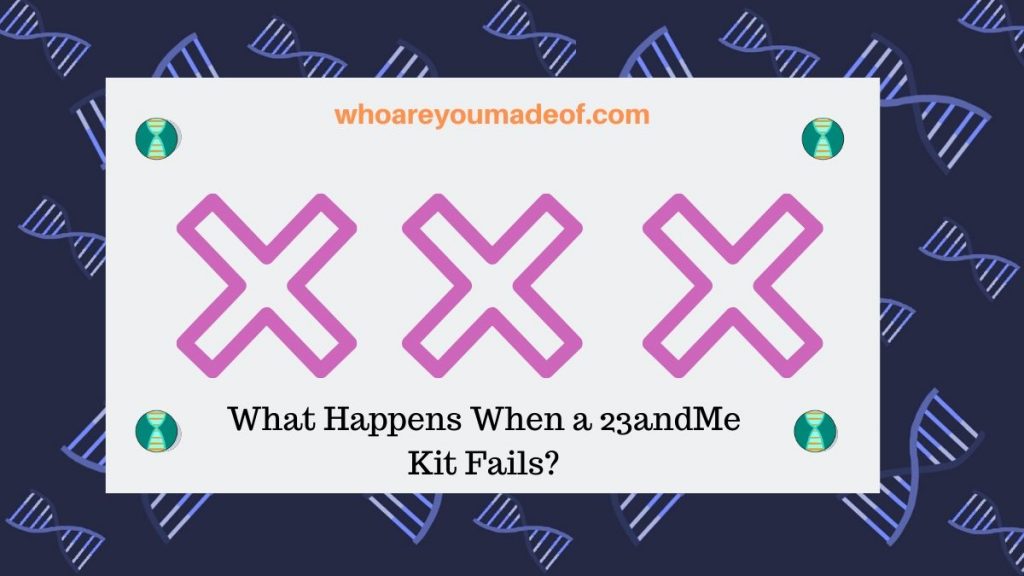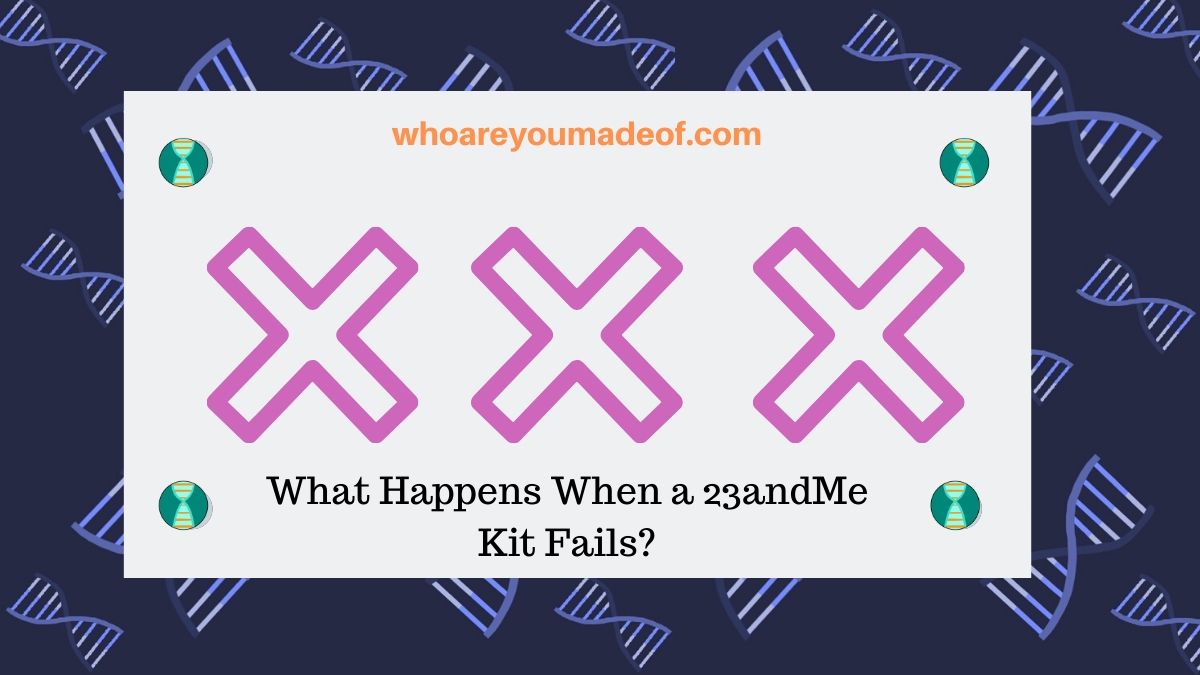 Plus, we literally cannot wait to learn his paternal and maternal haplogroups. Did I mention that I'm excited?
The processing began almost immediately, and his sample moved quickly into the genotyping stage. It stayed at the genotyping stage for several days, and I started to get a little nervous. What was taking so long?
Would the test fail?
I had been anxiously checking my e-mail waiting for the "your results are ready!" message, but instead, I received an e-mail telling me that they were unable to extract DNA from my husband's sample. It turns out that I'll have to wait to discover all of those amazing things about my husband's DNA.
Indeed, it was a failed DNA test.
This is not my first experience with a failed DNA test. In fact, Ancestry DNA kits occasionally fail, too. This is especially common when trying to test DNA for elderly relatives.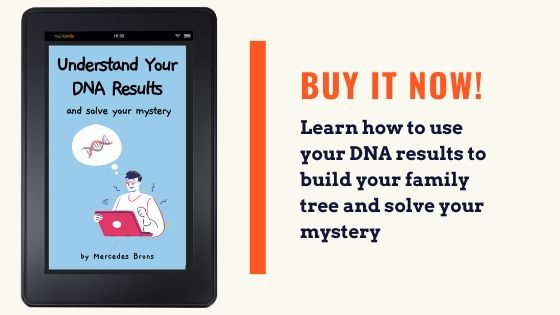 Why would a 23andMe test fail?
The most common reason that a 23andMe, or any other DNA test, could fail would be that your sample did not contain enough DNA to be extracted for reliable results.
Our saliva contains DNA not only from epithelial cells, but from white blood cells, too. 23andMe needs to have enough DNA from both of these sources to make their magic happen.
In the case of my husband, most likely he either didn't provide enough saliva, or his saliva didn't have enough epithelial cells in it. I do remember that he didn't seem excited about having to spit up to the line, and even though I double checked, I'll make sure he does a better job this time.
What happens when a 23andMe kit fails?
In the very unusual situation that 23andMe cannot extract enough DNA from your saliva sample to analyze, they will send you an e-mail to let you know that this has occurred. This means that you should definitely open every e-mail that comes through from 23andMe while you are waiting for your results.
Will 23andMe send you a new DNA kit if your test fails?
If your test does fail, you will want to get started on getting a replacement kit right away.
In the case of a 23andMe test failing because there is not enough DNA to extract from the sample, you can order a no-charge replacement kit by clicking the link in the e-mail that you received from them.

The process to get the new kit for my husband was very simple! Once I clicked on the link in the e-mail, I was taken to a login page and then was immediately sent to the order page where my replacement kit was already in my cart.
I clicked the option to send my husband's kit to the verified address they have on file for him :

We got his previous kit within a few days of ordering, so I'm sure his new 23andMe DNA test will be in the mailbox before we know it. While I am disappointed that his test failed, I know that he will get his 23andMe results back soon and we'll have lots of fun exploring them.
How to make sure your 23andMe test does not fail again
While there is no 100% guaranteed method to make sure that your 23andMe test will not fail again, there are a few things that you can do to make sure that your second time sending in your DNA sample gets you the results that you are looking for.
First, even though this might seem obvious, make sure that you follow the instructions that come with your DNA kit very carefully. According to 23andMe, you should not "eat, drink, smoke, chew gum, brush your teeth, or use mouthwash" for at least 30 minutes before you sit down to provide your saliva sample.
When you are putting your saliva into the tube, make sure you spit directly into the funnel provided, and fill it up to the recommended level. Additionally, make sure that you don't take longer than 30 minutes to fill up the tube.
The reason that you should not take longer than 30 minutes to fill up the tube provided by 23andMe is because you need to add the stability fluid to the sample within 30 minutes, and if you wait longer than 30 minutes to fill the tube, some of the sample you provide might no longer be good.
Some people recommend not eating, drinking, or brushing teeth for an hour before, and rubbing cheeks in order to stimulate saliva production.
We want to send the best saliva off to be analyzed!
Do you need to get a 23andMe DNA test?
Were you researching this question in order to find out what happens if the test fails in order to make a decision about whether to get a test? If you are, then you are like me – I like to know exactly what to expect.
If you haven't yet ordered your first 23andMe DNA test, you can use the following link to get started with your DNA journey. I'll receive a very small commission at no extra cost you, which helps me support this site (so thanks!):
Make new family connections and discover your DNA story together. Order your DNA test kit today using this sponsored link at 23andme.com. Your order will help me support this site at no extra cost to you.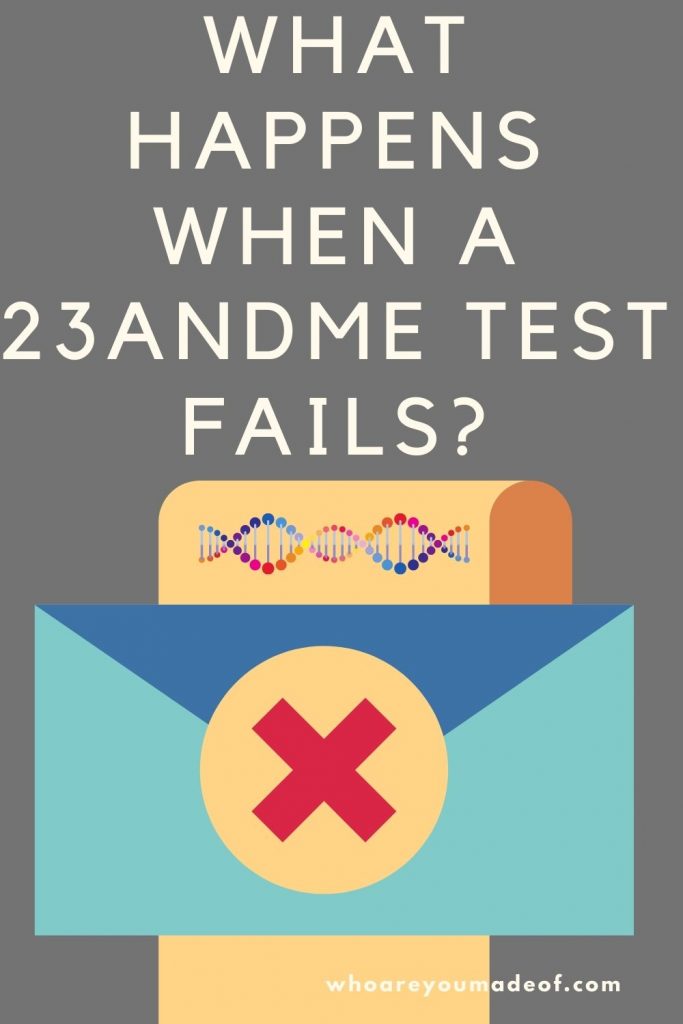 Conclusion
I hope that this post has helped you understand why 23andMe DNA tests fail, and what happens if they do. If you have any questions about something that you read in this post, or if you would like to share your own experience about getting results after a failed test, I would love for you to join us in the discussion below.
Thanks for stopping by today!