Have you heard of the Ancestry Stories feature? This tool allows you to create custom stories about your ancestors to add to your family tree and share with relatives.
If you have ever wished that there was a way to share a story about a particular ancestor in your family tree with relatives, then you will love the new Ancestry Stories feature. This tool is going to be your favorite way to engage family members with your family tree research.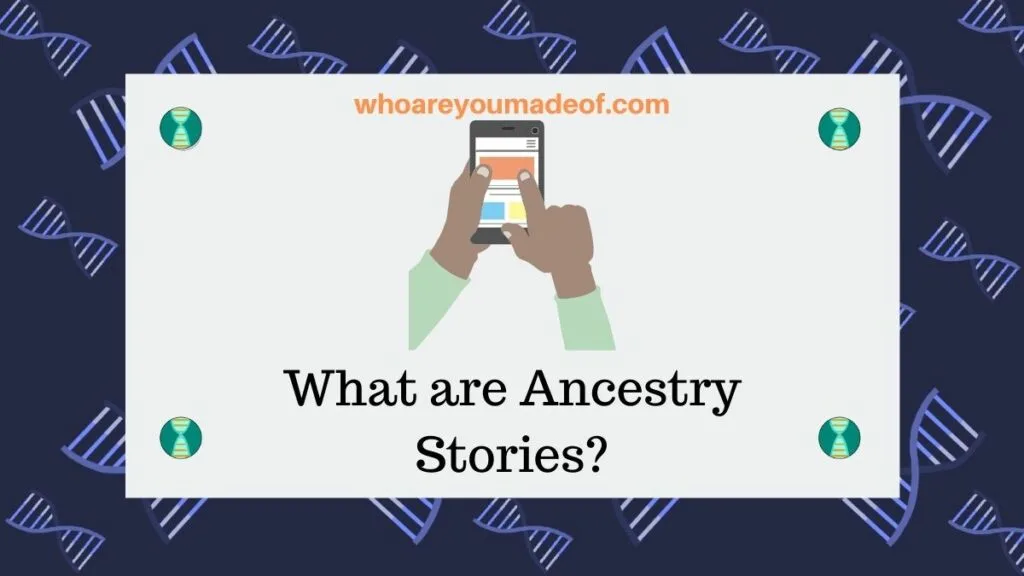 I am very excited about this feature. In fact, it is almost like Ancestry was reading my mind – I have been wishing for an easy way to share beautifully packaged, easy-to-understand stories with my family.
Before we get started, it is important to know that the Ancestry Stories feature is currently only accessible by using the free Ancestry Mobile App. This app is available on the Google Play, iPhone, and Amazon App Stores for free, and you use your regular Ancestry username and password to log in.
There are a few advantages of having the Ancestry app on your phone or tablet, so I do recommend downloading it in order to see all the benefits – including using the Ancestry Stories feature that we are learning about today.
What are Stories on Ancestry?
Ancestry® Stories is a feature on the Ancestry mobile app that allows you to create unique, customized Stories about your ancestors. These Stories are created easily with the press of a few buttons using information and photographs that you already have saved to your family tree.
All you have to do is open the mobile app, choose the ancestor who you would like to feature in your Story, import the photographs you would like to use, and add optional text slides. You can customize the Story as little or as much as you want, and then you press "Publish" to add the Story to your family tree.
Can you share your Ancestry story?
The best part about the Ancestry Stories feature is that you can share the Ancestry Story that you create with anyone that you would like using a link. The person with whom you would like to share the Story does not need an Ancestry subscription to view and enjoy it.
This is going to a very exciting way to get our relatives interested in our family tree work!
There is currently no way to share the Stories that we make on social media, but Ancestry has suggested that they are interested in trying to figure out whether this is something that they can offer in the future.
Who can see the Stories that you create?
Any Story that you create and publish to your Ancestry tree is going to be visible to anyone that you have shared it with directly using the Story-specific link that you gave them. In addition, if your family tree is a public member tree on Ancestry, then anyone with an Ancestry subscription will be able to view your Story as a possible record hint or in their feed if they have the same person in their family tree.
For example, if I make a Story about my 5th Great-grandfather Thomas Austin and request a link to the share the story with my relatives, my story will be visible to three main groups of people:
Anyone with whom I shared the link to the Story
Anyone with an Ancestry subscription who also has Thomas Austin in their tree and/or is actively researching him – in other words, my cousins descended from Thomas Austin
Anyone with Thomas Austin in their family tree will see the story that I published in their feed
Furthermore, the Story that I publish to my tree will also be visible if someone views Thomas Austin's profile on my family tree.
What can you add to a Story on Ancestry?
As of March 2022, we can add up to 12 slides to an individual Story. These slides can consist of title slides, text and photographs that are already uploaded to your tree.
Ancestry is hoping to add the ability to include events and records slides sometime within the next few months. However, if you have uploaded image files (such as photographs or scans) of records to the ancestor's profile, then you can add these as "photographs" to the Story.
There is a size limit of 12 slides to each Story, which actually makes a lot of sense. People are more likely to engage with your story and learn the most from it if you don't try to provide too much information at once.
However, we can always create more than one Ancestry Story to help others learn about different aspects of our ancestor's life. For example, we can have one Story that explains their immigration journey, and another that includes names and photographs of their parents, siblings, or children.
The possibilities of the types of Stories that you can make for your ancestors is endless.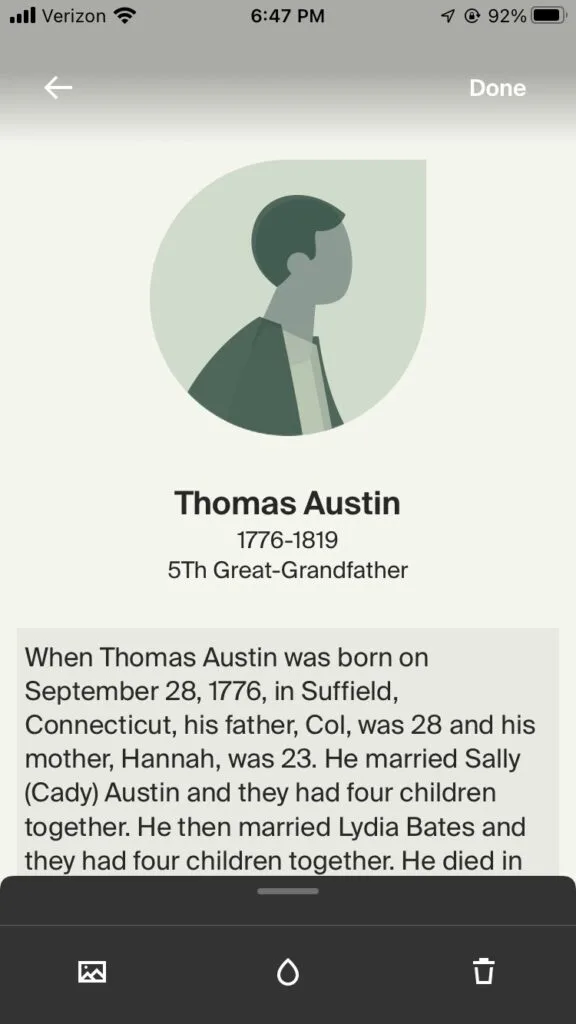 The image above is from a Story that I began to create about my ancestor, Thomas Austin. While I don't have any photographs of him directly, I do have images from census and marriage records that I have included in my story.
How to find Stories that you already made?
Stories that you have created and published to your tree will be permanently available on your ancestor's profile page on your family tree. You will be able to see your Story on your tree feed for 24 hours, but can always access it by going directly to your ancestor's page.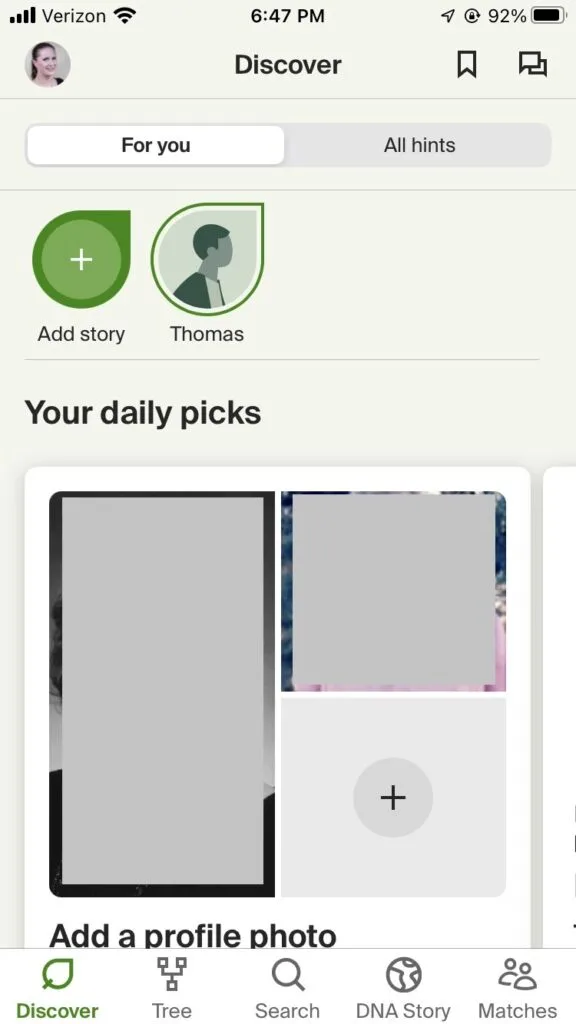 Can other Ancestry members save your Stories to their tree?
Yes, if your family tree is public, Ancestry members will be able to save your Story to their family tree. This is important to take into consideration when creating your Ancestry Story.
In addition, those Ancestry members who have saved your Story to their tree will also see the story in their feed until they watch it. After they view it, they will be able to access the Story from your common ancestor's profile page.
A great way to think about the Ancestry Stories feature is that you are adding directly to the historical record about your ancestor. Through the information that you compile and the way that you present it in your unique Story, you have created a visual representation of the ancestor that can be very useful to other people researching the same person.
Can you delete an Ancestry Story?
Yes, you can delete an Ancestry Story very easily. First, you must access the Story by visiting your ancestor's profile in your Ancestry family tree.
The Story that you created will be visible in their Life Story section. Click on the Story to view it, and then click the three little buttons in the top right corner and choose the "Delete" option when it appears.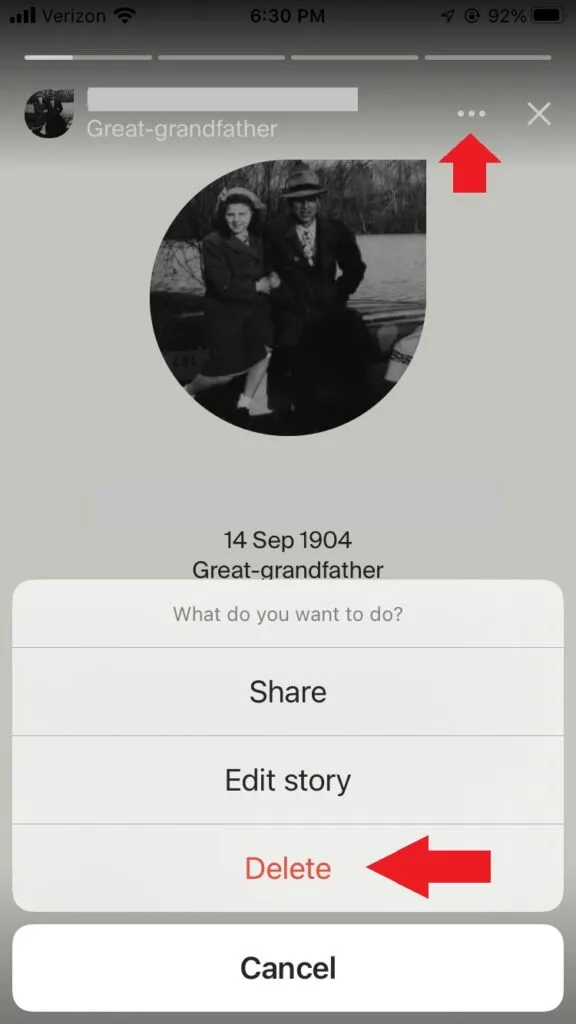 The Story will now be deleted and you will not have any copy of it. However, deleting the story will not delete the photographs from your tree.
Conclusion
I hope that you have learned everything that you wanted to know about the Ancestry Stories feature and exactly how you can use this cool, new tool to help others learn even more about your ancestors. Who knows, maybe you will even inspire some of your relatives to jump into genealogy, too!
I am currently working on a tutorial for creating Ancestry Stories that I will link to here.
If you have any questions about something that you read in this post, please let me know in the discussion below. I am looking forward to hearing from you.
Thanks for stopping by today!