Did you know that you can view your Ancestry DNA matches separated into groups by the ancestor that you share in common? This is done using the ThruLines feature, and you can learn how to do it in this article.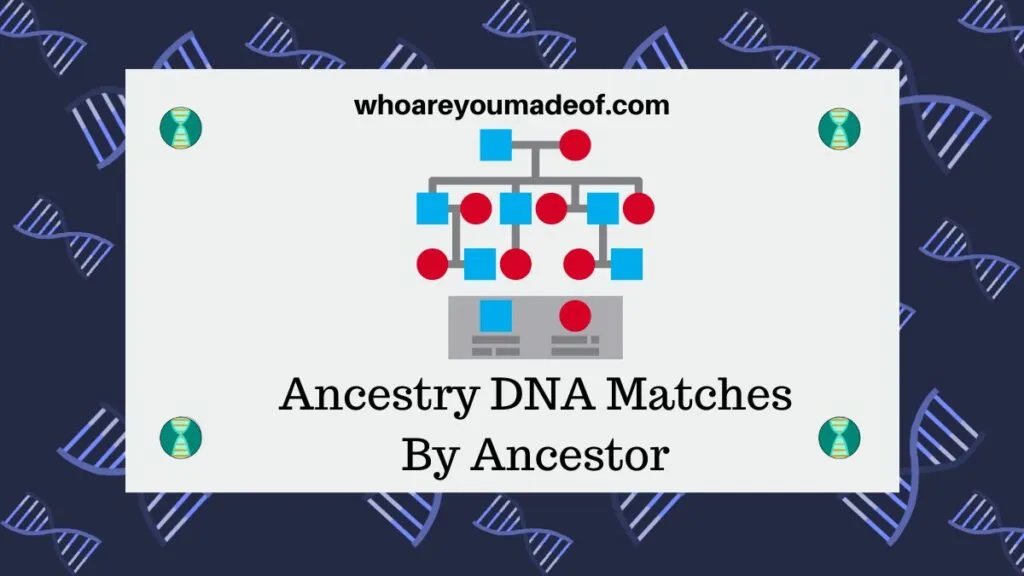 As you might already know, your DNA match list is the most valuable information in your Ancestry DNA results. By determining how you are related to as many DNA matches as possible, you can solve family mysteries, build your family tree, connect with new family members, and identify unknown ancestors.
But, it can often be difficult to find out exactly how our DNA matches fit into what we know about our family tree. Maybe we only know who our ancestors are going back a few generations, which can make it tough to find the ancestor shared with second, third, and more distant cousins.
Wouldn't it be great if there was some sort of tool that could automatically tell us how we are related to many of our DNA matches? There is a feature on Ancestry that does exactly this.
What does DNA Matches By Ancestor mean on Ancestry?
You can view your Ancestry DNA matches sorted "By ancestor", which means that all of your relatives who are descended from the same common ancestor will be shown together. The default view of DNA matches "By ancestor" is in a diagram format, but you can also choose to view them as a list.
This is a different way to access your Ancestry ThruLines, which are essentially your DNA matches grouped by ancestors that you may or may not already have listed in your family tree.
In order to view your DNA matches grouped by the shared ancestor, you must choose the ancestor that you are interested in. Then, you will see the ancestor and the DNA matches that are descended from that ancestor shown visually in a diagram.
If your DNA matches are descended from other children of your shared ancestor (i.e. a collateral line), you will see your ancestor's other child (or children) listed, a drop-down arrow to display their line of descendance, and the DNA match's name and estimated relationship. If more than one DNA match is estimated to be related to you on the same line, then you will see the number of DNA matches and an arrow which you can click to expand the list.
You can even see DNA matches descended from ancestors and extended relatives that might not already be included in your family tree.
Where to find your Ancestry DNA matches grouped by ancestor
You can find your DNA matches grouped by ancestor on your main DNA match list. Navigate to the groups of matches descended from each of your ancestors by clicking on the "By ancestor" tab next to matches grouped "By parent".


As an example, I scrolled down in my grandparent's ThruLines to the 5th great-grandparent section and found several that I had not explored. I see that Comfort Round, Silent Brown, John Butler, and Mary Brown, are listed, and that 17 DNA matches might be descended from Silent Brown.
As I mentioned earlier in this article, you can see ThruLines or DNA matches grouped by ancestor for people who are not currently in your family tree. Ancestry is able to calculate "potential ancestors", or individuals who might be ancestors to someone who is already in your tree, and thus, your ancestors.
These potential ancestors are indicated by a dotted line around their name on your list of ancestors or ThruLines. Ancestors who are already in your tree are indicated by a solid line around their name,
Silent Brown is not in my family tree, which is why she has a dotted line all around her name. In fact, none of her children are in my tree, either, which is why all of her children show up in the diagram with dotted rectangles around their names.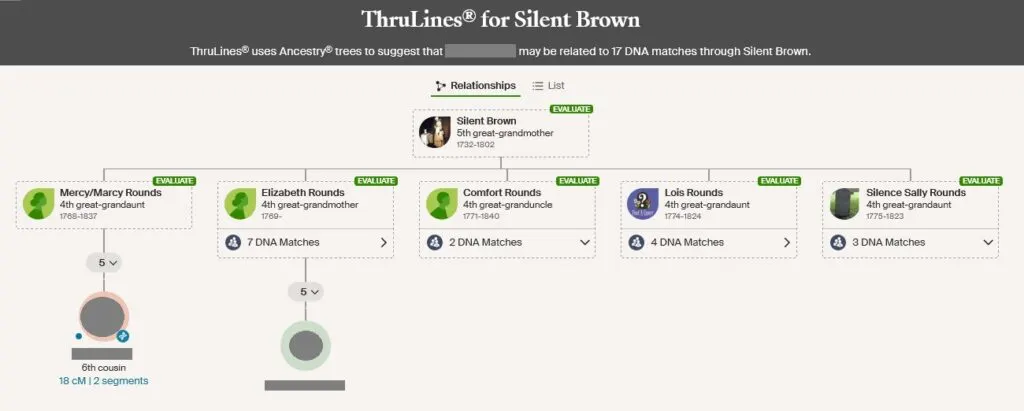 By examining the diagram, I can visually see that I have DNA matches who are likely descended from five of her children.
We should always independently evaluate the information that we learn through these groups of DNA matches and/or ThruLines. These ThruLines are not always 100% accurate, but they very often are, so they are certainly worth taking the time to explore.
Ideally, I would spend a bit of time verifying this potential ancestor's connect to my known ancestor and add them, as well as their children and descending lines to my DNA match to my family tree. This is known as building a wide family tree and can help with future DNA match research.
What if you have no DNA matches or an error page on your By ancestor match list
If you have no DNA matches listed on your By ancestors tab page, or you see an error message saying to try again later, don't worry. You are probably seeing this because you have no family tree or a private, unsearchable tree attached to your Ancestry DNA results.
Fortunately, this is easy enough to remedy. If you know who your parents, grandparents, and great-grandparents are, this is enough to start a family tree on Ancestry to get ThruLines.
If you already have a tree, be sure that it is not a private, unsearchable tree and that you have correctly linked your tree to your results. If your tree is private and unsearchable, the software won't search the tree to look for connections with your DNA matches.
Why are some DNA matches not showing up on By Ancestor or ThruLines list?
Many of your DNA matches will not be on your Ancestry matches grouped by ancestor. This happens for a variety of different reasons.
The most common reason is that many people do not have a family tree linked to their DNA results, or has no family tree at all. If your DNA match has no family tree, then there is no family tree information for Ancestry to use to make the ThruLines calculation.
Among some of the other most often seen reasons for some matches not showing up on ThruLines are having very small family trees (i.e. only parents listed), or private non-searchable trees linked to results. In order for the By Ancestor grouping to assign a DNA match to an ancestor group, the software needs to be able to estimate who the common ancestor might be.
We do occasionally see DNA matches not show up in ThruLines or in groups of matches by a specific ancestor when the DNA match has non-biological ancestors in their family tree. There are many reasons that someone might have non-biological ancestors listed in their family tree pedigree.
Other ways to group DNA matches on Ancestry
There are a few other ways to group your DNA matches on your list. Grouping your matches is a good way to approach your research into how your matches are related to you.
Ancestry will automatically group your DNA matches By Parent, for example.
Alternatively, you can manually assign your DNA matches to color-coded groups. I wrote a post about filtering and sorting your DNA match list on Ancestry that has basic instructions about creating custom groups.
Conclusion
I hope that this post has helped you understand how to use the Ancestry DNA matches By Ancestor feature (i.e. ThruLines). It's a very helpful way to learn how your matches fit into your family tree, and it also provides a helpful visualization.
If you have any questions about something that you read in this post, or if you would like to ask a specific question about understanding the By Ancestor group, I would love to hear from you in the discussion below.
Thanks for stopping by today!