Is it possible to use Ancestry DNA without taking a test? In this post, learn how to use Ancestry DNA to access the results of family members that have given you access.
If you have not done an Ancestry DNA test, yet have family members who have, you might wonder if it's possible for you to access their results. You can do this very easily if your relative has agreed to let you access their DNA results.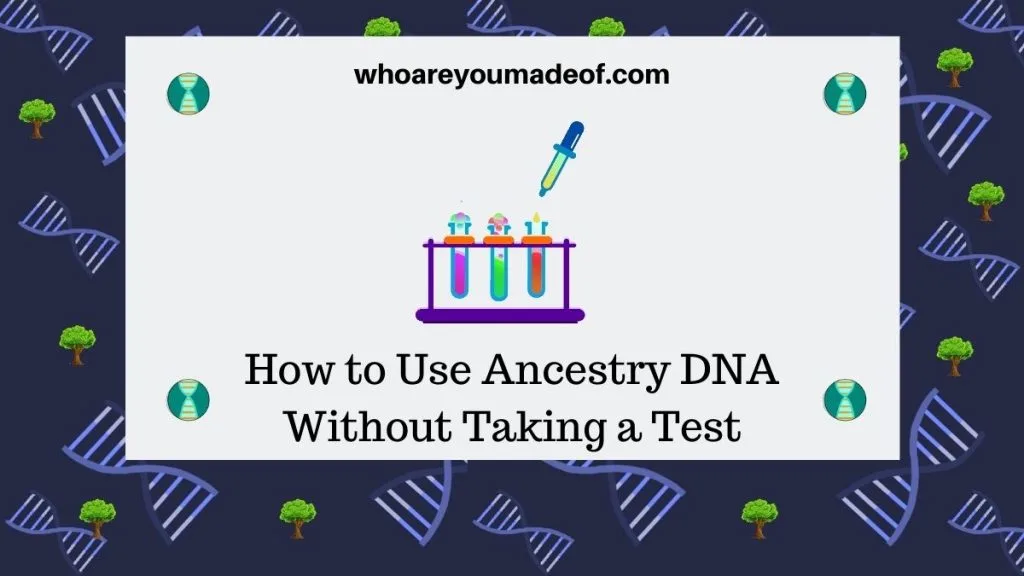 This article will explain the steps that you and your relatives should take in order to get access to their DNA results from your own Ancestry account. You will be able to follow these steps and view their results even if you have not taken a DNA test yourself.
How much of your relative's DNA results you will be able to explore will depend on the access level that they have assigned to you. I will explain this in greater detail below.
How to allow someone else to view Ancestry DNA results on their own account
Ancestry DNA has a feature that allows a user that has done a DNA test to share DNA results with other people. This must be done from the test settings on the account of the person who took the DNA test.
Once the Ancestry user who has done a DNA test gives the family member access to their results, they will receive an e-mail at the address provided. They will then be able to log in to their own Ancestry account and explore their relative's DNA results.
Below, learn the steps you need to take in order to complete the process that I just described.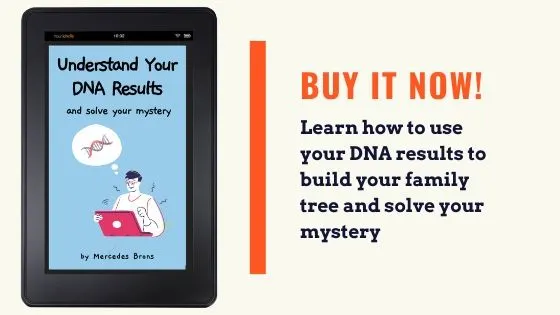 Can you get access to a relative's DNA results if you don't have an Ancestry account?
In order to use any Ancestry feature, including Ancestry DNA, you must have an Ancestry account. It's free and only takes a couple of minutes to do, at most.
The first step to viewing your relative's DNA results is to create your own Ancestry account. You can begin this process directly from the Ancestry.com home page.
It's okay to create an Ancestry account for the sole purpose of viewing your relative's results. If you ever decide to use the site for finding records or building a family tree, you can use the same account you create here.
Simply click on the "Sign in" link on the upper right corner of the screen:

On the next screen, you will be able to log in with your e-mail address and password, if you already have an Ancestry account. Otherwise, you will need to click the "Sign up today for free" text, which will take you to the screen where you will enter your information to create your new account: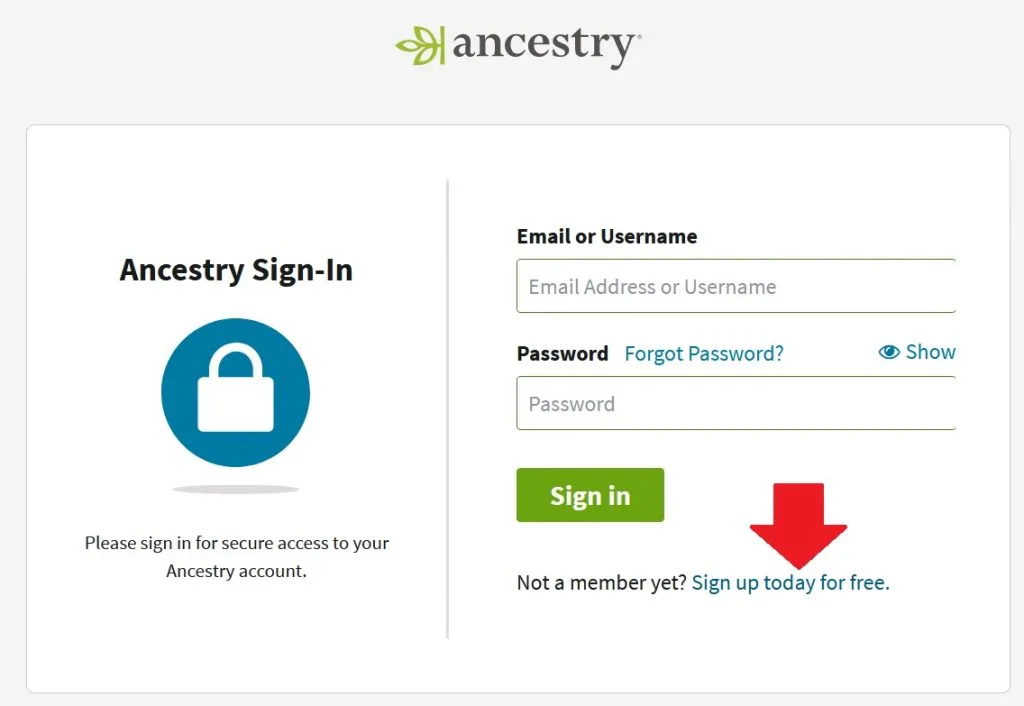 On the next screen, you will need to fill in the fields requesting your first and last name, as well as your e-mail address. You will also be required to create a password for your new Ancestry account.
Once you have filled in all of your information, click the green "Continue" button. You will likely receive an e-mail from Ancestry requiring you to confirm your e-mail address to access your new account.
After you have completed the process of creating a new account, you can let your relative know that they can proceed with allowing you access to their results. There is one simple process that they must complete, and it only takes 1-2 minutes.
How to allow someone else to access your DNA results on Ancestry
To allow someone else, like a friend or family member, access to your DNA results, you must access your Ancestry DNA test settings. This can be done directly from the Ancestry DNA main home page.
You can access the DNA home page for your test by clicking the link below, or by typing Ancestry.com/dna/insights into your web browser:
On your DNA results page, you will see a "gear" icon and the words "settings. These are your DNA results settings, which are different than your main Ancestry account settings: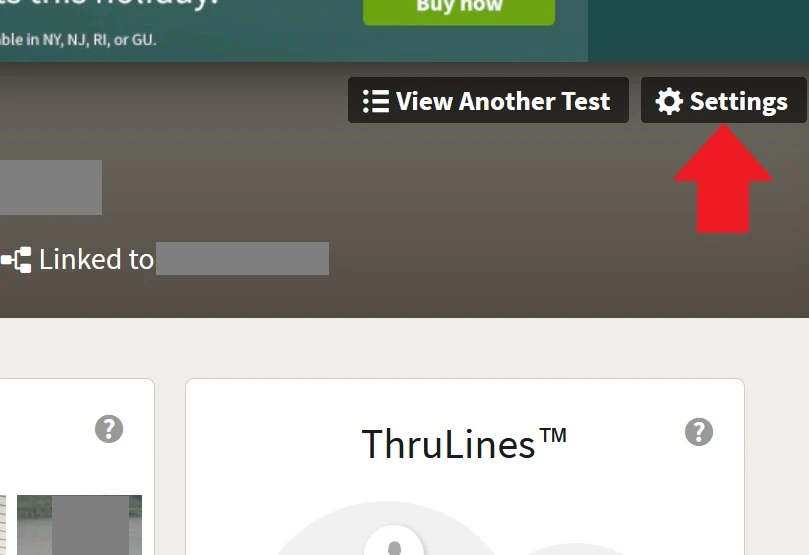 On the next screen, which should say "DNA Test Settings" at the top, you should scroll about 2/3 of the way down the page. You are looking for the section called "Sharing Preferences":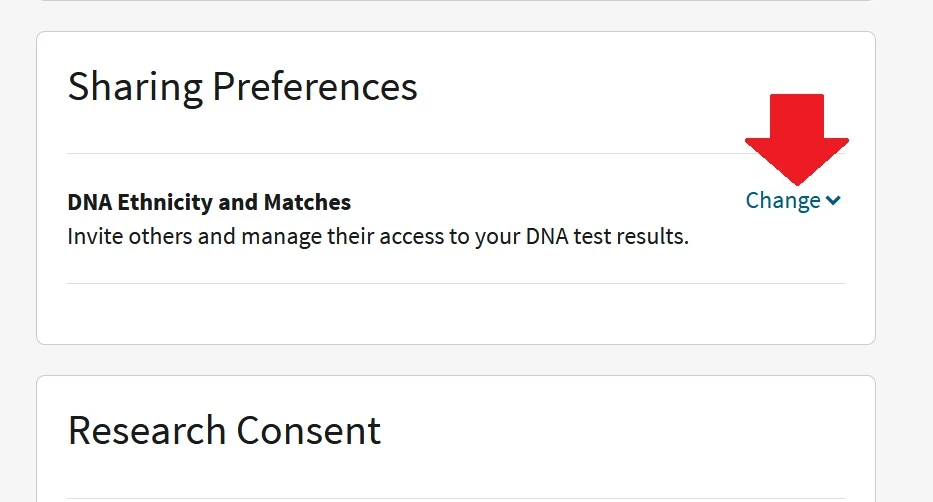 You should now see a list of the people who currently have access to your DNA results. If you have never given anyone else access, you will only see your own name.
Below the list of names you will see the option to "Add a person":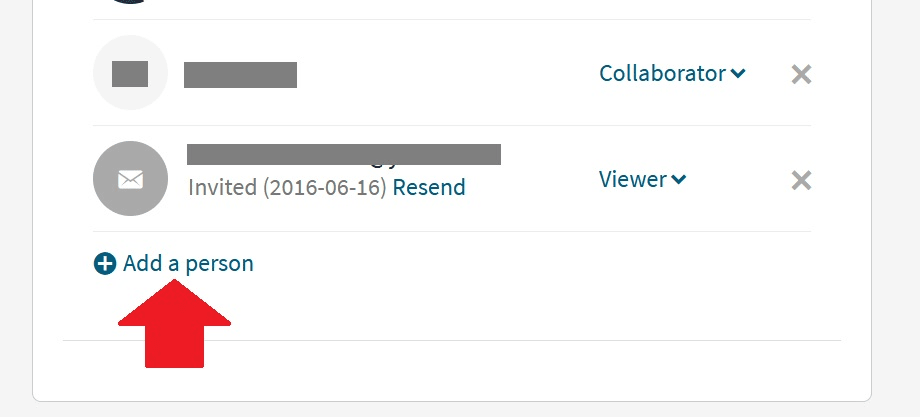 The final step is to enter your relative's e-mail address (or Ancestry username, if that's easier for you) into the appropriate field. You must also choose an access level for your relative.
I recommend choosing Viewer, unless your relative needs to be able to add notes on your matches. If they are just going to explore a bit, they don't need more access than Viewer.
I do not recommend adding anyone as a manager, unless it is a very close relative (i.e. child/sibling) who is going to be managing all aspects of your results. A manager can delete your test results, so only allow this level of access if you absolutely must.
Once you are done entering in the e-mail and choosing access level, just click "Send invitation". Your relative should receive an e-mail with the invitation shortly, and they will be able to access your results immediately after clicking the link in the e-mail: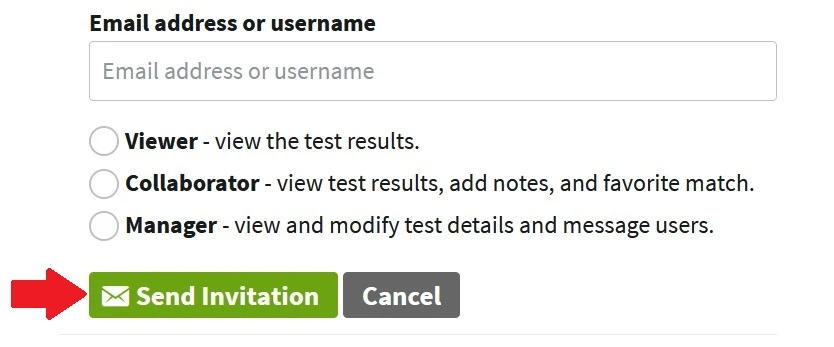 That's the end of the process! Your relative can now explore your DNA results and learn from them just as if they had taken a DNA test themselves.
Conclusion
I hope that this post has helped you understand exactly how you can use your free Ancestry account to access your relative's DNA results (with their permission, of course!). Your family member's DNA results can help you learn more about your family tree.
If you have any questions about something that you read in this post, please feel free to join us in the discussion below.
Thanks for stopping by today!