Do you want to know how to change your Ancestry DNA test settings? In this post, learn how to adjust settings for privacy, sharing, family tree – and more!
If you've done your Ancestry DNA test, you might be interested in learning about the different options available to you on your test settings page. Believe it or not, you have many options available to you, ranging from the display name that shows to your DNA matches, to whether or not you want to participate in Ancestry's research projects.
How to Access the DNA Settings page on Ancestry
Many people never even notice the little "tool" icon on their DNA Insights page. On the desktop version of the website, it's right in the upper right hand side of the page, and has "Settings" right next to it.
On the mobile version of the site, it doesn't say anything – it just has the little gear icon on the upper right side of the page.
The image below shows you exactly where you should click to access your test settings:

How to change how often you get e-mails from Ancestry about your DNA results
This is the last section on your settings page, under the "Test Management" area. This is where you can specify whether you would like weekly updates about your DNA results.
If you click on this test option, you will get taken to the main Ancestry e-mail notification management page where you can manage the frequency of any e-mail you receive from Ancestry. This includes e-mails about DNA results and your family tree, along with other topics.
Alternatively, you can click the link below to access the e-mail setting page, though you will need to log in to change the settings:
If you log into your account frequently, and know about how to sort your DNA matches to only see new matches, you could keep the DNA notifications off.
(I like to keep mine on, I don't want to miss anything!!)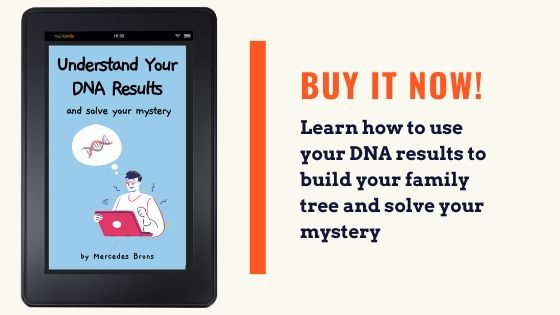 Privacy Settings for your DNA Results
You have two privacy options for your Ancestry DNA results.
First, you can choose the display name that is shown to your DNA matches. You can display your real name, your maiden name, or a nickname, etc.
The only people who can see your DNA test name are your actual DNA relatives, so I don't worry too much and use my real name. That said, if you are especially concerned about your privacy, you can definitely use a nickname for this.
If you choose a nickname, your matches will not be able to know your real name, which can be negative if you don't usually answer your Ancestry e-mails. If they know your real name, they can look you up other ways.
Second, under the "Ethnicity Profile Display" option, you can choose which parts of your ethnicity estimate are available to show to your DNA matches. If you don't select the "Show complete ethnicity" option, then your matches will only see the ethnicities and genetic communities that you both have in common.
If you DO select the option to show your entire estimate, then they will be able to see all of your ethnicities, including any trace ethnicity.
I can't think of a really good reason NOT to display my ethnicities to all of my DNA matches – after all, we're family! So I have this option checked.
If anyone has comments about this, I'd be interested to hear them. I'm the kind of person who likes to hear contingency stories and plans, so if there is something I haven't thought of, please point it out!
Linking Family Tree to Ancestry DNA Results
There is a way to link your Ancestry DNA results to your family tree, and this is highly recommended. It's the way to get the most complete results from your test, and you can learn about exactly how to do it here.
It's fairly simple; you can do it right from the settings page.
Did you know that you get the most from your DNA results if you have a tree linked to your results and you have an ancestry subscription? An Ancestry subscription allows you to access the family trees of your DNA matches, as well as millions of documents and public member trees.
How to make changes to your personal information displayed on your Ancestry DNA test results
You can change this information at any time, and your matches cannot access this information, other than seeing whether or not you are male or female.
What is Research Consent on Ancestry DNA?
Ancestry has a DNA research project, and this is where you can specify whether or not you give consent for your DNA results to be used to participate in it. You can read about the project here.
When you bought your kit, you chose whether or not to participate. Even so, you can always change your consent by changing the option on this part of your test settings page.
How to share your Ancestry DNA results with family and friends
You can share your complete DNA results (ethnicity, DNA matches, everything!) with your friends and family members. You can even share it with people who have not done an Ancestry DNA test.
In the "Sharing Preferences" section of your test settings page, you can add people who you would like to allow access to your results.
When you add a person to view or manage your Ancestry DNA results, you have to choose a permission level for their access. The current access levels are Viewer, Manager, and Owner.
The permissions level that you choose depends on the exact access you would like your relative to have to your DNA results. You can delete or modify their access at any time.
A person is notified when you give them access. If you decide to revoke your relative or friend's access to your results, they will not be notified. Instead, they simply won't see it on their menu any longer.
How to download or delete your Ancestry DNA results
On the very bottom of the page, you'll see a couple other options as far as things you can do on your settings page. This options can be found under the "Test Management" section.
Download your Raw DNA Data (you'll need to do this if you want to do some of the suggested things on this page)
Delete your test results (don't click this unless you are sure… it's permanent and if you will have to do a brand-new test if you want results again).
Conclusion
Wow! There are tons of options for your DNA test results, and you should be able to make the settings work for you, as far as your privacy and sharing is concerned. If you have any questions, or if I missed something, please let me know in the comments!
Thanks for stopping by,
Mercedes