Do you want to know how to download your DNA file from Ancestry? It's easy to do, and in this post, you'll find the steps for how to do it.
If you have received your Ancestry DNA results, you might be interested in learning how to download DNA from Ancestry. Whether you just want a copy for your records, or want to upload your data to other websites to get more information from your results, it's a good idea to know how it's done.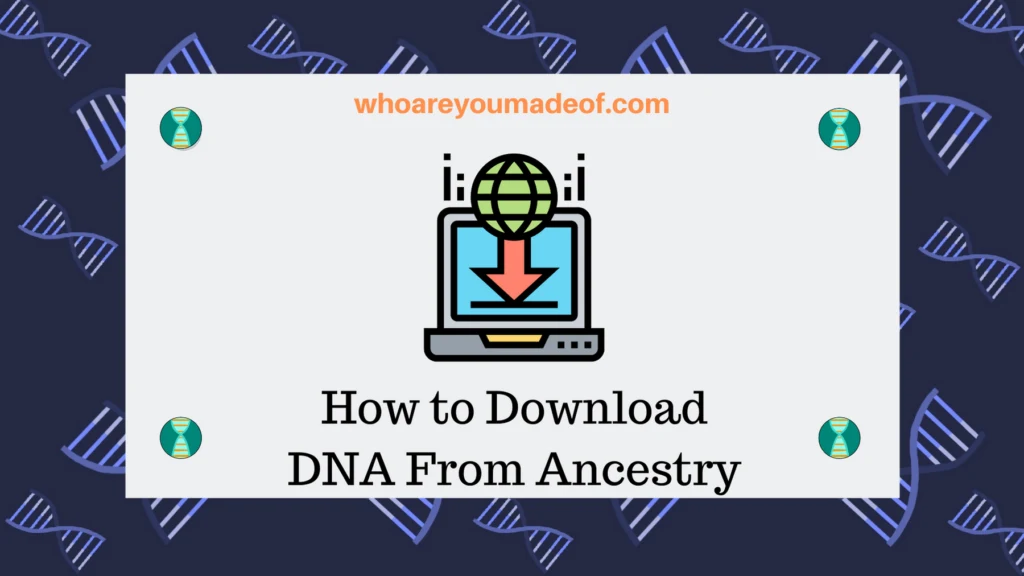 While I am a big fan of Ancestry DNA results, I have also enjoyed the ability to download my data to learn more about my ancestors and DNA matches on other websites. There is always more to learn from our DNA results!
Before we get started learning exactly how to download our DNA from Ancestry, I'll answer a few common questions on the topic.
Can you download from Ancestry DNA?
Yes, you can download your raw DNA results. Downloading your Ancestry DNA data file can allow you to store it on your computer or upload it to other websites where you can learn additional information about your ancestry.
Some people like to upload their Ancestry DNA file to other websites to get more DNA matches or different versions on an ethnicity estimate or ancestry report.
There are detailed instructions as to how to download your Ancestry DNA data in this post, as you will find below.
There is not currently an ability to download a list of DNA matches, or your ethnicity estimate. However, if you can print your ethnicity results to a PDF file using your computer's print dialogue, if you wish.
Steps to download your DNA file from Ancestry
Fortunately, it is very quick and easy to download your DNA file with all of your DNA data from your Ancestry DNA account. Below, find the steps that you need to take.
Visit your DNA Results Summary Page
To get started with the process of downloading your DNA from Ancestry, you will need to visit your DNA Results Summary Page, which is also sometimes referred to as the DNA Insights Page.
Basically, it's just the main page that you see when you log in to your DNA results. To get to this screen from Ancestry's home page, you'll need to click where it says "DNA" on the top navigation menu: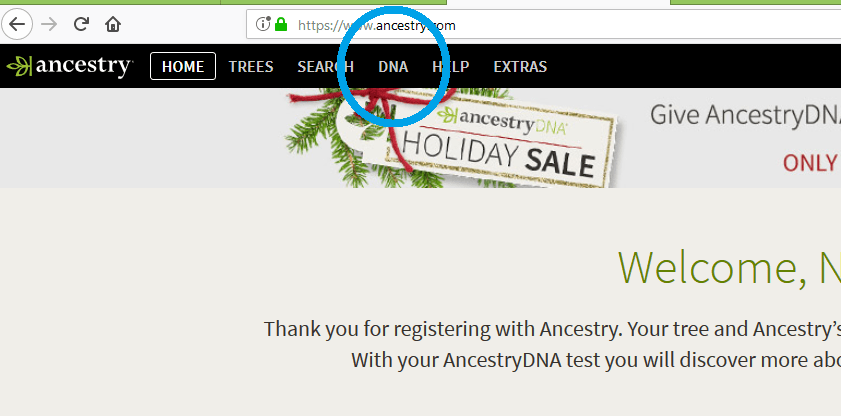 Access your DNA Test Settings
If you don't know how to access your DNA test settings, don't worry. You can see where to click in the image below.
There are several other things that you can do from your test settings page, so it's a great thing to know how to access. There is a little "gear" icon in the upper right hand corner of your DNA Test Results Summary Page.
Click the icon to get to the settings page: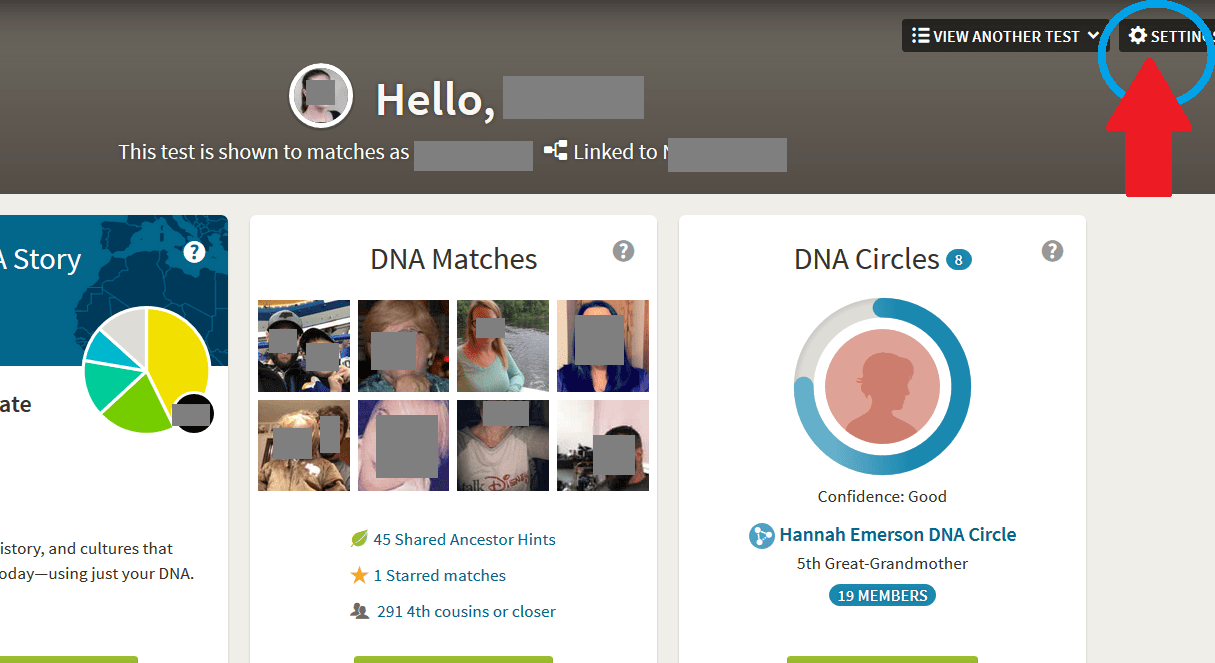 Click the "Download Raw DNA Data" Button
On your test settings page, you will find the option to download your DNA data, which will be in the form of a .zip file, located near the bottom of the page in the "Download or Delete" section of your DNA test settings. It is just above the option to delete your DNA test, so be sure to carefully click on the right option.
In the image below, you can see where the DNA data download option is located, as indicated by the red arrow that I have placed there:

You still have a few more easy steps to complete, but you are almost there.
Enter your password, accept the terms and conditions, and click confirm
Before you can continue the download process, Ancestry must be sure that the person requesting the download is authorized to do so. This means that you must enter the password that you use to access your Ancestry account.
In addition, Ancestry will also request that you confirm that you understand once you download your DNA file to your computer, you take responsibility for protecting your data.

Finally, click the "Confirm" button. This is to confirm the data download.
Wait for the e-mail from Ancestry to download your data
Ancestry wants to make sure that your DNA data is secure, and that not just anyone could download it if they had access to your account. For this reason, the only way to download the DNA file is through a link that will be contained within an e-mail from Ancestry.
If you have completed the request process correctly, a box will appear that will ask how you would like to verify your account. This is for your account security and data protection, so it's good that they have this extra layer of security added, despite it being an extra step for us.
It might take several hours (up to 24) to receive your e-mail with the link to download your raw DNA file, but it usually comes within a couple of hours. It almost never comes right away – so be sure to be patient.
Don't do the process again unless you have already waited a few hours, since you might end up getting multiple e-mails, and if you click on the wrong one, it won't work and you might have to start all over again.
Some people do report having to wait a while for their e-mail, so it is very normal.
Open the e-mail from Ancestry, and click on the download link
This step requires you to open the e-mail that you have received from Ancestry and follow the directions in the e-mail to complete your download. The link in the e-mail will take you back to a special page on the Ancestry site where you will be able to complete the final download process.
You'll receive an e-mail from Ancestry DNA with the subject "Your DNA data is ready", similar to the one you see in the image below. Their e-mail format changes occasionally, so yours might not look exactly the same.

Contained within the e-mail, you'll see a green button. It's a link back to the Ancestry DNA website, where you will then be prompted to click again to download your raw DNA file.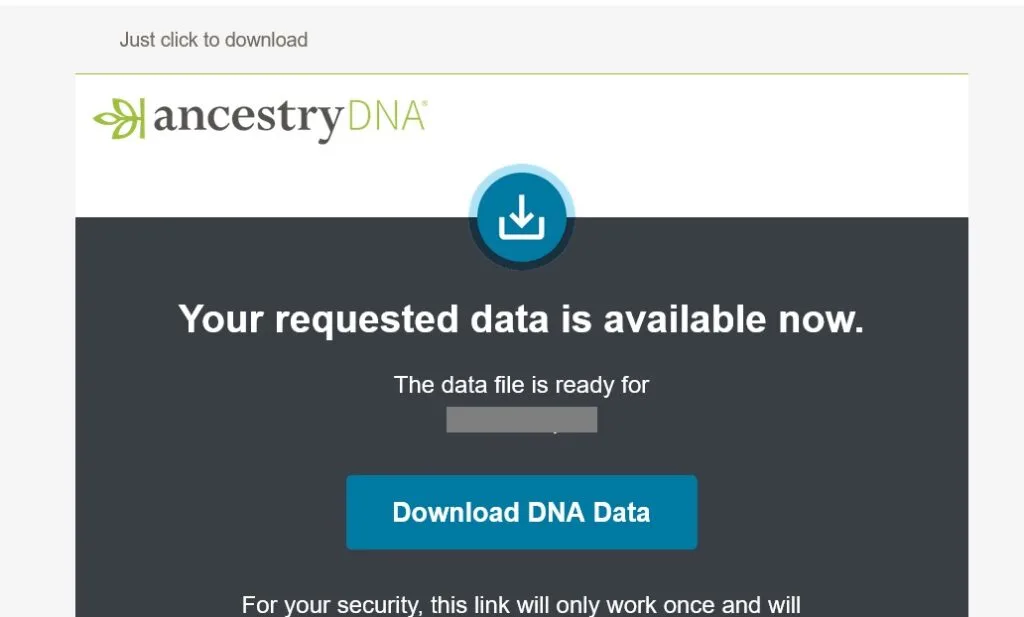 It is important to only click on the blue Download DNA Data button one time. An important security feature is limiting the use of this button to only once.
If you have clicked on it and you weren't ready to do the download, you will need to repeat the process from this post in order to get a new e-mail with a new one-time use Download DNA Data button.
Click on the Download Raw Data Button
If it seems like you've already clicked on a download raw data button several times, you are right. But this time, it's the final button! You are almost there.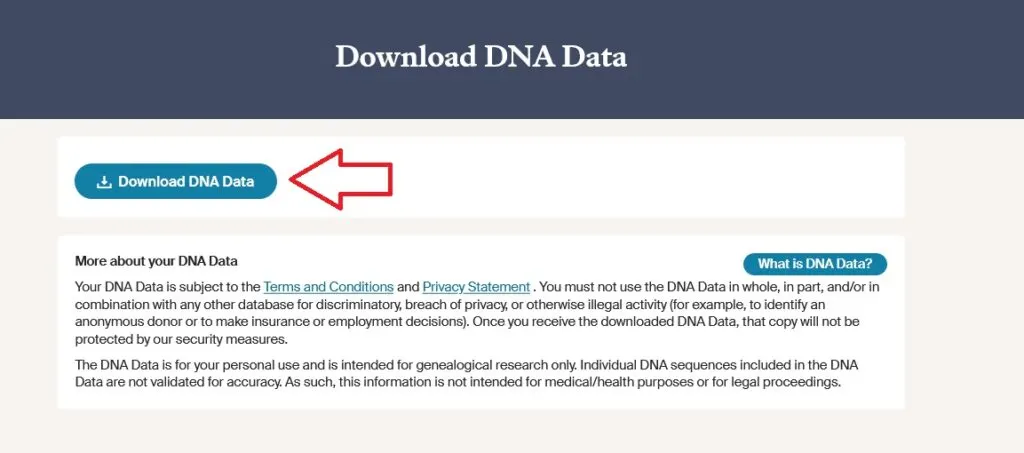 Save your data to your computer
Once you click the download raw data button, you may be prompted to either save or open the file. Do not open the file because it is meant to be read by software programs.
The information in the file will not make any sense to humans trying to read it, so it's best to save it to a folder on your computer just as it is. Some computers or browsers will automatically save it to a download folder, and others might ask you to choose where you want to save it.
Since this step will vary depending on what type of computer or device you are using, I can't provide exact instructions. However, your file should save to the same locations where downloaded files usually appear on your device.
Pro tip: I like to locate my DNA file in my downloads folder and rename the file (without opening it), in order to help me remember what it is and whose DNA it is. This is especially important when you have more than one person's DNA file on your computer. Renaming the file should not cause any issues with the file contents.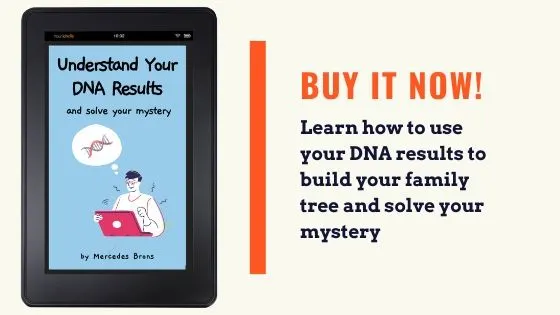 Conclusion
I hope that you found this post helpful! If you have any other questions about how to download your DNA data from Ancestry, I would love to hear from you in the discussion below.
Thanks for stopping by!