Are you interested in how to start a family history blog? In this post, learn the different ways you can start publishing your stories and research about your family's history.
Family history research, or genealogy, can inspire a lot of people to want to write. Through our searches, we find stories that are fascinating, exciting, motivating, or even incredibly sad.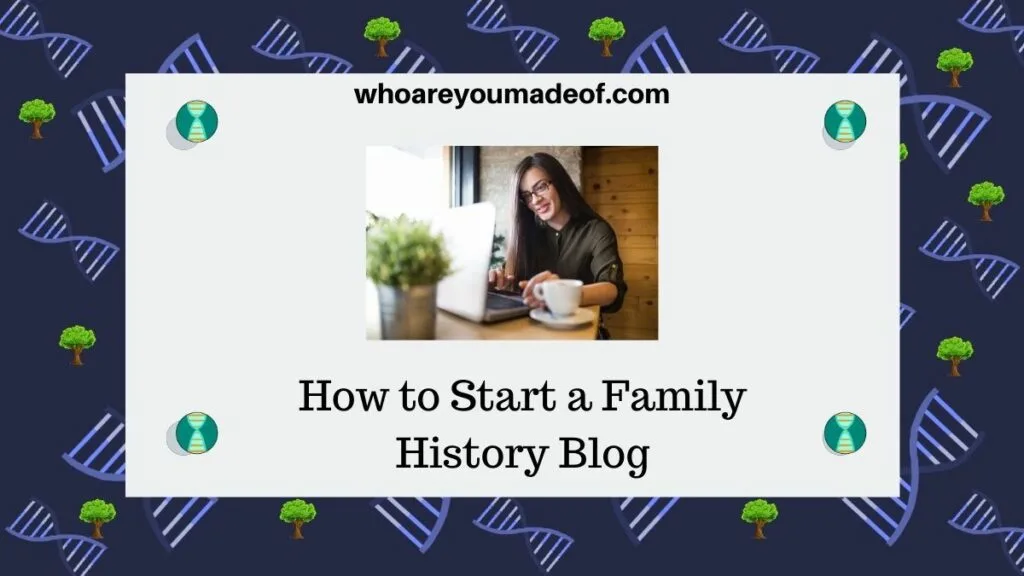 We also want to share what we learn with others, especially other family members. There are many people who might be interested in reading stories about what we have discovered about our ancestors.
While there are many ways that you could share your work with others, including making your family tree into a website, nothing is as easy as a blog. The internet, also known as the "great equalizer" allows us to quickly and easily publish our words.
Plus, it's inexpensive. What's not to love about the idea of a family history website or blog?
Why write and publish a family history blog
As I mentioned above, personal family history blog can be a great way to accomplish your goal of letting others experience some of the amazing things that you have learned about your family tree.
I have eleven very good reasons that I think you should consider writing a family history blog:
You can start one for free, or no more than $20
Your articles will be available seconds after they are published to anyone around the world
There are no printing costs associated with publishing your work
You have complete control over what you write and publish
Your extended family might become more interested in genealogy through reading your blog posts
Publishing your family history work can help other descendants of your ancestors discover new things
Writing about family history can be an excellent creative outlet for all of the emotional things you have learned
Starting a genealogy blog can be a fun hobby, and can even lead to a career
Learning how to blog can help us learn new technologies
You will meet new people through sharing your work
You never know where your family history blogging journey will take you!
Creating a family history blog will certainly be the start of something amazing. Who knows, maybe you will make amazing friends in your blog readers, publish a family history book, or publish a novel through the work you do writing family history-inspired stories.
Steps to start a family history blog
You have two paths to starting your genealogy blog. You can start a free blog on a site like Blogger.com, or you can register a domain and purchase a hosting service to host your family history blog.
Starting a free family history blog
Of course, starting a free blog on Blogger.com won't cost you anything, so the start-up cost is $0. If you decide to go the "self-hosted" route and purchase a domain and hosting service, then you will spend between $20-30 to start your blog.
The downside of going the free route through Blogger.com is that the free blogs will always end with "blogger.com" in the url. For example, your blog address will be "myfamilyhistory.blogger.com".
Starting a self-hosted family history blog
If you decide to go the paid route and set up your own domain, you will need hosting, too. A domain, which is the "address" of your website or blog, costs about $10 a year.
The best thing about having your own domain is that you can call your blog whatever you would like, as long as the web address is available (and not taken by someone else).
You can purchase a domain at sites like GoDaddy.com.
A hosting account, which is required to have a website on your own domain, is available for as little as about $10 per month. It should not cost much more than this, as long as you don't let the hosting and domain registration companies sell you add-ons that you don't really need.
Web hosting services can be purchased from any number of providers. When I first started this website, I used Host Gator – and it suited my needs just fine.
If you decide to go this self-hosted route, I highly recommend asking your host provider how to install the free WordPress.org software on your account. WordPress is a very easy blogging platform, and is free to use if you have your own domain and hosting service.
Decide the "theme" of your genealogy blog
The next step is to decide the general theme and style of your blog. This means choosing what topics you will cover, and the general type of writing that you will do.
For example, will your family history blog contain your personal journey to discovering your ancestry? Will you write fictional stories based on genealogy-inspired research?
Will you talk about all of your ancestors, or those on just a few lines of your tree? Will you teach others how to do similar research?
Once of the steps that I recommend anyone who is thinking about starting a blog take is to decide who you imagine your readers will be? In this instance, will you write your blog only with family members in mind, or would you like others to read it, too?
Genealogy blog ideas
There is an endless supply of content ideas for what to write about on your genealogy blog. Depending on the general theme and style of your blog, you could write articles like the following:
Write a series of blog posts detailing your ancestors' immigration to the country where your family now lives
Write a blog post about your most mysterious ancestor. Write what you know – and what you don't.
Who is your favorite ancestor? Write a blog post explaining why you love researching this ancestor.
Do you have a favorite ancestral line? Write about the most distant ancestor on that line, and let readers know what you've learned.
What is your best research tip? Explain it to your readers and give them examples of how it has helped you learn about your ancestors.
Dedicate a series of blog posts to your favorite female ancestors and tell their life stories.
Write a post explaining how you have gone about researching a family story, and whether you found it to be true.
If you have taken a DNA test, share your results with your readers and see how it stacks up to your family tree research.
Write about how historical events shaped your family history – this could be a series of blog posts about different time periods.
Do written "interviews" with other family tree enthusiasts and publish them on your blog.
This is just the tiniest sampling of the type of blog posts that you could write on your family history blog. I can't wait to read what you've written!
Conclusion
I hope that this post has helped you learn how exciting it can be to have a family tree history blog, steps to take to get started, and how to go about writing your blog.
If you have any questions about something that you read in this post, or if you are inspired to start a blog, please join us in the discussion below.
Thanks for stopping by!