Do you want to learn how to delete someone from your family tree on Ancestry? In this post, find the steps you need to take and what to look out for when you remove a profile from your tree.
When I first got started building my family tree on Ancestry many years ago, I made a very common mistake. On one particular line of my tree, I added a several people using only other public member trees as a "source".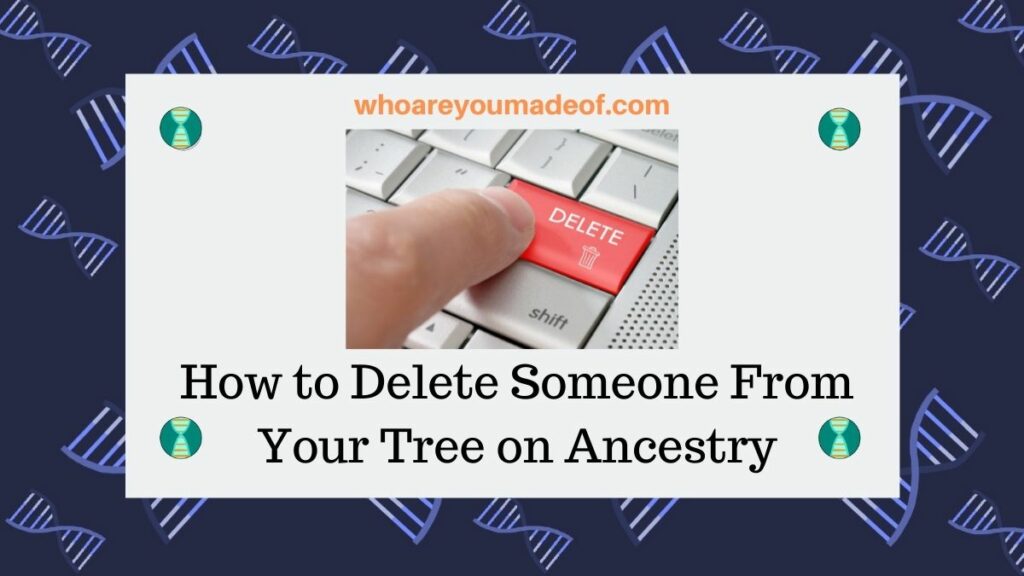 Most of us now know that we can sometimes use public family tree information as a clue, but we must always find genealogy documents that provide real evidence that the ancestor belongs in the tree. Using un-sourced trees as evidence can often send us down the wrong path and can distract us from records that are actually correct, however.
In my case, it meant that I had added the wrong people to my tree. These were people who needed to be deleted because they weren't really my ancestors, after all.
Every once in a while, I like to spend some time cleaning up my tree and removing people that don't belong, duplicate profiles, and correcting mistakes. With thousands of people in a tree, it's easy to overlook errors – but we still try, of course.
Below, find instructions about how to delete people from your Ancestry tree when they don't belong. It's an easy process, but there are a few important things to know about what happens when you click the delete button on people in your tree.
How to remove someone from your Ancestry tree
Fortunately, removing or deleting someone from your family tree is very simple to do. The best way to delete a person from your family tree is to visit their profile page and use the "Delete person" option from the "Edit" tab next to the "Tools" tab.
If you need help accessing the profile page and the "Delete person" button, the screen captures below will walk you through the process.
First, find the person that you would like to delete from the pedigree view: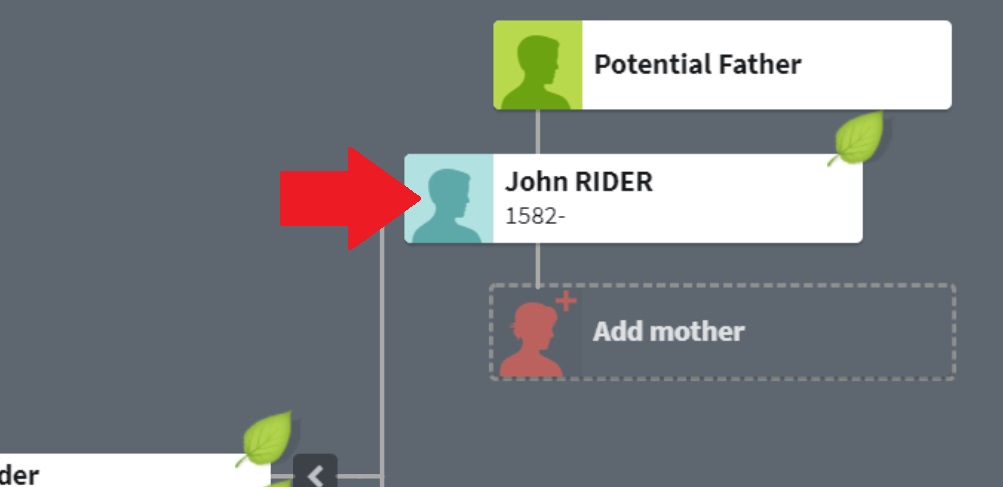 Then, click on their name in order to access their profile page: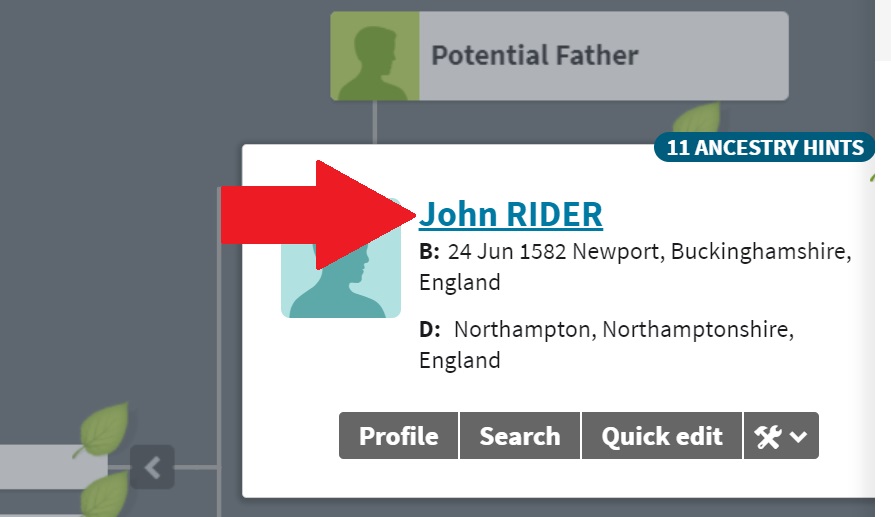 It is possible to click the down arrow next to the Quick Edit button in order to delete them. However, I prefer to view their profile page before I delete them, for reasons that I explain below.
Proceed to click on the down arrow right next to the tools tab on the right-side of the screen, and choose "Delete person" from the options:

If this person does belong in your tree but their relationship to other people is incorrect, you can use the "Edit relationships" option in order to assign them a different mother and/or father and move them to the correct part of your tree. This is preferable to deleting them.
It is also important to know that if there are duplicate profiles for the same person, which does commonly occur, you can use the "Merge with duplicate" option tool instead. This is better than deleting them because sources and other documents that you have attached to each profile will be saved to the new, merged profile.
If neither of the prior scenarios apply to this person and you are sure that you would like to continue with deleting the person from your tree, confirm that you would like to delete that person by clicking on the green "Delete" button: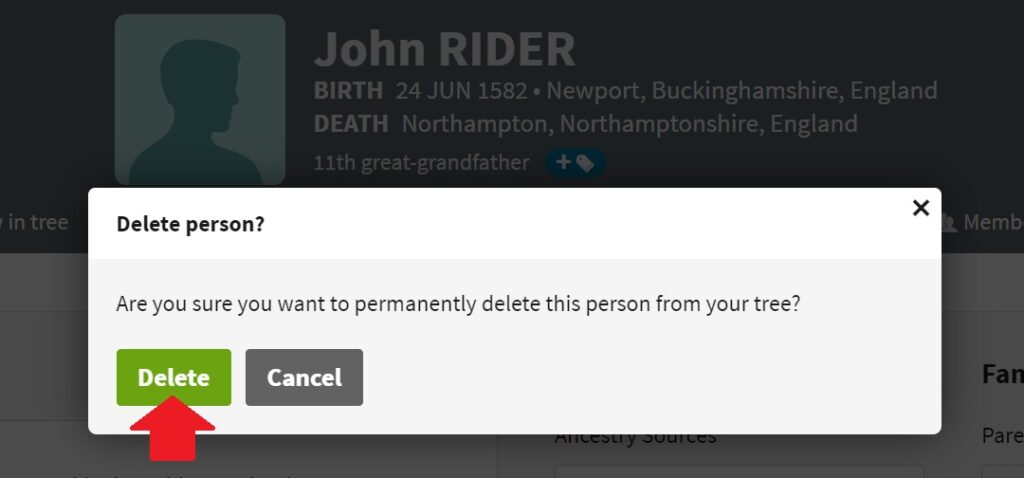 After you delete someone in your tree, obviously that profile is no longer available to view. The site will reload and you will be on the profile of either the spouse or a child of the person who you deleted.
Can you delete an entire line of your Ancestry tree at once?
No, the only way to remove people from your tree without deleting your entire tree, is by deleting people one by one. If you would like to delete certain people from your tree, yet retain most of your tree, the best way is to delete the profiles from your tree individually.
However, be sure to read below, since deleting a single person from your tree does not remove all of their relatives. You may still have to delete additional people in order to remove entire lines of your tree.
Does deleting someone from your tree on Ancestry remove their ancestors?
No, deleting someone from your tree does not remove their children, siblings, parents, or other ancestors from your Ancestry tree. Everyone that you would like to remove from your tree should be removed individually.
The problem with deleting a person from your tree who is attached to other ancestors is that the person will no longer show up in your pedigree or family tree view. This means that their ancestors or other relatives will no longer be visible, and if you don't remember their names or who they all were, they will still be there.
That is, unless you delete them in the way that I describe below.
Make sure that deleting someone from your tree doesn't result in unattached people
If you have only one individual person to delete from your tree, then the process above should work very well for you. However, if you have added any relatives of the incorrect person to your tree, be sure to follow the instructions below to correctly delete them all.
As I mentioned at the beginning of this article, the main reason that I needed to delete people from my tree was due to having added what was, essentially, a long line of incorrect ancestors. When I first began deleting people, I started at the most recent incorrect ancestor, which was the wrong way to go about it.
By deleting the most recent incorrect ancestor, I ended up with a string of people in my tree who were unattached. These profiles are sometimes referred to as "orphan" profiles.
If you are the type of family tree researcher that builds a "wide" family tree, which I highly recommend doing, you may even have siblings of incorrect ancestors in your family tree. It is important to delete these individuals in the correct manner, as well.
Delete the incorrect person, along with any of their relatives that don't belong in your tree in this order:
Identify the most distant male ancestor of the incorrect person in your tree and delete them
Delete their spouses, beginning with any spouses with whom they did not have children
Delete the siblings of the child of the couple through whom the incorrect person in your tree is descended
Delete the mother
Delete the ancestor of your incorrect person
At this point, I go back to the pedigree view of my tree and repeat the process with the most distant ancestor of the incorrect person. Some people might find this easier to do with the "family view", but I find the "pedigree view" the more methodical way to be sure that I haven't overlooked anyone for deletion.
This is the main reason that I recommend deleting people from their profile page and not from the pedigree or family view, since viewing their profile is the best way to see everyone who needs to be deleted. From their profile page, you can view their siblings, their siblings' children, as well as other relatives who will need to be removed as well.
Otherwise, you will still have these people in your tree even if they are no longer directly connected to you or any of your correct ancestors. You will still receive hints about these ancestors, they will still show up as members of your tree in search (if you have a public member tree), and they will still appear on your list of all of people in your tree.
Note: If you remove someone without removing their other relatives who don't belong in your tree, you can still delete them. First, find them in the "Tree search" function, and then follow the steps that I describe above.
Does deleting someone from your tree remove their attached records?
Yes, deleting someone from your tree also deletes any attached records, sources, documents, and photographs, unless those items were also attached to someone else in your tree. For example, if a photograph of a marriage certificate was also attached to the spouse of the deleted person, this item should still be viewable from the profile of the other person.
In addition, deleting someone from your tree also removes any DNA connection that you entered from your match list to your family tree. AncestryDNA ThruLines usually take about 24 hours to update, and they might still show this person as a potential ancestor on your ThruLines if other evidence points to you possibly being descended from them.
Can you restore someone who was deleted from your Ancestry tree?
No, you cannot restore someone who has been deleted from your family tree on Ancestry. Once you agree to delete someone, they are permanently deleted.
Of course, you can always add them back to your tree at any point.
If you have found that you mistakenly deleted someone who did belong in your tree, you can add them as a new person. However, in order to connect them with of their ancestors that you still have in your tree, you will need to edit their relationship in order to add their mother and father to their profile.
This process should restore the pedigree line to how it was before you deleted them, but you will still need to attach records, sources, and other documents to their profile as if you were starting from the beginning with research pertaining to that particular ancestor or relative.
It is good to know that entire branches can't disappear from our tree at once. So, while one person can be deleted by accident, we can still add them back and restore their relationships to their ancestors and descendants in our family tree.
Conclusion
I hope that this post has helped you understand more about how to correctly delete people from your Ancestry tree, and what to look out for as you do so.
If you have any questions about something that you read in this post, or if you want to share your own story about having an incorrect line if your tree (tell me I'm not alone!) and how you deleted it, I would love to hear from you in the discussion below.
Thanks for stopping by today!