Just when you think you understand all that you need to know about the way DNA matches work, you run into a match that shares more DNA with you than they do with your parent.
What does it mean if I share more DNA with a match than my mom? Or my dad?
There are couple of reasons that you could show more matching DNA with a match than with one or both of your parents: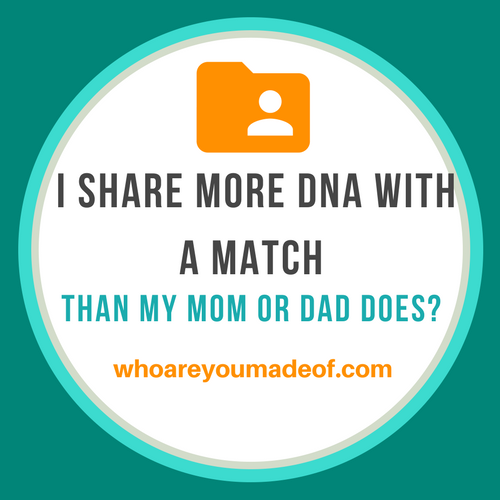 It's possible to be related to a DNA match in more than one way
You could have inherited the full segment from your parent AND share a small "identical by state" segment
You could have inherited full segments from each of your parents AND share a small "identical by state" segment
This article uses results from Gedmatch to discuss this topic, though the principles are applicable to any of the major DNA testing company results, such as Ancestry DNA, 23andMe, or My Heritage.
I have seen all of these types of situations occur at all three sites, so the information you will learn here will help you navigate your matches no matter which site you are using.
If you aren't already using Gedmatch, you can learn more about it here: What is Gedmatch?
How are DNA segments inherited?
Before we get started, it's important to define the following terms:
Identical by state
Identical-by-state means that two matching DNA segments just happen to be identical, causing the matching software to find a false positive. This typically only happens in very small segments.
Any DNA segment larger than 10 centimorgans (cMs) is very likely to be a legitimate, genealogically traceable match. The smaller the segment, the more likely it is that it is just a coincidence that they are identical.
A "coincidental" segment match is most likely to happen in segments under 6-7 cMs
Identical by descent
This means that the DNA segment is identical because it was inherited. If a segment truly is identical by descent, the matching segment should be present in the parent's DNA.
I have a great example of a matching segment that is purely coincidental. My husband and I share only a small percentage of common ethnicity, meaning that it is highly unlikely that we have a common ancestor in the past few hundred years.
He was born on an entirely different continent than me. Even so, we share a very small DNA segment: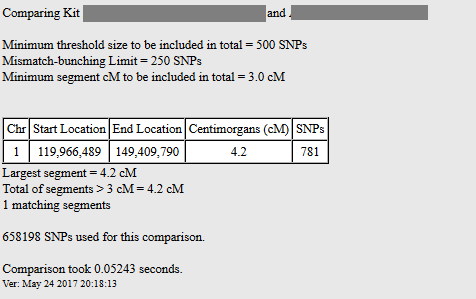 In the graphic above, you can see that my husband and I share a matching segment of 4.2 on chromosome 1. When I saw this match, I got really excited.
Even though I knew that a matching segment that small could be coincidental, and that if it were real, it would be super difficult to find our common ancestor, I held out hope. My husband is adopted, so any help in tracing his tree is better than nothing!
Alas, when my mom and dad got their results back, I immediately checked to see if my husband shared any DNA with them. And guess what?
He doesn't! He shares absolutely no DNA with either of them, not even a small 1 cM segment, which would also just be coincidental .
The match that I have with my husband is just identical by state. It just "is" identical, instead of being inherited from either of my parents. A statistical possibility for very small segments.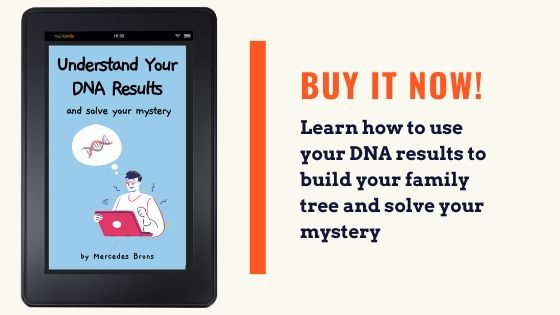 It's possible to be related to a DNA match in more than one way
As opposed to not being related to a "match" at all (like the example of me and my husband), it's possible to be related to them on both your maternal and paternal sides of the family. I had this come up recently, when I saw a brand-new match pop up on Gedmatch. We will call my new match "Nick".
I always get excited when I see new matches on Gedmatch, since they are usually matches from a different testing company, and can potentially provide me with new information and a new family relationship. Especially if the match shares more than around 30 cMs.
That's just my own personal threshold for whether I get excited about a match or not.
Anyhow, when I do get a match that I am excited about, the first thing that I do is try to figure out which side of the family the match is on.
Since both of my parents have tested and their DNA is on Gedmatch, I usually just press the "L" to the right of the new match's kit number on my Gedmatch One-to-Many list in order to quickly pull up their matches. I expect to see the matching parent towards the top of their list.
It surprised me when this did not happen when I tried this with Nick's match list, so I immediately ran the One-to-One tool to see what was going on.
This is the result of my one-to-one test with Nick: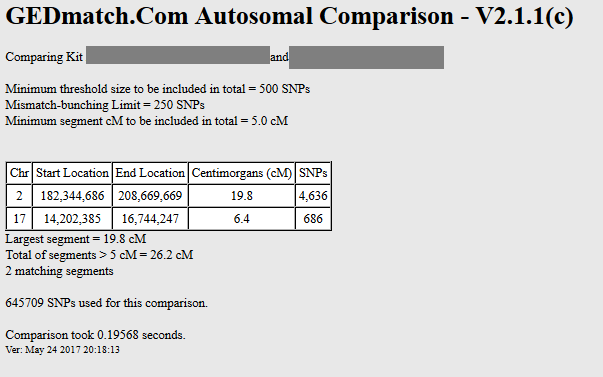 As you can see, I share two DNA segments with Nick. One is a nice-sized segment, coming in at 19.8 cMs. The other is a 6.4 cM segment, which is small and could be accidental.
If it's real, it is likely to be distant and tough to trace.
Knowing that Nick didn't match either of my parents at a higher amount than me, since I checked out his One-to-Many match list, I decided to check his DNA against my parents separately: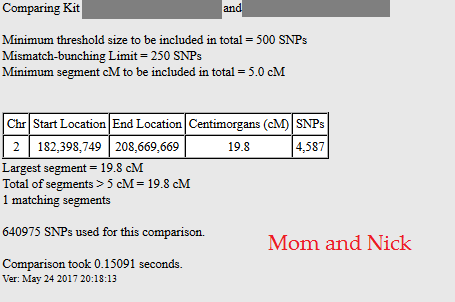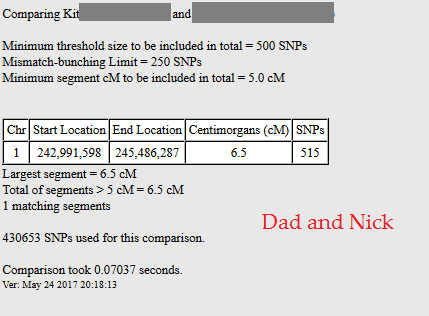 Bingo! I inherited the segments that each of my parents shared with Nick almost completely intact. This might seem like a strange occurrence, but I can assure you that it happens more often that you might imagine.
This especially important to keep in mind if you can see a spot in your tree where you think you might match, but the centimorgans don't match up exactly.
Note: Nick appears to be related to both of my parents. This doesn't mean that my parents are necessarily related to each other.
Instead, it means that Nick has lines in his family tree that match lines on both sides of my tree.
I should also add that while it is possible for a small segment like the 6.4-6.5 cM one that my father and I both share with Nick to be identical by state, it doesn't mean that it is.
I am in the fortunate position to have had several older relatives test along with me and my parents, and I was able to find that Nick and my father's uncle share two 7 cM segments.
This makes me think that there is a concrete genealogical relationship, though more research will need to be done in order to figure out how far back it might be.'
You could have inherited the full segment from your parent AND share a small "identical by state" segment
It's possible for DNA matching software to give you results that include identical by state and identical by descent segments. The software is only taking educated guesses with the knowledge that the larger the segment, the more likely it is that the segment is valid.
Even so, it is possible to share a larger amount of DNA with a match than the parent on the same side of the family does.
Here is an example of my DNA compared with another match, who will we know as "Sally". According to my match list, Sally and I share 27.2 cMs of DNA. At closer examination, however, I realize that:
We share two segments that are above 5 cMs in size. Each testing company has a different threshold as to how big the segments have to be to be included in the total amount of DNA shared.
Gedmatch seems to include some of the smaller segments in the total. This is fine, since sometimes they are valid segments (i.e. identical by descent), but sometimes they are not and it can be confusing.
Anyhow, this is what my results look like with Sally: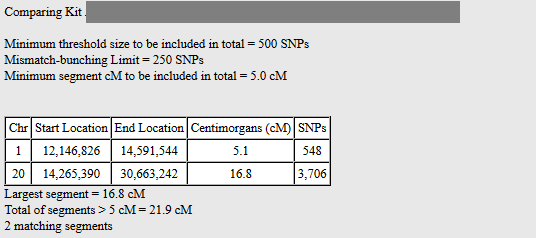 The same match compared with my dad, with the threshold set equally as low (only showing segments larger than 5.0 cMs):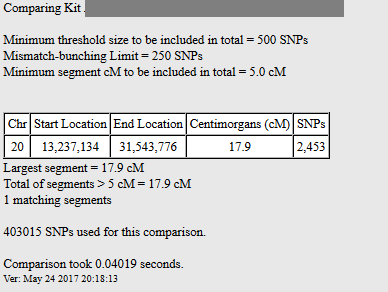 As you can clearly see, I have more DNA segments in common with this match than my dad does. It should be noted that my mother does not share any matching segments with this match.
The only logical conclusion is that the 5.1 cM segment that I share with Sally on Chromosome 1 is NOT a valid matching segment.
This is why it's true that you really shouldn't pay too much attention to really small segments.
Many people don't realize that you can have both valid and invalid segments with the same DNA match, and this can sometimes cause confusion as to which side of the family the match is on, and how distantly you are related.
You could have inherited full segments from each of your parents AND share a small "identical by state" segment
I won't include examples of this, mainly to avoid being repetitive – I'm sure you've understood the concept of identical-by-state and identical-by-descent by now. That said, it is important to mention one of the most confusing situations:
It is possible to be related to a match on both sides of your family, have inherited the full DNA segments from each of your parents, and share an identical-by-state segment.
The end result of this is a total amount of shared DNA that can lead you to believe that you are more closely related than you actually are.
In a situation like this, it is possible to share a pair of 4th-6th great-grandparents on each side of the family, along with an accidental shared segment. It could make you think that you are only 3rd-4th cousins when in reality it might be much more distant than that.
Conclusion
I hope that this article has been informative to you, and helped you understand the situations that could cause you to share more DNA with one of your DNA matches than one or both of your parents do. Even that sentence is a mouthful!
Do you have any questions, or comments about the article or an experience that you have had with a DNA match and trying to figure out your relationship? Please leave me a note in the comments!
Thanks for stopping by!