If you have a DNA match who should be a third cousin to you, but you want to make sure, you might be wondering how much DNA you should share with a third cousin. You have come to the right place, and in fact, learning about DNA shared between third cousins is key to using DNA to research your family tree.
The term "centimorgan" is a word that geneticists used to measure the length of DNA segments. Each individual has about 7,200 total centimorgans of DNA.
Centimorgans is usually abbreviated using this notation: "cMs". I will be using this in this article instead of the word "centimorgans".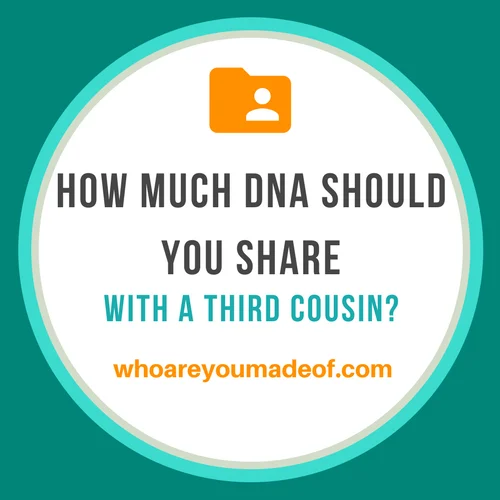 How much DNA should you share with a third cousin?
Third cousins can share up to about 100 cMs
The average amount shared with a third cousin is about 53 cMs
Expressed as a percentage, third cousins share, on average, 0.3% – 2.0% of their total DNA with each other
It's possible for third cousins to share absolutely no DNA, yet still be "genealogically" related.
Approximately 10% of third cousins will share no DNA
As you can see, there is a wide range of cMs that third cousins can share with each other. This can cause a few problems when you are looking at a cousin match and trying to figure out how they are related.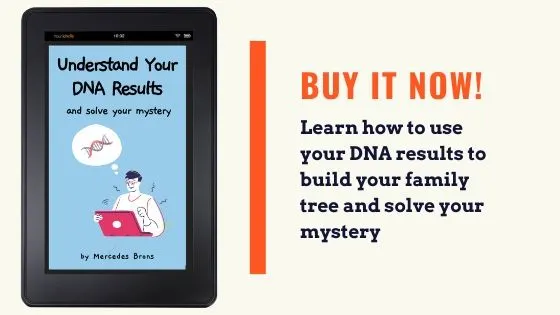 Your match might show up in the 3rd cousin category, but actually be a second cousin
On Ancestry DNA and My Heritage DNA, there is a 3rd cousin category. Sometimes, DNA matches are placed into this category when they are not actually third cousins. Why does this happen?
The average DNA shared between second and third cousins has a slight overlap.
While second cousins will absolutely always share at least some DNA, it's possible for them to share as little as 75 cMs. They can share even less if they are half second cousins.
Since third cousins can share as much as around 100 cMs, it is entirely possible for a DNA matching software to report the relationship as closer than it actually is.
A DNA match might show up as a distant cousin, but actually be a third cousin
Since it's possible for you to share no DNA with a third cousin, it's also possible for you to share very, very little DNA with a third cousin. I have a great example from my own DNA match list at Ancestry DNA. This DNA match was so far down my list that I never, ever would have scrolled that far through the pages.
This is so important to remember, since you really should ignore a distant cousin match just because they show up as distant.
The only reason that I noticed him was because he had a "Shared Ancestor Hint" with me – meaning we had a common ancestor. Out of curiosity (okay, I'll be honest, I am curious about all of my Shared Ancestor Hints and I check them obsessively), I clicked on the match and I was very surprised!

Ancestry DNA reports that we share only 12.0 cMs of DNA, a skimpy little segment that would typically indicate an ancestor several generations back. In fact, Ancestry estimates that we are 5th-8th cousins.
Instead, he and I share great-great grandparents – much closer than expected.
It's not Ancestry's fault that they reported this cousin "incorrectly". My family tree isn't coded into my DNA in any way that is meaningful to a computer's software.
Their system is only looking at the total amount of shared cMs, and the number of segments that we share in order to determine a potential relationship. We can rely on the software to find the matches, but we still have to use traditional methods in order to determine our exact relationship, such as comparing known family trees.
You won't always share third cousin matches in common with closer relatives
One of the most common ways to figure out how someone is related to you on Ancestry DNA, Family Tree DNA, or Gedmatch, is to compare matches that you have in common. This can get you into trouble, however, if you don't know that third cousins don't always share DNA.
It's true that third cousins will share genetic material about 90% of the time, but that still leaves 1 out of 10 that won't.
So what does this mean?
Having a third cousin match in common can only help to confirm which line of your family your unknown cousin is on
You can't use the lack of a third cousin match in common to eliminate a line of your family tree as how you are potentially related to a match
This explanation might sound a little confusing, so I will explain it another way using names. Sam and Mary are third cousins. They know each other, and both have well-researched family trees.
A first-cousin match pops up for Mary, but she doesn't know who it is. The new match's name is Bob. She looks at the matches that she has in common with Bob, and she doesn't see Sam's name.
This leads her to incorrectly believe that Sam and Bob can't related, and therefore, she thinks that Bob is not on that line of the family tree.
In reality, Sam and Bob could very well be third cousins, too. They might fall within that 10% of third cousins that don't share DNA.
What could Mary do instead to try to figure out how she and Bob are related?
She should begin with looking at the matches that she shares with Bob
If she can determine which side of the family he might be on, she could consider having an older family member test, if possible. Older family members are one generation closer to the common ancestor, and can share more DNA with matches (and will share more DNA at a close level like this).
A word of caution about third cousins and shared DNA matches
Third cousins are not technically considered to be distant cousins. That said, they have more lines of their tree that are different from yours than those that are the same.
With third cousins, you can't always assume that all of your shared matches with your third cousins are related to you in the same way that you and your cousin are related. It's possible that you simply are related to a shared match in a completely different way than the way in which you are related to your third cousin.
Conclusion
I hope that this article helped you understand the DNA relationship between two third cousins (or the lack of one!). If you have any questions, comments, or stories, I would love to hear from you in the comments.
Thanks for stopping by!