Are there famous Find a Grave memorials? Below, find out some of the most popular famous Find a Grave memorials in the United States.
On Find a Grave, you can find many famous people who have been memorialized. Some volunteers have gone to great lengths to include photographs and extensive biographical information on the memorial pages of well-known individuals.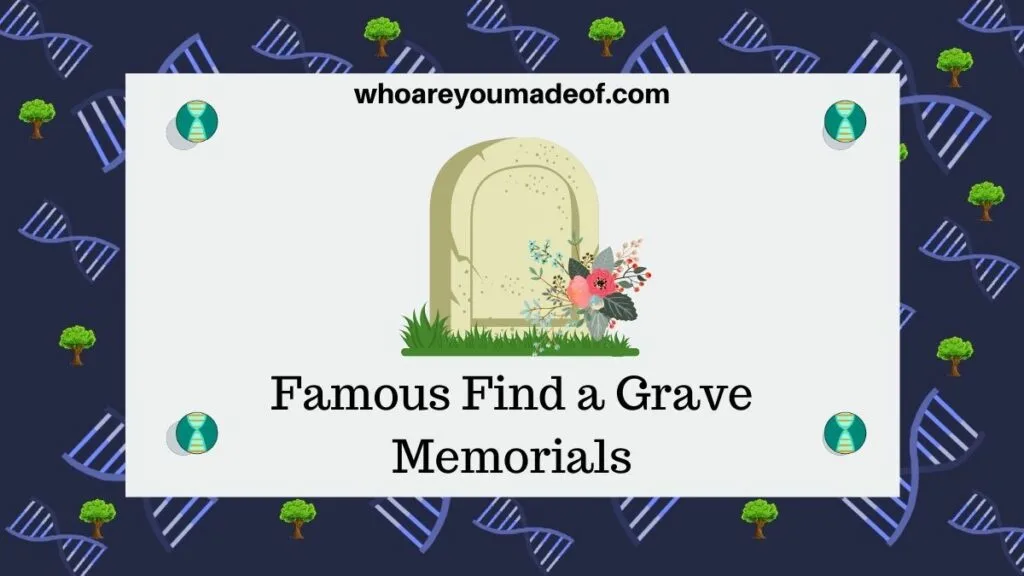 Reading these details can help us learn things we might not have known about their lives.
I think viewing memorials on Find a Grave is very interesting, since you will often find that a memorial page for a particular person is linked to those of their parents and other relatives.
Find a Grave is an excellent resource for family tree research. It's a free website that contains almost 200 million memorials created by volunteers using information from gravestones at cemeteries, as well as additional sources.
In fact, if you have ever wondered if you are related to a famous person because you share a surname, you can often use their Find a Grave memorial to trace that surname back to see if you can locate your common ancestor. Below, you will find out how I discovered I am related to a famous person using this method.
I compiled the list of these famous people on Find a Grave by researching popular search terms on search engines. While this list is not comprehensive, you are sure to find a few names that you recognize, and you might even be inspired to do your own search.
Angelique Pettyjohn
If you are a fan of Star Trek, then you have definitely heard of Angelique Pettyjohn. Born Dorothy Lee Perrins, she became well-known for her role as Shahna, Captain Kirk's trainer on Star Trek.
Angelique's mother was Maia Irene "Micky" Enke.
You can visit Angelique Pettyjohn's memorial on Find a Grave by visiting the following page:
Sarah Vaughan
If you love jazz music, then you might be familiar with Sarah Vaughan, a Grammy-award winning singer. She had a stellar musical career, won many awards, and was a member of the Zeta Phi Beta sorority.
She was born in Newark, New Jersey, daughter of Asbury and Ada Vaughan, who were also musicians, and passed away in 1990. She was buried in Bloomfield, New Jersey, not far from where she was born.
You can view her memorial page by going to the following page:
John Wayne
John Wayne is a household name for many people due to his roles in many "Western-themed" movies, and so you will not be surprised to learn that more than 8,000 people have left him digital messages and "flowers" on his memorial page.
John passed away in 1979, and is buried in Orange County, California. He was born in 1907 to Clyde Morrison and Mary Brown in Iowa.
If you are interested in visiting John Wayne's memorial on Find a Grave, you can do so by going through the following link:
Walt Disney
Walt Disney is a man who needs no introduction. However, not everyone knows that he was born in Chicago, lived most of his childhood in Missouri, and that he tried to join the military to fight on the Western Front in 1918, but was rejected because he wasn't old enough.
His Find-a-Grave Memorial is extensive, as is the family tree information that has been added to memorials for his ancestors going back several generations.
Walt Disney holds a special place in my heart because, according to family stories, he knew my grandfather's family. In fact, an antique small organ that my great-uncle kept in his hallway that had belonged to his uncle, has been rumored for generations (only in our family, of course!) to have inspired some of the imagery in the 1940 Disney film Fantasia.
Is it true? All I know is that my grandfather's family lived in Chicago, and that there may have been some personal connection between at least some Disney family members and my own, since I have inherited some small items given to my relatives by Raymond Disney, Walt's brother.
However, even though Walt Disney did live for a time within a three-mile radius of where my ancestors lived, I can't verify how much of his time he actually spent there.
Regardless of whether the story is true, I did discover by tracing his mother's family tree back on Find-a-Grave, that we are also very distant cousins. His mother was descended from Nathaniel Johnson, who is my ancestor, too, born 1647 in Massachusetts.
Frank Sutton
Frank Sutton is best known for playing Gunnery Sergeant Vince Carter on Gomer Pyle, U.S.M.C. He also performed in many other television shows and several movies.
Frank was born in 1923 in Clarksville, Tennessee to Frank Sutton and Thelma Spencer. He passed away in 1974.
Frank Sutton's Memorial on Find a Grave can be viewed through the following link:
Carol Wayne
Carol Wayne was most famous for her time on the Tonight Show with Johnny Carson. She also had numerous small roles on television shows and movies, and was a figure skater as a teenager.
Carol was born to Billie Hughey, who was married to Edward Wayne at the time of her birth. There is no known connection between Carol and John Wayne, since John Wayne's name at birth was Marion Michael Morrison.
If you'd like to visit Carol Wayne's memorial page on Find a Grave, you can do it by going through the link below:
Dean Martin
Dean Martin, who was sometimes known as "the King of Cool", was a popular singer. He became famous in show business due to a partnership with Jerry Lewis, but branched off into a solo career which included the Dean Martin Show.
Dean was born Dino Paul Crocetti in 1917 in Ohio to Gaetano Crocetti and Angela Barra. An interesting fact about Dean Martin is that his parents were Italian immigrants, and his first language was Italian.
You can visit Dean Martin's memorial on Find a Grave by clicking below:
Frederick Douglass
Frederick Douglass, an African-American abolitionist, is one of the most iconic figures in American history. Even though he had been born into slavery and prohibited from learning how to read and write, he became an exceptionally articulate writer and speaker, and gained fame due to his work on social reform, especially abolishing slavery.
Frederick, who held multiple positions in public office during his life, was born in 1818 to Harriet Bailey, who was daughter of Isaac and Betsy Bailey. He was born in Talbot County, Maryland, and while the identity of his father is not certain, he alluded to the possibility that he may have been the child of his enslaver, Aaron Anthony.
Frederick Douglass was buried in Rochester, New York. You can view his memorial page on Find a Grave below:
Frederick Douglass Find a Grave Memorial
Buddy Holly
Born to a family of musicians, Buddy Holly (originally Holley), became a famous singer and performer. His work inspired other musicians, such as john Lennon, Bob Dylan, Mick Jagger, Elton John, as well as countless others.
Buddy, born Charles Hardin Holley in 1936 to Lawrence Holly and Ella Drake, passed away at the age of 22 in a plane crash. He had just recently married only a few months prior to the accident.
Buddy Holly, who is buried in Lubbox, Texas, has a memorial on Find a Grave that you can view below:
George Washington
As you might know, George Washington was the first president of the United States. George was born in 1732 to Mary Ball and Augustine Washington in Westmoreland County, Virginia.
George Washington, likely the most famous person to have been memorialized on Find a Grave, was buried in Mt. Vernon, Virginia, and has a memorial page that can be accessed below:
Wyatt Earp
Wyatt Earp has become a sort of folk legend, but he was a real person. Despite his very checkered history, he has become famous for his role as law enforcement officer in Arizona. He participated in the famous shoot-out at the O.K. Corral.
Born in Monmouth, Illinois to Nicholas Earp and Virginia Cooksey, he passed away at the age of 80 in 1929. He lived in many western US states, including Alaska and California.
Wyatt Earp was buried in Colma, California. His memorial page on Find a Grave can be accessed directly by going through the link below:
Abraham Lincoln
Abraham Lincoln is most well-known for his role as the 16th president of the United States, as well as his critical work leading the country during the Civil War.
Abraham was born in Hodgenville, Kentucky in 1809 to Thomas Lincoln and Nancy Hanks.
This very famous president was buried in Springfield, Illinois. He has a memorial page that you can view by clicking on the link below:
Bruce Lee
Bruce Lee was a famous actor, director, and martial artist. He became well known for street fighting, which led to professional opportunities in martial arts and later, the entertainment industry.
Bruce was born in 1940 in San Fransisco, California to Lee Hoi-Chuen and Grace Ho. He passed away in 1973.
Bruce Lee was buried in Seattle, Washington, and you can view his memorial page below:
Juanita Hall
Juanita Hall was an American actress who starred in film and theater productions. A Tony award winner, she received professional training at Julliard.
Juanita was born to Abram Long and Mary Richardson in Keyport, New Jersey. She passed away in 1968 in New York.
Juanita Hall was buried in Matawan, New Jersey. You can view her memorial on Find a Grave below:
Are there other famous people on Find a Grave?
Yes, there are thousands of memorials for people who were famous, or infamous, during or after their life. You can search complete lists of notable individuals worldwide who have been memorialized on Find a Grave by searching here:
When researching for this article, I did not include anyone who passed away after the year 2000, or anyone who was only famous because they took someone else's life, or had their life taken.
When researching the graves of people who are well-known, for whatever reason, we should always keep in mind that each individual was an important member of a family. They might be loved and missed by people who are still living, and we should be respectful.
It's also important to remember that there are many famous or notable people who have a memorial on Find-a-Grave that you may not have heard of before. You can search your local cemeteries on the site to see if anyone has been tagged a "famous memorial", as it is also a good way to learn about your local history.

Find a Grave has a feature that allows us to leave flowers for our ancestors, and other people who we find meaningful in history and in our lives. You should feel free to leave digital "flowers" and a kind message for a famous person who you admired and respected.
Conclusion
I hope that you have found this post interesting and that you have been inspired to learn more about Find a Grave. It is an excellent resource for those of us who do genealogy research.
If you have any questions about something that you read here, or if you would like to add a link to another famous Find a Grave memorial that you have found during your research, please post it in the comments below.
Thanks for reading today.