When you are examining a DNA match, one of the best indicators of how far back your common ancestor might be is the size of your shared DNA segments.
Generally, the common wisdom is that the longer the segment, the closer the relationship between you and your DNA match. In other words, the longer the segment, the more recent the common ancestor.
It's true, DNA segments usually do get smaller with each generation, and you often can estimate the distance of your most recent common ancestor based on the size of shared DNA segments.
But is this always a good measure? In this post, I'll show you some examples of how we can be fooled by the size of shared DNA segments – especially with more distant cousins.
In order to demonstrate the size of shared DNA segments between matches, I will be using Gedmatch. If you haven't used Gedmatch, I highly recommend it.
Many DNA testing companies provide a chromosome browser or show you the size of the largest DNA segment shared, which is very similar to what you can learn using Gedmatch.
Sticky DNA segments can trick us into thinking our common ancestor is more recent
Many genetic genealogists like to call DNA segments that remain about the same size as they pass through the generations "sticky DNA segments".
Sometimes, the segment is sticky in just one line, and other times the segment is just as sticky with other descendants on other lines descended from the same common ancestor.
The reason that these segments can confuse us is that we use the amount of shared DNA and the size of the DNA segments to estimate our relationship to our matches, and when segments get passed down "intact", or almost intact, it can seem as if the MRCA is more recent than they really are.
I recently got a new DNA match on Gedmatch. Let's call him Robert. We share more than 44 centimorgans (cMs), which could mean that we are anywhere from 1/2 2nd cousins once-removed to 8th cousins. Most likely, our relationship falls somewhere in the middle of that range.
I like to be very through with each of my DNA matches, spending a considerable amount of time trying to determine how each person is related to me. I find that this is an excellent way to build my tree wide and learn as much as I can about my extended family.
Since a 44 cM match could possibly be a relatively close cousin (I use "close" loosely here), I wanted to make sure that I didn't overlook anything, so I checked out a list of this new cousin's DNA matches to see on which side of the family I am related to him.
Immediately, I noticed that he shares almost the exact amount of DNA with me that he does with my grandmother, my father, and my daughter.
(My grandmother is listed as the great-grandmother, my father is the grandfather, I am the mother, and my daughter is the great-granddaughter)

Furthermore, you can see (numbers within the red rectangles) that the largest segment that we all share with this match is almost exactly the same size. My daughter shares a 25.4 cM segment with our match and her great-grandmother shares a 26.5 cM segment with the same match.
This means that over the course of 3 generations (three genetic "recombinations"), this DNA segment only got lost about 1.1 cM in size.
If my daughter had been the only person to do her DNA test, she might be very excited about her 42.9 cMs of shared DNA with this match, not knowing that her great-grandmother shared almost the exact same segments at almost the exact size.
This almost certainly means that the DNA match is very, very distantly related to my daughter. This is something important to keep in mind if you are the oldest generation to test, and don't have access to DNA results from other family members to make comparisons.
You can have more than one sticky shared segment for the same DNA match
Sometimes else that I found notable about this DNA match is that all of us – from my grandmother to my daughter – share two segments with Robert, and all of the shared segments are about the same size.
Take a peek at the image below, where you can see that both my grandmother and my daughter share two segments on Chromosome 9 that are approximately identical in size.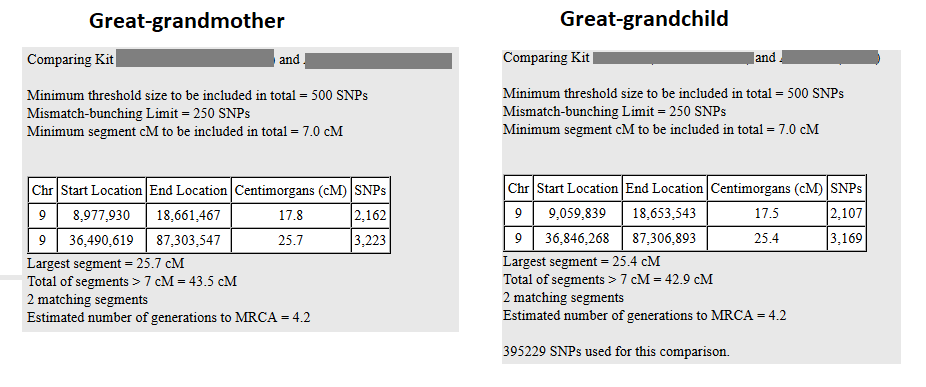 So what do you do when you find a sticky segment (or segments!)?
If you are a thinking person, as I am sure that you are since you are here, you have probably concluded that when you find a sticky segment, you have to look much further back in your tree than you would otherwise in order to find the most recent common ancestor that you and your match share.
Without knowing who your MRCA is, you won't be able to figure out your exact relationship.
In the case of my match, Robert, I got lucky. I have been "painting" my DNA matches into DNA Painter (free, too!), and I already know that his segment overlaps with a segment I share with another match on that site:

Since I know how Cristina is related to me, and Robert shares a segment that overlaps with hers, I can be fairly sure of which line Robert and I share.
While this won't tell me exactly who our MRCA is, it is a very good start. Going back several generations, we have hundreds of ancestors, and eliminating some of them as possibilities makes life easier.
The next idea that I have is to use the Gedmatch "People who match one or both of 2 kits" tool, which is awesome. I'll take a look at the people who match both Robert and me (or Robert and my grandmother) and try to find out who they all share in common.
Of course, I could always send Robert an e-mail and see if he has any ideas on how we might be connected.
Conclusion
I hope that this post has shed some light on what sticky segments are, how sticky they can be (four generations of stickiness, in my case!) and some ways to try to determine how a sticky match is related.
If you have any questions, I would encourage you to leave a comment below. As always, I look forward to hearing from you.
Thanks for stopping by!