Even though census records are a valuable source of genealogical information, they are not always correct. In this post, learn how to spot the most common census errors.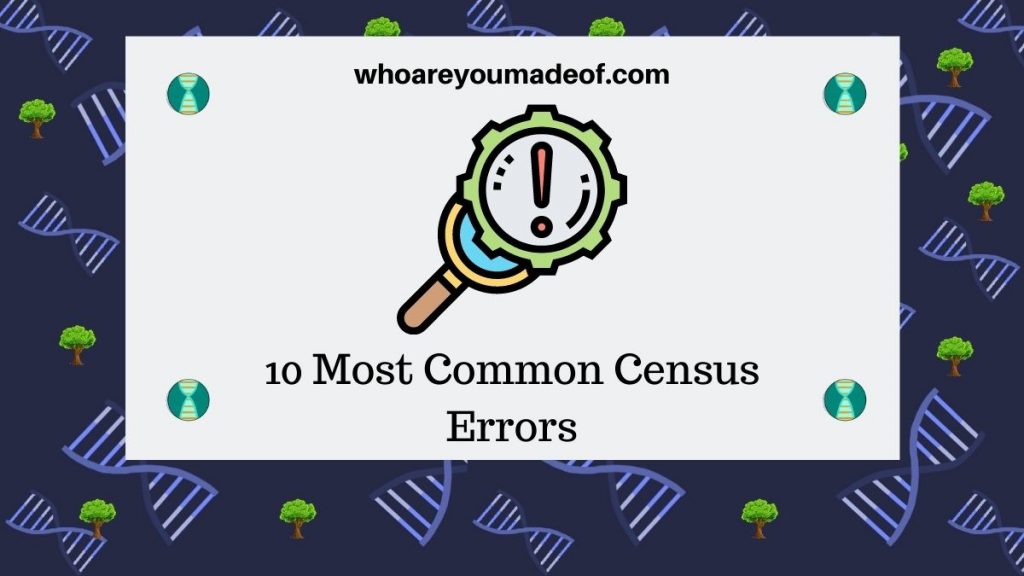 Census records are some of the most valuable types of genealogy records. They are what we call "primary sources" because they are the result of an interview between the census taker and, presumably, the people who resided at a particular address.
The general idea of a census is to create a complete record of the population for a given area. There are usually economic and demographic questions included on census forms.
Most common mistakes on old census records
Even though census takers never intentionally document incorrect information, we can frequently find errors on census records. Below are the ten most common mistakes that we find on census records.
Understanding these census records and their limitations can help us build better family trees.
Spelling errors
The most common errors on census records are spelling errors, sometimes due to miscommunication, language barriers, or illiteracy. Spelling names always provides opportunity for mistakes, but it wasn't always just because spelling is difficult.
As recently as the 1890, as many as 13.3% of Americans were illiterate. In addition, in the 1910 US Federal Census, about 10.8% of the US population was made up of immigrants who reported a native language other than English.
Wrong year of birth
It is very common to find an incorrect birth year listed on census records. This usually occurred because the person who gave the census record the information either didn't remember the year exactly, or didn't know.
For example, my great-great grandparents had a farm worker living with them in the 1900 census. My great-great grandmother is most likely the person who gave the census taker the information.
What are the odds that she knew the exact year of birth of their lodger? If he wasn't home at the time that the census taker visited the house, there is a good chance that my great-great grandmother gave an estimate of his year of birth to the census employee.
Wrong name
Occasionally, you might even see a completely incorrect name on a census record. For example, I was looking for my ancestor's name on the 1850 US Census.
Her name is Diana, and I was so confused as to why I couldn't find her. She would have been 18 years old in 1850, living at home with her parents.
I know she was living with her parents still because the man who she married only months after this census record was made was also listed in this census record as living at this house.
In the image below, I believe that my ancestor was recorded as "Daniel" instead of "Diana". If there really was a Daniel, he would have had the exact age as my Diana (in other words, a twin).

There is no evidence of my ancestor having a twin, or a Daniel of the same age and origins living in this town after 1850. It's just a mistake on the census.
Indexing errors
This very common mistake doesn't really count as a mistake on the census, but it still causes a lot of confusion when it comes to searching and using census records.
One of the most common census-related mistakes is due to indexing errors made by the individual people who created the searchable index for us to use.

It can be difficult to read the handwriting on old census records, especially old-fashioned cursive. In addition, indexers are not always familiar with names from other countries, which can account for a significant number of census mistakes.
Purposeful omissions
Sometimes census "mistakes" are really purposeful omissions. In these cases, our ancestors may have wanted to hide information about themselves or their family.
Intentionally providing misleading information to a census taker may have been a result of distrust of the government. In addition, they may have wanted to hide something about their past from their family or community.
The United States, like many other countries, has a history of discrimination and prejudice. It is not surprising that some of our ancestors may not have wanted to tell the truth about their ethnicity or country of origin to census takers.
Wrong age for household members
It's very common to see an incorrect year of birth or age on census records. This can be because the person who gave the census taker the information about the household member didn't know or couldn't remember the exact age or year of birth.
Wrong country or state of origin
Another common census mistake is an incorrect state or country of origin, either for the household member. While this can occur because of miscommunication, it can also happen because of shifting borders and changing names.
For example, much of Europe was under control of the Austro-Hungarian Empire in the late 1800s. People who were from at least twelve different countries (by modern maps) might have been from "Hungary" or "Austria" on census records.
This is one reason why I always suggest checking out old maps!
Wrong place of birth of parents
Similar to incorrect places of birth, we often see the the place of birth of parents listed incorrectly. The first US Federal Census where this type of information is recorded was the 1880 census.
Incorrect places of birth for household member's parents can occur because of shifting borders, as I mentioned in the previous section in this post. It could have also been because the person providing the information or even the household member didn't know.
Wrong immigration years
It is very common for the wrong immigration year to be recorded on a census record. This is usually because the person providing the immigration does not remember the exact year that they immigrated.
It's not surprising that busy immigrants sometimes forgot the exact date of their arrival to the United States. They were usually working low-paying jobs, raising their families, learning English, and trying to assimilate into their new country.
This mistake has caused me a great deal of confusion because one of the reasons that I love census records is that they provide clues about where to look for additional records. I can't tell you how many times a census record has sent me on a wild goose chase for immigration records for the wrong year.
Copying errors
The final "top" mistake on census records are mistakes that occurred in census records are copying errors. Most people don't realize that the census forms that they see online are handwritten copies of other census records.
There was often a separate copy created for the different levels of interested governments (federal/state), and this was an opportunity for mistakes to happen.
It is sometimes possible to view the different "versions" of the census forms that were copied and re-copied. There may be other copies held at a local or state archive.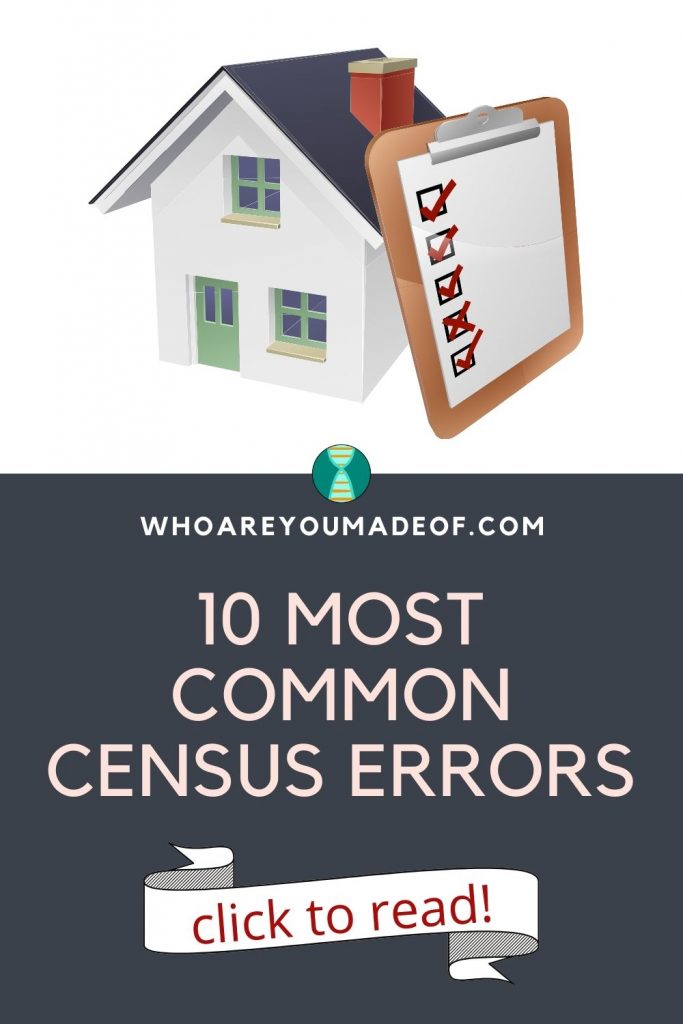 Conclusion
I hope that this post has been interesting and helpful to you in learning about common census mistakes and how they may have occurred. If you have any questions about something that you read in this post, I would love to hear from you in the discussion below.
Thanks for stopping by today!