Did you just get your DNA results back? That's fabulous! There are several things you can do right now to get the best experience and learn the most from your results. In this post, learn the first things you should do after you get your DNA results.
I first did my DNA test back in 2015. For my first DNA test, I chose Ancestry DNA, and I was so excited when I got the e-mail saying that my results were ready. My wait was over!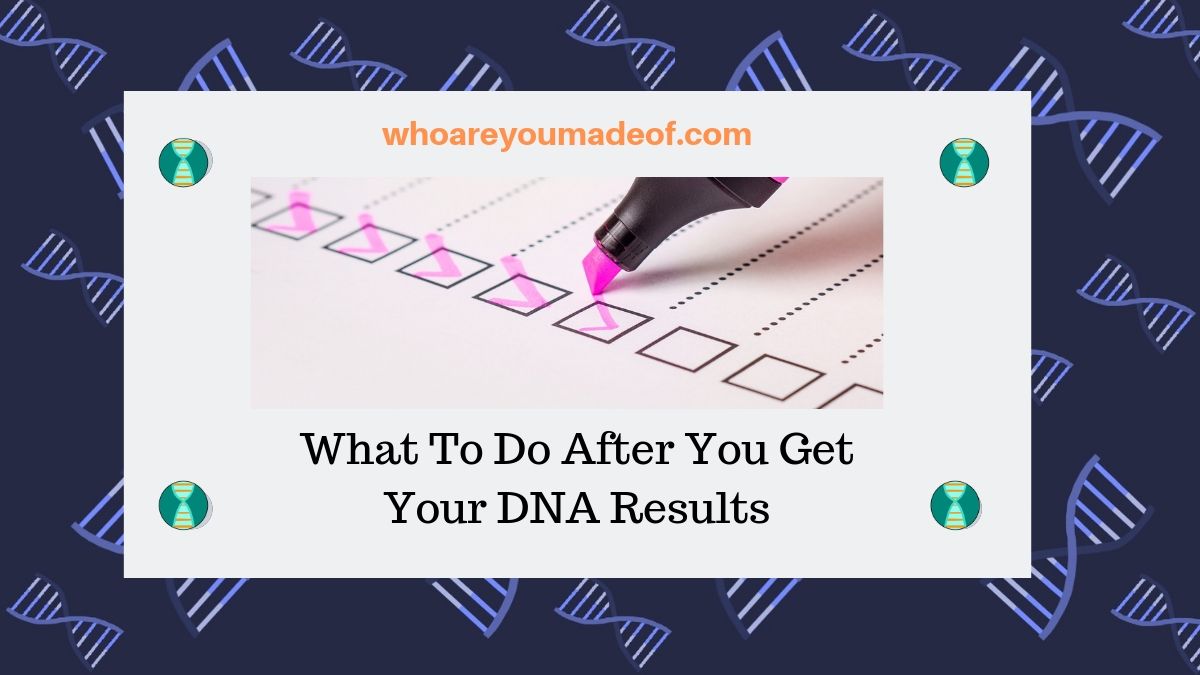 When I opened my results, however, I was overwhelmed, and had no idea how to really understand the incredible amount of information that had been extracted from my genome and was now at my fingertips.

The following tips in this post will help you make sure that you are satisfied with your DNA testing experience. Whether you want to build a family tree, contact DNA matches, or learn more about your ethnicity estimate, you'll find helpful information in this article.
Let's get started, shall we?
(If you haven't gotten your DNA results back yet, you might be interested in my post titled, "10 things to do while you are waiting for your DNA results")
Decide what you would like to learn from your DNA results
As you might have guessed, there is a lot you can learn from that DNA test you took a few weeks ago. The next steps depend greatly on what you would like to learn.
Are you interested in exploring your family tree?
Are you looking for DNA matches (i.e. living biological relatives)?
Do you want to know more about your Senegal/Ireland/Germanic Europe roots?
Set some research goals, big or small. This is your DNA, and your DNA testing journey, and there is no right or wrong way to approach your results.
If you are only interested in the ethnicity estimate or ancestry composition aspect of your results, that's great!
Some people might want to learn as much as they can about their living relatives, and that's wonderful, too.
Still others might want to use information learned from their DNA matches to build a family tree.
I know people who fall into all of the above categories! Plus, I've even met dozens of folks who have only tested at the request of a family member in order to help them with genealogy, and aren't sure exactly what they might be interested in learning from this process.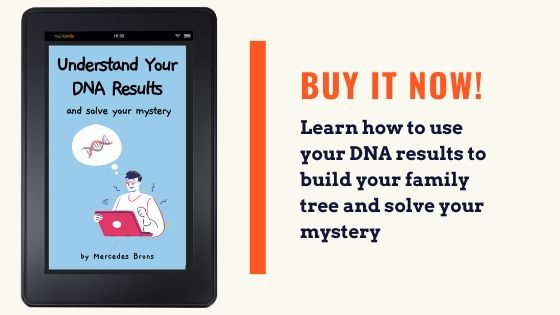 Familiarize yourself with your DNA testing website
I personally know several people who did DNA tests with Ancestry DNA who had no idea that they received access to a DNA match list along with their results. They thought that their ethnicity estimate was the only part of their results worth taking a look at, and never even bothered to check their DNA matches!
By spending some time clicking around your DNA testing company's website, you will be able to see all that you might be able to learn from your results.
No matter which company you tested with, I'm sure you'll find something that surprises you.
There is a lot to discover on your 23andMe ancestry composition results
For example, did you know that you can drill down in your 23andMe results to find a lot of great detail about the regions that match your DNA? Check out how much detail I can see about my mom's Polish roots – it tells me the exact regions within Poland that most closely match my mom's DNA.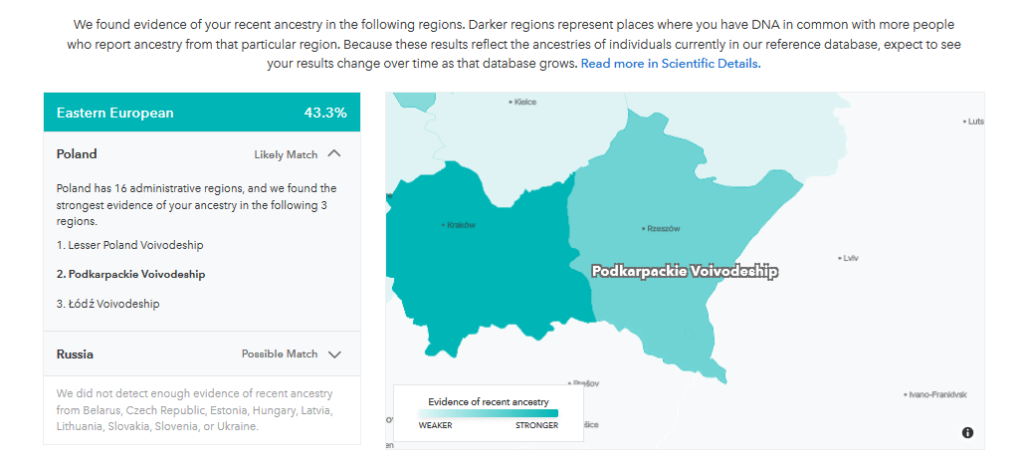 Ancestry's ThruLines feature reveals depth of information about family tree
Did you test with Ancestry DNA? If so, have you seen the ThruLines feature? It is an amazingly powerful feature that uses technology to help you see how you are related to your DNA matches. You can learn so much detail about your family lines, much more than you might have been able to learn without many hours of research.
In the image below, you can see people who are descended from one of my Dutch great-great-great-great grandfathers. The top person in the image is my great-great-great-great grandfather, Christjaan. I only knew about one of his kids, Eltje, who is my great-great-great grandfather.
As it turns out, he had (at least) two other kids, likely Trijntje and Harm. Both of these individuals have at least one descendant who has done a DNA test with Ancestry and who show up on my list as DNA matches.
They are both distant cousins to me, and I may have never noticed them on my list of thousands of matches had it not been for the Ancestry ThruLines feature: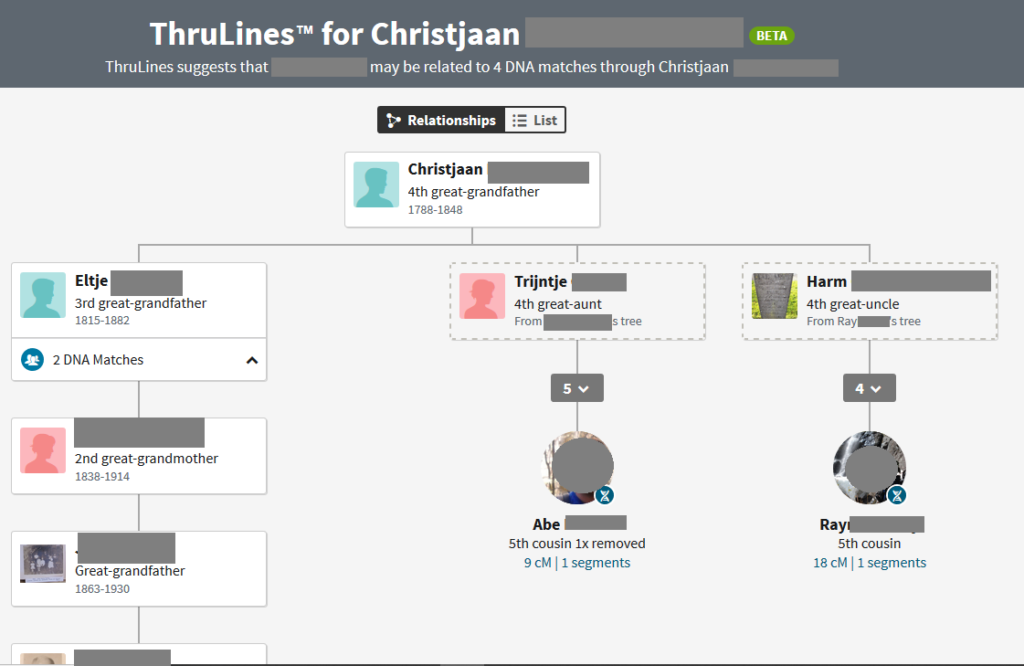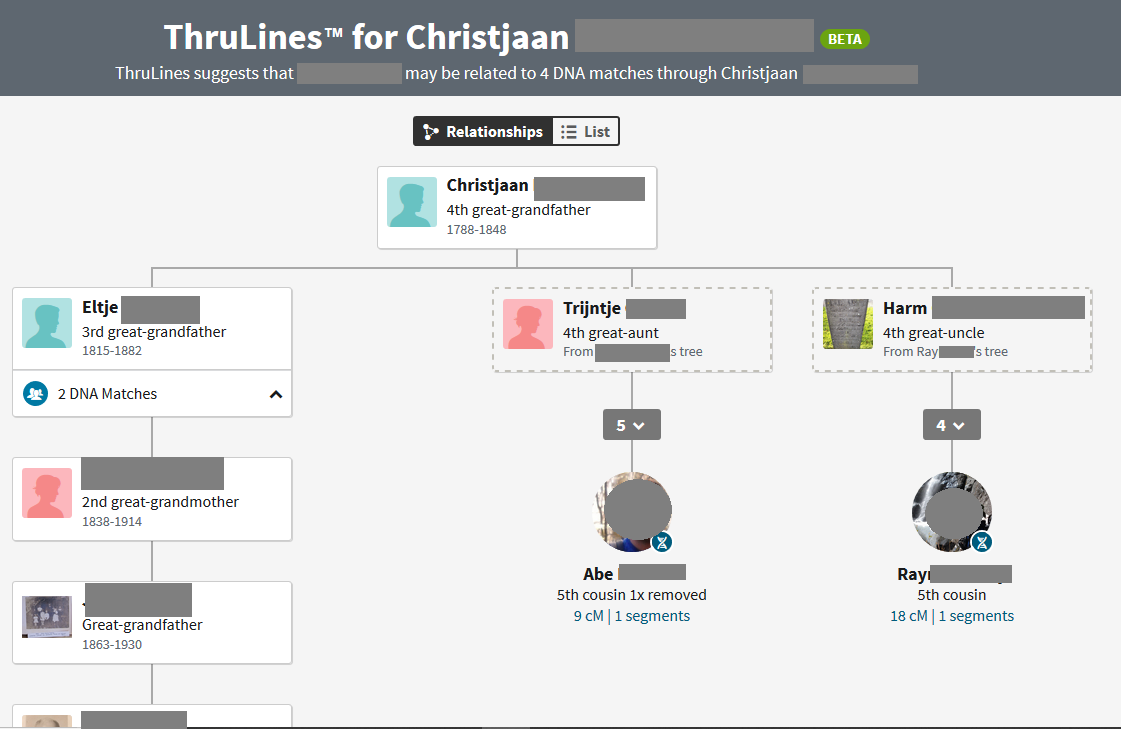 I have a few dozen ThruLines ancestors that I could investigate and learn about. I could even add all of these people to my family tree (after double checking things myself, of course). How cool is this?
Tested with My Heritage? Find your international matches!
If you tested with My Heritage DNA, you might be impressed with the various ways you can sort and filter your DNA matches. I'm willing to bet that you have DNA matches born in at least a dozen different countries.
The image below is from my dad's My Heritage DNA results – amazing! He has DNA matches born in many countries. This information can help me learn specifics about particular lines of my dad's ancestry.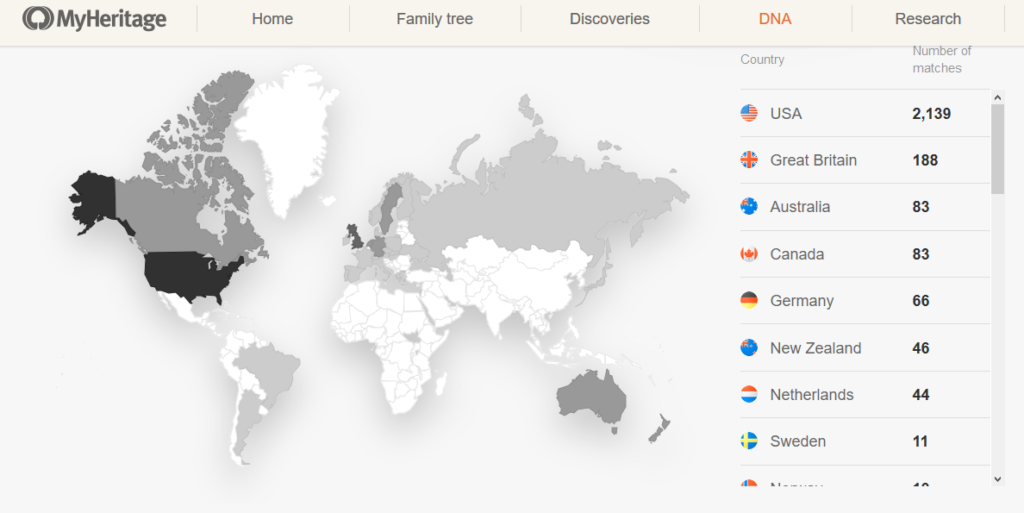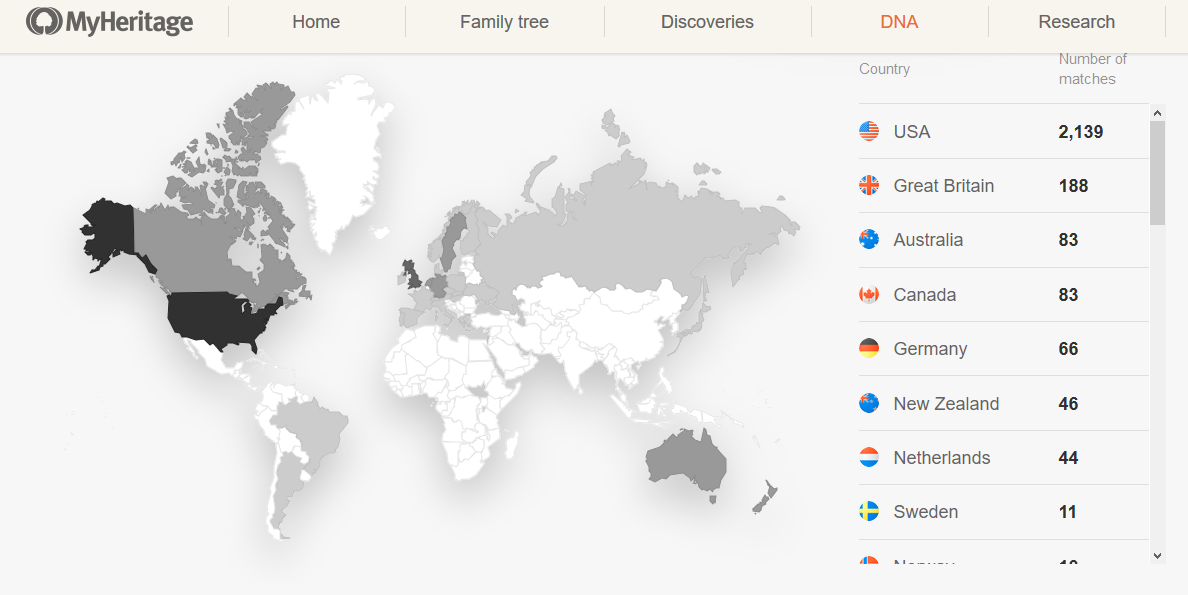 Update your DNA match profile
Take a few minutes to update your profile on your DNA testing site. This will greatly help your DNA matches understand how you might be related to them, and save both of you time.
For those of who aren't interested in being contacted, updating your profile can actually help avoid the random "how are we related" messages" that we all receive on occasion. Instead, your DNA matches will able to spot a surname listed on your profile and deduce your connection.
Some people (me, me, me!) love to hear from DNA matches, but I definitely appreciate when my matches have done a little bit of research first. This is why I include as much information on my profile as appropriate.
Most websites allow you to include your name, location, surnames in your family tree, research interests, and a link to your family tree. Of course, you don't have to include all of this information in your profile if you don't want to, but any small detail is helpful.
Consider building a small family tree if you do a DNA test
To have the best experience with your DNA results possible, I highly recommend building a small family tree to link to your profile. Ancestry DNA customers can actually link their family tree to their DNA results for access to more features.
Building a small family tree provides two main benefits:
It will help you become familiar with your ancestors going back a few generations. This can help you identify your closest DNA matches more easily.
Your DNA matches will appreciate your efforts since they will be able to spot your connection with them more easily, too.
Plus, once you go through the process of finding out the names of your most recent ancestors and entering them in to a family tree on Ancestry (super easy and free!), you might find that it's actually kind of fun.
I have had a very entertaining time learning about my ancestors and their journeys through life.
Analyze your ethnicity estimate and DNA match list
If you have gotten this far in this article, I am willing to guess that you are interested in digging a little deeper into your DNA results. Why not take a very close look at both your ethnicity estimate and DNA match list?
I've written two posts that will help you analyze these elements of your DNA results. The instructions are easy to follow, and you are sure to learn a ton:
Conclusion

I hope that this post has helped you understand some important and helpful steps that you can take after receiving your results that can help you get the most from your DNA test.
If you have any questions about something that you read here, or would like to share your own ideas, I would love to hear from you in the discussion below.
Thanks for being here today!