Are you trying to choose between MyHeritage DNA vs. Ancestry DNA for testing? Both companies offer a reliable DNA testing service at a similar price, so how do you decide which one is best for you?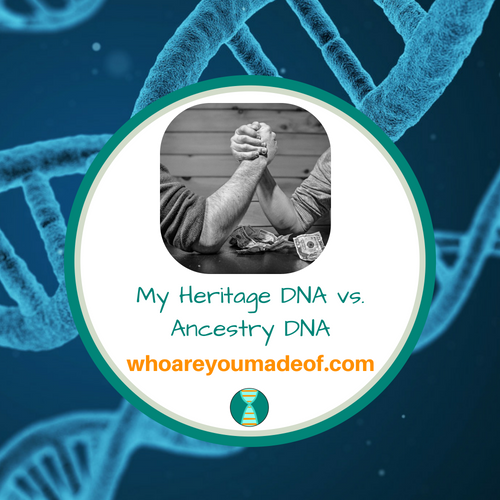 In this post, I'll tell you what I love about each company and what each one does better than the other. My goal is to provide you with as much information as possible so you can make an informed decision.
What's great about My Heritage DNA
MyHeritage DNA offers a lot of great features for DNA testers. First, their website feels very lightweight and it's easy to navigate around and find what you are looking for.
Their DNA testing database is filled with a diverse group of international test takers, which is very helpful for me and my immediate family. In fact, MyHeritage has the largest international database of DNA testers.
Both of my parents had grandparents were the children of immigrants to the United States, and my husband was born in Mexico.
This means that both my husband and I have tons of DNA cousins in several different countries, and MyHeritage has provided a lot of insight into where our living relatives currently reside.
For example, right on your DNA results page, you can get a "birds eye" view of where in the world your DNA matches live. The image below is from my results: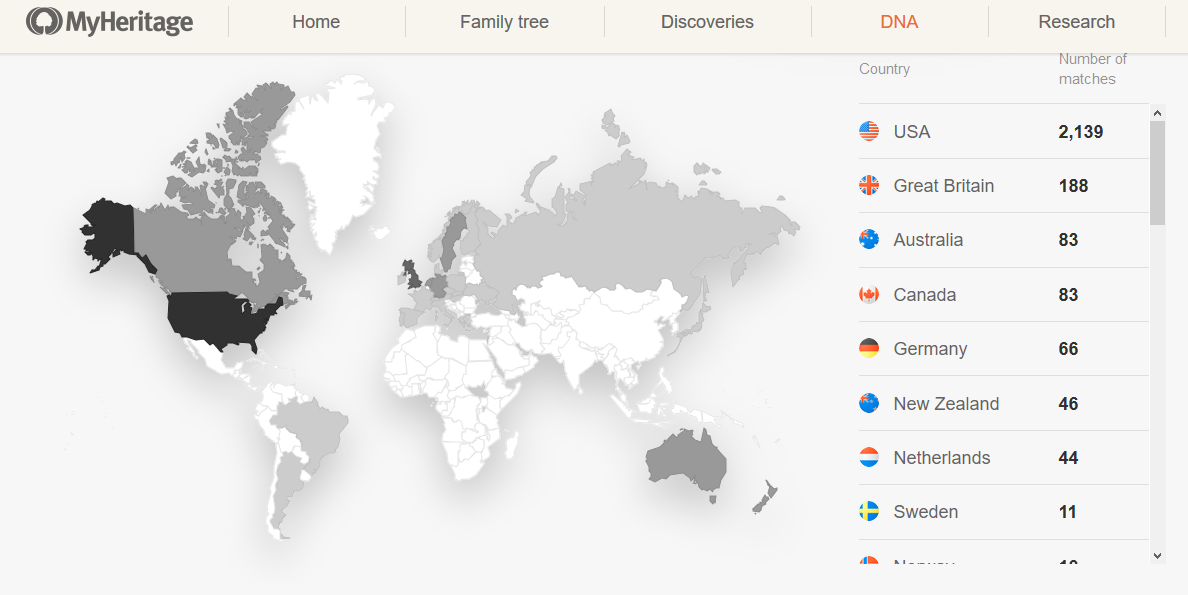 What else is there to love about MyHeritage?
As always, there is so much more to DNA results than meet the eye. Below, find a few other things that I love about MyHeritage DNA.
Interesting ethnicity estimate
The MyHeritage ethnicity estimate has gone through significant improvement over the past few years. With the addition of the Genetic Groups, a new feature that can identify more specific groups of people with which your ancestors may identify.
I also think that MyHeritage offers the best ethnicity estimates for people with Jewish roots, since they test for many more Jewish regions than the other testing companies.
Detail about DNA matches
You can see a lot of information about your DNA matches, including their ethnicity results, which helps you get an idea as to how you may be related. Additionally, provided with each match is a chromosome comparison, which can tell you (if you are interested) exactly where your matching segment is (or segments, in many cases).
The image below is a screenshot of a triangulated DNA segment visible on the chromosome browser:

When you are viewing a DNA match, you can easily see which DNA matches you share in common with the match, and how much DNA your match shares with them. Super helpful stuff, seriously!
This can help you break through brick walls and more easily identify how you are related to your match.
Excellent sort and filter features for matches
I love how you can sort and filter your DNA matches. You can filter them by how recent they are, names, largest shared DNA segment, highest shared DNA, and even by their name or a name found in their family tree.
You can sort by ethnicity, or by location, or even by whether or not they have a family tree. This makes going through a long, long list of DNA relatives fun and easy.
When you view your ethnicity estimate regions, you can listen to a clip of music typical to that region. I love this, and I think it is a thoughtful way to explore our heritage.
What My Heritage DNA does better than Ancestry
First, My Heritage does offer its DNA kit at a slightly lower price – generally about $10-30 less – than the price found at Ancestry. For those who are very sensitive to price, or who live on a fixed income, this difference might make the difference between being able to take a DNA test and not being able to take a test.
As I mentioned before, the MyHeritage DNA results offer an exceptionally robust view of DNA matches. MyHeritage has a great understanding of the type of information that is useful when using DNA matches to research a family tree, and they have provided above and beyond this threshold.
I truly enjoy checking my MyHeritage DNA matches, and get very excited when I see someone new show up.
What's great about Ancestry DNA
Most people become interested in DNA testing for the ethnicity estimate, and I have found that the Ancestry DNA estimate is the most accurate currently available. I have family members with heritage on every continent, and the Ancestry DNA test has most accurately "captured" the essence of their ancestry.
In addition, Ancestry DNA does regular updates of their ethnicity estimates. When this occurs, they often add new regions and more detailed sub-regions.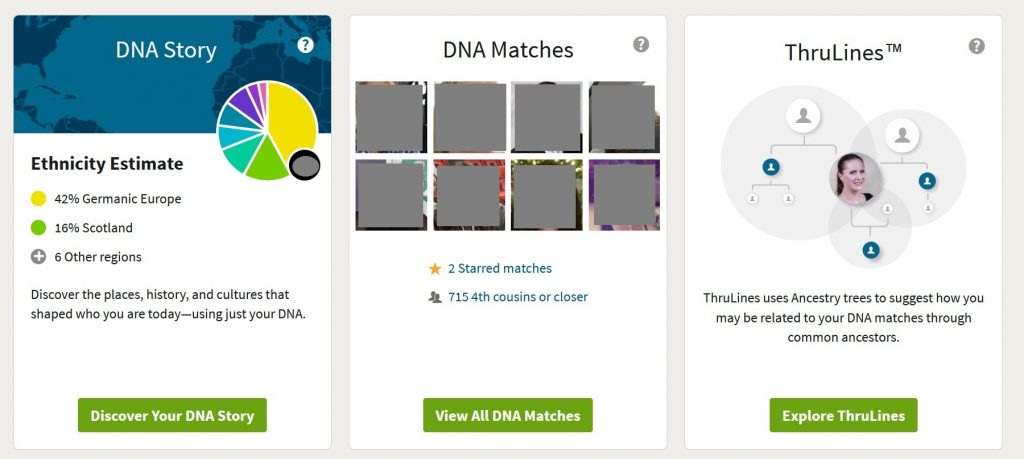 It is important to note that an ethnicity estimate can only test the DNA that we actually inherited, and we only inherited 50% of each of our parent's DNA – this tiny little (big) detail accounts for most of the confusion and skepticism among DNA test takers.
What else is great about Ancestry DNA?
Ancestry DNA has too many benefits to list in just one blog post, but below are a few of my favorite features.
Extra benefits from building your family tree on Ancestry AND testing your DNA there
Another great thing about Ancestry DNA is that you can connect your family tree with your DNA results. It's free and easy to build a family tree on Ancestry, no matter how big it gets.
If you attach your family tree to your DNA results, you can truly leverage the power of the incredible number of family trees on Ancestry's main genealogy site, as well as the size of the Ancestry DNA database.
You take a DNA test, build a family tree, and link them together. Ancestry's software will then analyze your DNA matches and compare their trees with your family trees.
As a result, if it turns out that you have the same ancestor in your family tree as your DNA match does, then they will appear as a Common Ancestor hint on your DNA match list. Common Ancestor hints are a great way to determine if your family tree is correct, or even to build your tree out further, since some of your DNA matches might know more about that line of the family than you do.
Also available on Ancestry DNA are ThruLines. When Ancestry's software notices that there are DNA matches descended from people who are in your family tree, or who might also be descended from your ancestors, they will create a ThruLine for the ancestor.
This is a good way to get additional verification – proof, if you will – that you are descended from a particular person. In addition, it is an excellent way to determine how you might be related to some of your DNA matches.
Additionally, you might even find Potential Ancestors in your ThruLines. These are people who are not in your family tree, but who Ancestry's software has determined might be your ancestors.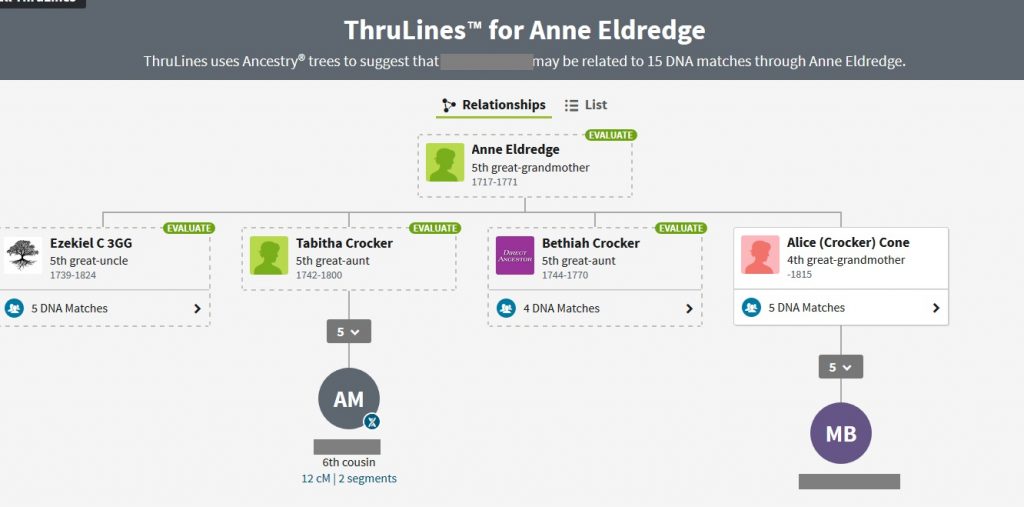 The image above is one of my ThruLines. Anne Eldredge might be my 5th great-grandmother, and the evidence for this is that I have DNA matches who are descended from four of her children.
What Ancestry DNA does better than My Heritage
Ancestry DNA has a significantly larger database of DNA test takers. The Ancestry DNA database is estimated to contain DNA from about 18 million people, which is a huge number compared to the respectable (estimated) 3.7 million that are in the My Heritage DNA database.
This is the biggest advantage of doing a DNA test with Ancestry DNA.
Ancestry DNA also does a very good job of drawing connections between DNA matches and the ethnicity estimate, which is exactly how an ethnicity estimate should be used. Through the Ancestry DNA migrations feature, Ancestry DNA is able to tell you the migration patterns that your ancestors likely took over the past few hundred years.
They are able to do this because the sheer size of their database, millions upon millions of family trees on the site, as well as some pretty advanced analysis using their proprietary technologies.
Note: The numbers used in this article referring to the size of the Ancestry DNA and MyHeritage DNA database size are estimated based on data from 2020. If you have updated numbers and sources that you would like to submit for inclusion in the post, please leave a comment in the discussion below the article.
How to choose between My Heritage DNA and Ancestry DNA
As I mentioned at the beginning of the post, both companies offer a very good DNA test and you will get reliable results with whichever one you choose. If you are very serious about finding living family, have some tough mysteries in your family tree to solve, or just want to have your DNA test included in the largest commercial DNA database, then you should definitely choose Ancestry DNA.
If you know that you have a lot of family members living outside the United States, have Jewish ancestry, or absolutely require a chromosome browser, then I would recommend My Heritage DNA.
Recommendation: A third option would be to do your DNA test with Ancestry DNA then transfer your DNA data to My Heritage DNA – this is a great option, and it is currently free.
Do you know which one you want to use?
If you know that you want to do a DNA test with Ancestry DNA, you can use the following link to order your test (I will receive a small commission at no extra cost to you, so thanks!):
You can use this sponsored link to order your Ancestry DNA kit: Discover the story AncestryDNA® can tell.
Do you think you would prefer My Heritage? You can use the following link to get your kit:
Amaze yourself! Uncover your ethnic origins and find new relatives with the simple MyHeritage DNA test.
Conclusion
I hope that this post helped give you the information that you need to help you decide whether to do your DNA test with My Heritage DNA or Ancestry DNA. If you have any questions, comments, or concerns about something that you read in this post, I would love to hear from you in the comments below.
Thanks for stopping by!