Genealogy and family history are basically the same, right? Not exactly. In this post, learn the important difference between family history and genealogy.
You will also discover the definition of genealogy and family history.
It is true that there are similarities between genealogy and the study of family history. In fact, genealogy and family history research are so similar that the study of family history is often included in the technical definition of genealogy.
However, just because two things are very similar doesn't mean they are the same. There is a lively debate among genealogists, historians, and family history researchers about whether family history and genealogy are two entirely different fields.
By the end of this post, you will have a good understanding of the major differences between genealogy and family history.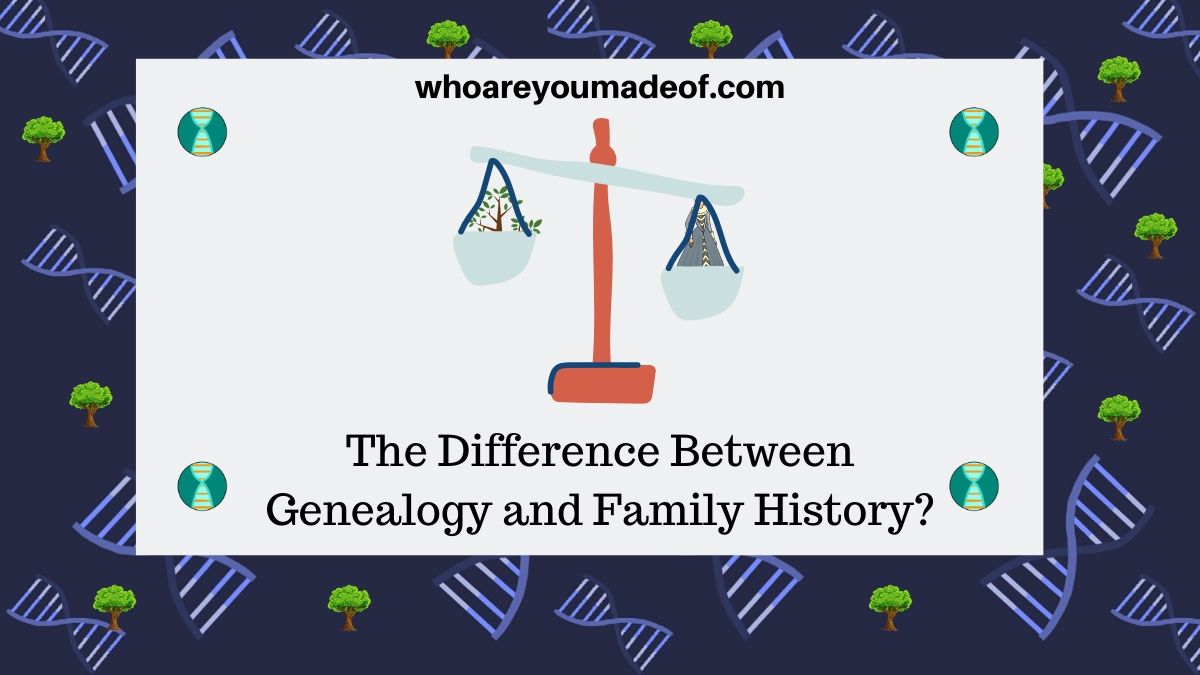 What is the definition of genealogy?
Genealogy is the study of a family and family relationships with the intent of making a pedigree, or genealogy. Genealogy records, along with DNA evidence, are used to document relationships between individuals in order to understand and construct one's pedigree.
In other words, genealogy is building a family tree.
Genealogy is usually most concerned with vital dates, such as the date of birth, death, and marriage of ancestors. This type of research can be performed by amateur or professional genealogists.
What is family history?
Family history is the study of the lives, relationships, and the history of a family, with the goal of understanding each ancestor's life story. Family history research is sometimes compiled into a collection of documents to share with family or publish.
Like genealogists, family history researchers use genealogy records to document their family history. The scope and range of the type of information family historians use may be wider in some cases, as the family history researcher is interested in almost every aspect of their ancestor's life, even those that do not help discover new ancestors or relatives.
Most family history research is performed by amateur researchers who have an intense interest in their own family history and would like to preserve the history for future descendants.
What is the main difference between genealogy and family history?
As we mentioned above, genealogy typically involves using evidence to determine the identify the ancestors and descendants of individuals within a family.
Family history researchers use the product of genealogy research to develop a framework for the advancement of one's family history.
I love a construction analogy for comparing genealogy to family history.
Genealogy is the wooden frame of the house.
Family history is the tile on the bathroom floor, the color chosen to paint the kitchen, the paintings on the wall in the foyer, and the pattern of the wallpaper in the bathroom.
We couldn't build a house without the frame, and we can't do family history research without genealogy.
Most importantly, who would want to live in the house that doesn't have walls, furniture, or pretty decorations?
Family history focuses on stories while genealogy stresses data
In other words, genealogy focuses on the data required to build the framework of our family. The name and date of birth of a person's parents, for example, help us develop a starting point for family history research.
Without this data, we wouldn't know how to direct our deeper search for understanding the family's history. We might want to know why the family left one continent to live on another, or what our ancestor did as a profession, and how their collective decisions shaped our own lives.
Using our construction analogy, the dates of birth, marriage and death, are the frame of the house. The color of the paint on the living room wall is the name of the town where our ancestors made their new life together, and the wallpaper in the bathroom is the collection of cultural traditions that they passed down to us.
Genealogy is the "what" and family history is the "why"
I am sure that I am not the only person who dives as deep into my family history as possible. My quest is to find why my ancestors made certain decisions.
For example, why did my great-great grandfather leave Philadelphia after the death of his wife? He went to Newark, but why?
The facts are that his wife died in 1903 and he remarried in 1904. He met his second wife in Newark, and I am very interested in know why he left Philadelphia, the only American city he had known since he immigrated from Poland years before his wife's death.
If he hadn't moved to Newark, he would not have met his second wife. They would not have had a child, my great-grandfather.
Therefore, I would not exist.
This is why the "why" of family history is so important to many of us. Why are we here? Which events in our family's history led to our existence?
Why did we become who we are?
Are you a genealogist, a family history researcher, or both?
When I started out writing this post, I wasn't sure which "camp" I would fall into. Am I more interested in the genealogy-aspect of my family, tracing my ancestors back as far as possible?
Or, am I a family history researcher? Is my desire to understand as much as possible about my family's story and the context in which they lived more important than tracing my father's line back to the 1600s?
I absolutely love learning about my ancestors, especially those ancestors who were born after about 1850. I find that it is easier to learn about the details of their lives, and it fascinates me.
Even though my passion is learning the intimate details of my ancestor's lives and trying to figure out why they made the decisions that they did, I do enjoy genealogy.
As you now know, despite important differences between family history research and genealogy, there is significant overlap.
In addition, I am a HUGE fan of DNA for genealogy. DNA segments and chromosome data have more to do with proving kinship than explaining our ancestors' behavior.
I suspect that most of us consider ourselves to be genealogists with a passion for family history. After all, the desire to learn about our family is usually what inspires us to participate in genealogy.
Conclusion
I hope that this post helped you learn more about how genealogy and family history differ.
I'm left with one important question. Do you consider yourself a family history researcher or a genealogist with a focus on your ancestral lineage?
I'd love to hear from you in the discussion below.
Thanks for stopping by today!