Do you want to know if 23andMe is more accurate than Ancestry? For those wanting to choose the best DNA test and learn the most from their results, this is an important question.
In this post, learn the answer. Spoiler alert: the answer is not what you might think.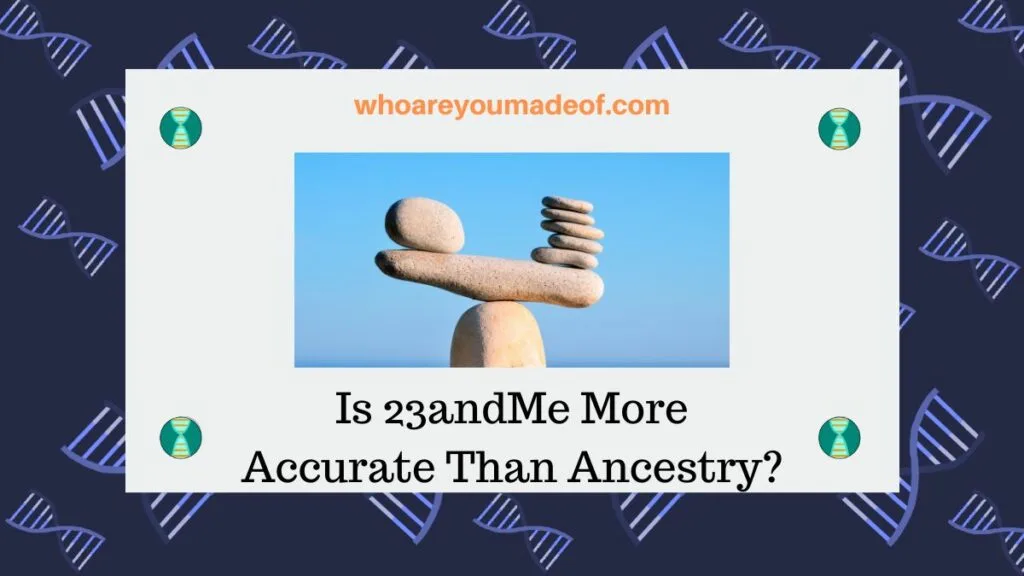 Why do so many people wonder which of these two tests are most accurate? It's because Ancestry and 23andMe are the two most popular companies offering consumer DNA testing for learning about ancestry.
Customers often choose between these two companies when deciding which test to take, or sometimes even take both tests. When results don't look exactly the same, there is often a discussion about which company offers the most precise results.
Is 23andMe better than Ancestry?
The DNA tests offered by Ancestry and 23andMe are both excellent DNA tests. For anyone who wants to learn about where their ancestors may have lived, both of these companies offer a great product.
Both companies have many years of experience in the DNA testing field and have millions of customers in their database. The size of their DNA testing database matters because it has a direct impact on both the number of DNA matches that we can find on their websites and in the quality of ethnicity or ancestry estimates provided.
The results that 23andMe and Ancestry they offer do have differences that I will explain below, but they are both great choices. If you are trying to decide between these two DNA tests, or want to know why your results from both companies seem different, I hope that the information below helps you.
23andMe Ancestry Composition Report vs. Ancestry Ethnicity Estimate
One of the top reasons people decide to take DNA tests is for the ethnicity or ancestry estimate. This estimate tells which regions of the world most closely match our DNA and can help us understand where our ancestors may have lived.
Below is an example from the 23andMe Ancestry Composition report. Every individual person will see different results based on their family's unique ancestry and the DNA that they inherited from their ancestors.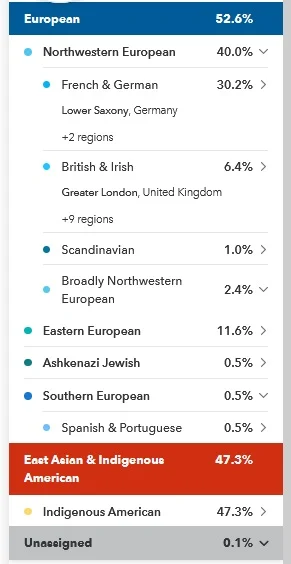 The 23andMe and Ancestry tests both provide reliable results, so there is no meaningful difference in accuracy between tests. However, there are a few things that you might notice if you compare your 23andMe results with those from Ancestry.

Your 23andMe Ancestry Report will provide you with:
With Ancestry you get:
As you can see, both the Ancestry and 23andMe ethnicity results are great, which means no results are really better than the other. However, you can also see from the lists that there are a few differences that might be important to you.
For example, with 23andMe, you do see the very small percentages that you don't usually get with Ancestry. In addition, you do have the ability to download the ethnicity data by DNA segment from the Chromosome Painter.
Ancestry does have a Chromosome Painter, but we can't download the data at this point. However, Ancestry does have the Genetic DNA Communities feature, which is not offered on 23andMe.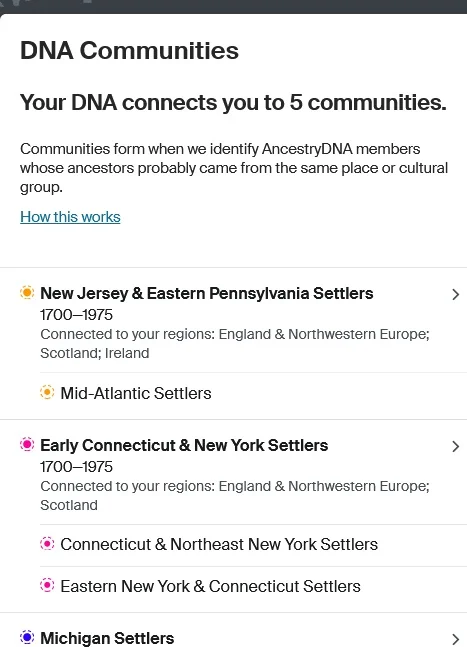 Both sites approach the ethnicity estimate results a little differently, with 23andMe showing how closely your DNA matches within states, regions or administrative districts in a specific country. Ancestry has more categories of Ethnicity Regions and Communities with which to compare your DNA.
Which test is best for you will depend on what your needs are exactly.
DNA matches on 23andMe vs. Ancestry
DNA matches that show up on our DNA match lists on both 23andMe and Ancestry are very accurate, especially those DNA matches that show up towards the beginning, or top, of our match lists. These matches are our closest relatives that have also done DNA tests with the same company.
Below is what the basic DNA Relatives list looks like on 23andMe. If you click on a particular match, you can learn more about them: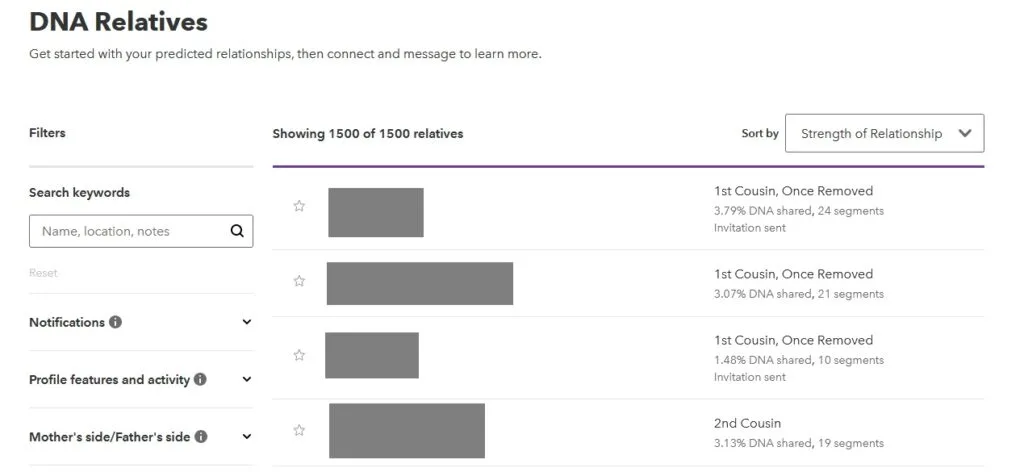 Even though both DNA tests offer a very accurate DNA match list, we do see some obvious differences. Aside from the visual way that DNA matches are presented on each website, there are notable pieces of information offered by 23andMe and Ancestry that is not easily available on the other site.
On the 23andMe DNA match list, we can usually see:
On Ancestry's DNA match list, we will find:

You can understand from these two separate, lengthy lists of all that is offered on each DNA match list that we can really learn a lot from DNA matches on either site. Both DNA match lists are regularly updated as more customers take DNA tests and more matches are discovered, and new features are always available for those who have already tested.
If both companies offer a great DNA match list, how do you choose between them? Which DNA match list is best?
My recommendation has always been to take both tests, if at all possible, but this isn't always possible for everyone.
The biggest differences between the DNA match lists, in my experience, is that we often get more overall DNA matches with Ancestry because their database is much larger than that of 23andMe. However, with 23andMe, we do get the Chromosome Browser, which allows us to learn a bit more about the DNA that we share with our matches at the chromosome level.
So, making the decision about which DNA match list is better is going to depend on your own personal preference and what type of information you are hoping to learn from your DNA testing experience.
Conclusion
I hope that this post has helped you understand the question that many have, which relates to whether 23andMe is more accurate than Ancestry, or vice versa. As you now know, it is more complicated than a simple "yes or no" answer.
If you have any questions about something that you read in this post, or if you have tested with both Ancestry and 23andMe and would like to share an observation that you have made while comparing your results, I would love to hear from you in the discussion below.
Thanks for stopping by!