Did you know that you now can see the size of the longest segment shared with your DNA matches on Ancestry? In this post find out how to find and use this information.
In addition, learn what it means if the longest segment shared is more than the total amount of shared DNA.
The longest segment feature on Ancestry is feature that was launched in August 2020. This was a big change made by Ancestry, which continually works to make our DNA testing experience better every year.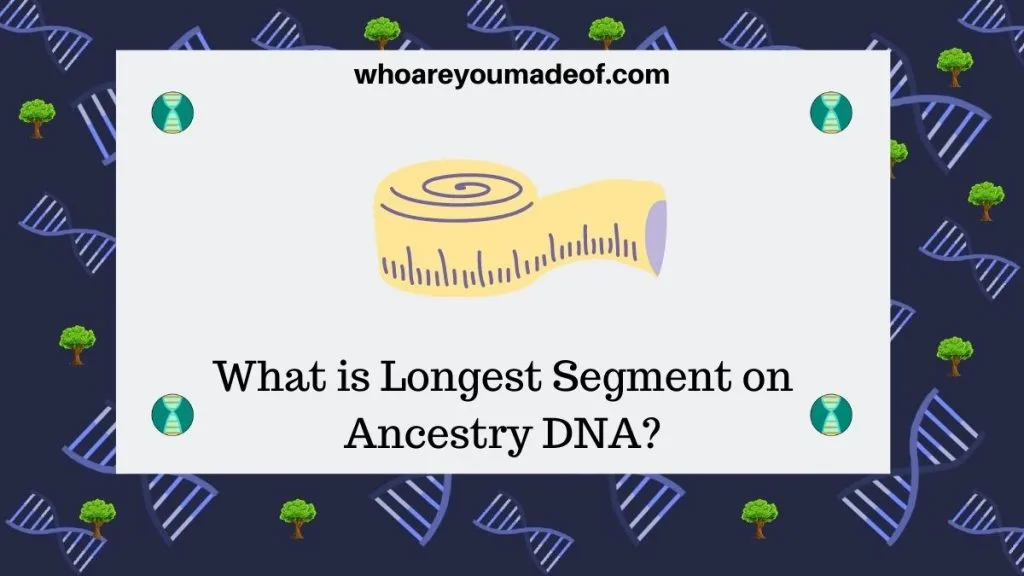 I am incredibly excited about this new feature. As you will discover in this post, this is a very big and important change.
Our Ancestry DNA match lists just got much better!
What does longest segment mean?
The longest segment is the size of the longest identical region of shared DNA between two matches, measured in centimorgans.
When Ancestry DNA tests our DNA, they compare our DNA with the data from the millions of other customers who have also tested their DNA with the company.
When they find areas in our chromosomes that match identical regions in the chromosomes of other Ancestry DNA users, they report them as a DNA match. These "areas" (or regions) of matching DNA are called DNA segments.
We might share multiple DNA segments with a match, or only a single segment. The longest segment on Ancestry DNA is the longest shared segment of DNA among all the shared segments.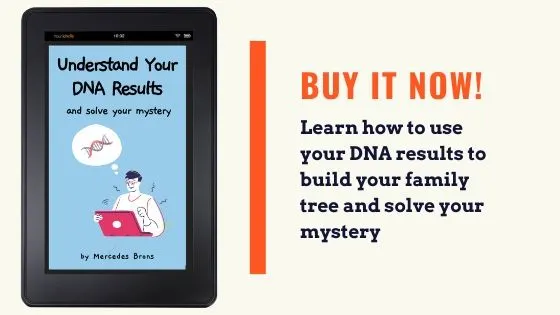 How to find longest segment on Ancestry DNA
In order to find the longest segment of DNA that you share with a match on Ancestry, you must first log in to the site and navigate to your DNA match list. Choose a match and click on their name to access the DNA match profile.
From the DNA match profile page, you will see your name and the name of your DNA match, as well as your profile photos, if you have them. You will see a little bit about the characteristics of your shared DNA.
This is where you will find where to click to find the longest segment information. In the image below, you can see the red arrow pointing to where Ancestry indicates that I share 2% shared DNA with my match.

If you click on the blue text, it will open up a new screen where you can learn more about the DNA that you share with your match. Below is a screen capture of what I see when I clicked on the blue text from the main DNA match profile page:

You can see that my match and I share 158 cMs across 10 segments. The longest segment, which is a very helpful bit of information, is 44 centimorgans in length.
What we can learn from this information is that these DNA matches share three DNA segments total. The longest one is 44 cMs, and we don't know exactly how long the other ten are.
These two DNA matches happen to be half-second cousins. They share one great-grandparent, and the amount of shared DNA falls within the range of expected shared DNA for cousins of this relationship distance.
Why largest segment is important on Ancestry
The size of the largest segment is very helpful for those of us who need to figure out how we are related to our DNA matches. The larger the DNA segment, the more recent the common ancestor.
In other words, a long DNA segment can often indicate a closer relationship. Short DNA segments are usually shared with more distant relatives.
The reason that the size of the longest segment indicates a more recent ancestor is because of the way that DNA is inherited. When we inherit DNA from our parents, we get very long segments from them.
We will share many long segments with our siblings, who are our closest relatives, parents aside.
When we have children, we will pass down to them parts of those DNA segments that match our siblings. Our siblings will do the same when they have children.
Our children and their children, first cousins, will share fairly long segments. When all of these first cousins have offspring, they will pass down matching, yet shorter, segments to their children.
The DNA segments that this latest generation of children will have inherited from our parents, their great-grandparents, will be much smaller than the ones that their parents inherited.
As this inheritance pattern continues, the shared segments between the descendants of our parents will get smaller with each new generation.
It's very exciting to be able to see the size of the longest segment, and below I will explain the basics of how to use this information to estimate how you might be related to your DNA match.
How to use longest segment information
There is no definite guideline as to how big a segment has to be to be called a large or small segment. In addition, DNA is selected for inheritance in a random fashion, so segments are not "broken up" to be passed down to the next generation in a uniform pattern.
Even so, we can use the size of the longest segment to get a general idea as to how far back a common ancestor might be in our family tree.
Before we continue, it is important to note that we must always use the size of the longest segment in addition to other details about our shared DNA and family tree information. This includes the total amount of shared DNA (key for estimating a relationship) and how many DNA segments are shared.
As a very general rule of thumb for my own research, I use the following guidelines for judging the size of a segment:
Less than 12 cMs = small
Between 12-50 cMs = medium
Between than 50-100 cMs = large
Longer than 100 cMs = very large
We also know that we absolutely must share DNA with our close relatives, as well as first and second cousins. Almost everyone will also share DNA with their second cousins once-removed.
It's possible to share no DNA with our third cousins, however. This means that DNA segments shared with third cousins can be few and small, though they aren't always.
In addition, we expect to share many DNA segments with our closer relatives and fewer segments with our more distant relatives.
To put all of this into action, we can walk through a couple of examples.
Example 1
George shares a single segment with his DNA match, Cindy. The segment is 52 centimorgans in length.
Both George and Cindy have their family trees on Ancestry and we don't see any common ancestors on any lines going back to great-great-great-great grandparents.
We take a look at the Shared cM Calculator on DNA Painter and notice that the most likely relationship is some form of third cousin (i.e. third cousin, third cousin once or twice-removed).
There are some more distant relationships suggested on the calculator, but we feel like a version of third cousin is most likely because of the size of the single shared segment.
Example 2
Mark has a DNA match named Frank on his match list. They share a total of 31 centimorgans across eleven DNA segments, and the size of the longest segment is 11 cMs.
Mark knows some of his family history and has a relatively complete family tree going back a few generations. Frank doesn't have a family tree on his account.
(Mark reads my post "How is your DNA related? Here's a checklist to find out more ways to determine how he is related to Frank, even though he doesn't have a family tree.)
The size of the largest segment shared between Mark and Frank is small, according to my informal guidelines. Most segments this small, unless shared along with larger segments, indicate a more distant ancestor.
The other thing we notice is that they share a total of 31 centimorgans. If the longest segment is 11 cMs in length, it means that the total of the other two is 20 cMs.
We also know the other two are smaller than 11 cMs, which means that they are also in the "small" category.
We check out the DNA Painter Shared cM tool (link above in the first example) and we realize that the estimated relationship backs up our theory that they are probably related at a fourth cousin distance or even more distantly.
In addition, we note that the shared small segments could be evidence of endogamy and having multiple common ancestors on different lines.
Longest Segment Less Than Shared DNA on Ancestry
Ancestry wants our DNA results to be as useful to us as possible, so they have developed a complicated algorithm, called Timber, that they use to help us determine whether our shared DNA segments are from a recent ancestor.
The size of the longest segment that we currently see on our Ancestry DNA match profile is the pre-Timber length. The total amount of shared DNA, reported in centimorgans, is the total after Timber has been applied.

Some of the DNA that we inherited from our recent ancestors has been passed down for many, many generations from a common ancestor so long ago that it would be impossible to identify the source. People who share ancestry in a particular region are more likely to share DNA segments that have been passed down in this fashion from very, very distant ancestors.
When Ancestry's Timber algorithm notices that a particular DNA segment is shared by an unusual number of Ancestry customers, it automatically "down-weights" the segment, effectively assigning it less value.
We know that we are less likely to share recent common ancestors with DNA matches that share only very small segments with us. Segments that have gone through Timber (they've been "Timbered") may indeed be inherited from a shared common ancestor, but too far back to be identifiable using any method we have at our disposal.
It is important to note that Timber is not used for DNA matches that share more than 90 centimorgans. This is because these matches are very likely to share a relatively recent (i.e. identifiable) common ancestor and all shared DNA segments are more likely to have been inherited from the common ancestor, even if it is one that is shared with many people on the site.
I don't know whether Ancestry DNA intends to continue to display the longest segment from the pre-Timber data. For now, it's just good to know the details behind what we see on our match pages.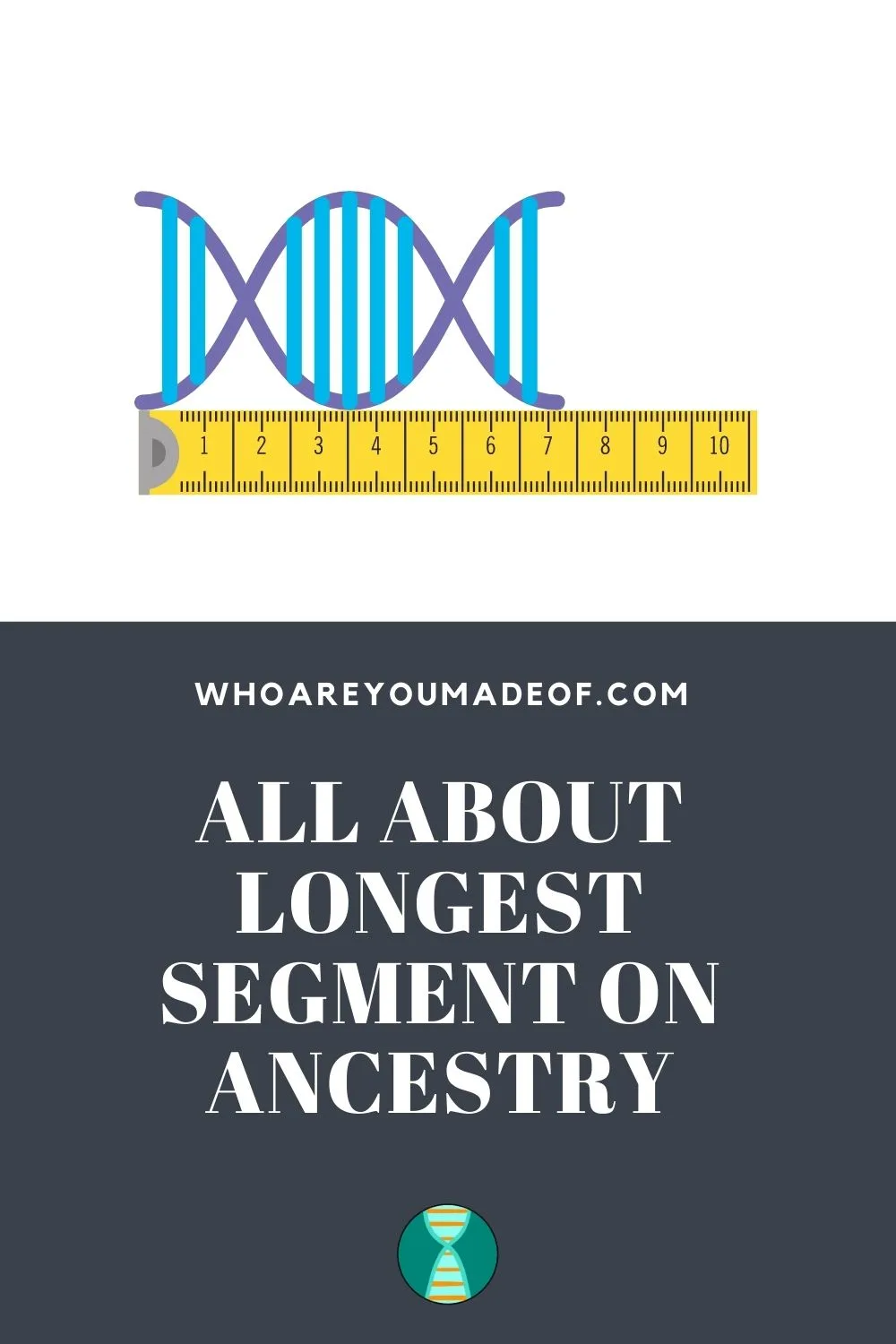 Conclusion
I hope that this post has helped you understand more about how to find the longest segment data on Ancestry and how this information can help you figure out how you are related to your DNA match.
If you have any questions about something that you read in this post, or if you have a question about the size of a DNA segment you share with a match, I would love to hear from you in the discussion below.
Thanks for stopping by today!