In the first post about how to understand your Ancestry DNA results, I discussed how to understand your ethnicity results. In this post, we will talk about the really, super cool part: finding new family members and tracing your family tree.
DNA matches are my favorite part of my DNA results. I love my DNA match list, and I hope that after reading this post, you understand how much you can really get from your Ancestry DNA results.
How to access your Ancestry DNA matches
When you log into Ancestry, click on the "DNA" tab. After the page loads, scroll down just a little until you see a section that looks something like this: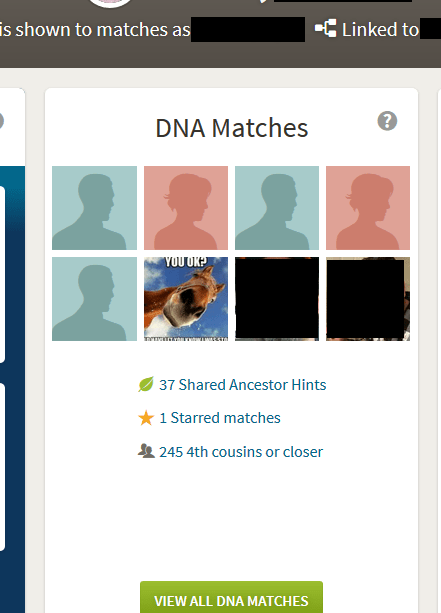 You can find all of your DNA matches in the middle section. Click on "VIEW ALL DNA MATCHES" to pull up your list. The screenshot above is from my results. It shows me that I have 245 matches that are estimated to be at a 4th cousin level or closer.
A year and a half after I originally wrote this post, I have 458 DNA matches that match me at a 4th cousin level or closer. My DNA match list is a gift that keeps on giving 🙂
Don't worry if your number is a smaller number – you will still have tons of more distant cousins that you can find to help you with your family/ancestry search. Plus, since Ancestry DNA continues to add new people to your match list as more people do DNA tests, you will find that you'll get more close matches over time.
For example, when my husband first took his test, he only had 2-3 4th cousin or closer matches. He now has 20! (Update: A year and a half later, he now has more than 50! Find out why you don't have more DNA matches)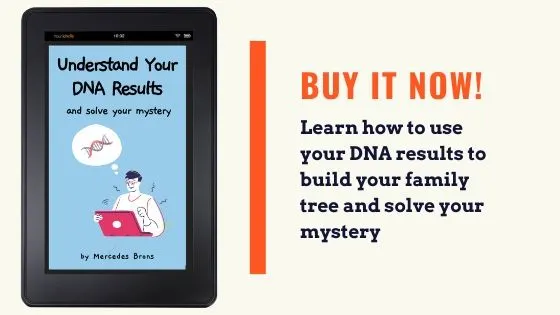 Once your "cousin matches" load – a lot of us in the DNA genealogy circle just call them all cousins – you will see that everyone has been sorted and placed into groups. The matches are also listed in order of the amount of DNA that they share with you and estimated closeness of your relationship.
I also put a giant heart instead of their profile picture to protect their privacy, and because I love all of my matches! They are, after all, family.
Let's take a look at my results. I always try to protect the privacy of my "matches" by blanking out their names, but it should still help you.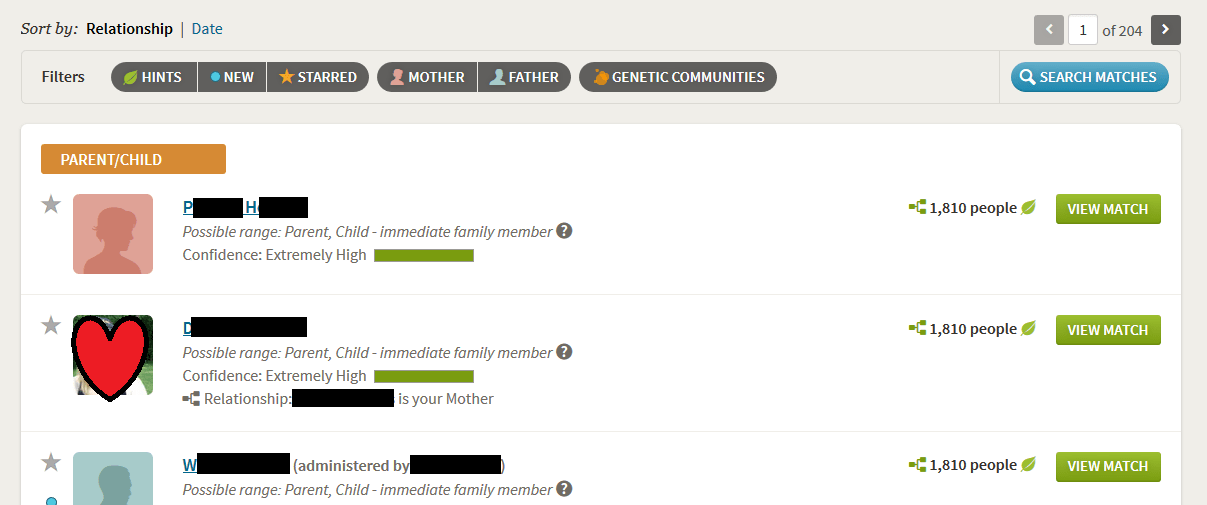 This is what my match list looks like now. The first person listed is my daughter, the second is my mother, and the third is my father. My list looks like this now, but when I first tested, I didn't have nearly as many matches.
I had my parents do the DNA test to help with my research. I know that not everyone is lucky enough to still have their parents living and willing/able to do this test, but it is very helpful and wonderful if they can do it.
You can see under where my mother shows up (the second person in the list). It clearly lists that she is my mother. It says the same thing for my father. It says the same thing on my daughter's account when my name is on her list. It says very clearly that I am her mother.
More distant relationships, even close family, get a little more complicated. Ancestry's computer software analyzes how much DNA you share with your matches, and then puts them in categories based on those results.
For example, a first cousin and a half-aunt share roughly the same amount of DNA, so Ancestry just puts them both in the same group. It is then up to you to figure out who exactly they are – a first cousin or a half-aunt.
(If you are wondering what a half-aunt is, it is an aunt who is the child of only one of YOUR biological grandparents. In other words, a half-sibling to one of your parents. You will share 50% less DNA with this half-sibling of your parent than you would with a full aunt.)
What you can learn about your Ancestry DNA matches for free (without subscription)
There is a lot of information that you can learn about your DNA matches for free, without having a subscription:
Their name, if they use it as their Ancestry username
How much DNA they share with you (how many centimorgans)
Ancestry's software's prediction of your relationship (usually a VERY loose estimate)
Their ethnicity regions
DNA matches that you and the match have in common – "Shared Matches"
You can message your matches directly from the "View Match" screen.
Whether you share a DNA Circle in common
For example, take a peek at this screenshot of one of my cousin matches. Her grandparents are my great-great-great grandparents. This makes her my first cousin three-times removed. If you are wondering how in the world this is possible, people live a long time in my family. Her parents were born in the 1880s!
And she lived long enough to take a DNA test in 2016. It's so incredible to me.

In order to learn how many centimorgans we share, I have to click on that little "i" where it says "Confidence: Extremely High". If you do that, you will see a little box pop up that looks like this: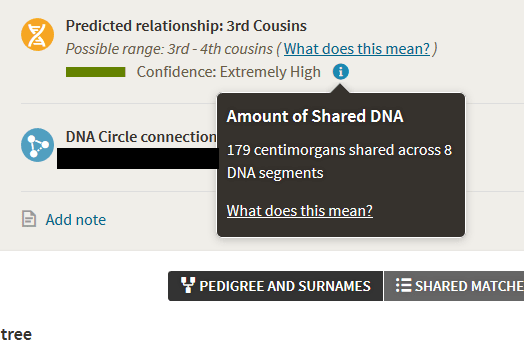 Notice that Ancestry predicts that we are in the 3rd to 4th cousin range, when we are actually first-cousins three times-removed. My great-grandfather was her first cousin. This just shows that you need to view your matches with an open mind and take Ancestry's estimates with a grain of salt.
Otherwise, you might miss the chance to make important connections.
What do you need to have an Ancestry subscription to access in your DNA results
Even though you paid Ancestry DNA to do the DNA test, they are still a for-profit corporation and of course, there is a catch. If you want to have access to your family matches' family trees (assuming they have one online), you will need to have a subscription.
Fortunately, it is not very expensive and you can even get a free trial.
Tip: An Ancestry subscription is useful for seeing the family trees of your DNA matches and building a family tree using records, documents, and photographs available on the site.
Pro tip: A subscription will also allow you access to the messaging system on the whole site and access to tons of great documents and records.
For those of you who have a subscription, when you click on "View Match" beside anyone's name on your list, it will show you several generations of their family tree. This is one of the most valuable aspects of doing a DNA test with Ancestry, since they have the largest DNA test database and the added benefit of having millions of family trees and many that are connected to DNA test results.
How to get the most from your Ancestry DNA results
The best way to really learn the most you can from your DNA test is to start researching your family tree. I would recommend building a tree on Ancestry and attaching your DNA results to it. You don't need to have a subscription on Ancestry to build a tree.
Once you build you tree and attach it to your results, you'll see great things like "Shared Ancestor Hints" and maybe even "DNA Circles" appear in your results.
If you would prefer to do your research on your family tree on a different website, you might be interested in my post about family tree research where I discuss free and paid websites for finding family tree records.
Conclusion
So that is about it for a basic overview of how to understand your results. Of course, you can get very deep into each cousin match and all the nuanced details. I'll make plenty more posts about these different topics.
Have you found anything interesting or confusing in your matches? I'd love to see if I can help you figure things out – ask me in the comments!