Do you want to find out how to know if your parents are related? In this post, find out how to use and understand the Gedmatch Are Your Parents Related Tool results.
This article will show you:
How to tell if your parents are related
An example of results from this tool for someone whose parents are related
An example of results for someone whose parents are likely not related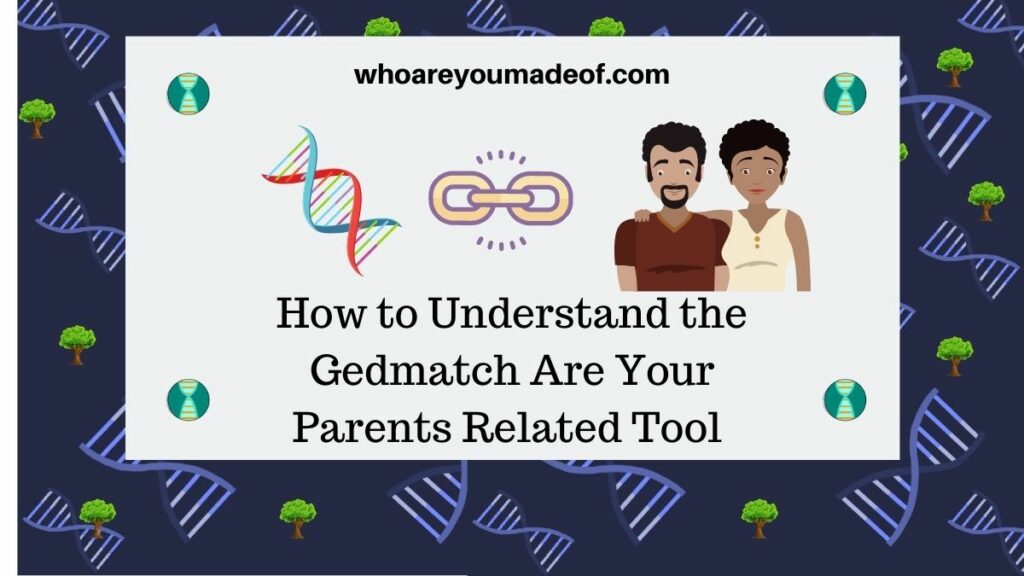 When I first saw the "Are Your Parents Related" tool, I thought it was cute, and I ran my DNA through it out of curiosity. I was pretty sure that my parents weren't related, as I had been doing family tree research for quite a while and had seen no evidence that their lines overlapped in recent history.
However, I now know that it's not that uncommon for parents to be distantly related to each other. This is especially true if they both have common ancestral origins.
After years of helping family and friends work through their DNA results, learning about chromosome browsers and even chromosome mapping, I realized that this tool can provide very useful information to people whose parents share ancestry.
How to tell if your parents are related using DNA
Your parents are most likely to be related – even distantly – if they share common ancestral origins. Additionally, people who descend from endogamous communities will also be more likely to find that their parents share common ancestors.
If you have done a DNA test, you can upload your DNA to Gedmatch and run your DNA through the "Are Your Parents Related" tool. If your DNA is already on Gedmatch, you can access this tool from your main homescreen. The only information that you need is your kit number.
How can the "Are Your Parents Related" tool tell you whether your parents are likely related?
Each human has 22 non-sex chromosomes, and we inherit one recombined copy of each chromosome from both of our parents. The "Are Your Parents Related" tool examines each of our chromosomes (in literally seconds) to see if there are "fully identical regions" where both copies of a chromosome match.
If there are areas on your chromosome where both copies of the chromosome match as a fully identical region, there is a possibility that both of your parents inherited that particular DNA segment from one of the ancestors that they share in common. The larger the fully identical region, the higher the possibility is that this occurred.
You can also estimate the distance to the most recent common ancestor using the size of the largest fully identical region to estimate how far back your parents' common ancestor might be.
Note: If both of your parents have done DNA tests, you don't need to use this Gedmatch tool. Instead, you can use the Gedmatch One-to-One tool to see if your parents share matching DNA segments.
Example of How Are Your Parents Related Results on Gedmatch for someone whose parents are related
In order to illustrate for you the concept of fully identical regions in someone's DNA where both copies of the same chromosome have matching SNPs, I will walk you through the following results from the "Are Your Parents Related" tool.
There was a high likelihood that this individual's parents share a several common ancestor based on their ancestral roots, and they were not surprised to learn that their parents likely share at least one recent common ancestor: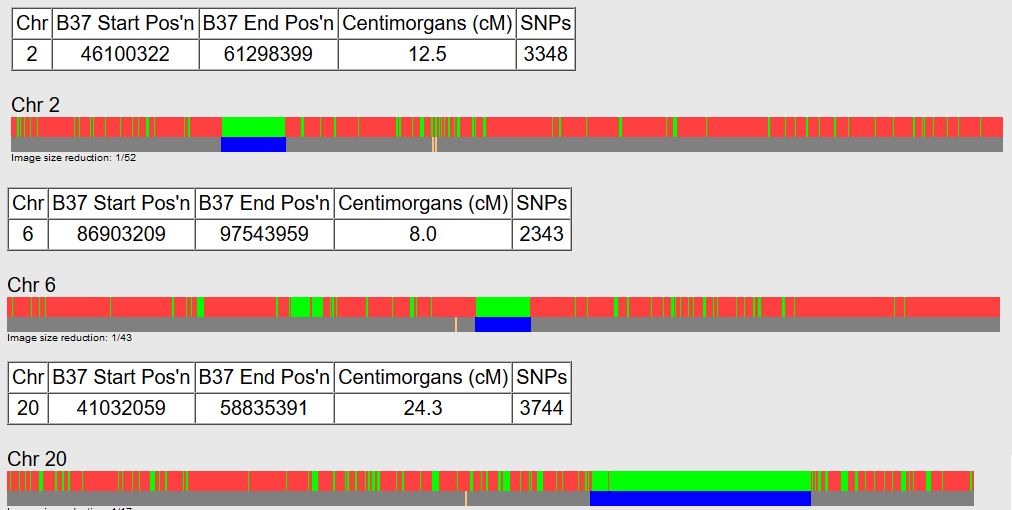 In the image above, you might notice that I included information from Chromosome 2, 6, and 20. This is where this tool spotted identical regions on this individual's chromosomes. In other words, regions where the copy of the chromosome this person inherited from each of his parents is identical.
(The tool includes images from ALL 22 chromosomes, but I cut most of these out to save space in this post and only displayed those where full identical regions were found)
For each chromosome, you should see a colored bar below the number of the chromosome. The most prominent color on most people's results will likely be the pinkish color. Regions of the chromosome that are shown in pink are areas where both copies of the chromosome don't match.
You should see the Chromosome number, the start and end position, the number of centimorgans (cMs) indicating fully identical segment length, and SNPs tested. This information is only shown for segments that are longer than 7 cMs in length, since smaller segments are more likely to be identical-by-state instead of identical by descent.
Let's take a closer look at the matching segment on Chromosome 20:

Do you see the solid green bar? This is the location of a fully identical region greater than 7 cM. The information in the table next to the colored bar indicates that this region is 24.3 cMs in length. There are also several other smaller fully identical regions shown in all of those smaller green bars, but since these are all smaller than 7 cMs in length, they are likely coincidentally identical or so small that they were likely inherited from common ancestors many, many, many generations ago.
The blue bar in the image simply indicates that the segment is longer than 7 cMs in length.
Example of How Are Your Parents Related Results on Gedmatch for someone whose parents are NOT related
Many people will not find evidence that their parents have common ancestors within the past few hundred years, which is the general range of autosomal DNA testing.
The image below is from the results of a person whose parents have very different recent ancestry and for whom I have not been able to detect any common ancestors within the past 8-10 generations:

As you can see, most of the bars under the chromosome numbers are pink. There are very, very small (tiny!) green bars which indicate fully identical regions, but since these are so very small, it is exceptionally unlikely (though, not impossible) that these segments were inherited by this individual's parents from the same ancestor.
Conclusion
I hope that this post has been interesting, and that it helped you understand more about the Gedmatch "Are Your Parents Related?" tool. If you have any questions, or if you would like to share your own experience with this tool, I would love to heard from you in the discussion below.
Thanks for stopping by today!