Did you get 2% of a region on your DNA results? If you want to learn how you may have inherited this region, how far back to look for your ancestor, and how to trace it, this article is for you.
Most of us are surprised about our 2% regions, which are also sometimes referred to as "trace regions". Trace ethnicity or ancestry regions are regions that we inherited in small amounts, usually from 1-3%.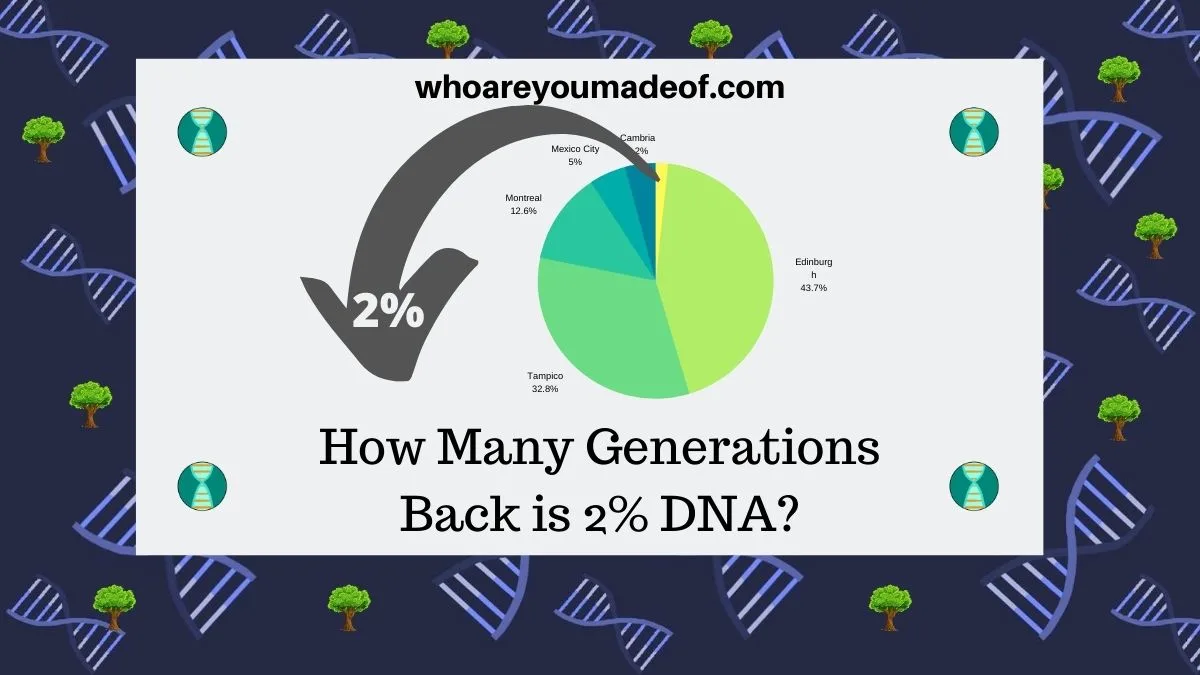 My daughter did her DNA and found that she had 2% of her DNA matching the Norway, European Jewish, Mali, and Sweden regions. Your 2% regions can be from any of the regions tested for by your DNA testing company.

One of the first questions most people wonder about when they see their 2% region is how many generations they need to look in their family tree in order to locate the ancestor who passed this region down to them.
My daughter had these same questions, and she also wanted to know whether it would be possible to identify the exact ancestors from whom she inherited this DNA.
Let's dig into this topic, shall we?
How far back in tree is ancestor who passed down 2% DNA?
There is a general "rule of thumb" that we can apply when determining how far back our DNA results can take us. We need to look in our family tree to find the ancestor who passed down our 2% DNA region.
This general rule is based on the pattern of autosomal DNA inheritance where 50% of each parent's DNA is passed down to their offspring.
The reason that only 50% of a person's DNA is passed down to their child is a result of a process called recombination. Every human has two copies of their numbered chromosomes.
These two copies of each chromosome go through through the recombination process, where "pieces" of each copy of the chromosome are randomly selected to create a brand-new, 100% unique chromosome for the child.
If we assume that an ancestor had 100% of the DNA region in question (like Norway, for example), we can assume that they passed 50% of this region down to all of their children. Their grandchild should have inherited about 25% DNA matching the Norway region, assuming that none of their other ancestors also had ancestry in Norway.
If we continue to divide the percentage of Norway DNA in half each generation, we might expect to see a great-great-great-great grandchild of the 100% Norwegian ancestor inherit about 2% DNA that matches the Norway region.
The chart below is a visualization of how many generations back we need to go to find the "100% ancestor" based on the percentage of DNA we see in our results using our basic rule of thumb.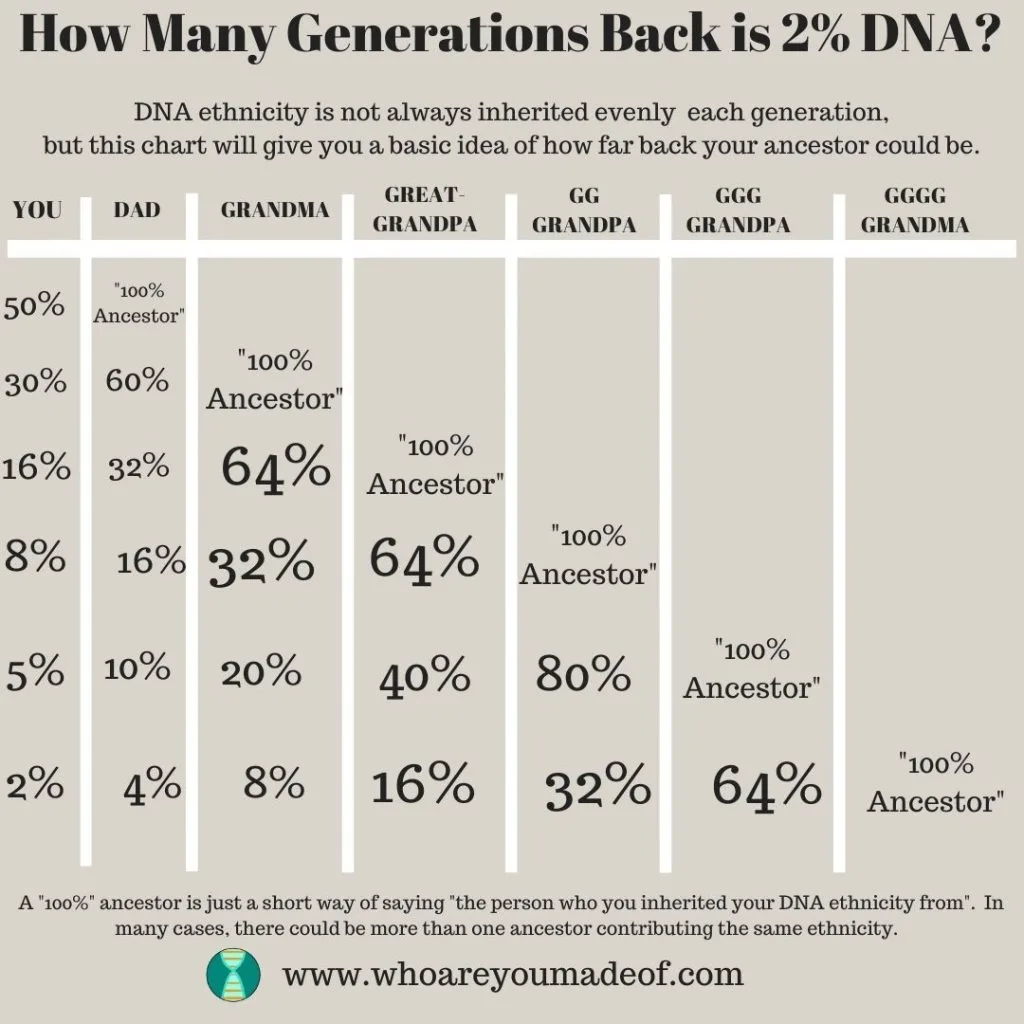 As you can see, if we inherit 2% of our DNA from a particular region, we should be looking at least as far back as a great-great-great-great grandparent in order to identify the source of our DNA from that region.
It's entirely possibly to inherit DNA in even, 50% increments each generation. However, as I mentioned above, DNA for the recombination process is randomly selected.
This means that sometimes we might inherit more (or less) than 50% of a region. We could inherit all of the DNA that matches a particular region, or even inherit none at all, especially when it comes to more distant ancestors.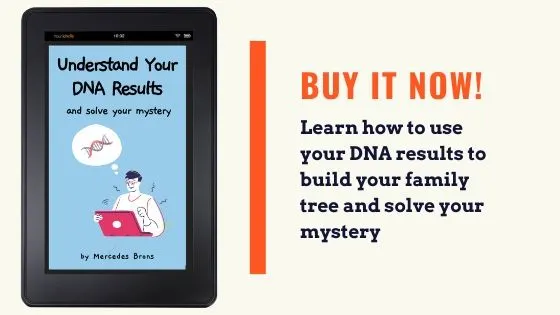 Ethnicity is not always inherited in equal portions
Ethnicity regions are not always passed down in equal portions. This is especially true as generations pass and our ancestor becomes more distant in our family tree.
If our parents have 100% of their ancestry in a particular region, we will always inherit 50% of that region. For example, if a person has a parent who is 100% Native American and 100% European Jewish, their DNA results should show about 50% of their DNA to match each region.
When it comes to more distant ancestors, like great-grandparents, we will find that we may not have inherited exactly 12.5% (the amount we might expect) of their DNA.
Instead, we may have inherited a little more, or a little less.
The chart below shows how DNA can be randomly selected and passed down, and how this can affect the ethnicity regions on someone's DNA results.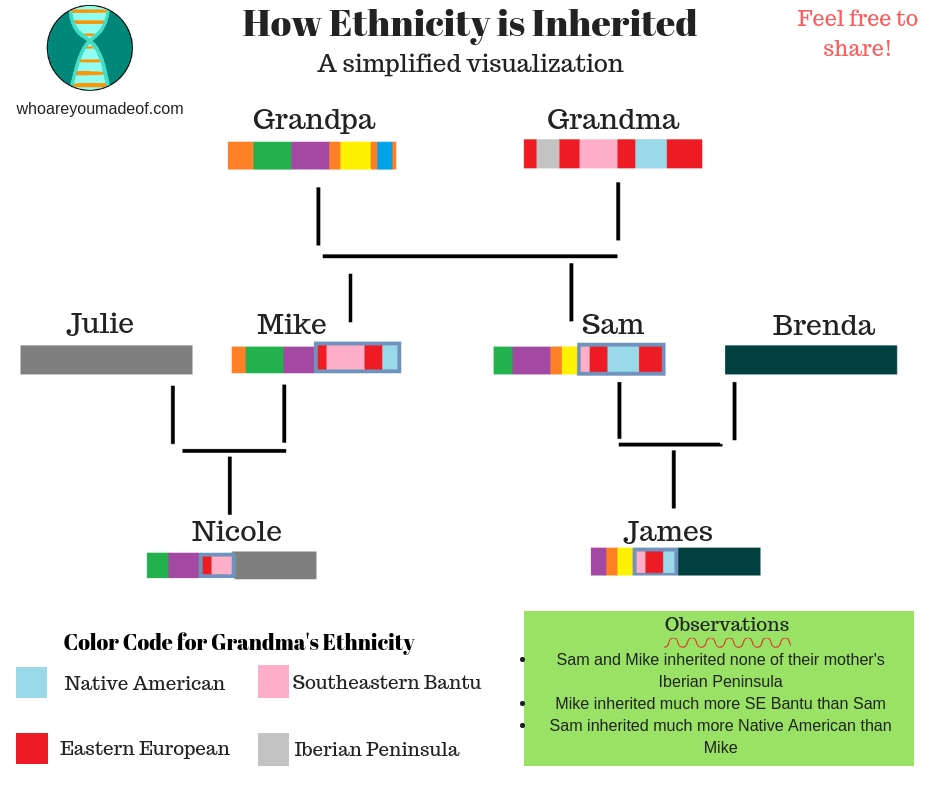 The result of the random recombination process is that the further our ancestor is back in our tree, the more likely it is that we only inherited a small portion of their DNA.
The rule of thumb that I mentioned towards the beginning of this article should only be viewed as a clue as to where we should look in our tree for our ancestor. In reality, the ancestor could be a generation or two more closely related, or a few generations further back.
How to trace 2% DNA ancestor
I sincerely hope that you are interested in learning how you inherited your 2% DNA that matches the region that surprises you. Regions in our DNA results that surprise us are usually the most fun aspect of DNA results.
The first thing that you should do, if you haven't already, is start building your family tree. This is the most important aspect of getting the most from your DNA results.
If you haven't yet started building a tree and you don't know where to start, you might consider my softcover book on Amazon, Family Tree Building Basics: A Book for Beginners, which is also available via immediate PDF download.
By building your family tree back a few generations, you might find the likely source of your 2% DNA region.
For example, if you find 2% Indigenous Americas DNA on Ancestry, and build your tree back a few generations and find that you have ancestry going back hundreds of years in what is now Arizona, you might have found the branch of your tree with the source of your Native American DNA.
Aside from building your family tree, there are a few strategies that you can take to try to learn more about your DNA that matches the 2% region. The following posts dive deeper into the topic of tracing a particular region: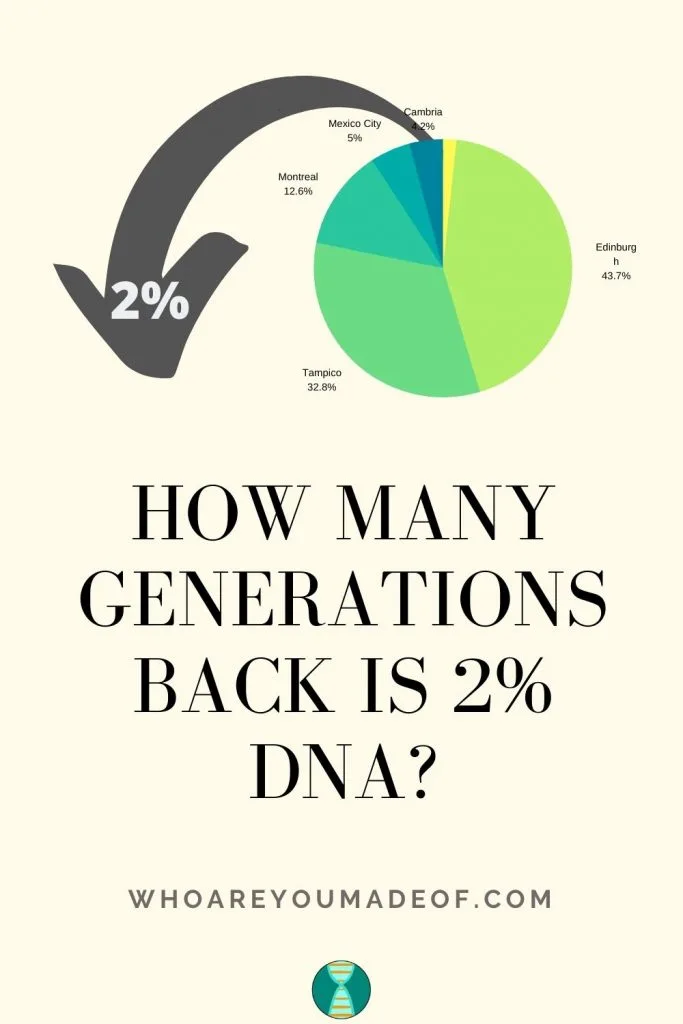 Conclusion
I hope that this article has helped you learn more about how you may have inherited your 1% DNA region, how far back your "100% ancestor" might be, as well as how to trace this region.
If you have any questions about something that you read in this post, or if you would like to ask a specific question about one of your 1% regions, I would love for you to join us in the discussion below.
Thanks for stopping by!