My Heritage DNA vs. Ancestry DNA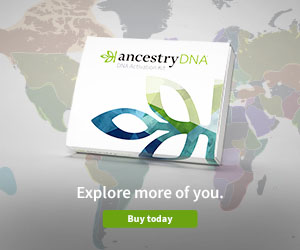 Are you trying to choose between My Heritage and Ancestry for DNA testing?  Both companies offer a reliable DNA testing service at a similar price, so how do you decide which one is best for you?  In this post, I'll tell you what I love about each company and what each one does better than the other.  My goal is to provide you with as much information as possible so you can make an informed decision.
What's great about My Heritage DNA
My Heritage DNA offers a lot of great features for DNA testers.  First, their website feels very lightweight and it's easy enough to navigate around and find what you are looking for.  Their DNA testing database is filled with a fairly diverse group of international test takers, which is very helpful for me and my immediate family.  Both of my parents had grandparents who were the children of immigrants to the US, and my husband was not born in the United States.  This means that we all have DNA cousins in several different countries, and My Heritage has provided a lot of insight into where our living relatives currently reside.
Some of the other aspects of My Heritage DNA that I really enjoy?
You can see a lot of information about your DNA matches, including their ethnicity results, which helps you get an idea as to how you may be related.  Additionally, provided with each match is a chromosome comparison, which can tell you (if you are interested) exactly where your matching segment is (or segments, in many cases).  This can help you break through brick walls and more easily identify how you are related to your match.
I love how you can sort and filter your DNA matches.  You can filter them by how recent they are, names, largest shared DNA segment, highest shared DNA, and even by their name or a name found in their family tree.  You can sort by ethnicity, or by location, or even by whether or not they have a family tree.  This makes going through a long, long list of DNA relatives fun and easy.
When you are viewing a DNA match, you can easily see which DNA matches you share in common with the match, and how much DNA your match shares with them.  Super helpful stuff, seriously!
When you view your ethnicity estimate regions, you can listen to a clip of music typical to that region.  I love this, and I think it is a thoughtful way to explore our heritage.
I'm not the biggest fan of the My Heritage ethnicity estimates, though I do feel like they have improved significantly over the past year or so.  With that said, I also think that My Heritage offers the best ethnicity estimates for people with Jewish roots, since they test for many more Jewish regions than the other testing companies.  My Heritage says that they are working on improving and expanding their ethnicity estimate regions, and I am very excited to see the results of their efforts in the future.
What My Heritage DNA does better than Ancestry
First, My Heritage does offer its DNA kit at a slightly lower price – generally about $10-20 less – than the price found at Ancestry.  For those who are very sensitive to price, or who live on a fixed income, this difference might make the difference between being able to take a DNA test and not being able to take a test.
As I mentioned before, the My Heritage DNA results offer an exceptionally robust view of DNA matches.  My Heritage has a great understanding of the type of information that is useful when using DNA matches to research a family tree, and they have provided above and beyond this threshold.  I truly enjoy checking my My Heritage DNA matches, and get very excited when I see someone new show up.
What's great about Ancestry DNA
Most people become interested in DNA testing for the ethnicity estimate, and I have found that the Ancestry DNA estimate is the most accurate currently available.  I have family members with heritage on every continent, and the Ancestry DNA test has most accurately "captured" the essence of their ancestry.  It is important to note that an ethnicity estimate can only test the DNA that we actually inherited, and we only inherited 50% of each of our parent's DNA – this tiny little (big) detail accounts for most of the confusion and skepticism among DNA test takers.
Another great thing about Ancestry DNA is that you can connect your family tree with your DNA results.  It's free and easy to build a family tree on Ancestry, no matter how big it gets.  If you attach your family tree to your DNA results, you can truly leverage the power of the incredible number of family trees on Ancestry's main genealogy site, as well as the size of the Ancestry DNA database.
The way it works is like this:
You take a DNA test, build a family tree, and link them together.  Ancestry's software will then analyze your DNA matches and compare their trees with your family trees.  As a result, if it turns out that you have the same ancestor in your family tree as your DNA match does, then they will appear as a Shared Ancestor Hint.  Shared Ancestor Hints are a great way to determine if your family tree is correct, or even to build your tree out further, since some of your DNA matches might know more about that line of the family than you do.
Also available on Ancestry DNA are DNA Circles.  When Ancestry's software notices that there are multiple family groups descended from the same ancestor, they will create a DNA Circle for that ancestor.  This is a good way to get additional verification – proof, if you will – that you are descended from a particular person.  Additionally, there will be people in your DNA Circle that don't share DNA with you (we don't share DNA with our more distant relatives), but you can still learn from them and their posted family trees.
What Ancestry DNA does better than My Heritage
Ancestry DNA has a significantly larger database of DNA test takers.  The Ancestry DNA database is estimated to contain DNA from about 7 million people, which is a huge number compared to the respectable (estimated) 1.5 million that are in the My Heritage DNA database.  This is the biggest advantage of doing a DNA test with Ancestry DNA.
Ancestry DNA also does a very good job of drawing connections between DNA matches and the ethnicity estimate, which is exactly how an ethnicity estimate should be used.  Through the Ancestry DNA migrations feature, Ancestry DNA is able to tell you the migration patterns that your ancestors likely took over the past few hundred years.  They are able to do this because the sheer size of their database, millions upon millions of family trees on the site, as well as some pretty advanced analysis using their proprietary technologies.
Note:  I am estimating the number of DNA kits contained in the My Heritage database using data provided by the company about the number of kits sold over the 2017 holiday season, added to the estimated size of the database as of November, 2017 (as stated in this post), and including an allowance for kits sold and transferred during the first half of 2018.  If someone has a more specific estimate, or if someone from My Heritage would like to provide an exact number, I would love to hear from you.

How to choose between My Heritage DNA and Ancestry DNA
As I mentioned at the beginning of the post, both companies offer a very good DNA test and you will get reliable results with whichever one you choose.  If you are very serious about finding living family, have some tough mysteries in your family tree to solve, or just want to have your DNA test included in the largest commercial DNA database, then you should definitely choose Ancestry DNA.
If you know that you have a lot of family members living outside the United States, have Jewish ancestry, or absolutely require a chromosome browser, then I would recommend My Heritage DNA.
Recommendation:  A third option would be to do your DNA test with Ancestry DNA then transfer your DNA data to My Heritage DNA – this is a great option, and it is currently free.
Do you know which one you want to use?
If you know that you want to do a DNA test with Ancestry DNA, you can use the following link to order your test (I will receive a small commission at no extra cost to you, so thanks!): Discover the family story your DNA can tell, test your DNA with Ancestry DNA
Do you think you would prefer My Heritage? You can use the following link to get your kit: Order your My Heritage DNA kit
Conclusion
I hope that this post helped give you the information that you need to help you decide whether to do your DNA test with My Heritage DNA or Ancestry DNA.  If you have any questions, comments, or concerns about something that you read in this post, I would love to hear from you in the comments below.
Thanks for stopping by!