Can Siblings Share Different Amounts of DNA With the Same DNA Match?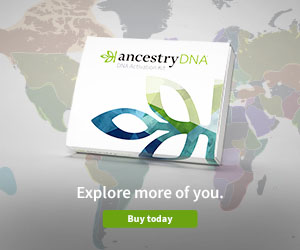 If you are looking at a particular DNA match and wonder if it is normal for you and your siblings to share different amounts of DNA with said match, you have come to the right place. In this post, you will learn why sharing more or less centimorgans (cMs) with a match than your sibling doesn't necessarily mean that you've uncovered a family secret or an error in your results, and why shared DNA will almost never be exactly the same, even if you have an identical genealogical relationship.
The information and explanations in this article are relevant to any type of DNA relationship, whether comparing a group of siblings, third cousins, or distant eighth cousins, and any relationship in between. At the end of this post, I'll show you an example in my own family where three verified full siblings share surprisingly different amounts of DNA with the same match.
Why full siblings will share different amounts of DNA with the same match
Let's take, for example, second cousins. Second cousins share great-grandparents as their MRCA (most recent common ancestor). Second cousins will inherit at least some DNA from their common ancestor, and at least some of the DNA that they inherited from their common ancestor will be identical to that of all of their second cousins. The key is understanding that the actual amount that two seconds cousins share has a wide range; it is considered normal for two full second cousins to share from 75-360 cMs of DNA. Some report two full cousins sharing as little as 46 cMs, and as much as 515 cMs.
Explanation of how DNA is passed down from common ancestors through different lines of the family
If one sibling shares 400 cMs with a second cousin, and the other shares only 75 cMs with the same second cousin, you might wonder why this happened. The following is an explanation of this very likely phenomenon:
Every person inherited 50% of their DNA from each parent. Your DNA match inherited 50% of their DNA from their parent who is descended from your common ancestor, and you inherited 50% of your DNA from your parent descended from the same common ancestor (i.e. you both inherited DNA from each of your respective parents who are also related to each other as cousins). Some of the DNA that each of your parents inherited was inherited from your great-grandparents.
The issue is that each person inherits 50% of their DNA from their parents, but it is never the same 50% that their sibling will inherit. The DNA is inherited somewhat randomly, as far as scientists know. In the case of your second cousin, the first "siblings" to not inherit identical DNA were your grandparent and the grandparent of your second cousin (they were siblings, since they are the children of your great-grandparents). When you parent and the parent of your second cousin were conceived, they only inherited 50% of their DNA from their parents, and it was randomly selected, too.
By the time you and your second cousin were conceived, you got 50% of the DNA from each of your parents, too, but there was even less to "choose" from that would have matched your MRCA (your great-grandparents), and thus, your second cousin.
As generations go by, the amount of DNA that a descendant will share with any given ancestor will grow smaller, since the "gene pool" grows, and your genome isn't big enough to "fit" DNA from every single ancestor. At this point, it is basically a math (probability or statistics) problem. The more distantly related two people are, the less chance that they will even share DNA in common.
Two full siblings will share different amounts of DNA with the same second cousin
Still sticking with our example of second cousins, let's say that you and your brother both share the same second cousin match. You are related to this second cousin through your dad's side of the family. You and your brother inherited 50% of your DNA from your dad, true, but the 50% that you share with your dad is not identical to the 50% that your brother shares with your dad. There is a high probability that one of you (you or your brother) inherited more DNA from your father that matches the second cousin.
Example of how three full siblings share different amounts of DNA with a likely third cousin
I was checking through my mom's matches the other day when a new "4th cousin" match popped up on Ancestry. I checked it out, and "Jill" and my mother only share 28.1 centimorgans – definitely in the range of what you might expect between two fourth cousins. Since fourth cousins will share great-great-great grandparents, I really didn't think that I would have a good chance of figuring out the relationship – especially because Jill doesn't have a family tree connected to her Ancestry profile. Even so, I try to be as thorough as I can in trying to figure out how matches are related to me, so I did some of the "sleuthing" that I talk about here on the site.
The first thing that I did was click through to her Ancestry profile. Not everyone knows this, but if you visit someone's Ancestry profile and they are a DNA match to you, it will let you know. If you manage multiple kits, you can actually see whether or not the person to whom the profile belongs matches any of the kits – and you can do it fairly quickly. This is the fastest and most effective way to see if you or someone whose kit you manage matches a particular Ancestry member.
Below is what I saw Jill shares with my mom:
I was curious to see how much DNA Jill shared, if any, with some of my mother's relatives. Getting a few data points to work can be very helpful in determining a possible relationship, and since I know that siblings are likely to share different amounts of DNA with the same relative, I knew I might learn something new by seeing if Jill was a match to my mom's siblings.
I was surprised and excited to see that Jill shared much more DNA with my aunt than she does with my mom – 60.9 centimorgans! This implies a much closer relationship than the 28.1 cMs that she shares with mom.
Finally, I decided to check to see if my mom's brother was a DNA match to Jill. I was shocked to see that my uncle and Jill share 92.6 cMs – absolutely amazing. I just saw this match a couple of days ago, and I still don't know how they are related, but I am fairly sure that Jill's relationship to my mom (and my mom's siblings) is probably somewhere between second cousin once-removed to third cousin.
What makes this extra exciting is that if it had not been for my mother's siblings doing their DNA test, then I would not have realized how closely related Jill is. Having your siblings do a DNA test is not only a great way to find DNA matches, but get a better idea of how you are related to the DNA matches that you all share.
Below is what I saw when I checked my mom's brother's DNA against Jill's profile:
A further note on shared DNA throughout the generations
As I mentioned earlier in the post, as generations go by, descendants will share less and less DNA with the common ancestor, and thus, with each other. To show you how quickly this can happen, I'll show you how much DNA I share with Jill:
One one teeny, tiny, 7.8 cM segment. If my mother had not tested, I would have probably never even noticed Jill on my match list (I have hundreds and hundreds of "distant" matches like this). My mother shared only 28 cMs with Jill, I share only 7 cMs, and my daughter shares none.
Conclusion
I hope that this post helped you get an idea of how and why siblings will share different amounts of DNA with any family member, and how it is an absolutely normal aspect of DNA relationships. If you have any questions or comments, or would just like to share your experience, I would love to hear from you in the comments below.
Thank you so much for stopping by!