If you have ever found a family tree record on Ancestry that you wanted to save for later, you might have saved it to your Shoebox. In this post, learn how to find your Shoebox on Ancestry, as well as how to save and delete records.
Plus, find out whether you'll still be able to see records in your Shoebox without an Ancestry subscription.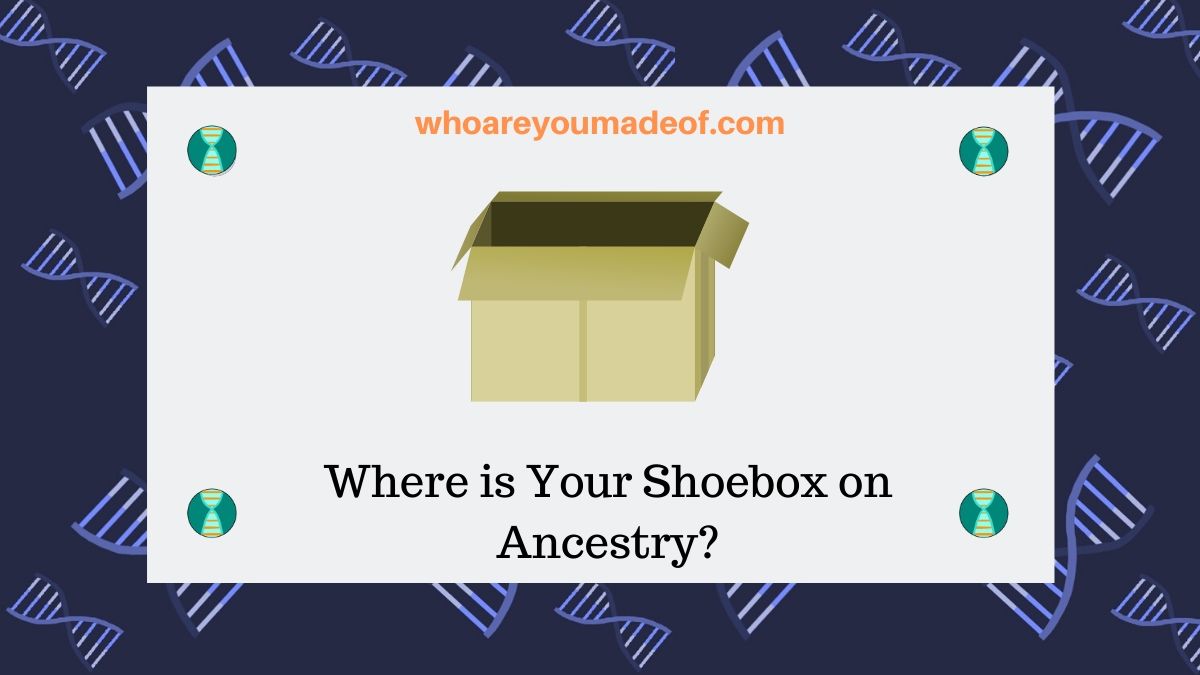 Where is your Shoebox on Ancestry?
Your Shoebox is usually located on the Ancestry home screen after you have logged in. In other words, you can find your Shoebox by scrolling down on the screen that you see after you log in to Ancestry.
The image below shows where you might be able to find your Shoebox. If you have configured your dashboard in a custom way, your Shoebox might be in a different spot.
If you have already saved records to your Shoebox, you will see a few of the most recent records directly from your home screen dashboard.
The image below shows what a Shoebox might look like – obviously, your records will be different. You can click the "See more" button to see all of the records in your Shoebox, as indicated by the red arrow in the image: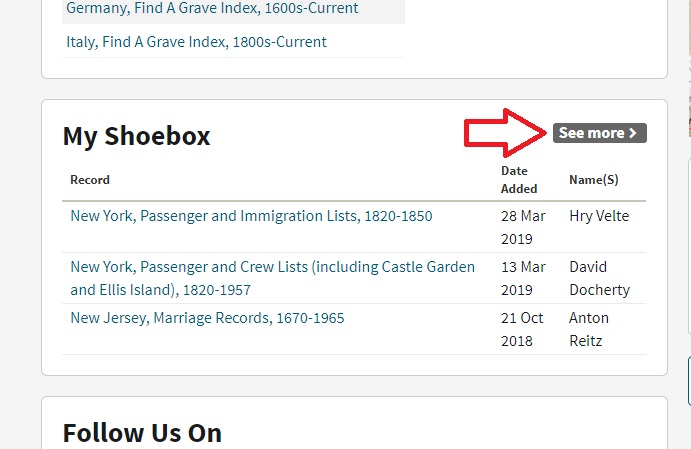 If you previously made changes to customize your Ancestry home screen, you might not see your Shoebox by following the step above. You can add your Shoebox to your home screen by clicking on the "Customize your homepage" link, as seen in the image below: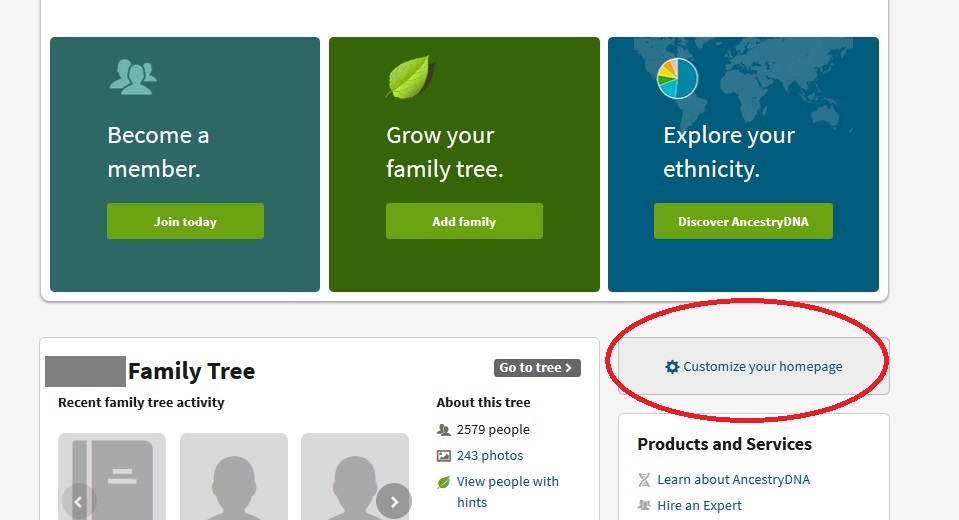 How to use your Ancestry Shoebox
Have you ever spent hours searching for records pertaining to a specific ancestor? I know that I have!
What should you do if you find an interesting record, but you aren't 100% sure that it pertains to your ancestor? The last thing you want to do is save it to your tree if you aren't sure about it.
Imagine if there was a way to save the record in a digital box, of sorts. A "shoebox", even?
The Shoebox on Ancestry comes in handy in this situation. If you save it to your Shoebox, you don't have to worry about trying to find it again later on.
You can just go to your Shoebox and see the records that you have saved there and decide whether you should save it to your tree at a later date.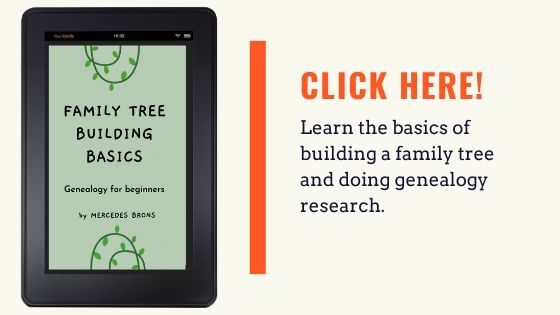 I love using this feature because I don't have to commit to a record and add it to my tree. Adding incorrect information and records to a tree, even when they are part of a working hypothesis, can cause errors to be added to other people's family trees.
Plus, it can be really confusing to look back through your tree and try to figure out what you know to be true and what might only possibly be true. The Shoebox saves us lots of frustration!
How to save a record to your Ancestry Shoebox?
It's very easy to add a record to your Shoebox. First, of course, you should be logged in to your Ancestry account.
Once you are on the page where the record information has been indexed (seen below) you can click on the "Save" button to access the drop-down menu. Then, choose "Save to your Shoebox" to add the record to your Shoebox for later:

If you are actively viewing a record, you can also save the record to view it later without adding to your tree by clicking on the "Save" button at the top right of the screen right from the viewer:

How to delete records from your Ancestry Shoebox?
As some readers of this blog may know, I have been trying to learn about my Polish-born great-great grandmother. She has a very, very Polish maiden name.
On my great-grandfather's death certificate, his mother's name is listed as Mary Brown. Even though the whole family says that she died before my grandmother was born in the 1930's, I did briefly entertain the idea that she didn't pass away.
Maybe she remarried and went off to live somewhere else? This led me to search for people named "Mary Brown" living in nearby areas, possibly born in Poland or Austria, as she is sometimes listed in census records.
A few years back, I did find a record that could back-up my theory. The only problem is that the record lists her as a "widowed", and I now know that my great-great grandfather was still very much alive for the 1940 US Federal Census.
So, maybe it's time to delete my record.
All I have to do is click on the little trashcan icon next to the record from within my Shoebox list of records. The image below shows you exactly where the delete icon is located with the red arrow:

Alternatively, you can click on the record to inspect it and remove it from your Shoebox from the next screen: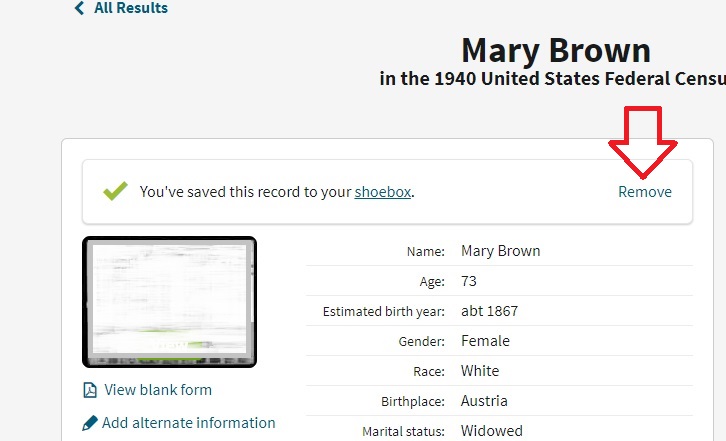 Can you see your Ancestry Shoebox without a subscription?
If you no longer have an Ancestry subscription, you can still access your Ancestry Shoebox. You will be able to see a list of all the records that you have already saved to your Shoebox.
You won't be able to actually click through to access the record to view the image, however. In other words, you can see a list of the records that you have added to your Shoebox, but you won't be able to read the records.
If you decide to get an Ancestry subscription again at a later date, you will be able to view the images again.
Conclusion
I hope that this post has helped you understand exactly how to find your Ancestry Shoebox, as well as how to adjust which records are in the Shoebox. It's a great tool that can help us save time and keep our research organized.
If you have any questions about something that you have read in this post, or if you would like to share your own tips for using the Ancestry Shoebox, I would love to hear from you in the discussion below.
Thanks for stopping by today!